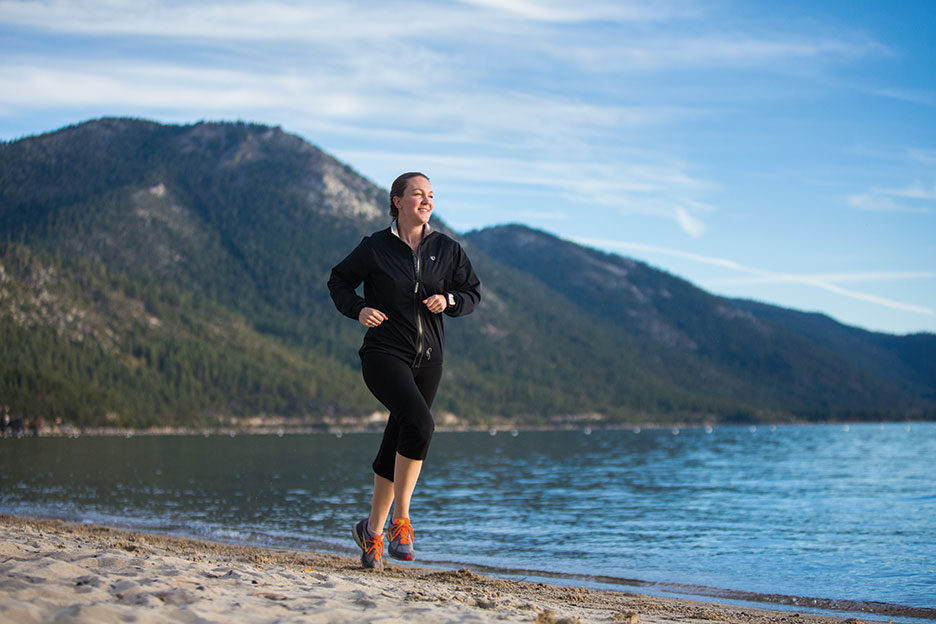 Devenney Leijon runs along a Tahoe beach, photo by Jen Schmidt
06 Jul

Outrunning Cancer

Recently I asked my grandmother, who is less than a year away from turning 90, the secret of longevity. Moderation in everything, she said matter-of-factly.

Moderation in food. Moderation in drink. Moderation in exercise.

I believe her, and I intend to follow in her footsteps if I am able. But I also believe that, sometimes, dumb luck has other plans for us.

Let's back up a bit. On October 29th, 2013, my good friend and fellow Tahoe native Devenney Leijon received a life-changing diagnosis. That was the day Devenney found out she had pulled an unlucky card and developed two types of thyroid cancer, papillary and follicular variant. Dumb luck dictated that Devenney would have both the genetic and non-genetic types of thyroid cancer.

"I was actually in the parking lot of Trader Joe's, getting ready to go shop for groceries, and my ear, nose and throat specialist (the one who had ordered the biopsy for me on the lump in my neck) called me. She told me that she didn't want to wait when she had news like this, and then she told me that I had thyroid cancer," Devenney remembers. "I was terrified… how did this happen? I don't think anybody expects cancer, but I really was trying right away to figure out what I had done to cause it."

Leijon and her dog, Saorise, photo by Jen Schmidt
Two weeks later, Devenney underwent surgery to remove her thyroid gland and 20 lymph nodes where the cancer had spread on the right side of her neck. She lost her voice temporarily because her vocal cords had been so intertwined with her thyroid. After that came a frustratingly bland, low-iodine diet and a dose of radiation, after which she had to be in isolation for four days, throw away her sheets and any clothing or books she touched, and endure another two weeks where she couldn't sit within ten feet of people because her body gave off radiation. One year after her initial diagnosis she had her second surgery, which removed another handful of infected lymph nodes.
Because the cancer already spread, Devenney will never be cured. She can manage the disease with surgery and medication to help her body regulate the hormones that her thyroid used to produce to suppress the growth of her cancer. If at any point she misses a dose or if her body chemistry changes, her moods and energy swing between extremes and it can take months or even years to dial in new dosages. The exhaustion limits her ability to do everything she wants to do, and she has to pick and choose between activities most people take for granted, like laundry or exercise.
Life won't be the same. And yet, through this painful, exhausting and emotional struggle, countless people have told Devenney she is lucky. Lucky because she has the "good" kind of cancer—the unfortunate moniker given to thyroid and a smattering of other cancers with high survival rates.
Not only have I learned that there is no "good cancer," I have learned that no amount of bad news will keep a strong person down. As Thomas Jefferson said, "I am a great believer in luck, and I find the harder I work, the more I have of it." Devenney is doing her best to turn her bad luck around. She is tenacious and committed to fighting. Often dumb luck dictates some of the plot twists in your story, but it doesn't mean your story is already written.
Devenney's tie to exercise is one of her surest lifelines—she's run since elementary school. She conquered an Oregon half-marathon this spring. "Running clears my head, and I find answers that I've been searching for all day," she says.
"I assume that when anyone is diagnosed with cancer they probably take a hard look at their life and they think, 'What are some changes I can make?' Especially, I think, when you're dealing with something that quite possibly will never go away," says Devenney. "You want to try to get your body in a kind of fighting shape that it's going to need to be in to fight the cancer, so I think that running is really great for that. It's something that makes me feel like I'm helping the battle; even though I'm not going to be cured from this, maybe it will be less intrusive on my life."
In December of 2013, Devenney sat in her parents' living room in Incline Village, exchanging presents with our friends Kate and Sammi. Devenney had searched for two months for a thyroid cancer run she could take part in.
"Sammi said, 'I know you haven't been able to find a run in the U.S. that benefits thyroid cancer awareness, so why don't we just put one on ourselves?'" Devenney remembers. "[Running for this cause] is something that's important to me, something I was looking for and something that I felt would lift my spirits through my own diagnosis."
Just like that, the idea for the Butterfly Effect 5K Run, Walk and Stroll was born. We named it after that pesky butterfly-shaped gland that has caused so much chaos in Devenney's life, and the idea that a small movement can effect large change on a global scale.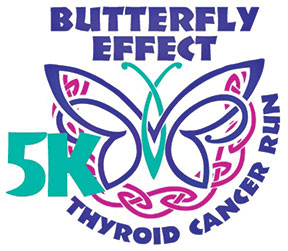 In the time since then, our board has learned all about thyroid cancer. It's the fastest increasing cancer in the U.S. among both men and women. We also learned we needed to form a nonprofit 501(c)3 in order to put on a fundraising race, so we did. It's called Lake Tahoe's Movement of Wings. We picked a date and a venue—September 5  at the Village Green, in our hometown of Incline Village. We built a website and have been raising funds and collecting registrations: www.butterflyeffect5k.org, if you're the running type. (Even if you're not—we'll have food trucks and fun activities for families, too.)
Early detection is a key tool in the fight against thyroid cancer, so we'll be raising awareness as well as funds. (If you're near a computer, Google "check your neck," then do it.) All proceeds from the run will go to ThyCa, a nonprofit organization founded by thyroid cancer survivors, as well as the first and best resource Devenney turned to for information and support. ThyCa's ability to direct funds where they are needed most means that we may be supporting anything from research to education, prevention to support for patients and their families.
Each of our board members has deep roots in the Tahoe area, and the idea of involving the community we love in such a positive event seemed natural. "I grew up running in Tahoe and I think it's one of the most beautiful places in the world that you can run," says Devenney. "Also, we have so many resources in the community, and it's a great community, so we definitely wanted to keep it local. As far as where it might go in the future, we're going to see how this first year goes and then we'll keep planning."
Months of red tape, planning and organizational hoop jumping have been cake compared to training for a 5K when you have never been a runner, though.
I have been a runner for all of five months now, and it hasn't been easy. Running is difficult. Some days it is wonderful and some days I hate it. But I hate cancer so much more. I plug away at mile after mile and think, if Devenney can do this, I can do this for her. I am one of the lucky ones, because I am able to help.
I only have to run a 5K. Devenney's efforts to outrun cancer will be a lifelong marathon. If given a chance to help a loved one, I suspect most people would walk through fire if necessary. We will run, walk and stroll through it for Devenney.
---
Jen Schmidt is a board member for The Butterfly Effect 5K Run, Walk, and Stroll, which will take place September 5th at the Village Green in Incline Village. For more information, to register or donate, please visit here. And don't forget to check your neck.