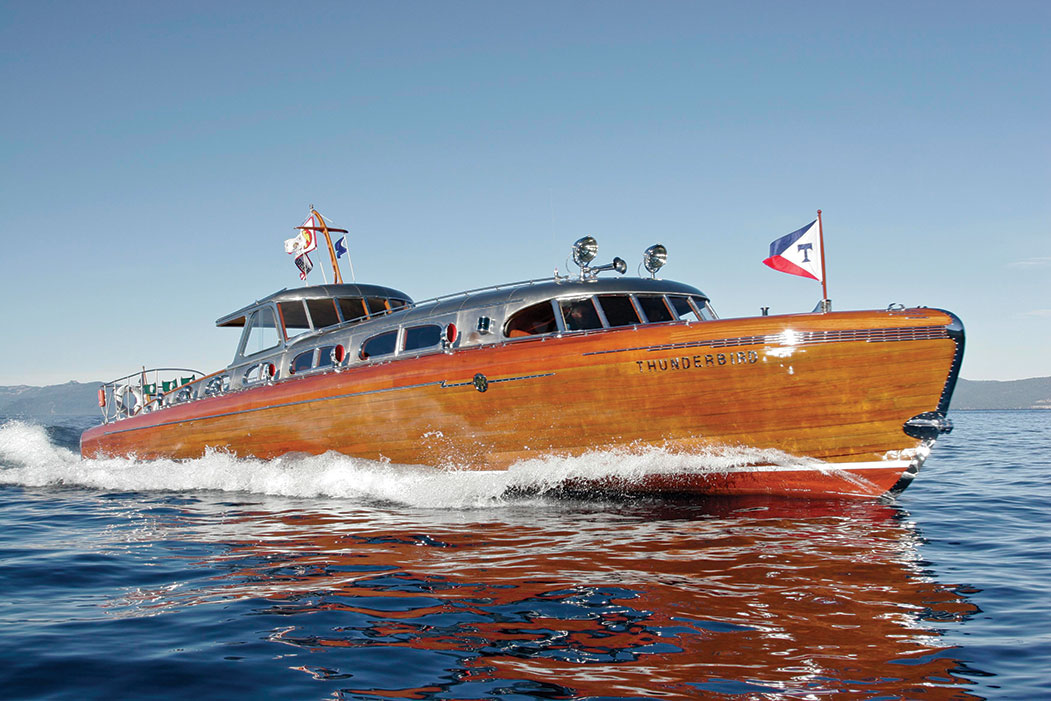 Bill Harrah affectionately referred to Thunderbird as his "70-mile-per-hour cocktail lounge," photo by Dewitt Jones
18 Aug

Thunderbird Turns 75

While building his grand Thunderbird Lodge estate on Lake Tahoe's East Shore, George Whittell Jr. commissioned naval architect John L. Hacker to design the famed Thunderbird yacht.  Completed in 1940 for a whopping sum of $87,000 ($1.5 million today), Thunderbird traveled by rail from Michigan to Tahoe City and was launched into Tahoe's pristine waters in the pre-dawn hours of July 15th. 

Thunderbird drawing pre flybridge (drawing from Classic Boating)

Thunderbird's keel is laid at Huskins Boat and Motor Works of Bay City, Michigan. Using the finest and most
durable organic material available, Hacker specifies double-planked Honduran mahogany over a frame of
steam-bent white oak. Contrary to popular belief, Thunderbird's bottom is not made of hammered
copper. [Summer-Fall, 1939]
Originally outfitted with twin 550 horsepower Kermath marine engines, a galley, sleeping berths for four and an automatic pilot, the 55-foot double-planked mahogany and brushed stainless steel cruiser was unmatched in speed and style.
With the advent of World War II, Whittell remanded his art deco beauty to her steel boathouse where she remained suspended until rescued by casino magnate William F. Harrah in 1962.  Harrah repowered Thunderbird with V-12 Allison aircraft engines, upping her top speed to nearly 70 mph. These golden years saw the likes of Tony Bennett, Sammy Davis Jr. and Frank Sinatra racing along Lake Tahoe's shoreline aboard Thunderbird.

In September 1962, casino magnate Bill Harrah purchased Thunderbird and two Duesenberg automobiles from
Whittell. Here members of Harrah's team take Thunderbird for a first spin about The Lake. The yacht hadn't
been used since 1946 and required much finesse that day to stay running. [September, 1962]
After a succession of owners, the nonprofit Thunderbird Lodge Preservation Society purchased the yacht in 2011.  Public tours of the historic Thunderbird Lodge and Thunderbird yacht are available from May through October.  For more information about Lake Tahoe's cultural heritage and Thunderbird yacht, please visit www.thunderbirdtahoe.org.


Thunderbird shows off her art deco detail,  [2008] photo by Steve and Cheryl Caplan.  


An unusual aerial shot of Thunderbird, [2007] Steve Lapkin photo