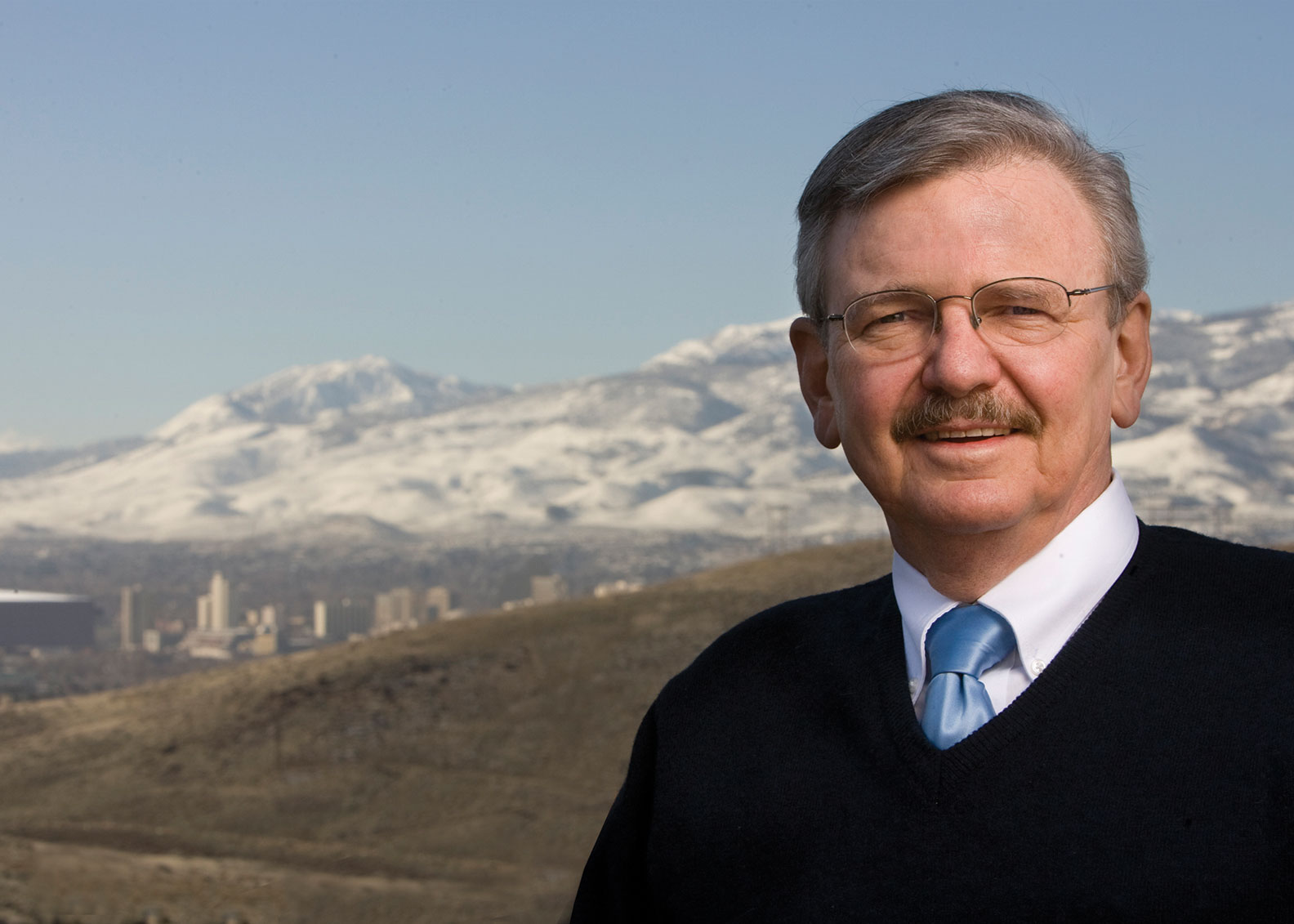 Dr. Stephen G. Wells, president of the Desert Research Institute
29 Jun

DRI's Change of Command
Longtime president of Nevada's premier environmental science institute steps down
Looking at the list of recent projects at Desert Research Institute (DRI) makes it clear the institution's reach extends far beyond its two main campuses in Reno and Las Vegas.
There is an analysis of extreme aquatic environments in an Antarctic lake; large-scale water, sanitation and hygiene programs in West Africa; the development of an air quality program in Jakarta, Indonesia; and even a look at the surface winds and dunes on Mars. Closer to home there's research into stormwater runoff within the Truckee Meadows, unmanned cloud-seeding projects and whether populations of the invasive quagga mussel could survive in Lake Tahoe.
When put into context of DRI's mission—to investigate the effects of environmental change and use research and apply technology to improve people's lives in Nevada and throughout the world—one can see how the seemingly disparate topics fit under the institute's substantial umbrella.

DRI's Northern Nevada Science Center located in Reno houses some of the most advanced ice-core analysis facilities found anywhere in the world
Longtime Leadership
DRI is the environmental research arm of the Nevada System of Higher Education (NSHE). Its faculty has expertise in more than 50 scientific fields and has worked in all 50 states, 40 countries and all seven continents. The National Science Foundation Education Research and Development Survey consistently ranks DRI among the top colleges and universities in federally financed environmental sciences research and development expenditures. The Reno campus is located just north of the city.
"The talent here and what they do is just phenomenal. It's world-class in all aspects," says Stephen Wells, DRI's longtime president who is leaving the position on July 1. The people Wells has had the opportunity to work with have a lot to do with him staying at the institute for the past 17 years, he adds.
In February, Wells accepted a new job as president of the New Mexico Institute of Mining and Technology. He says he looks forward to returning to the state where he worked for 15 years, and allowing a new leader at DRI to put his or her "genetic imprint" on the institution.
"If you're a responsible leader, you think about that a lot," Wells says. "I could stay here forever. I love this place."
Building DRI's relationships with a variety of entities so funding can grow and diversify, upgrading the facilities around the institute, including the construction of two new buildings, and providing opportunities for faculty to thrive and grow are among Wells' proudest accomplishments at DRI. The institute's revenue has also more than doubled over Wells' time at DRI, from $23.8 million in 1998 to $50 million at last count.
"For me, building this global reputation, building the infrastructure for it to thrive and being recognized by the state as helping with economic development are all aspects that make me very proud of DRI," Wells says.

DRI and University of Nevada, Reno scientists prepare for a Lake Tahoe research dive for a National Science Foundation-supported project in the early 1960s
Changes and Challenges
In May, the NSHE Board of Regents approved the appointment of Robert Gagosian as acting president of DRI. The Massachusetts Institute of Technology and Columbia University graduate will serve as acting president through June 30, 2017, or until a permanent president is hired. Gagosian is the president emeritus of both the Consortium for Ocean Leadership and the Woods Hole Oceanographic Institute. He says he hopes to use his abilities in strategic planning and his professional connections to help NSHE's search committee bring the best candidate to DRI.
"At the 30,000-foot level I want to take my experience and expertise and try and translate that into helping the organization—strengthen the organization for the new permanent president coming in," Gagosian says.
One of the biggest challenges faced by DRI, and all research institutions, according to both Wells and Gagosian, is declining federal funding.
DRI is unique, Wells says, in that it is a research institution focused on generating its own revenue within an academic structure. Faculty members are non-tenured and are responsible for their own salaries via grants and contracts, adding an entrepreneurial aspect to the institute.
In the fiscal year 2014, more than 80 percent of DRI's total research grants and contracts revenue came from federal sources. But federal funding for higher education research and development has declined by more than 11 percent between the fiscal years 2011 and 2014, the longest multiyear decline since such record-keeping began in the early 1970s, according to the National Science Foundation.
Extending DRI's expertise further into the private sector is an opportunity for DRI to grow and continue to help solve some of mankind's big problems, Wells says.
"Now we're trying to evolve into an institution that collaborates effectively with private business," Wells says. "This is a cultural shift that DRI has started. It's a long journey, but it's an important journey for this institution so that it continues to thrive."
Gagosian says he's excited to be directly involved in DRI's immediate future and to help bring in the new president. Whoever it is, he or she will be tasked with keeping DRI at the forefront of rapidly changing science frontiers. Both Gagosian and Wells reiterate the importance of people in accomplishing that mission.
"Facilities are important so that the science can be done, but you've got to have the people and the quality of the people here is just superb," Gagosian says. "That's one of the reasons why I'm doing this, because it's fun to work with smart people that are real entrepreneurs that love to make a change and difference and are passionate about what they do. And that's going to be Steve's main legacy."
He adds, "Legacies don't really show up until 10 or 20 years later. That's usually when you look back and you see what's been accomplished. But if you look at DRI 16 years ago and you look at it today, it's a completely different place."
---
Michael Kilburg is a South Lake Tahoe–based writer and editor.