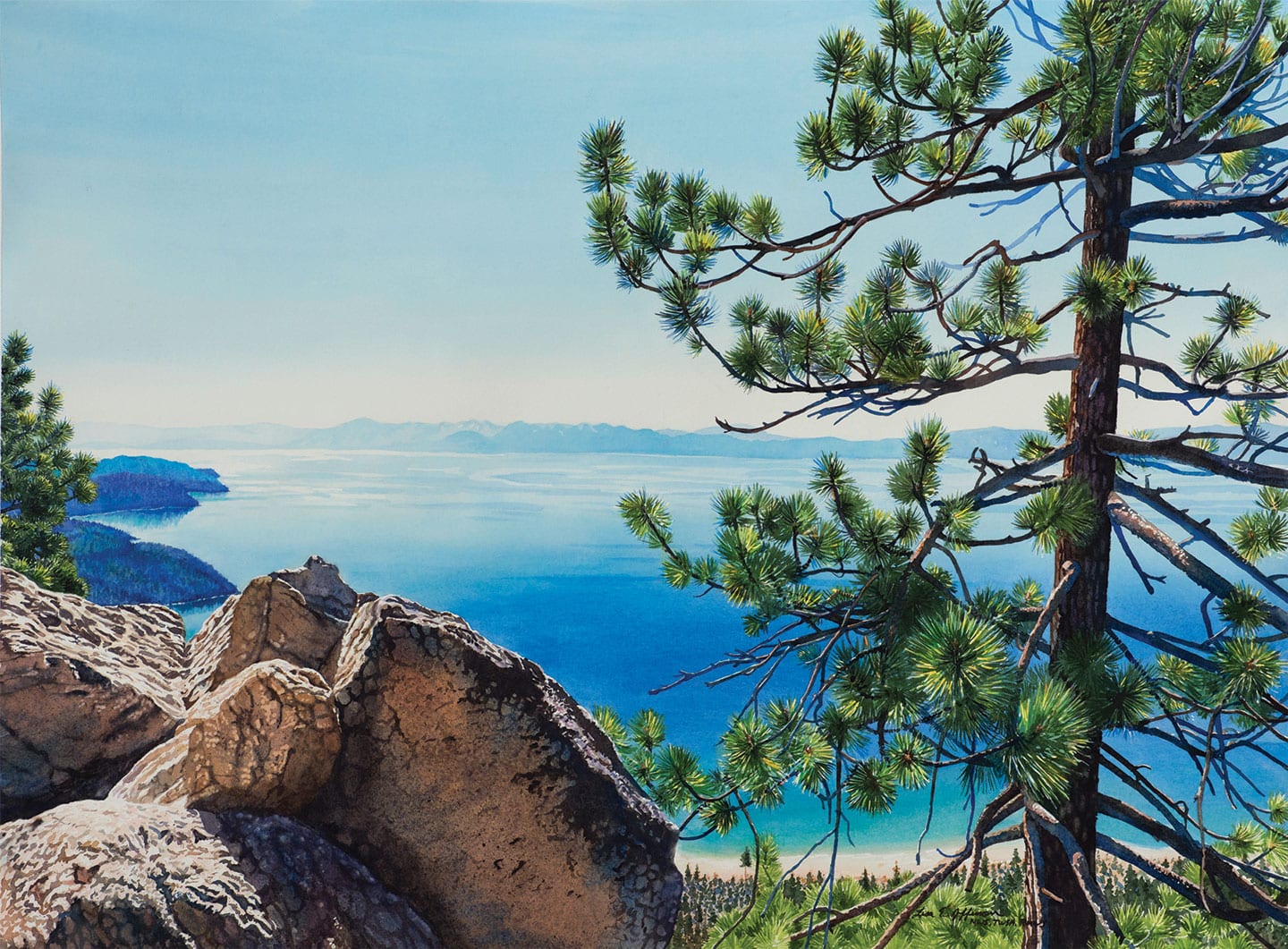 Flume Trail Vista: Watercolor | 30" x 22"
22 Jun

Creating Transparency
Incline Village artist uses watercolors for realistic landscapes
Maximizing the translucent yet vibrant properties of watercolors, artist Lisa Jefferson captures the ephemeral beauty of nature's landscapes—of light on water, of shadows on snow, of clear skies and glassy lakes.
"Watercolor lends itself to transparent subject matter like glass, ice and water because the very nature of the paint is see-through," says Jefferson, an Incline Village–based watercolor artist and member of Tahoe City's North Tahoe Arts. "The white of the paper is allowed to shine through translucent layers of paint."
It's fitting then that Jefferson, who has moved often in the past several decades, would wind up in Tahoe, in a setting prized by both artists and onlookers for the translucent beauty of its ice and water.

Lisa Jefferson
Drawn to Draw
Jefferson's interest in art bloomed early. "I started drawing constantly as soon as I could hold a pencil," she says. "My mother kept scrapbooks of my drawings since I was 4 years old and I was very blessed to have had lots of encouragement from family, friends and at school."
She says that she was initially attracted to watercolors for practical reasons. "They were easy to pack up while we were moving around so much and didn't take a long time to dry like oils," she says. "I came to love the transparent nature of watercolor, the white of the paper showing through, and the simplicity of using just paint and water on paper."
Practicality and simplicity would come in handy for Jefferson. She grew up in Aurora, Colorado, and she and her family often visited the nearby Rocky Mountains. She earned her degree in graphic design at Colorado State University, where she met her husband, Tim, a geologist. Because of her husband's job, the couple traveled often, living in Colorado, California, Nevada and Minnesota.
About 30 years ago, Tim's job took the couple to Truckee, where they lived for six years while he worked out of Reno. "Our two youngest daughters were born during the six years we lived there, so we have always felt a close bond to the Tahoe–Truckee area," Jefferson says.
The couple moved from Truckee to Minnesota, where Tim's family is from, to raise their three daughters. "I loved the incredible natural beauty and warm, friendly people of Northern Minnesota, but I think my heart always belonged in the West, especially the mountains," Jefferson says.
Through the various moves, Jefferson's interest in art never waned. While she and her husband traveled, Jefferson worked as a graphic artist, a typesetter or as an illustrator. She also sketched and painted when she could, and joined artist groups, showed in galleries and entered competitions. However, while her children were young, and as her husband continued to travel for work, Jefferson stayed at home and "didn't get a lot of painting done for a few years," she says.
"After the kids started to grow up, I got back into painting about 15 years ago, went back to school at Duluth Business University to update my graphics computer skills, started participating in art groups and galleries, and entering national competitions again."

Between A Rock And A Hard Place: Watercolor

 

|

 

20" x 28"
Mountain Inspirations
In 2011, Jefferson and her husband bought a home in Incline Village, which they rented out for several years before moving permanently in 2014, which Jefferson describes as a "long held dream."
In Tahoe, like in Minnesota, Jefferson says her inspiration comes from nature. Large florals and plants are inspired by a love of gardening, while she also focuses on the area's stunning landscapes. "I love to hike and snowshoe in this area and it almost feels like an obligation to share the astonishing beauty that I see here, as best I can."
Jefferson looks for scenes she wants to paint while exploring Tahoe's trails, capturing scenes on her iPhone. "I'm not a good photographer and don't really want to be because it forces me to be more creative while planning out a painting," she says.
She works with hot-press paper, which has a smooth surface, unlike the bumpier surface of cold-press watercolor paper. She prefers larger sheets, at least 22 by 30 inches, to allow more detail, and says those larger paintings take about four days of painting all day.
"A typical painting is first drawn out lightly in pencil, stapled and taped to a board, then highlights and the lightest areas are masked with a liquid frisket that creates a resist, protecting those areas from any paint," Jefferson says. "Then the paper is completely wet with water and color is dropped in to blend and meld together. This is allowed to dry and the detail work begins working from the lightest values to the darkest. The masking is rubbed off, revealing the highlights, and any adjusting, lifting or softening is done last."
Jefferson's paintings display a stunning level of realism. In Willow Reflections, Jefferson's piece that was accepted into the Splash 19 coffee table book, which will be published in spring 2018, light plays on the translucent surface of a pond, the reflection of a waterside willow rippling in the sun-kissed waters.
"I tend to get very caught up in details that I think a lot of watercolorists wouldn't have the patience for," she says.


Willow Reflections:
Watercolor

 

|

 

20" x 28"
It's these details, however, that separate Jefferson's work from that of other watercolorists.
"I think Lisa is one of the most talented artists I've ever encountered," says Sue Gross, a printmaker who recently served as the interim executive director of North Tahoe Arts. "Her ability to create watercolors that look like photographs is absolutely astounding."
"Watercolors can have a bad rap as being wishy-washy," Jefferson says. "I've always strived to capture bright sunlight with a good contrast of values—light and dark—in my paintings, as well as strong color."
The combination of values allows her paintings an almost three-dimensional effect, obvious in works like her recent Lake Tahoe watercolors. For example, Jefferson may contrast a sun-dappled granite boulder against the rippling shadow of the rock in the water, or a shaded sugar pine grove against Tahoe's bright turquoise.
Jefferson's abilities have earned her recognition in the art community. Her work has been shown in several international watercolor exhibitions and in the recently released 2017 watercolor coffee table book Splash 18. This summer, from July 26 to August 11, she will also exhibit at Reno's McKinley Arts & Culture Center, where she plans to display her watercolors, as well as some newer oils and acrylics.

Summer Respite: Watercolor

 

|

 

22" x 30"
Connecting Community
As a new artist in Tahoe, it was vital to Jefferson to seek out a like-minded network that shared ideas and support.
"After leaving the art connections I'd built up for years back in Minnesota, I realized that it was up to me to seek out new connections and opportunities here if I wanted to continue to be a professional artist," Jefferson says.
Not long after relocating to Incline, Jefferson attended North Lake's 2014 summertime ARTour event, hosted by Tahoe City's North Tahoe Arts (NTA). It was the first she'd heard of the organization and, Jefferson says, "It seemed like a good place to start getting acquainted with the local art scene." She joined NTA in 2014, had her first guest show in July of 2015 and became a member of the ARTisan shop (NTA's gift shop and gallery) in May 2016.
"I've had good sales there and all the artists are local, very talented, and so supportive of each other," she says.
In return, Jefferson wanted to contribute back to the organization that helped her get a footing in the local art scene. This summer, Jefferson will host "Connecting with the Art Community," a free workshop held at NTA, to discuss ways that artists can participate and network within the art community while also making time for their art.
"I've been so impressed with and grateful to the artists and arts organizations who have shared tips, resources, contacts and good advice and, although it's an ongoing process and I have a long way to go, I want to share what I've learned so far," Jefferson says. "I believe all artists should take advantage of social media as a great way to connect with other artists both locally and internationally without ever having to leave the studio."
Through social media networks like Facebook, Jefferson says, artists can connect with other artists anywhere in the world to discuss techniques, supplies and motivations.
"I'm not saying that artists should give away their secrets or techniques that make their art special and unique, but it's important that we support each other as much as possible," she says.
That support can come in the form of taking one another's classes and workshops, attending artist receptions, visiting galleries and open studios, sharing tips and resources, and using social media to "like" others' works, awards and arts organizations.
"I look forward to Lisa's talk very much," says Gross. "As artists, we're always looking for ways to get our artwork in front of the public. By connecting with other artists on social media and through artist networks, we can learn from each other's experiences about how best to display, show and connect to the buying community."
"Connecting with the Art Community" will be held at 5:30 p.m. on July 27 at NTA.
"The main thing I want the audience to take away from this talk is that when artists, patrons and art entities connect and work together, the whole art community is greatly enriched, which comes full circle and enriches the individual as well," says Jefferson.
Cracklin' Rosie: Watercolor

 

|

 

28" x 20"
North Tahoe Arts
Connecting artists and the community was one of the reasons the nonprofit North Tahoe Arts was founded in 1985. Based in Tahoe City, the group grew over the years from its seven original members; in 2016, it reported serving more than 12,000 people, to include 270 children.
One of NTA's most popular programs is its summertime ARTour event, which returns this summer after taking off the last year to reconsider its traditional studio tour format.
"NTA decided that we needed to reinvent ARTour mainly due to the traffic problems we are experiencing in North Tahoe," says Gross. "We heard from the public that it was very difficult to get around during the summer, and that it was impossible to visit more than a few artists' studios."
This year, ARTour will be held August 12–13 as a walkable arts festival, with artists' booths lining the streets of Tahoe City. Gross stresses that this year's iteration will include demonstrations, a crucial factor in ARTour's past success.
"In the studio, artists can demonstrate their techniques, and we are requiring all ARTour participants to keep that element on the tour this year," Gross says. "There will be a demonstration schedule every day and the public will be able to see all the artists at work."
Jefferson will be among the many artists participating and demonstrating in this year's event.
North Tahoe Arts also hosts weeklong Kids Art Camps for children ages 5 to 12 in July, the North Lake Tahoe Plein Air Open from September 5–10, the twice-monthly Gathering of Artists, and workshops that range from art demonstrations like palette knife oil paintings and fused glass pendant making to talks about careers and Jefferson's own connection lecture. A variety of artwork—from paintings to ceramics to blown glass and more—by more than two dozen North Lake Tahoe artists is available at NTA's ARTisan shop at 380 North Lake Boulevard in Tahoe City.
---
To learn more about Lisa Jefferson, visit www.lisajeffersonart.com or www.facebook.com/lisajeffersonart. Her talk, "Connecting with the Art Community," will be held at 5:30 p.m. on July 27 at North Tahoe Arts. To learn more about North Tahoe Arts and its programs, visit www.northtahoearts.com.
---
Alison Bender is a Reno-based writer and editor. Find more of her work at www.alisonobender.com.