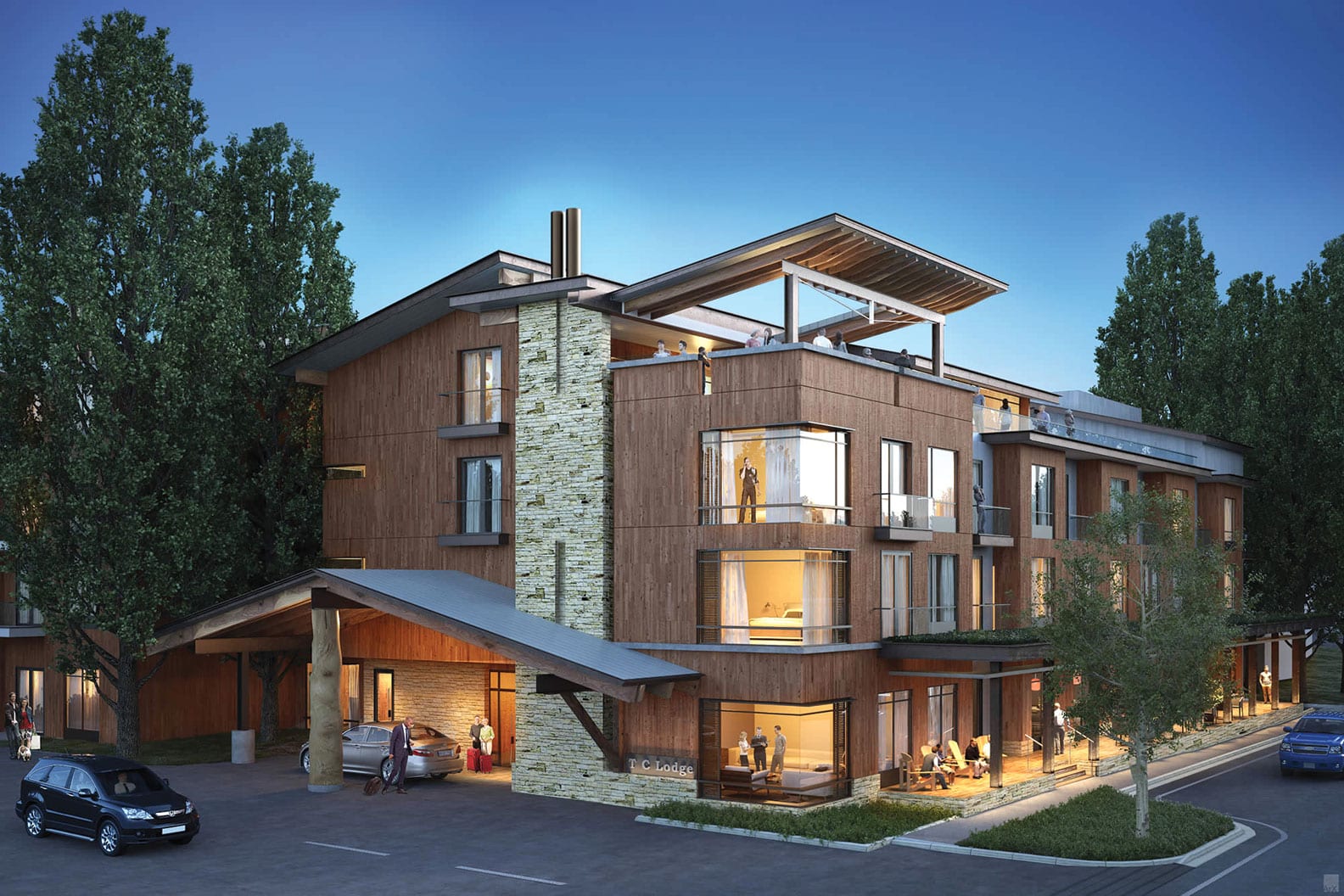 Rendering of the Tahoe City Lodge
22 Jun

Developments Could Remake North Shore

A full slate of development projects primed and ready for Truckee and Lake Tahoe's North Shore will have a transformational impact should they be built.

However, several of the projects remain dogged by lawsuits or a lack of financing, which, despite the improving economy, remains difficult to procure.

The Truckee Railyard proposes to extend the town's historic downtown corridor while renovating the former industrial site, using newly restored Trout Creek to hem in a single-family home development.

Developers were scheduled to begin work this summer on the Artist Lofts, an affordable housing project that depends on low-income tax credits for construction funding. The 78-unit project, which would contain a range of apartments from studio to three-bedroom, did not get funded during the state's last appropriations cycle, meaning immediate progress on the project looks to be delayed once again. 

"We've been processing a lot of entitlements," says Truckee Town Manager Tony Lashbrook, who is retiring this summer. "The question remains what will go to construction."
Rendering of the 
Truckee Railyard
Another Truckee development called Coburn Crossing proposes to build a 127-room Marriott Hotel and a 138-unit apartment building on a 10-acre site off of East Jibboom Street. The project, which targets a site where a controversial proposal to build a Kmart once arose and died, is particularly attractive to Lashbrook because the apartments would be designated locals-only.
"There is a housing crisis in Truckee," Lashbrook says.
Anecdotally, many local officials believe the tight rental and ownership market are in part created by the short-term rental market, in which apartment owners can often get more money from renting their places to tourists as opposed to the traditional yearlong leases.
Coburn Crossing was supposed to help with that crunch, but that project is reliant on funding from the U.S. Department of Housing and Urban Development (HUD), and that funding has yet to come through.
Complicating the picture is President Donald Trump's appointment of Ben Carson to lead the HUD, as the conservative has expressed reluctance to keep up the pace of spending necessary to fund projects such as Coburn Crossing.
Raley's recently announced plans to build a 35,000-square-foot grocery store near the Truckee Tahoe Airport at the corner of Highway 267 and Soaring Way. The supermarket is the second to be proposed, as Holliday Development has also announced plans to include a Nugget Markets, a California-based grocery store chain. However, as of this printing Lashbrook says the town has yet to receive an official application from either store.
BevMo!, the large liquor store chain, has presented an application for a permit development and seeks to develop a property off Donner Pass Road.
"The bottom line is that we have a lot of development, but whether it gets built is a major question mark," Lashbrook says.
The story is similar on the North Shore of Lake Tahoe.
The Cal Neva Lodge & Casino, which has had several owners and tentative opening dates in recent years, remains in a holding pattern after owner Radovan Criswell filed bankruptcy. The developers were in the midst of a $49 million overhaul of the casino once owned by Frank Sinatra, but as the bankruptcy case continues to wind through court, its immediate future remains unclear.
Boulder Bay, which figures to overhaul the Tahoe Biltmore Lodge & Casino while adding some residential units, has moved slower than the timeline the developers, Roger Wittenberg and Heather Bacon, unveiled during the approval process.
Nevertheless, Tahoe Regional Planning Agency (TRPA) spokesman Tom Lotshaw says the project's development permit remains active. The company has installed environmental improvements on the site and built a park, and has plans to build three six-unit condos this year, with two other buildings slated for construction next summer.
Tahoe City Lodge is also moving forward with its plan to build a 118-room hotel on an environmentally degraded site in Tahoe City.
Samir Tuma, the project developer, expresses optimism that the project unanimously approved by the TRPA governing board and praised by the League to Save Lake Tahoe will open in the spring of 2019.
"The financing is pretty much lined up," Tuma says. "There are a couple of things with Placer County we must finalize, so it's not entirely in the bag. But, it looks very encouraging."
Kings Beach was the beneficiary of a $44 million commercial core improvement project that revamped Highway 28 through the town. Last summer, San Francisco–based developer Laulima Partners bought the old Crown Motel site from the Ferrari family, plus additional parcels in proximity, and has plans to build a 117-unit hotel, 34 residential units and 5,500 square feet of commercial space in the middle of Kings Beach.
California State Parks also is in the midst of updating its general plan for the Kings Beach State Recreation Area, which could include revamping and moving the pier closer to Coon Street. Marilyn Linkem, a spokeswoman for the parks, says the agency would also like to renovate the boat ramp and restrict its use to non-motorized boats.
Up the road from Kings Beach on Highway 267, the Martis Valley West project earned approval from Placer County last year. The project calls for the construction of 760 residential units and about 56,000 square feet of commercial space on 7,000 acres of previously undeveloped land near Brockway Summit.
Environmental organizations sued after the development was approved, claiming the approval process was marred by an insufficient environmental review. Blake Riva, managing partner of developer Mountainside Partners, says he hopes to have a trial date solidified later this year.
Similarly, Squaw Valley's attempt to redevelop the village at the base of the ski resort has hit a snag, with environmental organizations filing suit after the project was approved by Placer County late last year. The plan calls for the construction of about 1,500 hotel and residential units, a 9,000-square-foot indoor park and 21 timeshare units.
Looked at holistically, the North Shore, Truckee and the corridors that connect the two will look entirely different if financing becomes available and lawsuits are resolved. But presently, those ifs loom large.