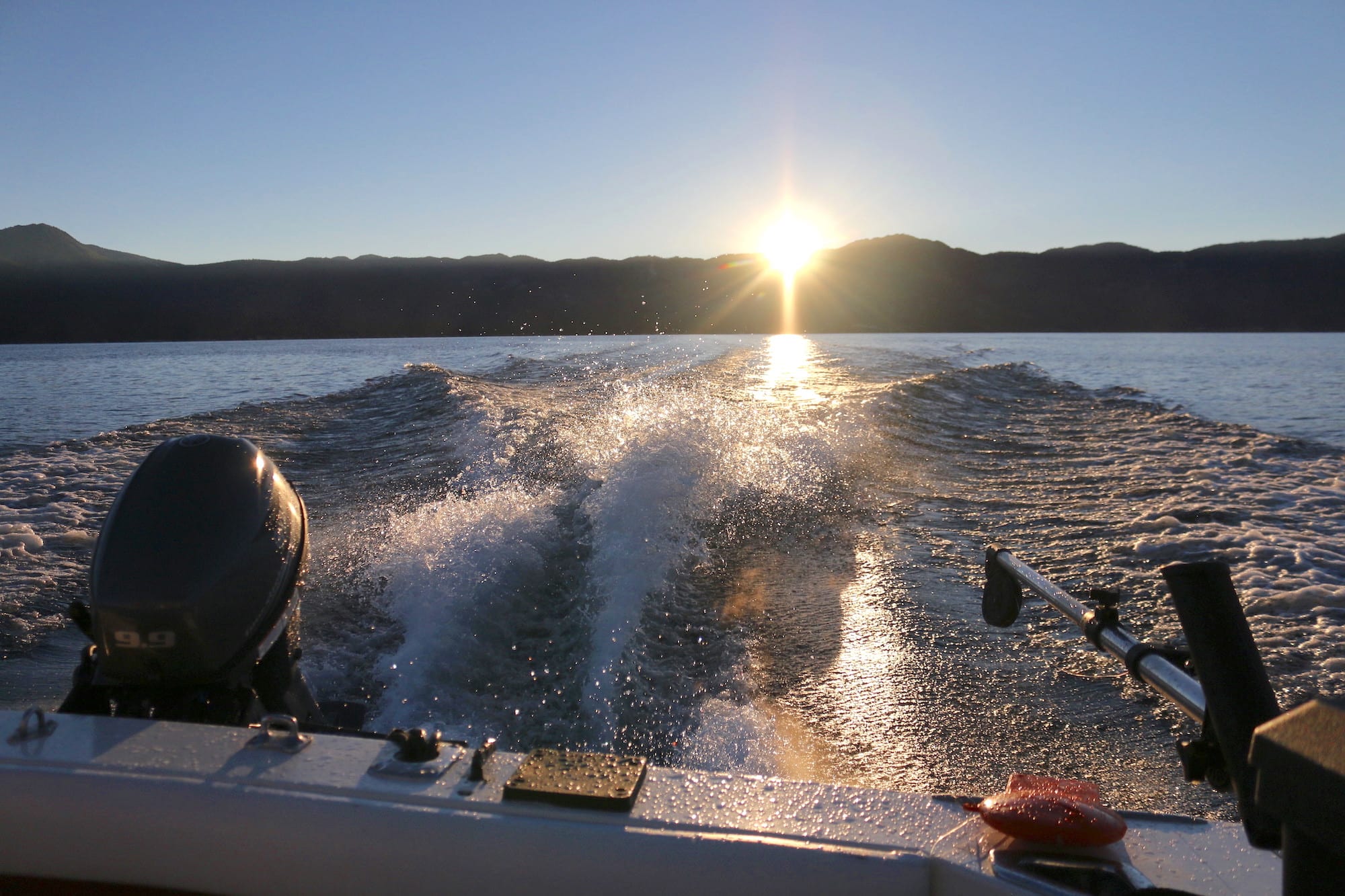 The Fishable Lake Tahoe outing begins with a boat ride out to a mackinaw hotspot about 2 miles offshore, photo by Sylas Wright
22 Jun

From line to table

The jarring beep of an alarm clock holds its own among the most obnoxious sounds on earth, particularly at 4:30 a.m. on a Monday. But the rude wakeup is easier to forgive when associated with fishing.

Such was the case on a recent summer morning, when the Hyatt Regency Lake Tahoe in Incline Village, in partnership with Action Water Sports, hosted a media-only version of their "line-to-table" fishing excursion, called Fishable Lake Tahoe.

The concept is brilliant. Guests begin the morning aboard a fishing charter through Action Water Sports. The fish caught that morning are cleaned on the boat and handed over to expert chefs at the Hyatt's award-winning restaurant, Lone Eagle Grille, who then cook the fresh catches based on the clients' preferences.

Hyatt Regency Lake Tahoe photographer Justin Majeczky shows off his catch, photo by Sylas Wright
Curious which media members rallied for the occasion, I shuffled bleary-eyed into the hotel lobby at 5:45 sharp to find Justin Majeczky, the Hyatt's photographer, and Chris Skelding, the resort's director of sales, marketing and events. Amanda Burden and Jaci Goodman from Edible Reno-Tahoe magazine soon followed, and the whole of our group was assembled.
We walked down to the resort's private pier and were greeted by Ben Cowley, our captain and guide on Action Water Sports' 28-foot Bertram, cleverly dubbed Reel Action. With the prime fishing hours dwindling, Cowley wasted little time motoring out to our trolling location roughly 2 miles offshore.

Action Water Sports guide Ben Cowley removes a fish from a net during the Fishable Lake Tahoe media day, photo by Sylas Wright
The air warmed quickly as the sun crested the Carson Range, casting a glowing yellow ribbon in our wake. Upon arriving at our destination, it was apparent that the fishing hotspot in this corner of Lake Tahoe is far from classified. Multiple boats idled around in a slow-motion race of sorts, before the morning bite gave way to the heat of day.
Cowley explained that we'd be trolling with lures called Laker Takers at depths ranging from 200 to 400 feet. That's where the mackinaws—also known as lake trout—were feeding on mysis shrimp. But that is not always the case, Cowley said. The feeding patterns of Tahoe's mackinaws vary from year to year based on environmental factors such as runoff into The Lake. Last summer, for example, with less runoff (and accompanying nutrients), the mysis shrimp were fewer in numbers, so the macks instead fed mostly on crawdads in shallower water.

Amanda Burden holds up one of the four mackinaws caught on the day, photo by Sylas Wright
Before long, one of our two fishing poles began to dance. Cowley yanked the rig off its downrigger and handed it to the closest person, which happened to be me. The fish seemed to give up its fight as I reeled in the line, and for some time I thought it had escaped on the pole exchange. The mack resumed its fight as it neared the boat, however, and Cowley scooped it from the water with a net. We were officially on the board, despite the fact that we threw it back due to its small size.

The fish are cleaned on the boat before being handed over to the Lone Eagle Grille's expert chefs, photo by Sylas Wright
Our group pulled in three more fish before calling it a morning around 9:30. Although two others got away, three mackinaws in the 2- to 3-pound range proved more than enough for a meal.
Lone Eagle Grille chef Josh Childers and crew did the honors. Behind Goodman's suggestion, they rubbed the fish—bones-in—with a canola–olive oil blend and seasoned with kosher salt and ground pepper. The inner cavities were stuffed with sliced lemons and fresh herbs, including thyme, parsley and tarragon, before the macks were placed on Lone Eagle's wood-burning grill and then finished on cedar planks in the oven.

Lone Eagle Grille chef Josh Childers prepares a freshly caught mackinaw, photo by Sylas Wright
The result was a flavor-bursting, melt-in-your-mouth lunch that was enjoyed by all.
For this occasion, the early wakeup was well worth it.
To book a Fishable Lake Tahoe outing, contact Action Water Sports at (775) 831-4386 or the Hyatt Regency Lake Tahoe at (775) 832-1234, extension 51, or hrltconc@hyatt.com.

The fish cook on Lone Eagle's wood-burning grill, photo by Justin Majeczky

Freshly prepared mackinaw ready to eat, photo by Justin Majeczky