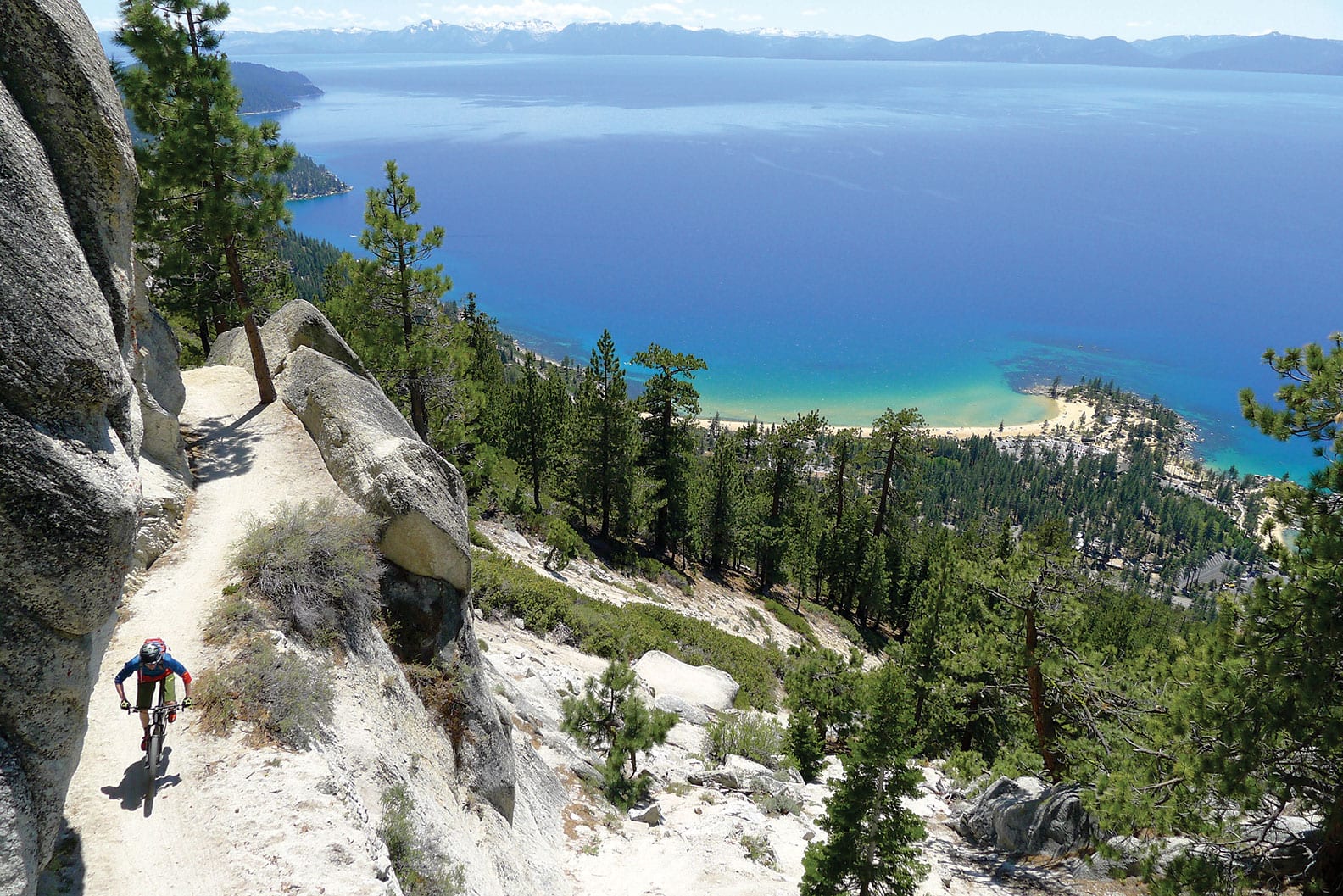 With panoramic lake views, it's no wonder the Flume Trail is the most iconic trail in Lake Tahoe, photo by Oscar Havens
22 Jun

Local Author Pens Mountain Bike Guide

Hundreds of miles of trails—from rough and rocky singletracks traversing high alpine ridges, to smooth, flowing trails wandering through cool, shaded forests—make the Lake Tahoe region a mecca for mountain biking.

Classic test pieces like Mr. Toad's Wild Ride on the South Shore and Hole in the Ground near Truckee are known in mountain biking circles across the nation, while groundbreaking trail work like South Shore's Corral Trail network is bringing new attention to the area.

Jeremy Benson, like many others who call Tahoe home, came as a ski bum 16 years ago and never left—in part, because of the phenomenal mountain biking. A pro skier, avid cyclist and freelance writer, his journey to writing a book, Mountain Bike: Tahoe: 50 Select Singletrack Routes, is similar to how he ended up here: It started off about skiing.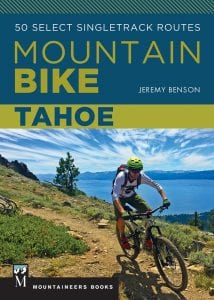 "Mountaineers Books contacted me about four years ago to author a backcountry skiing guidebook for California. I said, 'Of course, that should be no problem,' and then we had four of the worst winters ever back to back," Benson says.
So Benson decided to pitch the publisher on a mountain bike guidebook instead, something Mountaineers Books hadn't done before. Given the green light, Benson set out to catalog the extensive network of trails, both inside and outside of the Tahoe Basin.
"The sport is definitely growing in popularity—it's a wonderful time to be a mountain biker because there is so much opportunity to ride around here," Benson says. "In my opinion, Tahoe is one of the best places to ride anywhere."
While riding in the Tahoe area for well over a decade meant Benson was already familiar with most of the mountain bike trails available, the project was still time consuming, he says, taking a solid year of work to complete.
"I already had a large portion of this in my head, already pre-mapped, pre-laid out—so not a ton of this was new to me, but I had to get GPS tracks, get photos, and try and remember everything turn by turn so I could present that in the book," Benson says.
While the undertaking of cataloguing 50 trails in and around Lake Tahoe might sound tedious, Benson is quick to say at the end of the day, he went out and rode—which is what he loves to do.
"It was more or less just going for a bike ride," Benson says. "And I was already addicted to doing that as much as humanly possible."

Author Jeremy Benson
The result is 50 rides in Tahoe, Truckee and surrounding areas like Carson City, Reno, Auburn, Nevada City and Downieville—giving riders a wide variety of trails at different elevations, meaning year-round options regardless of snowpack.
Writing the book, which was released in May, introduced new rides to Benson, including trails like the Clear Creek Trail on the Clear Creek Tahoe property just east of The Lake, which have opened up biking opportunities at lower elevations while waiting for Tahoe snow to melt.
It also meant revisiting old favorites, like the senic Tahoe Rim Trail from Tahoe Meadows off of Highway 431 to Tunnel Creek, as well as Mr. Toad's Wild Ride, known for its technical challenges.
"One thing this project really did was to reinforce my opinion that Lake Tahoe is one of the premier mountain bike locations in the country because of the diversity of trails, the scenery and the addition of riding areas near Tahoe," Benson says. "There's a wealth of opportunity that's pretty incredible."
The book includes useful information about the region, a description of each trail with distance, elevation gain and loss, highest elevation, approximate ride time, technical difficulty, fitness intensity, recommended season, available maps and GPS data. A mileage log gives mile markers for key directions, intersections or points of interest.
Whether a beginner making his or her first foray into mountain biking in Tahoe or local experts looking to add new trails to their repertoire, Benson's book includes a variety of trails for all ability levels and interests, broken into sections by North Shore, East Shore, South Shore, West Shore, Truckee, Downieville and Graeagle, Foothills, and the Reno/Carson area.
As Tahoe-area mountain biking continues to grow in popularity, Benson urges locals and visitors alike to give back to the trails and to do their part to keep them in good shape and open to all users.
"Volunteer your time, donate your money or do what you can to support the groups that make these trails a possibility," says Benson, who works as a volunteer trail crew leader for the Tahoe Area Mountain Biking Association (TAMBA).
"I think the future of mountain biking in Tahoe is pretty bright. I hope we can continue to have an environment accepting of the sport, a community that rallies behind the trails and helps maintain them for all user groups, and continues to improve—I think it will only get better with time."
---
Mountain Bike: Tahoe: 50 Select Singletrack Routes can be purchased at Olympic Bike Shop in Tahoe City, Granite Chief in Truckee and REI, or online at www.mountaineersbooks.org.