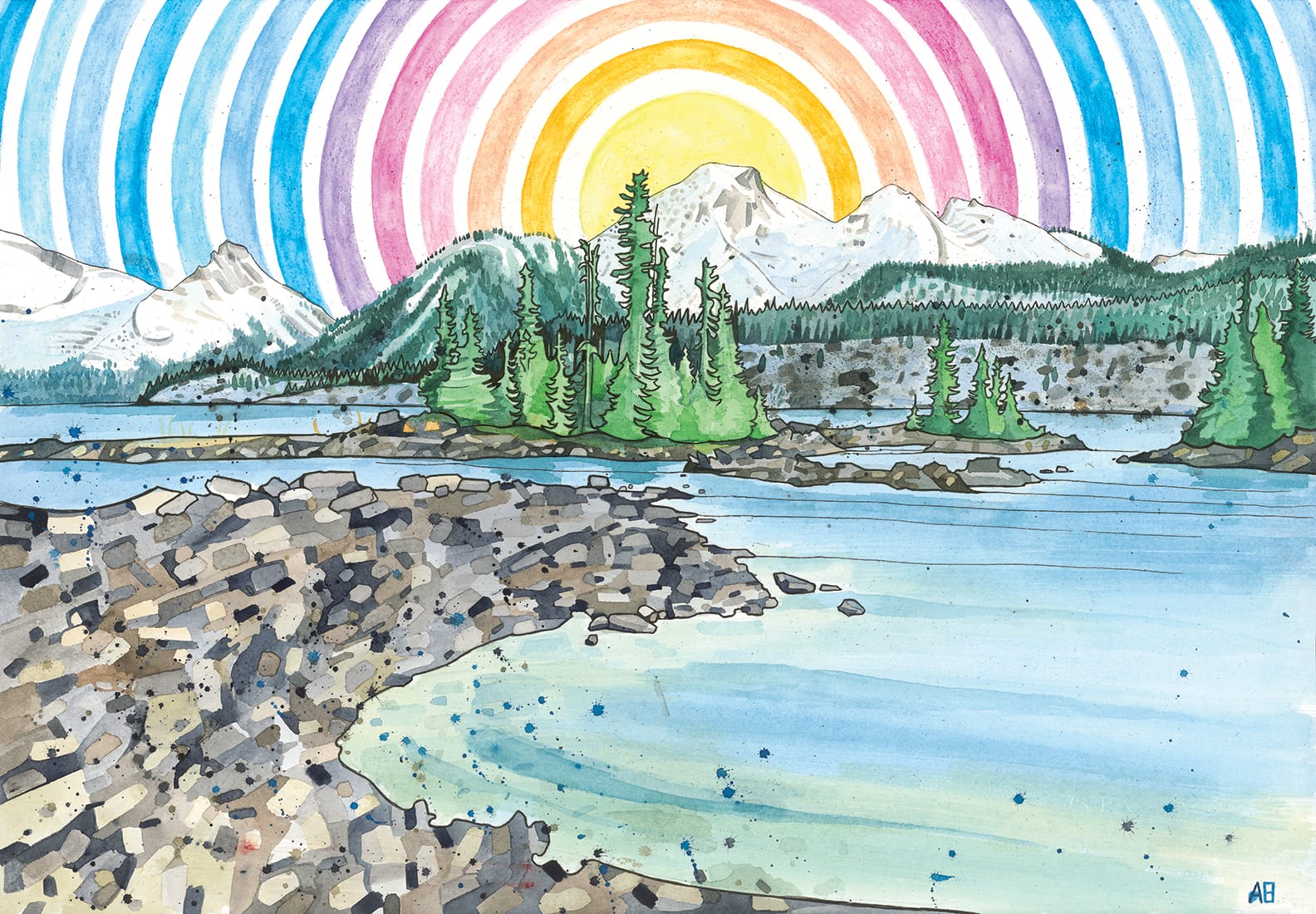 Garibaldi Lake: Watercolor, watercolor crayons and ink on paper, 18 by 12 inches
24 Jun

A Natural Artist
Geochemist Alex Bailey brings a scientific eye for landscapes and animals to her artwork
Spontaneity, contrast and imperfection are the hallmarks of artist Alex Bailey's ink-and-watercolor renderings, which the Reno-based geochemist achieves through her passion to connect with landscapes and ecosystems.
While Bailey spends much of her time outside for work, she finds that some questions are better answered through paint than geochemistry.
"I have a certain curiosity about the environment that is often satiated through drawing and painting," says Bailey, who works for an environmental consulting company. "Usually my process involves a light blocky sketch on the paper, then I jump right in with ink and watercolor. I focus on conveying emotion and feeling in my work, but it's my emotion and my feeling, which may be different from what another artist would convey."
Splitting time between Marin County and her family's second home in Kings Beach while growing up, Bailey found early artistic inspiration in the stark colors of Lake Tahoe and the surrounding Sierra Nevada. After acquiring a master's degree in environmental geochemistry from Queen's University in Canada, she developed a keen eye for detail that is displayed in her artwork.
Finding Passion in Challenges
Bailey began sketching as a child, encouraged by her father while on hikes around her birthplace of Ontario, Canada, where much of her family still resides. She gradually incorporated acrylic and oil paints into her work, finding inspiration from the many landscapes painted by her grandmother that hung in her childhood home. The vibrant colors of the Tahoe environment encouraged her to saturate her landscape pieces through these years, a trait that would carry through to her later work.
Throughout high school while in California, Bailey's artistic side flourished. She drew for her local newspaper, exhibited in art shows, and learned all she could through workshops and mentors. Bailey often found herself avoiding watercolors during this time, as she found them unforgiving in their permanence.
Bailey left California after high school to attend Whitman College in Walla Walla, Washington. Much of her art remained private during these busy college years, which allowed her to experiment with watercolor and ink, media that she had avoided in the past.
"Now I exclusively use watercolor paints because they are so portable, but also because I have learned to love their permanence," Bailey says with a laugh. "I like to pair them with ink because I have always been more excited about drawing, and I like the contrasting media that I think complement each other well."
Toward the end of her four years in Walla Walla, Bailey's friends expressed their appreciation for the watercolor and pen pieces she had painted in notebooks. The encouragement led her to begin sharing her work publicly at art walks and through social media, and she eventually sold pieces scanned from her notebooks and took on commissioned works. After several years of sharing her watercolors, Bailey says, "I feel a lot more comfortable sharing my work, even though it can be really vulnerable."
Yet this vulnerability has led to empowerment through a supportive female business owner/artist community in Reno, as well as over social media. Bailey specifically credits Emma Leigh Geiser and the Wyld Women Networking Reno group for encouraging her through promotion, storytelling and connection.
A Scientific Artist
"I think what sets artists apart is the way that they capture something," says Bailey, "and I think that's tied to thought process in the same way that two scientists could approach the same problem completely differently depending on how they think. I find that geology and art really go hand in hand for me."
This scientific eye for unique geologic structures such as faults and volcanic intrusions allows Bailey to approach landscape pieces with a sense of depth, emphasizing areas and features that might otherwise blend into the background.
Locations and themes for Bailey's pieces vary as a result of her geology work, her personal adventures as a rock climber and backcountry skier, and her passion for travel. Much of her inspiration is a result of connecting with environments and communities, with pens and paint acting as a medium for her to express how she feels in that time and space.
Bailey's graduate research and career as a geochemist have greatly influenced her work, as can be seen in her pieces of Yellowknife, Northwest Territories. Bailey spent extensive time in this community that is economically reliant on resource extraction, building sincere connections with both humans and the environment while understanding the impacts of mining. The experience resulted in colorful pieces that are meaningful in varying ways, depending on how an individual interprets them.
Material Chosen by Circumstance
Considering that nature and community are Bailey's primary inspiration for her artwork, getting outside is a key component to her process.
Bailey describes much of her work as spur of the moment: "No matter what I am painting, I never really plan things out in advance. Planning everything out in advance kind of takes away from the process of creating for me. I like to feel surprised by the end product, and it rarely turns out the way I think it will."
This spontaneity requires that she take enough material with her whether on the job, on hikes or while climbing that she can at least begin a piece that can be fleshed out later using the help of photographs. This mix of plein air sketching and watercolor, finished in the studio with pens and additional watercolor, leads to a menagerie of media choices.
In general, Bailey works with hot-press paper, using the smooth surface to let watercolors run and extract more details with ink pens. Many of her pieces range in size between 11 by 14 inches and 18 by 24 inches, although commissioned works take on all shapes and sizes.
Finding a Balance
Bailey's geochemistry career takes precedence over her calendar; however, she hopes to delve into art shows and the Lake Tahoe artist community this summer through plein air festivals and farmers market art shows.
For the moment, she describes her art career as a cathartic passion that brings her joy, and she is content with letting it evolve over time. She is currently focused on a series of paintings depicting different landscapes in California, especially around Lake Tahoe, that hold meaning both personally and scientifically. Many of these painting will showcase the different ecosystems partitioning the state, allowing her to convey environmental science and conservation issues through art.
Alongside her planned pieces, Bailey hopes to find inspiration during ski summits of Mount Shasta, while peak bagging in Bishop and climbing around the Sierra Nevada.
"Some of my earliest and most recent experiences in the mountains have taken place around Lake Tahoe, so it will always hold a special place in my art," she says. "The environment and ecosystem here is wholly unique, and it inspires me to find beauty and nuance in all subjects."
---
Visit Alex Bailey's instagram, @alexbaileyart, to view her artwork and her website to purchase originals, prints, postcards and stickers.
---
Dillon Osleger is a Truckee-based earth scientist, storyteller, and professional skier and cyclist.