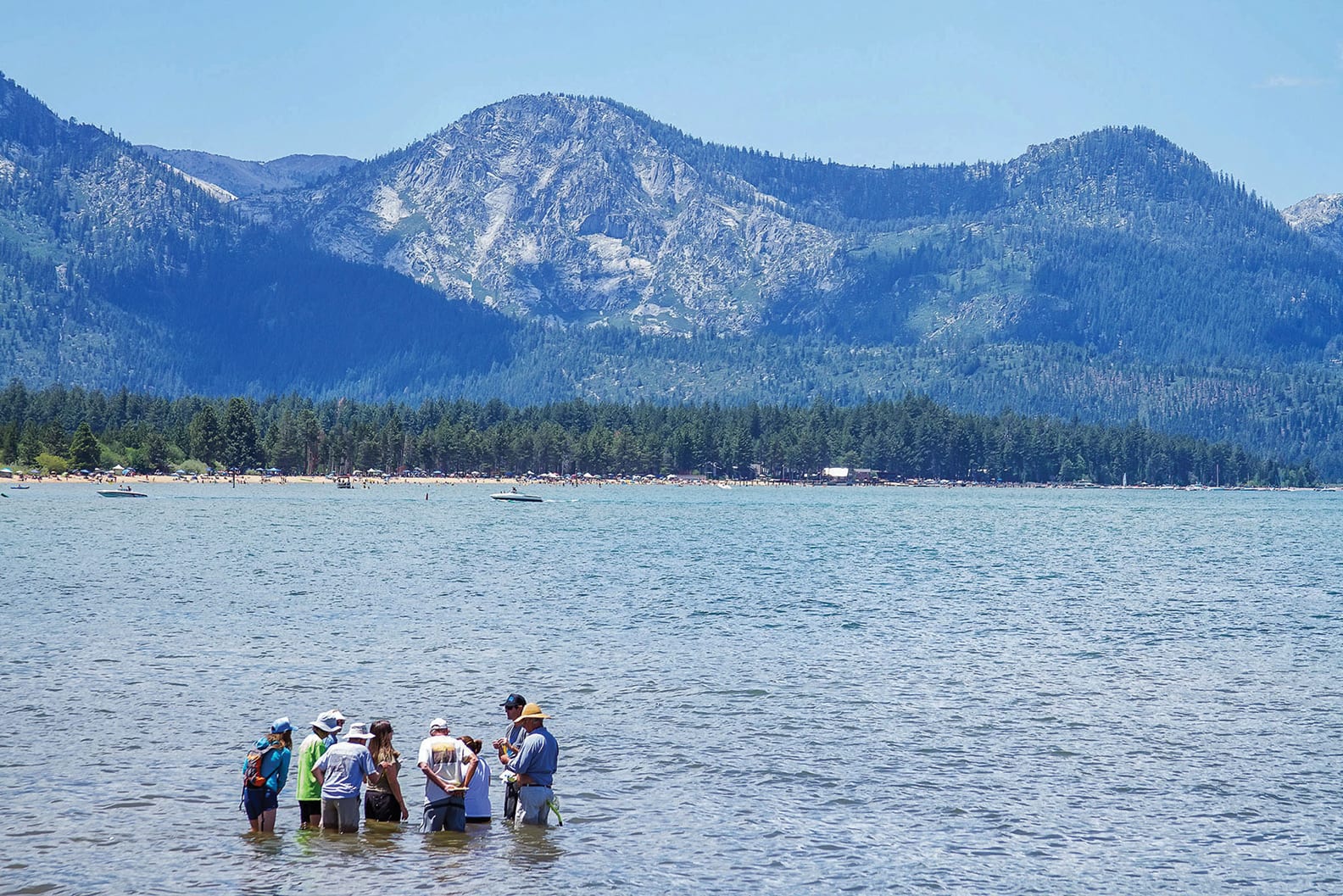 Eyes on the Lake training on the South Shore, photo by Shanute Dittmar Photography, courtesy League to Save Lake Tahoe
24 Jun

All Eyes on Big Blue
The League to Save Lake Tahoe engages lake lovers to help combat invasive species
The effort to keep Lake Tahoe scenic, clear and ecologically sound has been taken up by an army of advocates who are determined to allow future generations to revel in Tahoe's beauty.
Tahoe champions like Jesse Patterson, chief strategy officer of the League to Save Lake Tahoe, have recruited Lake Tahoe locals and visitors to help combat some of the lake's most troublesome threats. They are providing vital ecological information through smartphone apps in a sort of digital age Neighborhood Watch that reports Lake Tahoe's environmental enemies.
These eyes on the lake are a critical tool in tapping Tahoe's millions of visitors in a "citizen science" crusade to keep the lake blue by preventing the spread of aquatic invasive plants.
Engaging Advocates
The primary target of these new practitioners of citizen science are plant species that do not belong in Lake Tahoe and can damage the lake's fragile ecology.
"Prevention is seriously the most important thing we can do to protect the lake," Patterson says.
Finding aquatic invasive plants early before they gain a secure foothold in Lake Tahoe is critical. Using only a handful of methods permitted and known to work in Tahoe's delicate biosphere—underwater vacuuming and hand-pulling of plants, bottom barriers, or tarps that cover infestations to prevent photosynthesis and further growth—the spread of these damaging invasive species can be stopped or reversed.
People want to support this effort. But for years Tahoe's visitors and tens of thousands of part- and full-time residents did not know how to help.
Enter "Eyes on the Lake."
In 2013, a napkin doodle of Tahoe donning snorkel gear gave rise to an advocacy program that's proving to be one of the League's most successful. Patterson and team stared at the drawing and thought, "Imagine how neat it would be if there were eyes on the lake looking out for all these infestations," says Patterson. "With the millions of people who enjoy the lake, they could help us if they knew what they were looking for."
Recently, scientists with the League, U.C. Davis Tahoe Environmental Research Center and the Desert Research Institute created an app called Citizen Science Tahoe that crowdsources data from people voluntarily participating in the scientific process. Information is then used by data managers to create real-life, science-based solutions to everyday problems. 
Inspired by the idea of protecting while playing, the team also decided to build an interactive app that empowers water recreationists to collect beneficial, real-time data. By receiving in-person or video training, and providing reports from across Tahoe, Eyes on the Lake gives tourists and residents tangible ways to help with prevalent issues.
It's instrumental in both preventing the spread of invasive species and spreading awareness.
The app is simple to use and offers quick and helpful aquatic invasive species identification training. Combined with the field and video volunteer education the League also provides, Eyes on the Lake is another widely accessible defense in the fight to protect Tahoe.
By downloading the Citizen Science Tahoe app, people exploring the lake can easily take pictures and provide information on the algae, plants and animals, water quality, beach conditions and any invasive species they see. This data is reported to League staff, who then identify areas of concern and can start the process of controlling any reported invasive species.
Quantifiable Improvements
It's proven so helpful that Eyes on the Lake participation has become a "best management practice" for Tahoe marinas seeking general permits.
Patterson says it has become a "smashing success" in terms of providing an effective means of monitoring the lake. So far, Eyes on the Lake has helped the League and its partners uncover seven previously unknown infestations that have been controlled or are being actively watched. It's also provided training for 14 marinas and has trained 531 certified volunteers (not including those who have watched their training videos and downloaded the app). Those volunteers have completed 893 site surveys. All recent reports are publicly available at www.keeptahoeblue.org/eyes.
Any level of participation is valuable. Eyes on the Lake and the League's other programs are scaled to offer something for everyone, depending on how much time they want to commit. Volunteers can monitor a portion of the lake or beach and do weekly surveys or join in events such as Keep Tahoe Red, White and Blue, the League's most attended endeavor that takes place annually on July 5 at multiple locations around the lake.
Or anyone can simply download and use an app when time permits.
"All of our work (like Eyes on the Lake) is funded by our members," says Patterson. "Nearly 100 percent of our funds come from the private sector, so we are very reliant on membership and support to execute these free and effective programs to Keep Tahoe Blue."
With the League's ever-increasing bounty of supporters and programs, the path to Tahoe's continued clarity is crystal clear.
---
Natasha Bourlin is a Reno-based freelance writer.