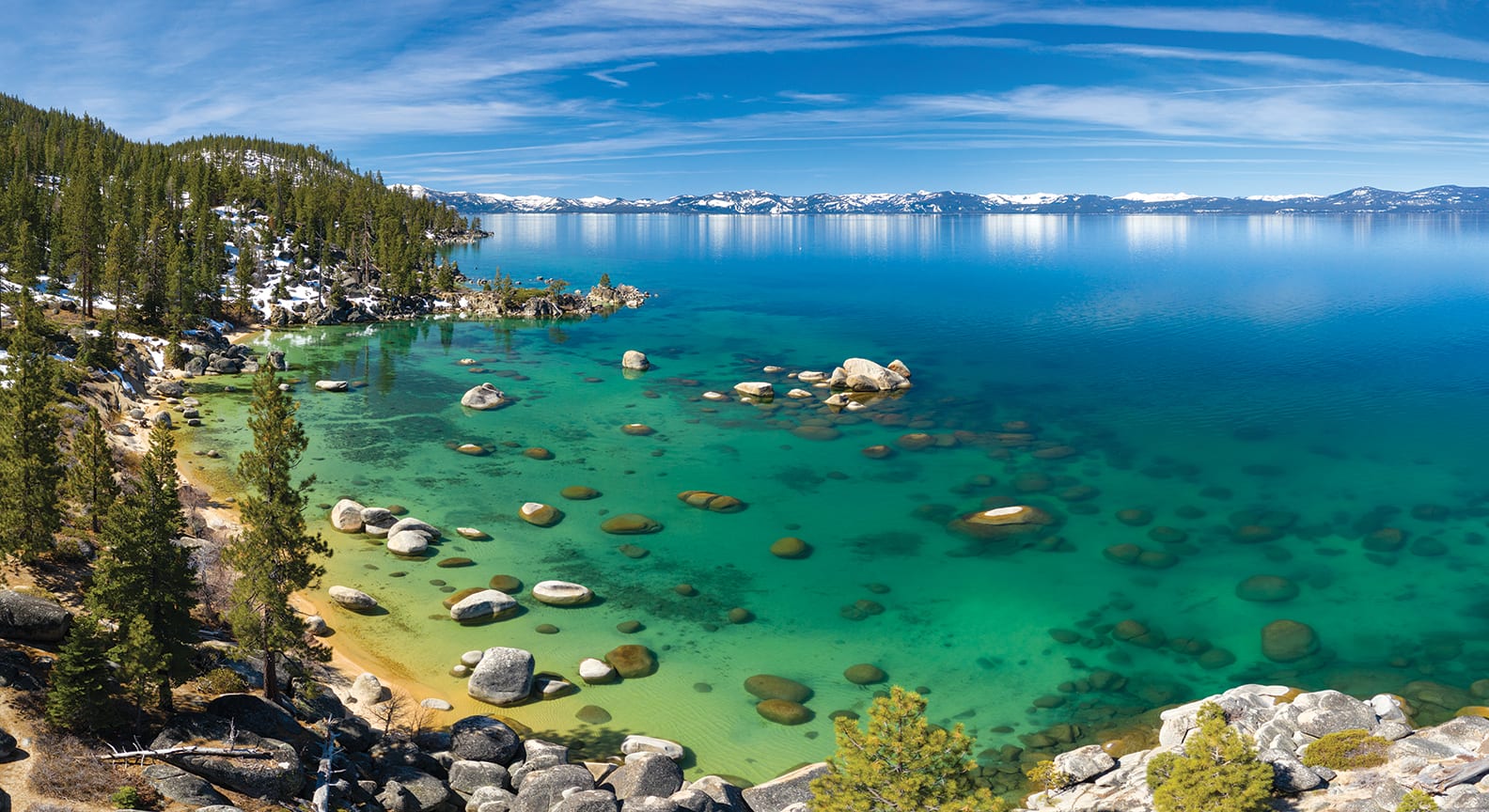 A calm, photogenic day on Tahoe's East Shore
24 Jun

Capturing the Magic of Tahoe's East Shore
Local photographer shares tips on shooting this scenic, secluded stretch of shoreline
Lake Tahoe's East Shore is a place of rare, unspoiled beauty—a magical intersection of land and water that stands in contrast to the developed majority of the lake. As a result, this roughly 20-mile stretch of rocky shoreline is among the most commonly photographed locations in the Sierra Nevada, rivaling the iconic Yosemite Valley and, straight across Tahoe's crystaline waters, the stunning Emerald Bay.
Simply put, the East Shore is a photographer's dream.
And while each season provides its own unique qualities, summer is an ideal time of year to trek to a secluded beach with camera gear in tow, leaving with striking images all your own. Finding that beach is up to the shooter. The following guide is just intended to help.
Accessing the Magic
Countless photos—many of them displayed on the walls of homes and businesses throughout the Tahoe Basin—serve as visual proof of the East Shore's photogenic beauty. The Nevada side of the lake is speckled with mixed conifer trees and manzanita bushes along its panoramic shoreline, where unimpeded views open to Squaw Valley, Homewood and the towering snow-capped peaks of Desolation Wilderness. Caribbean-like blue water hugs the entire boulder-strewn shoreline, giving beachgoers the overwhelming urge to dive into Tahoe's crisp, cool waters.
Unless arriving by boat, however, these remote East Shore gems require a bit of work to access from the various roadside pull-offs and parking lots. Arrive early for the best chance to get a spot. Don't forget, the hike down is easy, but after a long day at the beach in the warm sun, the hike back up will surely make you respect the remoteness of these beaches and Tahoe's 6,000-plus-foot elevation.
While the East Shore offers many prime locations for beach-goers to relax and spend a hot summer day, it is important to note that most of these beaches are clothing optional. Secret Cove is one of the most frequented by locals who would rather enjoy the sun and water without pesky bathing suits. If that does not sound like your scene, simply walk a little farther south to find other beaches, each with its own unique charm, grace and wonder.
Exploring this stretch and finding your own magical place is rewarding in itself. The next step is capturing that classic clear-water shot for which the East Shore is known.
Getting the Shot
The first tip to shooting along the East Shore is to monitor the weather forecast and go on a day without wind. It's typical in the summer months that the first few hours of the morning will be calm and glassy, but the wind and boat traffic commonly kick up around midday and will ruin that coveted Tahoe glass.
Early summer is best while there is still snow on the mountains, as it will give that wonderful contrast of snow-capped peaks arising from the blue water.
I also suggest bringing a wide-angle lens so you can capture all there is to offer in your frame. The lens you choose depends on which camera setup you're using. I suggest at least 16 millimeter or wider.
The last and most important piece of the puzzle is a circular polarizer filter to remove the glare from the water to provide that crystal-clear feel. There are many options, including Amazon's $8 circular polarizer, or, if you want the best, a Lee or NiSi square filter. You can expect to pay north of $250 for each of those.
Drone shooting is one of my favorite new ways to photograph the East Shore. I believe it's important to only fly when there are not a lot of people around to avoid the annoyance of something that sounds like a hoard of bees while trying to enjoy a nice day at the beach. It is illegal to fly directly over people unless you are on a closed film set, so definitely avoid that as well.
Drones can open up new shot ideas, however, and to me, this is what makes them so exciting as a content creator. For those looking to purchase a drone, I suggest the DJI Mavic 2 Pro. It's small and lightweight and fits well in a backpack. The drone is guided by GPS, making it extremely easy to fly. The Mavic 2 also has a nice Hasselblad camera on it that produces 20-megapixel RAW image files. This is the best bang for your buck by a long shot.
Milky Way shooting is one of my favorite aspects of photography. It's what made me fall in love with shooting in the first place. There's something about waiting for the long exposure to finish. When it finally pops up on your screen and you see all the detail and nebulosity of our host galaxy, it truly is spellbinding. If photographing the Milky Way from the East Shore, the best time of year is between June and September. You will want to bring a nice DLSR or mirrorless camera with a wide-angle, fast lens. A good example is the Sigma 14mm, f/1.8 lens, which is ultra wide and has a fast aperture, allowing you to get the most light into your sensor.
Don't forget a tripod, as you will need it for the long exposure required to gather enough light to produce an image in pitch black. Everyone shoots differently and the settings depend on the camera and lens combination you shoot with, but a good basic starting point is on a full-frame camera, 16mm, 25-second exposure, f/2.8 or wider aperture, 3,200-6,400 ISO. Set your white balance to around 4,000 and this should get you a great starting point. Also, don't forget that autofocus at night will not work. You have to manually focus your lens. Use live view and point your camera at a bright star, punch in and get critical focus on the stars. This will yield the sharpest results.
With some planning, the right tools, a bit of effort and a little luck, you will be able to take one of those classic Tahoe shots home with you.
Protect Our National Treasure
With an ever-increasing number of people visiting the East Shore, more and more trash is being left behind. This is unacceptable. While numerous organizations put together beach cleanups and graffiti removal days, we can all individually make a difference as well. Every time I visit, I make sure to pack out more than I pack in by picking up as much trash as possible. I have also politely asked people on multiple occasions to pick up their discarded cigarette butts, empty beer cans and flyaway plastic bags. You can do the same. Just make sure to do it nicely. Striving to have a non-confrontational, civil discourse can go a long way toward driving the point home.
---
Tahoe resident Justin Majeczky is a digital content producer with over 15 years of experience specializing in photography, video production, timelapse photography and drone aerials.