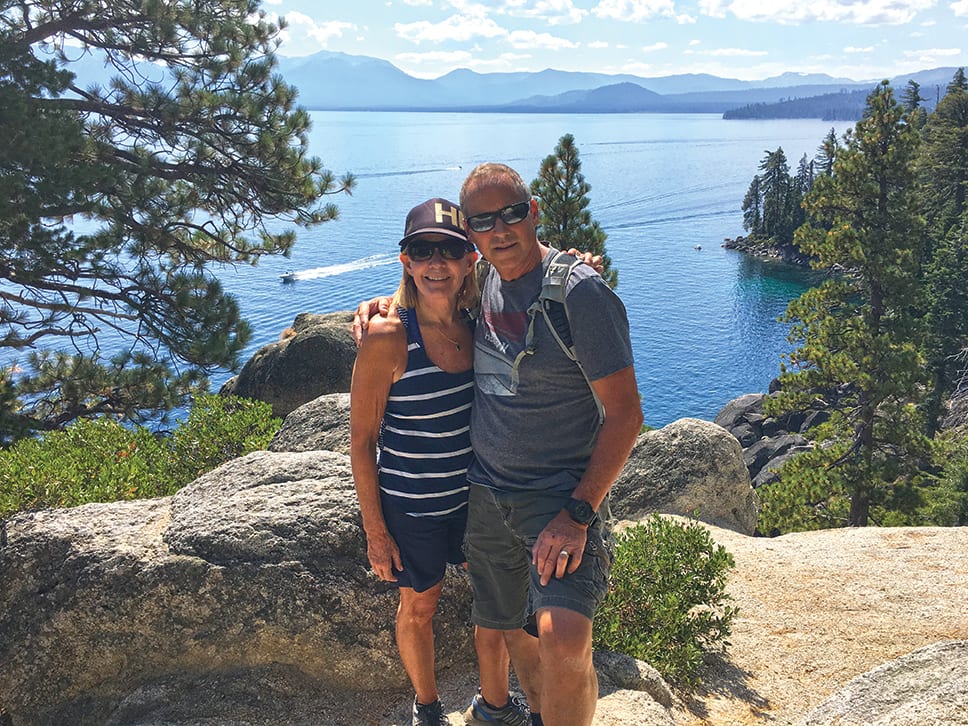 The Kresys enjoy a sunny day at the lake, courtesy photo
24 Jun

Chopping Block: Q&A with Lee Kresy of D'lish Catering

Bay Area native and Culinary Institute of America at Greystone alum Lee Kresy moved to Lake Tahoe in 1982, working at Jake's On The Lake for four years, then at Sunnyside as executive chef and partner for two decades. In 2013 Kresy and his wife Leah bought D'lish Catering; they also operate the Burrito Window in Kings Beach. Kresy, who is a regular at Best of Tahoe Chefs, the Lake Tahoe Autumn Food & Wine Festival and An Elegant Affair, has also helped nonprofits such as Project Mana and Tahoe Safe Alliance's Chocolate & Wine Festival. The Kresys live in Homewood; their son David is in the restaurant business in Maui and daughter Cassandra manages the office and front-of-house catering at D'lish.
Earliest culinary recollection?
Cooking with my parents. As kids we would all help out in some way in the kitchen, even if it was peeling potatoes or carrots to go with our meal. My parents both loved to cook, so I was brought up trying a lot of different foods and flavors.
Best Sunnyside memory?
Working among a great management team and staff.
How is the new Burrito Window location working out?
Our new location in Kings Beach could not be better. We are located directly across the street from the beach with lots of foot traffic, have seating inside for about 25 people and a small seating area out front as well.
Amazing venues you've cheffed?
Thunderbird Lodge is a pretty special venue and some of the private estates we cater at are pretty incredible and unique as well. You can't go wrong being on the lake.
Craziest catering story?
We catered Dustin Hoffman's daughter's wedding. It hailed about two inches the day before, but the next day it was beautiful. That's Tahoe for you. I also got to meet Adam Sandler, a very funny guy in person.
Favorite ingredient?
Olive oils. I purchase some great flavored olive oils in Napa and try to incorporate these into dressing or just to finish items.
Go-to kitchen tool?
That has to be my chef's knife. It's amazing what you can do with one knife, though I have many others I use.
Local purveyors with which you like to work?
In summer I stop at the farmers market at Commons Beach in Tahoe City each Thursday on my way to work and gather as much produce as possible for upcoming events.
What's in your home fridge right now?
Halibut season recently started, so tonight we are having panko- and Parmesan-crusted halibut with roasted tomato, lemon and thyme vinaigrette. Nothing too fancy, but delicious.
Favorite summer activity when not cooking?
Hiking and fishing.
Top Tahoe hike or bike trail?
Favorites are hiking the Rubicon Trail, when it's not too crowded, and riding up to Stanford Rock, although it's been a while.
---
Susan D. Rock is TQ's longtime Food & Wine editor.
---
Chef Lee Kresy's Recipe for Fish Tacos
Those famous Sunnyside fish tacos, which Lee Kresy put on the Homewood restaurant's menu after a work trip to San Diego, are sometimes available as a special at the his Burrito Window in Kings Beach.
Ingredients:
• 4 oz. fresh fish, whatever is fresh and/or in season (mahi mahi, cod, halibut, etc.)
• 1 oz. Cajun spice blend
• 4 white corn tortillas
• 3 oz. shredded Monterey Jack cheese
• Shredded cabbage mix (shredded cabbage, julienne carrots, red cabbage, jicama)
• Chopped cilantro
• Lime aioli (ground coriander and a squeeze of fresh lime juice mixed with aioli)
• Salsa
Directions:
Heat a medium size sauté pan. Add an ounce of olive oil. Dredge fish in Cajun spice and sauté fish in pan until done, about 4 minutes on each side.
At the same time, place two tortillas side by side in pan, top with cheese and remaining tortillas. Heat for about two minutes then flip over and heat for an additional two minutes. Remove from pan.
Add fish to each tortilla then top with cabbage slaw mixed with lime aioli, fresh salsa and chopped cilantro.
Serve with a lime wedge.