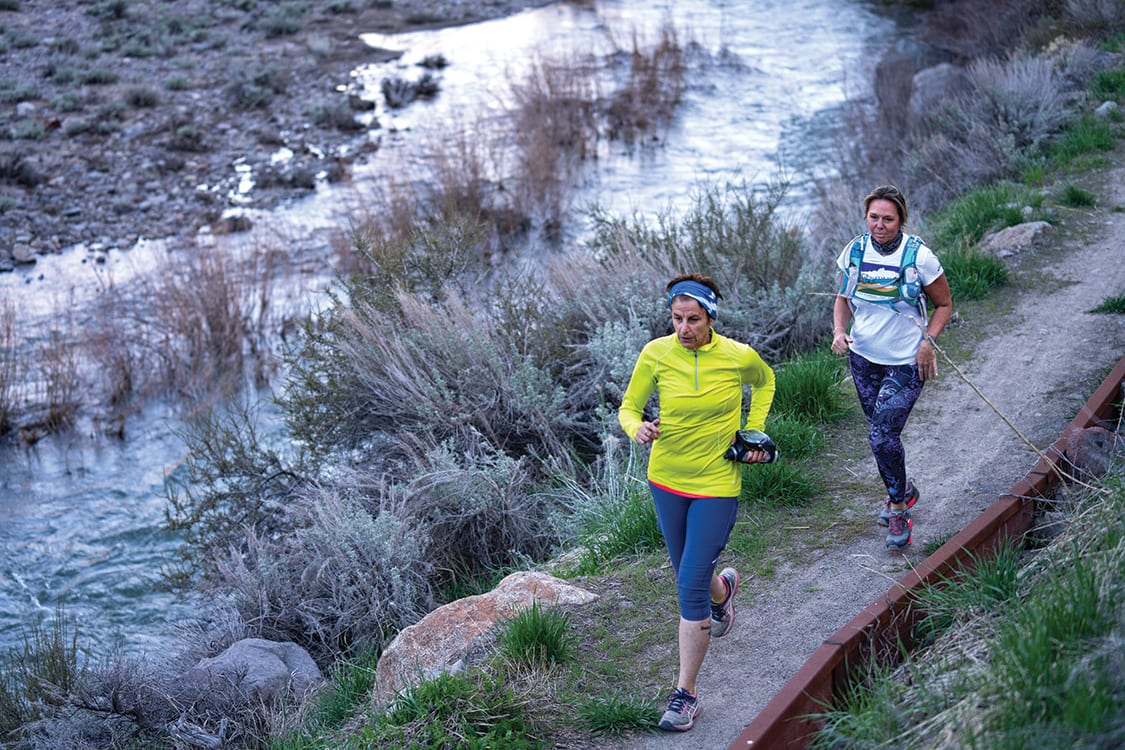 Donner Party Mountain Runners puts on a weekly Newbie Club group run, photo by Helen Pelster
24 Jun

Creating a Running Community
Donner Party Mountain Runners brings like-minded locals together for fitness and fun
With miles of singletrack winding through a scenic landscape, the Lake Tahoe region is a paradise for trail runners. But finding the right trail may be difficult for newcomers, while even the most experienced local runners can sometimes use a trail partner.
These were the thoughts that inspired a group of runners to form a club five years ago. They chose the tongue-in-cheek name Donner Party Mountain Runners and developed a simple mission to "inform and inspire mountain runners in Truckee Tahoe."
"We later added 'connect' to the mission statement, because we realized how very important that is," says current club president Helen Pelster, who was one of the founding members along with Mike Tebbutt, Peter Fain and Pete Broomhall. "We provide a level of human connection for runners."
In fact, those who formed the Donner Party Mountain Runners believe that its greatest success has been in bringing runners together.
"I was doing road marathons and moved to Tahoe and started looking for running clubs. The Donner Party Mountain Runners was the first one that popped up," says board vice president Sean Flanagan, adding that Fain, who was then board president, connected him with a few club members. "I fell instantly in love with trail runners. The majority of my friends are Donner Party members. They helped me settle into the community."
While the club was formed by a group of competitive long-distance runners, the focus is on providing opportunities for every level of runner, and even non-runners who want to volunteer to help others.
The Donner Party Mountain Runners host 5- and 10-kilometer runs and a steady supply of group outings, which include options such as Stroller Runs on the Legacy Trail in Truckee, Morning Speedwork training and the Newbie Club for those just getting into trail running. For more intense runners, the club puts on a half marathon and its signature event, the extremely challenging but spectacular Castle Peak 100K. The event not only gives ultra long-distance runners a chance to push themselves, it gives the club members a chance to volunteer for a big event.
In addition to group runs, the club serves as a way for members to find other runners for unofficial meet-ups. The group Facebook page has over 1,600 followers and provides information on whether trails have emerged from the snow, upcoming events and, perhaps most importantly, the chance for people to connect with the local running community.
While all club runs are free, about 200 people pay $20 a year (or $50 for three years) to become members, which includes benefits such as race discounts, monthly electronic newsletters and membership in the Road Runners Club of America.
Board member Chris Cloyd fell in love with mountain running when he moved to the area and began training for triathlons.
"I found myself exploring Tahoe's trails and enjoying where that took me," says Cloyd. He was struck by the realization that few people carpool to triathlons, and decided that he wanted to change that. "We had a lot of enthusiasm to build a community in trail running—to get like-minded people together."
Cloyd says he's blown away by how many casual runners have joined the group.
"Some in our community don't even run; they just want to help other runners. They are drawn to the scale of the sport. They might not be drawn to doing it, but they like to get around the people who are inspired by it," says Cloyd.
Pelster says the focus of Donner Party Mountain Runners extends beyond its own running program.
"We support the running community in general, helping people from other organizations put on races," says Pelster.
It is that spirit of volunteerism that has attracted people to the organization. They just want to be a part of something healthy and positive in their community.
An event that holds a special place in the heart of Pelster is the Memorial Day picnic, which includes group runs and attracts many young runners who are excited to participate.
"All the ages are super adorable. Our son loves the event because he helps the little kids. Our daughter who is 14 loves volunteering at the aid stations," says Pelster. "There are a lot of opportunities for people to get involved."
"It's more of a family than a club," adds Flanagan, who moved to Tahoe for health issues. "The club has done more for me than they could ever knew. They pulled me out of a dark place. It saved my life."
---
Learn more about the club at www.donnerpartymountainrunners.com or on Facebook.
---
Tim Hauserman is a Tahoe City–based freelance writer.
---
Donner Party Mountain Runners Code of Conduct
• Leave no one behind. It only takes one mistake by a tired runner to end up doing circles in the middle of the woods.
• No headphones. What you can't hear can hurt you, like an approaching mountain biker, a passing runner, loose dogs, horses, cars, trains, serial killers. Remember, the number one reason people join a running club is for the social part.
• Be kind and keep it clean. What you discuss in the bar may not be appropriate on the run. Think twice; no need to offend anyone.
• Stay on the trail. Cutting trails is damaging and can easily be a recipe for getting lost.
• Show up on time. It's better to be 10 minutes early than two minutes late. It's a matter of respect.
• Warn others when passing. All it takes is an "On your left" or "Hello" to get someone's attention and give them the opportunity to react. It's no fun being startled in the middle of the woods.
• Leave no trace. Gel tops and packets, bar wrappers, you name it. If you brought it, take it back out. And, if you've got room, pick up any garbage you see on the way.