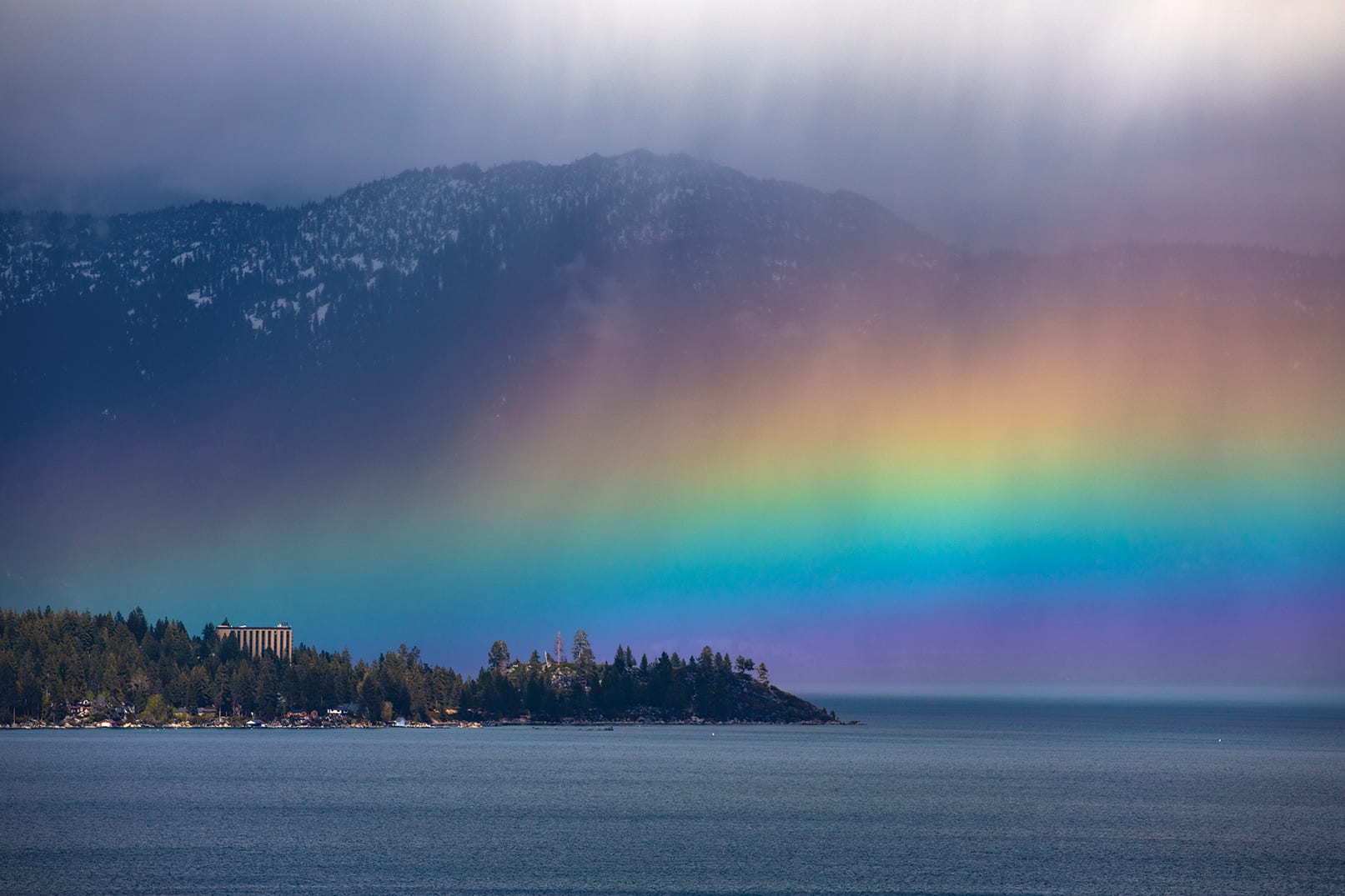 A misty rainbow over Crystal Bay, photo by Ryan Salm
24 Jun

Eye to Eye with Photographer Ryan Salm
TQ contributor is driven by his long-held passion to explore
It's not uncommon for Ryan Salm to begin a sentence, "One time, in Mongolia… " There's no telling where the story will go from there, but it's bound to be entertaining. Salm, a longtime TQ contributor originally from White Plains, New York, is about as well traveled and adventurous as they come. He estimates he's visited some 100 countries around the world, sometimes on a whim, and often without a set itinerary. Camera gear and a means of travel—plane, boat, even a horse—are all he needs. This passion to explore has largely defined Salm's photography career, whether he's capturing images in a remote corner of the globe or right here in Tahoe.
What sort of things were you into as a kid?
I was into sports—soccer and hockey. And, I'm not really sure how to say this, but I was always into stuff like MacGyver and Indiana Jones and those kind of things that took place in foreign places.
At what age did you get into photography?
I got into photography in middle school when I took a photo class. Looking back at it now, I'm sure I was not that good. I wasn't really good at school, and I was better at that. I also kind of liked the experience of the dark room, and I liked classes that weren't math and things like that.
What was the first camera you shot with?
Well, besides a point-and-shoot, my first pseudo real camera was a Minolta Maxxum.
Were there any photographers you looked up to back then?
I didn't really have specific people whose stuff I followed. I still don't, really. With Instagram there's this idea of following people, but I just like images in general. There's no specific person for me. Well, actually, when I was a freshman in college at Arizona, I was kinda into my photo teacher. I was into her photos and I thought she was a weird kind of babe.
When did you decide that you wanted to do photography for a living?
I studied abroad in New Zealand in college, and I brought the camera and started shooting a lot of photos, all on slide film at that time. I got into the kind of photography that I enjoy now, which is to go out with a backpack, a very rough plan, and just explore stuff and take images of places that are all new to me.
When did you move to Tahoe, and why?
I moved to Tahoe in 1999 after I finished university and took off on my first solo trip for four months to Central and South America. That was Y2K. And I kind of got lost out there for a while and had an amazing time. When I came back, my girlfriend was at CU (University of Colorado Boulder), so I moved to Breckenridge with some college buddies. And then when she finished college, the two of us got in a car and we had a piece of paper with a grading system on what we needed and wanted in a place to live. It was based around social life, things to do, sports, potential to see music, lifestyle, all these things. So we drove through all these places and Tahoe had the highest score. We actually lived in Blackwood Canyon for the first three weeks.
What's kept you here all these years?
I call it the perfect home base. For a while there when I was traveling all the time, a lot of people were traveling to get away from where they lived, and I felt like whenever the traveling was done, I got to come back to Tahoe. People would say things like, "That sucks you have to go home after being in Tibet for three months," and I'd say, "It's OK, I can handle it." But also, I've been able to support my passion and my work and my lifestyle here. To be able to work as a photographer here is spectacular. 
Did you catch the travel bug as a kid traveling with your family, or later as an adult?
I caught the bug as a kid. The trips were way different with the family. They were more like road trips or going on cruises in the Caribbean. I went to Israel when I was really young. I built off what my parents started. When I went to CU, my friends and I would go to school part of the time, and then we'd go on the road, and we'd all have instruments and would check out cool national parks and pull over anywhere and climb up the side of any mountain, that kind of thing. And then that kind of turned into doing that in foreign places.
Do you have a favorite place that you've visited on your world travels?
Yeah, I got a couple favorite places, or favorite experiences. I think that a favorite place is based on the time and space, your mental place, and where you go and what you do. The most radical experiences I've had were when two buddies and I flew to Beijing in 2003, took the Trans-Mongolian Railway to Ulaanbaatar, and then hitch-hiked and rode horses from Ulaanbaatar across Mongolia to the Golden Eagle Hunting Festival on the border of Kazakhstan. That was real-deal traveling—showing up, stepping off of a train, buying all local clothes, and figuring it out. A basic map, no phones, no Instagram travel blogger telling you what to do. It was getting on a horse, not knowing how to ride a horse, running out of food, and buying a fresh yak leg from a horseman who was passing us in the mountains so we could eat.
Any photos from your travels that you are partial to?
Anything that was shot from the Kumbh Mela in India, that festival where we paddled down the Ganges River afterwards. One hundred million Hindus getting in the Ganges to bathe away their sins. I'd say any of the big cultural events that I've gone to photograph are my favorite… Any opportunity I've had to go be a part of and photograph events or cultures that are getting lost to time. That's pretty much my favorite thing to shoot.
You shoot a fair amount of sports as well. Are there any particular sports that you enjoy most?
Well, I shoot a lot of skiing up here. Whether or not it's my favorite, I don't know. I just like shooting things of interest. It doesn't need to be sports. I like shooting anything from an epic backpacking trip to an expedition paddle trip to going out around Tahoe or anywhere else with ripping skiers at sunrise with the lake shimmering and everything looking gorgeous and the clouds glowing. My thing is putting myself in the right position to shoot whatever it is. I just like shooting and building a library of images and being able to share those memories with other people.
Do you have any go-to local spots to shoot?
I have my quick-hitter places around the lake where I can go if the sun is going down or if I can gather somebody to get on a bike or skis or a paddleboard, or just shoot beautiful landscapes. But more so than anything else, I think photography has given me the opportunity to get out in the world and out in Tahoe and look for new spots all the time and just make the best of the situation. A lot of people think that photography has to be done at sunrise and sunset, but I also think you can get a lot of cool images when you don't expect them. The key for me is having my gear with me, or at least nearby, so that I'm never like, "Damn, I wish I had my camera." Just having your camera nearby is a good way to get good imagery—if a bear walks across the street in front of your car or a rainbow appears across the railroad tracks in Truckee or whatever it may be.
Are you a Canon or Nikon guy?
I'm a Canon guy, but only because I shoot Canon. I don't think one is better than the other. But I love my Canon gear. Besides my camera body, all my lenses are dated and old and beat up, and they all still do the same job they used to.
If you could only own one lens, what would it be?
Wow… that's tough. I would say my 70-200. I think it's pretty cool to sometimes just go on a shoot with one lens, because it takes you out of your comfort zone. Whatever lens you have, you have to look at things through that lens. You're probably going to end up getting awesome images because you're forced to use what you have.
One of your better-known photos is the close-up of Willie Nelson's guitar. What's the story behind that?
I was lucky enough to shoot Willie Nelson a couple times, and that one was at the Silver Legacy in Reno. There are a lot of photos of musicians' faces, but for that one, I felt like it was a guitar portrait. I think it captured the essence of him without showing his face, and I think it really resonates with people. It's a true portrait of Americana music.
You are also in a band, the Inappropriators. Tell me about that.
Yeah, the Inappropriators. It's myself, Kurt Beckering and Josh Roelle—they're both local musicians and best buddies of mine. We all have dirty minds and like hanging out playing music, so a while ago we started this thing. It took a while to come to fruition, but we get together and we write songs real fast and call it "dirty yet tasteful, crass yet sensitive." It's basically dirty songs that your mom or grandma or girlfriend will sing along to. It's pretty funny. At first people might be like, "Oh my god," but then they start dancing to it.
What style of music do you play?
Every song we write, we take the words and we figure out what genre those words should be based in, and then we write the song in that genre. So we do anything from country songs to hip-hop songs to kind of a Jewish Bar Mitzvah to a bunch of punk songs. We just try to get people fired up, and try to have a band that can play anywhere from a bar venue to a comedy club.
Are you the singer?
We all sing, but yeah, I sing and play harmonica. Kurt plays guitar and banjo, Josh plays guitar, and then we have Dan Hurley playing bass and Brendan Smith, who's the drummer for the Dead Winter Carpenters. He's our drummer.
You became a dad in November. How many photos of your daughter do you estimate you've taken so far?
I've taken an awful lot. I take a lot more with my phone. We've done four crude photo shoots with her over the months, and they've been great as well. We just took her on a backpacking trip and she camped out with us, and that was really cool too. It was amazing to have her on the journey with us. She's got some journeys ahead of her, for sure. I hope she's ready for it.
Let's end on some quick hits. Best music venue in Tahoe?
Uh… hmmm… come back to that one.
Best music venue anywhere?
Wow, those are good questions. My favorite place I've ever seen music was on a sand dune in the Sahara Desert in Timbuktu.
Favorite local band? And it can't be your own.
Give me a second on this one… Horsemouth.
Favorite band or musician, current or in the past?
Neil Young.
Favorite skier, past or present?
Glen Plake.
Favorite Tahoe skier?
Shane McConkey.
Favorite soccer player?
Neymar.
Favorite place to grab a beer at Tahoe?
Alibi.
Favorite place to eat in Tahoe?
Home-cooked meals made by my wife Lauren.
OK, we're back to best local music venue.
I'd have to say the CBC (Crystal Bay Club).
---
View more of Salm's work at www.ryansalmphotography.com or @ryansalmphotography on Instagram.
---
TQ editor Sylas Wright has heard a number of intriguing tales by Ryan Salm over the years, some of them from obscure locations he didn't know existed.