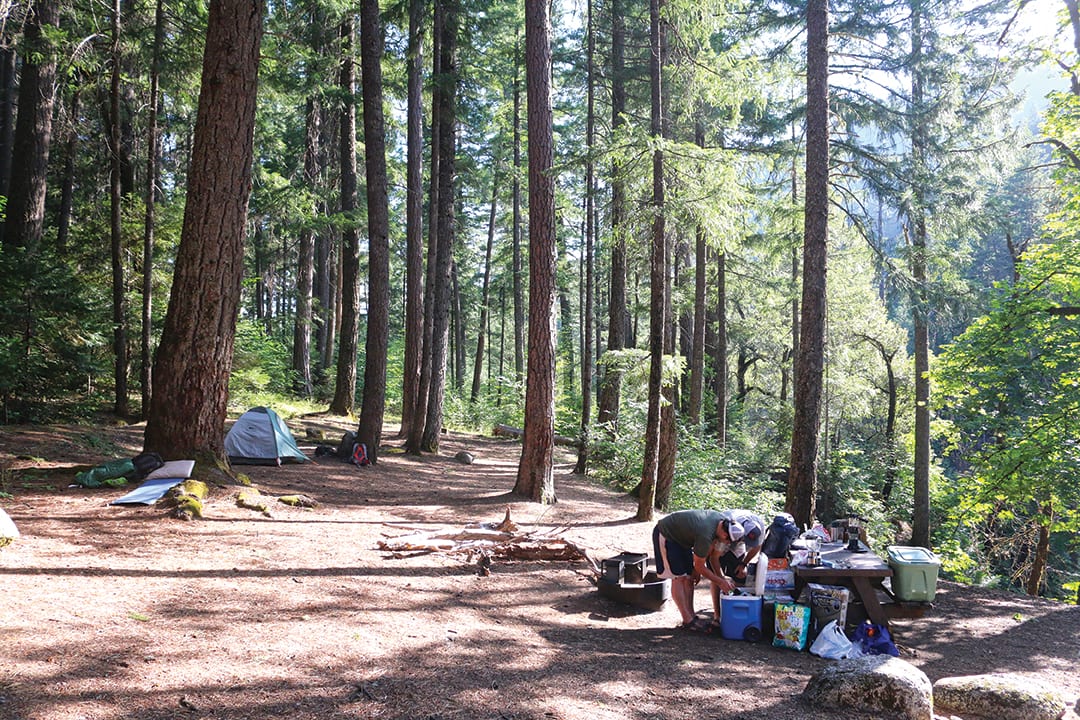 Author Kyle Magin helps prepare camp during a weekend outing that he planned, photo by Sylas Wright
24 Jun

Growth by Adventure
You should plan an outdoor trip this summer—and here's why
The hang-up I have about a lot of the personal growth industry is that it's soft and boring.
That's not to say it isn't important. As an on-and-off therapy patient for about seven years now, I know the value that spilling your guts once a week has in learning how to be a functioning, communicative, emotionally stable adult.
I'm sure there are people who get similar value out of TED talkers, Tony Robbins and his many clones, diet programs and self-help books. The numbers tell us so—the research group Marketdata estimated the value of the U.S. self-help industry at $9.9 billion in 2016.
But, there's only so much the professionals, or devoted, loving volunteers, can solve for you. Sometimes you have to ditch the couch, the conference rooms and the Kindle, get yourself outside and DIY it.
That's why you should plan a group camping/hiking or backpacking trip this summer.
Nothing will put you on the road to handling your own problems like handling problems for six other people, in the wilderness, for two or more days.
It'll be a logistical, physical and mental test, without shortcuts. It's sure to… most likely… probably… be fun. It'll definitely be challenging.
You'll learn a phalanx of skills applicable to the wider world, including how to:
• Organize a large group of people.
• Handle the logistics of meal planning and gear lists (this includes feeding your team's vegetarians).
• Plan a balanced day between activities and rest in a safe, entertaining and fulfilling way for everyone.
• Navigate physical and emotional landscapes.
• Manage your disappointment in a large group of people you've organized.
• Manage disappointment in yourself.
• Be everybody's buddy.
• Be sort of a bastard.
• Adjust a group's activities and dynamics to accommodate various skill sets and personalities.
• Make contingency plans and build in redundancies to account for your group's resident screw-up.
Mastering these skills are why so many Eagle Scouts end up in the White House, why parents who camp with their kids make the most reliable friends, and why none of Burt Reynolds' buddies gave him hell for that leather vest in Deliverance.
For our purposes, we'll assume you're either totally or relatively new to planning an outdoors trip. Some experienced outdoorspeople who are usually loners or who tag along on friends' trips may also find this more helpful than they expect.
Let's go step-by-step:
Assemble Willing Participants
Know who you're inviting. Ideally, you want fit, experienced people with chill, sunny dispositions. They'll always Venmo you on time and respond to all your planning emails promptly. And, they can already check off every item on a gear list.
This person doesn't exist, so look for the person who can combine the most of those traits without being an obvious cancer.
Your biggest goal here is not to invite a prickly person who'll ruin the trip for everyone else with a terrible attitude.
I've found couples work well because they only need one tentsite and generally have some sort of power-sharing arrangement worked out between them when they're in public.
Decide on the Type of Trip
If this is your first rodeo, put together a car camping/cabin rental trip. There's a whole world of logistics awaiting even the simplest camping trip.
Now, the ins-and-outs don't have to be intimidating at all, but just know that they multiply almost exponentially as you add tents, backpacks and nights in the backcountry to any given excursion. And, don't assume your experience on family trips or trips planned by others will make this a piece of cake. Participating and planning a trip are two different beasts entirely.
If I'm planning a car camping expedition (meaning we'll park at a campsite and set up tents right there), I like to look for campsites with quick access to multiple nearby day-hiking trails. The less you have to drive, the better.
Make sure the activities you plan—hiking, kayaking/canoeing, climbing, etc.—match your ability levels. There's plenty to do if your group has some non-athletes, but look for opportunities that will challenge most of the people in your group and not leave anyone behind.
If you're going to organize your first backpacking trip, plan conservatively. Figure out the distance you think the weakest member of your group can cover in a day and subtract a third: That's your daily target distance. Keep the trip between one and a maximum of three nights.
Make a Gear List
The Internet is lousy with gear lists. This is great! Stores love selling people things. That means shops like REI and every other gear-sponsored outdoors blogger online has created a gear list you can reference and send out to your team before any trip.
If someone followed a thorough, retailer-produced gear list, the only thing they'd be in danger of is spending far too much money and maybe carrying a too-heavy backpack. More likely, they'd be a great help to their friends and a total relief to you, the planner.
But, budgets are budgets. A lot of a camper/backpacker's gear is assembled over many years, owing to the expense of quality items. That means not everyone will have everything they need for the trip you're planning.
For that reason, it may be good to create your own gear list that strips out the nice-to-haves and focuses on needs. Chief among those include sleeping bags and pads, tents, warm clothes, lots of socks, and good shoes or boots.
Create a Google Sheets spreadsheet with all your required gear and share it with the group. Ask people to talk about what they don't have, and encourage others to pitch in if they have extras.
A note for backpackers: Don't take one step onto the trail before doing a shakedown. Search through everyone's backpacks and make sure they have the necessities. On a 2017 trip up Mount Whitney, a friend omitted her tent (because it was too big for her pack and she gambled on the weather being fine) without my knowing.
Everything would have gone off without a hitch, but a freak storm overtook us in the evening. Thankfully, we rigged up a rainfly shelter from somebody else's tent. It would have saved a lot of last-minute panic if we knew about it from the start, however.
Feed the Crew
I consider a fine camp meal to include one and a half cliff bars, some trail mix and an apple—or, a tortilla filled with salami and cheese cut off of a log and block, respectively, by my camp knife. Throw some spinach on that mess to keep your GI tract moving. And an apple.
There you go: breakfast, lunch and dinner.
I also recognize that I'm a barbarian. I can subsist on cold rations of straight protein, carbs, meat, cheese and apples for days on end without dying of diarrhea or culinary boredom. Not many others share this skill. They like warm foods, leafy things and eating to fulfill some other need beyond purely fueling.
If you're car camping, consider counting up all the meals you're planning to have at camp and divvying them up among your group.
Make each group member or couple responsible for a meal or meals. Socialize their menus ahead of time so other group members can bring up any problems they might have with them.
If your group has a vegetarian, socialize that, too, and make each meal leader responsible for providing them a modified dish if necessary. Adults should be able to make a meal with protein in it for a vegetarian, and it's not fair to saddle those who don't eat meat with the responsibility for all of their meals.
Include a camp stove or two on your gear list if you're car camping, and backpacking stoves if you're hoofing it. Front-load any meals requiring refrigeration, as coolers are basically useless after day two.
As group leader, it is incumbent upon you to have extras. Create redundancies by packing extra fruits/protein bars for someone who under-packs (common). You don't need to cater to this person's unpreparedness with something fancy, but sustaining them will help to sustain your group's health and attitude. Plan on it.
Find Delegates
By agreeing to organize an outdoor trip, you've indicated that you have a crucial leadership skill: the desire to lead.
A big part of leading is finding other people who can do parts of your leading for you. I like to look for people who are competent at feeding other people and put them in charge of a meal/meals.
Our Whitney trip successfully put our entire eight-person party—comprised mostly of San Diego residents—atop the peak. Whitney has a daunting 70 percent fail rate. A big part of our success is owed to our pace-setter, a friend named Casey. He kept up a steady, slow-ish pace on our hike up to make sure we didn't burn too much energy early. It kept us in a tight pack that allowed our weakest hikers to keep up without a ton of pain.
By finding people to share the load with you, you'll increase your chances of a fun, successful trip.
Have Fun
When the time comes to enjoy your trip, be mindful of the lessons you learn along the way. The goal of this particular exercise, remember, is to find some growth.
I've organized about a half dozen trips of varying difficulty and scope over the past 10 years. The most important leadership lesson I've learned is to listen.
After summiting Mount Whitney, our team was jubilant. We took group photos, selfies and swapped stories from the trip up with fellow hikers. We gazed with googly eyes over California from its roof. It was a beautiful moment I frankly got a little lost in.
Right then, my friend Matt tapped me on the shoulder and leaned in. "Remind everyone to hydrate and eat their snack. We're only halfway."
Far from being a buzzkill, his reminder settled me and re-focused the team. We still had to descend from 14,505 feet. I made my way around the peak, urging teammates to take care of themselves for the trip down. His advice helped us enjoy our euphoric moment but not let it get the better of us.
Because as good as the peak felt, nothing matched the feeling of accomplishment that came from stepping off the trail with eight (mostly) healthy people who had a good time.
Knowing "you can do this" in that moment gives you as much confidence and validates you as much as anything you can draw out of the self-help industry any day of the week.
---
Former Tahoe Quarterly editor Kyle Magin now flies a Texas flag on his home and vehicle, exclusively wears Carhartt clothing and argues that his state is superior to all others.