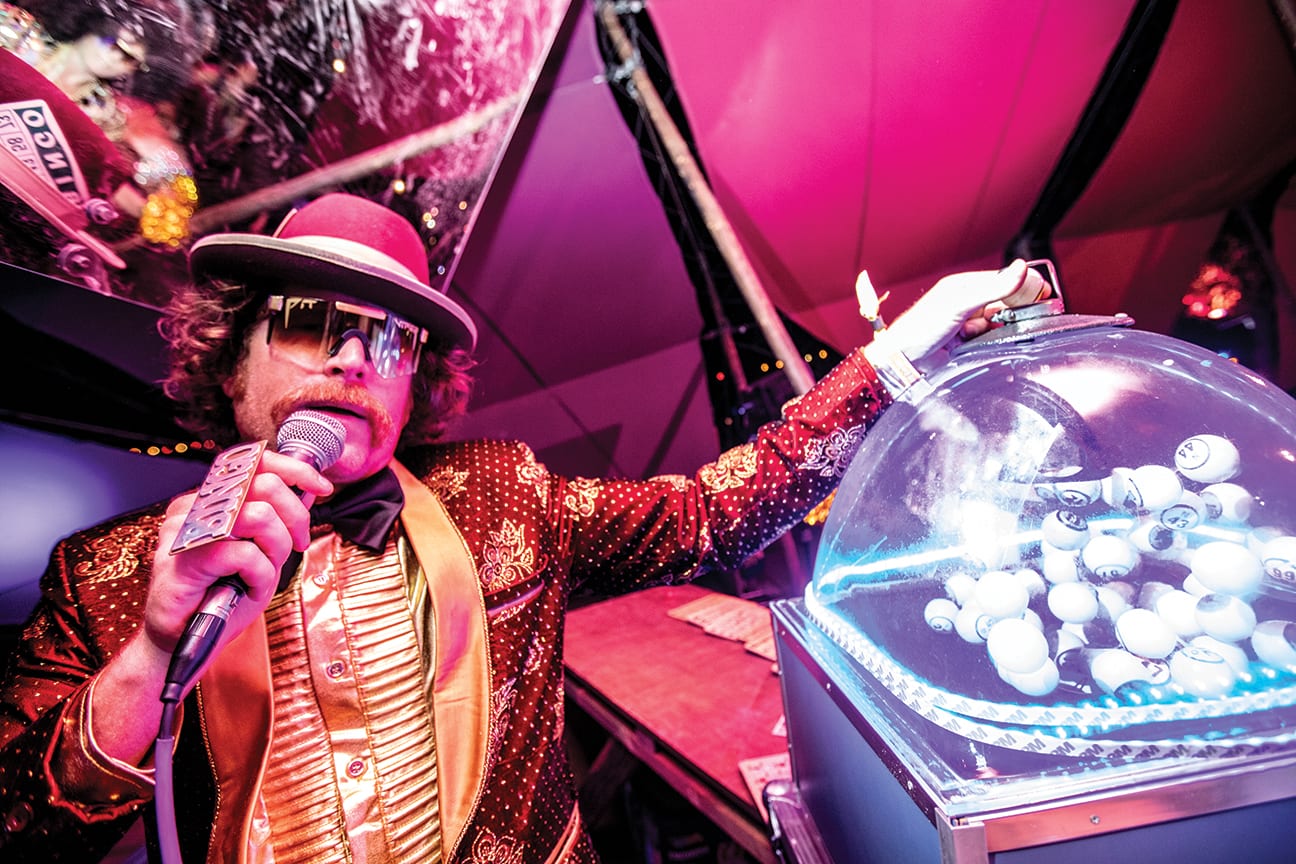 The Reverend Rusty Reams calls out the first number during a Great Bingo Revival gig at the Lightning in a Bottle (LIB) festival
24 Jun

Living the Bingo Life
Reverend Rusty Reams and his Great Bingo Revival bring a hip new twist to a classic game
Moments of bingo glory don't quickly fade from one's memory. Like the time my family and I went all in on a weeklong game at sea. Although I was only 15 years old, I remember the game with pinpoint clarity.
It was the final day of our cruise and nerves were high. We had played the Royal Caribbean Blackout Bingo game every afternoon without a winner emerging, meaning the cash rolled over for seven straight days. One way or another, someone was going home with the jackpot.
After a nice run of numbers, my card began to fill in at a feverish clip. The ship's entertainment director then called out the 50th number: "O-69."
My eyes widened. My nerves pulsated.
"Bingo!" I screamed.
The Salms walked off the Port of Miami a couple grand richer, and I was hooked for life. 
Some 28 years later, Rusty Reams—aka "the Reverend"—and his Great Bingo Revival are sweeping the West Coast nightlife scene. With the catchphrase "This ain't your grandma's bingo," his loose style and hilarious wit have made him a household name for serious bingo connoisseurs.
Reviving the Game 
Often played in casinos and cruise ship lounges by an older crowd, bingo went mainstream when Reams founded an artist collective dubbed the Great Bingo Revival in 2012. What began as a local game with events at Jake's On The Lake and the Auld Dubliner has been rolling at an infectious pace ever since.
"Bingo runs the full gamut of lifestyle, from private parties to powwows, from 7-year-olds to 50-year-old birthday parties," says Reams. "It's anything from PG to XXX, festivals to fundraisers, corporate parties to carnivals."
Originally from Ohio, Reams, like so many others, moved to North Lake Tahoe after college to ski. From catering gigs at the Resort at Squaw Creek to a serving job at Jake's On The Lake, to being a DJ and on-air personality at 101.5 Truckee Tahoe Radio, he has worn many hats. Anyone who knows him knows he's a ripping skier, boisterous concert-goer, avid sailor and true Tahoe personality. 
"Bingo started as a way for me to gig at night so that I could ski every day. It's the ski bum's dream," says Reams. "We play hard and we bingo hard."
In the beginning there were often two hosts who played off one another like a morning radio show. They played après-ski games on the KT Sundeck at Squaw Valley and in various Tahoe bars.
In 2016, Reams was doing a show at Himmel Haus in South Lake Tahoe when the executive producer from Grand Artique showed up. He liked the show and offered Reams an opportunity to perform it at the Dirtybird Campout, an "adult summer camp" and music festival at the Modesto Reservoir Campground.
"I know how to throw a party, but not shut it down. We played the Campout till dawn and word got out that we were a force to be reckoned with," says Reams.
Universal Fun
Recognizing that Reams and his Great Bingo Revival would make for an intriguing story, I asked if he had any upcoming events that I might be able to check out.
With a cackle all his own, Reams excitedly explained that the largest iteration of his Great Bingo Revival crew was preparing for the Lightning in a Bottle (LIB) festival in Bakersfield—the crème de la crème of what he is trying to accomplish. He had just bought a limo and two of his producers, Dan Gonzalez and Ryan Rambo, were driving it from Tahoe to the festival. They had extra space if I wanted to hop in. Reams would meet us there after performing a West Coast tour that culminated in two late-night shows at LIB.
To give an idea of the variety of events the Great Bingo Revival performs, over four straight days Reams was booked for shows at the Dirtybird BBQ tour in the Bay Area and Los Angeles, a corporate event in San Francisco and a school fundraiser in Marin County. One day Reams was MC'ing a show for kids, the next he was entertaining CEOs of insurance companies and the next he was orchestrating full-on productions at some of the nation's top music festivals. 
"Bingo is universal. Everyone wants to play, but everyone has different needs. That's why we began to curate the game to the needs of each client," he says.
While he may bring the dancers and a DJ to his big festival dates, he often trims down the production—but not the energy—for his youth events. For the latter, he often DJs himself and brings Miss Bingo as an assistant.
Regardless of the clientele, he aims to bring the heat.
"With bingo anyone can play and anyone can win. It allows people to interact in a way that is universal and elevate in a way in which coworkers can laugh at things they may not in the normal work environment," says Reams. "Any member of the crowd can end up on the stage and acting a little wilder than they may on any given day. It is a catalyst to creative craziness." 
Bakersfield Bound
On a chilly May morning, Reams' limo pulled up to the Crest Café on Alpine Meadows Road. It was filled to capacity except for a bench seat in the back. Among the contents were various neon bingo signs, a bingo hopper and a furry, rideable triceratops that was to be one of the prizes at LIB. I loaded up my meager possessions and we began a series of errands.  
Gonzalez, Rambo and I stopped at the Truckee Tahoe Airport, where a sign-maker installed neon and metal cutouts of the Reverend's head on the inside of the limo. We snapped a couple images standing on the tarmac, giving the Instagram nation the idea that we were, in fact, ballers who ride in limos and fly in private jets. Then we were off. 
On Donner Summit we met up with the "sticker guy." He efficiently mounted Great Bingo Revival decal stickers on the sides and rear of the limo. Four hours later we were packed in and heading down Interstate 5 to Bakersfield. When we needed anything, the driver was a limo landline call away. 
At LIB we camped with the bingo crew while checking out the electronic music scene and epic art installations. It was all background to the bingo extravaganza awaiting us the following night.
When Reams arrived, we wandered the grounds as people came out of the woodwork to yell at us, "Bingo!" Although there was little mention of the show on the festival calendar, word was out.
Showtime was 2:30 a.m. While the festival grounds were pumping, I was napping. Before I knew it Reams and his "Bingo-Go Dancers" started to stir.
If I had one phrase to describe the Bingo-Go Dancers, it would be solid gold.  
"Every showman has a lovely assistant—Pat Sajak has Vanna White, Bob Barker has the Barker Beauties," says Reams. The Revered has Miss Bingo and the Bingo-Go Dancers.  
Miss Bingo is Reams' wife, Tiffany, and the Bingo-Go Dancers are a troupe of dancers who started in Tahoe and now perform nationwide. It's an ever-changing cast as the game is often on the road in various locations. The Great Bingo Revival has an extensive list of people who want to be in the show. 
While some of the on-stage dance routines are freestyle, some shows are choreographed. Much of the choreographed routines were created at the Tahoe Flow Arts Studio in Tahoe Vista.  
"It's an awesome opportunity to collaborate and vibe with one another," says Renee Guay, one of the original Bingo-Go Dancers. "We get to essentially go back in time and shine our light in a wild and expressive way. We aim to bring smiles to people's faces while they are winning the wildest and craziest bingo prizes." 
The scene backstage was a mixture of nervous energy and fired-up excitement. With throwback '70s bootie shorts, gold tops and Afro wigs, the girls are a formidable dance troupe. Gold glitter lipstick, dark-tinted Pit Vipers and enough gold chains to make Mr. T jealous were enough to make even the most modest man weak in the knees.  
Lightning in a Bottle
At 2:30 a.m. sharp the puzzle pieces were in place. The red carpet extended from the door of the limo to the bingo stage. DJ Micah J mixed up the perfect jam, and with a roar from the packed tent the limo doors opened. To flashing strobes and Tupac's California Love thumping, the Bingo-Go Dancers, one at a time, busted a move down the red carpet to the stage.  
The Reverend took the stage with a flawless fierceness. Sporting a one-of-a-kind maroon tailored suit, a precisely crafted handlebar mustache and a five-knuckle "BINGO" ring, his earlier words rang true: "I have bingo in my DNA. God chose bingo for me." 
As the games progressed, the prizes at stake were out of this world. Playing is one thing, winning is a whole 'nother enchilada. Oftentimes two people yell "bingo" at the same time. When that happens they often battle it out for the goods, whether it's a dance-off, limbo competition or paper airplane contest.
At the peak of the evening, two LIBers screamed "bingo" in unison and were brought to the stage. As '70s funk music blasted in the background, the Bingo-Go Girls gathered in front to present the prize. The Reverend, in The Price Is Right fashion, exclaimed, "It's a goldfish!" He approached one of the men. "What are you prepared to do to win this fish?"
With not so much as a blink of an eye, the man exclaimed, "I'm gonna eat it!" 
The place went wild. The music slowed. The crowd gathered. Bingo-Go Dancer Hanna Ginger dipped her hand into the teddy bear–shaped fish bowl. Water splashed wildly as her fingers searched for the little orange fish. When she finally grabbed it, a look of discomfort entered her smile. The guy took a knee and opened his mouth as Ginger dropped the goldfish down his throat.
He swallowed once, then quivered erratically as the "little goldfish that could" leapt from his mouth onto the dance floor. Another dancer quickly picked up the fish and placed it back in the bowl as the Reverend announced the other contestant as the winner of the prize.
It was full-on madness.
More Than a Game
Bingo is not just a game. It's a party. Some are playing three cards at once, focused on every word from the Reverend's mouth. Others are just there for the raucous dance party. In Reams' words, "Bingo is for all people—any age or stage of life. It's inclusive, not exclusive. Families that play bingo together stay together."  
Aside from straight partying, the Great Bingo Revival does a fundraiser every month. They include games for the Tahoe Truckee Waldorf School, Tahoe Area Mountain Biking Association, Casa Eldorado, Send it, Tahoe Expedition Academy and others. 
"In 2018 Bingo helped raised over 20K for local Tahoe nonprofits and charities," says Reams. "We are on track to surpass that figure in 2019."
Local events include every third Wednesday at Alibi Ale Works in Truckee and every Thursday at the Auld Dubliner in Squaw Valley. When the Great Bingo Revival is not on tour, Reams does a monthly game at South Lake Brewing Company and games at Martis Camp and the Truckee Rotary. 
As summer kicks into gear, so does the Great Bingo Revival, which is set to appear at major national festivals like Firefly in Delaware, Electric Forest in Michigan and the Dirtybird Campout. 
Bingo began as a way to spice up the mountain nightlife scene, and is now turning into "an international empire," says Reams, who is dreaming big. Goals for 2019 include playing bingo at the Playboy Mansion and SXSW (South by Southwest Music Festival).  
Tahoe residents of all ages and backgrounds have played the Reverend's game. Many have experienced that moment in the sun, standing on the stage in the bright lights amid hard-hitting '70s grooves.
For me, winning bingo on the cruise ship with my family was not my last victory. I yelled "bingo" one cold Tahoe night during a Great Bingo Revival gig. A stranger did the same, and we went head-to-head in a wall-sit competition. With the bar packed to the gills and patrons cheering us on, I bested my competitor. My prize: a pink fuzzy bathrobe, which I still wear daily.
In the words of the Reverend Rusty Reams, "The hope is to bring joy and entertainment to people's lives, to bring families together in a world full of stress and turmoil.
"Bingo gives hope. It gives people an opportunity to win. You can walk into the bingo room with nothing going your way. Next thing you know you can be standing on stage winning a furry, rideable triceratops. The bingo joy can happen to anyone." 
---
Ryan Salm is a commercial, lifestyle and adventure photographer based in Tahoe City. To contact him or view his work, check out www.ryansalmphotography.com or @ryansalmphotography on Instagram.