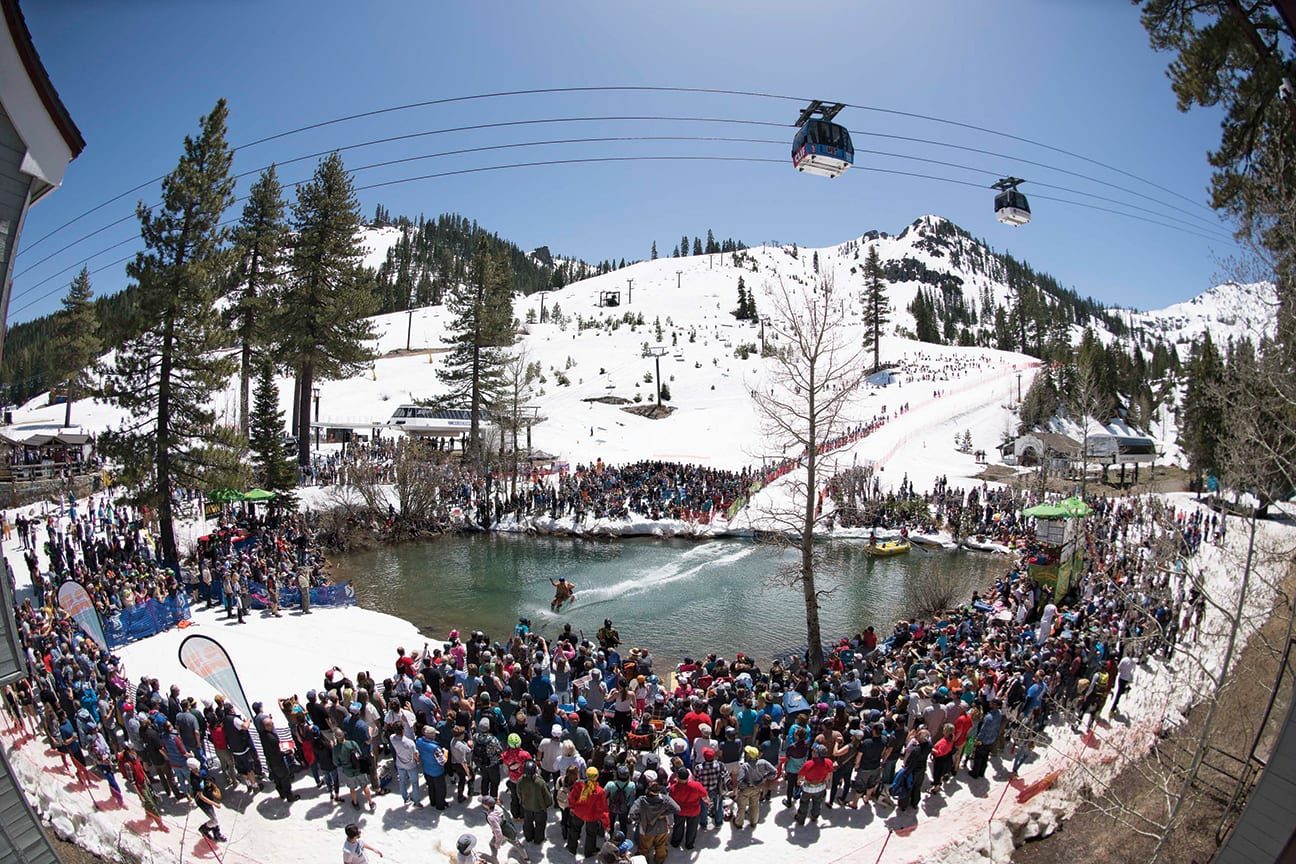 The annual Cushing Crossing at Squaw Valley draws throngs of spectators, who are eager to watch the event's successful crossings and epic failures, photo by Hank deVre, courtesy Squaw Valley Alpine Meadows
24 Jun

Ponds and Peace Parks: A Cinco de Mayo to Remember
Tahoe's best snow weekend… is in May?
California knows how to party. Tupac barked this to the world in the 1990s, and while the late rap star likely didn't have snowsports in mind, the people of Lake Tahoe are bona fide experts at having a silly good time. Tupac's statement may also be most apt during the late spring in Tahoe, when its mountains have ample squishy snow and balmy temps.
To back this up, over Cinco de Mayo weekend 2019, the region hosted two full-throttle events that are reason enough to keep the bike garaged and the sticks waxed—after a full calendar of winter happenings, to boot.
On Saturday, May 4, at Squaw, the Cushing Crossing reveled in its 29th year of water-skimming insanity, and the following day at Boreal, the Danny Davis–created Peace Park opened its fantasyland terrain to the public for the first time.
Their successes can be credited to the powder annihilation Tahoe received during the deep winter, and the undying energy of the skiing public. As a diligent member of the snow industry press, I attended these events to observe, ride, report and enjoy.
Cushing Crossing Goes
Off—Again
"Jim here is from Virginia Beach, and, well, he skis like he's from Virginia Beach. This does not look good at all," said one of the announcers as another skier flopped into Cushing Pond after failing to make it across.
The Crossing is an originator in the growing pond skim world (Sugar Bowl held an inaugural skim this year, and a few other mountains hold annual events). The story goes that members of Squaw's ski patrol informally skimmed the pond before any official "contest," and when permission was granted from then-mountain manager Hans Burkhart to make it legit, one of skiing's great gatherings was born.
Where the Crossing elevates itself are the sheer numbers (surely hundreds, perhaps thousands) of sprightly spectators, and the ski-celebrity power. This year, for example, Jonny Moseley announced Nate Holland dropping, who was then scored by Sherry McConkey.
Competitors dress up, drop in and try not to go splat. Adding spice is a 4-foot ledge into the water, plus the swaying drunk throngs heckling and chucking occasional snowballs at participants' faces.
Of the 60-odd competitors, highlights included a cookie monster, "little rocket man," cross-dressers, tandem skiers (with their inner feet in a shared monoski), more tandem skiers (dressed as Jamaican bobsledders on the same skis mounted with two sets of bindings), monoskiers, and a penguin-costumed man who released his bindings at the far end of the pond, then hopped on a saucer to slide on his belly through the finish corral. Penguin slide. Get it?
The spectators, however, may have even out-dressed the participants, who were confined by rules surrounding alcohol consumption and clothing requirements. Jorts (jean shorts), bikinis, beer-shotgunning bros, mullets, air horns and the unfortunate Speedo were commonplace in the crowd.
The overall winner was local Barry Thys, 55 years young, who competed in and helped plan the inaugural crossing in 1990. He has entered about 20 skims overall, and tied for first in 2011 with a guy in a gorilla suit tossing bananas to the crowd.
With a trail of colorful smoke behind him, Thys shredded an electric guitar in real-time while he trimmed a tight line over the water, and kept wailing on the other side, earning a hug from Hot Dog… The Movie star Debbie Dutton—as is tradition for all competitors who make it across.
To pull it off, he attached a wireless transmitter to his guitar, which was picked up by a wireless receiver, which got the sound to an amplifier that was mic'd up and broadcast through the house speakers. Being the owner of Squaw Valley Electric helped with the technicalities, and being a former World Cup downhill racer helped him grease the pond.
"I thought I wasn't going to do them anymore after I tore my calf muscle at the crossing last year," Thys said. "But I didn't want to go out as a sinking pond guy, so about a month out I decided to do it. It felt amazing."
Thys said he's happy to now officially retire from the Crossing, but wants to carry the torch by helping family and friends achieve pond-skimming glory.
Cushing Crossing 2019 Results
Overall: Barry Thys
Men's Ski: Max Axelrod
Women's Ski: Kate Cooper
Men's Snowboard: Danny Kern
Women's Snowboard: Amy Dendulk
Unlimited: Andrew Noonan, Ben Mathes
Peace Park for the People
The next day at Boreal, all Tahoe boarders and skiers—from beginners to Olympic gold medalist Red Gerard, one plank or two—were gifted access to the Peace Park, a creative and futuristic park build only accessible to invited pros in years past.
Danny Davis, the ebullient Truckee resident and creator of Peace Park (not to mention a multiple-time X Games halfpipe gold medalist and Olympian), hosted the event all week to an A-list snowboard crowd that spent the week camped in the parking lot. Riders included two-time Olympic gold medalist Jamie Anderson of South Lake Tahoe, who was awarded first place among women, as well as Stale Sandbech, Rene Rinnekangas, Mark McMorris and more (Rinnekangas claimed the men's victory).
After these heavy hitters, letting any regular Joe or Jane into a pro-caliber terrain park might seem like a liability, to say the least, but Davis said the team at Boreal was the catalyst to opening the doors.
"For years we have tried to open something like Peace Park to the public, but it has always been a little too risky for resorts," Davis said. "I was beyond excited when Boreal said they were down to open back up for a day so that the public could enjoy."
This was the first year Peace Park was held at Boreal. And enjoy it we did.
The park crowd has a reputation for being on the rowdy side of the snow-riding spectrum, and true to form, within a few minutes of parking, I saw stickers being slapped on public property, strangers yelling a jovial "what's up" to me, some kids hopping a fence into a closed area and the subtle smell of cannabis wafting around. As a boarder a few decades removed from my teens, this served as a happy reminder that the sport still hasn't gotten too serious.
The corral into the chair filled up quickly, with a collective energy to ride the lineup of features made possible by a creative mind, a lot of snow and an armada of snowcats.
The result looked like something Willy Wonka would have created if he were a fiend for airtime and not candy. The top-to-bottom park was filled with a snaky banked slalom, mini-pipe, massive hip jump, a quarterpipe that flowed into an enormous jump, too many booters to count, a progressive rail section and much more.
Of note, the rider's right line was beginner-friendly but innovative, with a multi-tiered hip feature, cruisy rollers and easy rails. Many of the features were not meant to be hit in one specific way, offering freedom to slash where others popped, or to choose your own adventure without dire consequences.
The pros mixed in with the crowd although I didn't see many of them in my four hours on the hill, Davis said they were mostly on snowskates after getting cooked from a week of high-intensity sending.
At the base area, a taco truck and a few kegs of beer kept the people going, and a couple bands pumped out rock 'n' roll. It's not hyperbole to say this marked another notch for the Tahoe region's legendary snowboard history, which includes such moments as the world's first snowboard halfpipe, as well as the first halfpipe competition.
It seemed a fitting hat tip to the Tahoe park culture and to a long snow-filled season to have Boreal close on this high-note of a day. Davis said he hopes to be able to bring it back to Tahoe in the future, ideally with more public days, and more music.
"Peace Park 2019 was the best year yet, in my opinion… It was the riders that came that really made it one to remember for me," Davis said. "The vibe they all brought, the energy in their riding every day, was incredible."
---
Dave Zook has written about the Cushing Crossing twice, as well as a backcountry pond skim once, yet has never skimmed a pond himself. He continues to brainstorm revolutionary skim ideas for 2020.