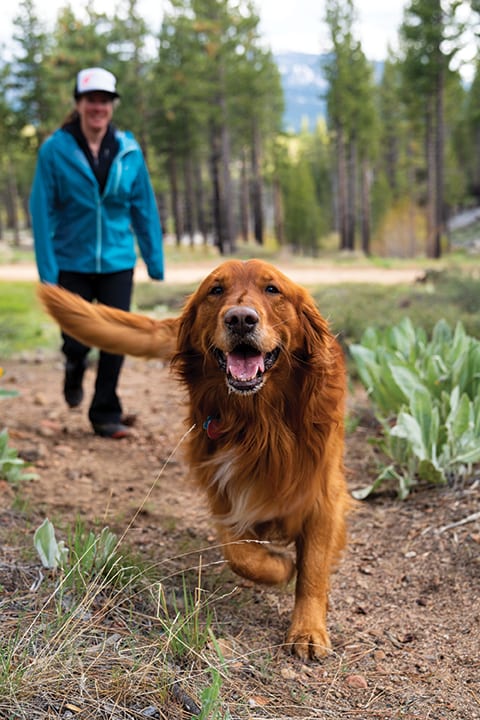 In his summer offseason, Hunter is usually by his owner Shannon Maguire's side in the Tahoe outdoors
24 Jun

Tahoe's Dogs of Winter Do Summer

After the snow melts and skis are stored, all thoughts turn to summer at Lake Tahoe. But for "Dr. Snow" Hunter, an affable 6-year-old golden retriever, the last scent of winter is hard to let go. That's his favorite time of year, when he gets to perform the work he was born to do. 

As a seventh-generation avalanche dog at Sierra-at-Tahoe, he is "very driven to do his job," says his handler, Shannon Maguire. She is a snow safety officer and ski patroller at Sierra-at-Tahoe during the winter, and a wilderness ranger with the U.S. Forest Service in the summer. Together, she and Hunter are a formidable team.

During the winter Maguire is immersed in the science of snow, and each move she makes is to ensure her fellow patrollers and the public are safe on the mountain.

"I do avalanche mitigation work, digging snow pits and analyzing snow conditions to do avalanche mitigation throughout the season, and that's why I have an avalanche dog," she says.

Hunter is formally referred to as "Dr. Snow Hunter" in deference to the extensive amount of training he holds and the fact that he comes from a long line of avalanche dogs. One of his ancestors was named "Doc" and saved a life, hence the title "Dr." That honor is well deserved, as an avalanche dog can search about 2.5 acres in just 30 minutes, according to The First Special Response Group. The same task would take 20 people with avalanche probes around four hours. In the aftermath of an avalanche, an avy dog with its well-honed sense of smell can mean the difference between life and death.

In the winter Hunter is by Maguire's side as a trusted coworker, companion and training partner. They aim to run around two avalanche search-and-rescue training drills a week. The drills are highly complex games of hide-and-seek that increase in difficulty with the dog's skill. Eventually, the game progresses to where a ski patroller will hide, buried under the snow. Hunter then must use his nose to sniff out the "victim." Once found, he will stay by the person's side barking until a handler calls him off. This is known as "victim loyalty" by patrollers and helps ensure they can easily find and rescue the person in distress. It is critical that avy dogs can execute this one essential task.

For that reason, much of Hunter's regimen remains intact in the summer. Hunter follows a healthy kibble diet, and receives one treat with both his breakfast and dinner, as food rewards are reserved for specific avalanche rescue training situations. Hunter is play-driven and is usually rewarded with one of his toys in other types of drills and obedience training exercises.

Maguire also occasionally plays forest games of hide-and-seek with her dog, but these are less intense than the specific avalanche drills performed at Sierra-at-Tahoe. For instance, she or a friend might hide behind a tree and get Hunter to seek them out.

During the summer when Maguire is working as a backcountry ranger, Hunter is with her. He stands guard while she and her fellow rangers clear trails of logs and debris. He lets her know if anyone is coming on the trail and is happy to greet anyone passing by while Maguire fills them in on safety tips.

Ryan McPartland, a longtime ski patrol supervisor at Heavenly, and his 3-year-old golden retriever, Yuba, are another dynamic, high-energy, disciplined Tahoe team working to keep people safe in the mountains.

"Yuba, he is crazy. He is very high energy, but he is a total lover and wants to please. But sometimes he really looks like he could jump out of his own skin," McPartland says with a laugh, noting that Yuba, like Hunter, comes from a long line of ski dogs.

In fact, Yuba is the grand puppy of McPartland's first avy dog, Kyburz, and currently works alongside his littermate at Heavenly. Maguire's dog also comes from the same lineage of avalanche patrol dogs that protected skiers in the early 1980s. In Tahoe, many of those dogs' descendants patrol the ski runs and dog parks today.

McPartland trades his patrol pack for a tool belt in the summer, working as a skilled carpenter throughout the Tahoe Basin. In his household they live by the motto "no fat goldens," regardless of the time of year, and they work hard all summer to stay in peak condition. Still, it's a good life for both dog and human, McPartland confesses.

"Lake Tahoe in the summertime is just an amazing place," he says. "In the winter, everything is focused on skiing and the mountains. In the summer it is great to have diverse options like hiking and mountain biking."

McPartland will go on dog-specific mountain bike rides designed to give Yuba the satisfaction of chasing or hunting something down. This same drive is critical during the winter, when he says avalanche dog training revolves around "prey drive." Essentially, the handlers use the dogs' natural hunting instincts to drive them to quickly find a buried a victim.

"Our dogs are designed to indicate on human scent under the snow. We make it the game he wants to play more than anything else," says McPartland.

A close second to the favorite summer game is Frisbee. "We spend a lot of time at Nevada Beach. He chases Frisbees and lives to be active. It doesn't matter if it is windy or cold, he still loves it," says McPartland.

McPartland and Maguire both agree that swimming in Lake Tahoe is a great way for their dogs to stay in shape during their "offseason" because it is a low-impact activity, which allows their four-legged friends a chance to rest their joints while still staying ready for winter. They both also stress the importance of good socialization, and make a point to take their dogs around people as much as possible.

Maguire and Hunter naturally spend much of their summers with people, working in one of the Tahoe region's most popular spots for outdoor recreation—Desolation Wilderness. Together they greet hikers and outdoor recreationist and help educate them about the area, how they can stay safe while out enjoying the outdoors and how to help keep the wilderness pristine for others to enjoy.

McPartland provides Yuba with opportunities to interact with people, practice obedience and get both praise and exercise. They often go to the disc golf course and search for discs. And play.

"The more we can expose them to outside influences when they are young, the better," McPartland says.

To unwind from his summer day job, Hunter likes to go for a ride on a paddleboard, swim in Lake Tahoe and bake his golden fur in the sun. Still, Maguire says, "His winter job is his favorite. He's very dedicated to it."

When hiking with Maguire, if Hunter comes across a remaining berm of snow, he will gleefully do "doggie snow angels" in it, slipping and sliding around to get the cool snow all over his back—proving that, despite the season, he is a winter dog through and through.

"He lives a special little life," says Maguire.