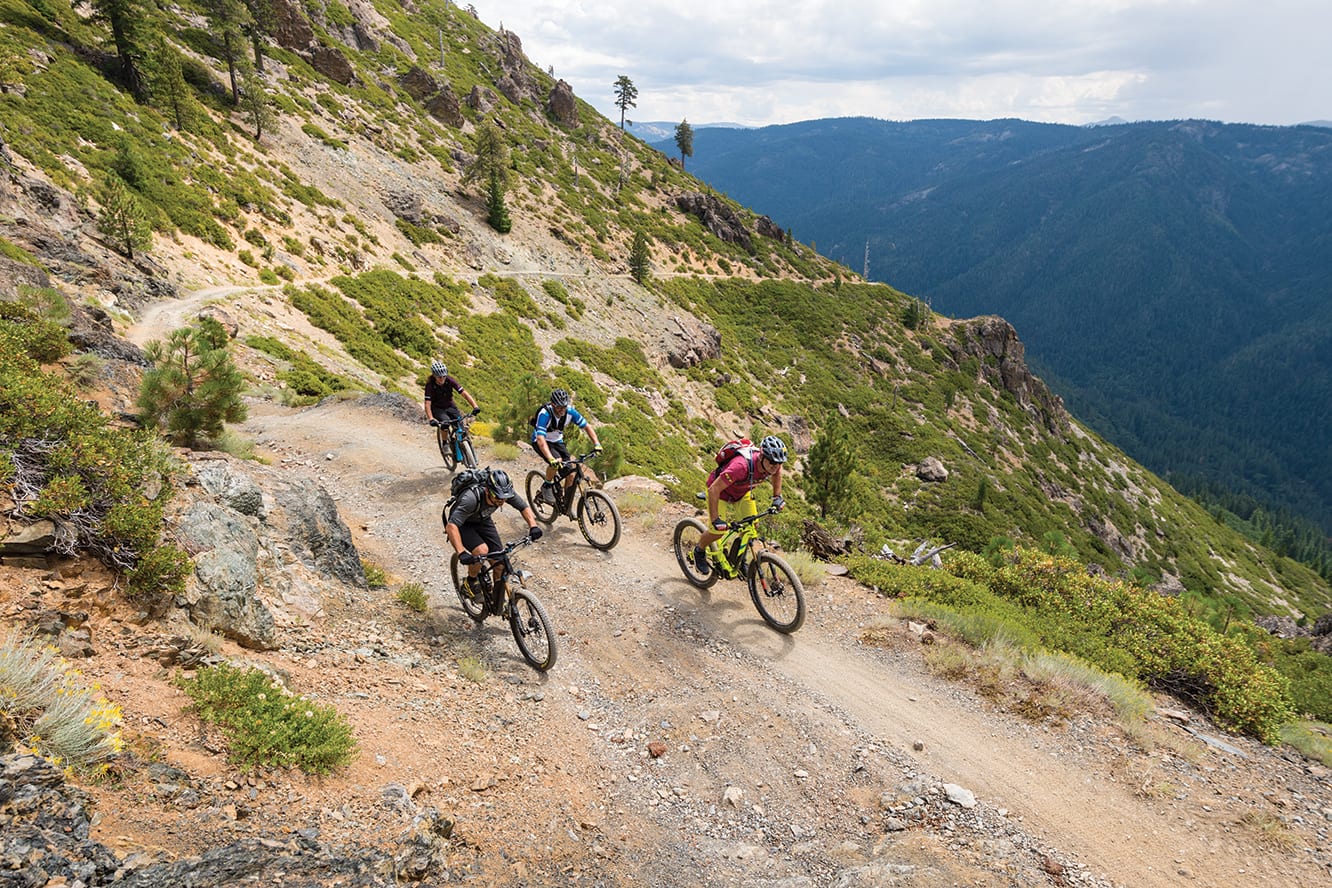 A quartet of riders spin up the infamous "Trail of Tears" from Sierra City to Packer Saddle on eMTBs, photo by Colin Meagher
24 Jun

The Thin Line Between e-Love and e-Hate
Lessons learned from riding an electric mountain bike
Allow me to introduce you to my new(est) lustful fixation—the electric bike, considered to be moral turpitude on wheels by some, or healthy outlet by others.
For the uninitiated and e-abstainers who've willed their fisted palms from gripping the handlebars of these taboo idols, all e-bikes are not created equal. There are staid commuter e-bikes and sexy e-mountain bikes.
E-bikes are not mopeds, but they do have pedals—and motors. So are they not motorbikes? Well, yes and no, depending on whom you ask. There are industry standards such as pedal-assist, throttle-on-demand, motor wattage and speed regulation that start to differentiate the three main classes of electric bicycles.
Categories and details aside, for some people the mere fact that a bicycle has a motor attached to it—especially on a mountain bike—is cycling's Original Sin, a malefaction of biblical biking proportions. For the pedaling purist who self-righteously shifts without sin, the safest (but definitely fastest) road to hell is with an eMTB between one's legs.
e-Epiphany
Being a late adopter of mountain bike technology like carbon fiber, dropper posts, plus-sized tires and short stems, the notion of riding an eMTB is abhorrent, especially on trails and climbs upon which I've cultivated a healthy love-hate relationship.
I agree with my fellow MTB puritans: E-mountain bikes are the realm of slow slackers. After all, sloth is one of the seven deadly sins. If you can't suffer the ascent, you don't deserve the descent.
Righteous was my disdain—until the e-epiphany.
With its 9-mile descent, Mount Hough (as in huff-and-puff) is a gas to bomb down. Riding up the singletrack to earn your Hough experience is another story, and pretty much a non-starter unless you're a freakishly fit masochist with hours to burn.
You can also slog up the dirt road to the top, which is akin to a kick in the t'aint—and about as much fun. Yet another option is to have someone shuttle you to the summit.   
Or you can ride up this multi-use trail on an eMTB, as I have done.
Taking on Mount Hough straight up means saying hello to sections of singletrack that kick to 25-percent pitches. On a pedal-assist eMTB, riding up Hough is doable, and not physically or technically easy. But it is actually enjoyable. All of which made the descent back down all the more gratifying.
Afterward, while sipping a beer and reflecting on my ride, I realized my legs had that dull ache from an earned effort. I was tired. I had fun.
Go ahead… hate me.
Haters Gonna Hate
There are many reasons for the animas some mountain bikers feel for eMTBs. Trail access has long been an uphill battle for those who pedal singletrack under their own power. Along come e-mountain bikes and the dust-up becomes thick, threatening, confusing: Is it bicycle or motorbike? Will e-anything help or hinder trail access?
For the frothy-mouthed eMTB haters, the difference is stark: These motorized abominations are not bicycles and should not be allowed on trails used by pedal-only bikes.
Fine, allow eMTBs on trails motos use. Many of the same e-bike haters love the renowned Downieville trail system, all of which is multi-use. More than once I've achieved warp speed on the Third Divide trail only to encounter motos rolling upstream. What's the big deal if it's someone on an eMTB—other than another rider's virtuous judgment?
And, by the way, I've pedaled up Third Divide on an e-bike, turned around and bombed back down. It was a challenge both ways. And fun, both ways. Yes, hate on.
But wait… how many times have pious pedalers shuttled Packer Saddle or some other too-steep-to-pedal trail via a gas-guzzling pickup? Right, that isn't as self-indulgent nor halfway lazy as people who ride electric mountain bikes.
Sure, electric mountain bikes are heavy beasts, they don't handle like a traditional MTB and, yes, batteries can and do run out. The ones that descend half as good as a pedal-only bike aren't cheap, either. Am I going to run out and buy an eMTB? Nope. But I'm not going to shame others for doing something that's fun and feels good to them.
Yes, e-bike trail access issues need to be sorted out. Perhaps eMTB riders and their motorized steeds need to pay green sticker fees like motos if they're to be relegated to multi-use and motorized trails only. Hopefully smarter people than me are working on mountain biking's e-conundrum.
I get it. I too sat atop my $5,000 bike powered by my own blood, sweat and tears and hated on e-bikes. Then I actually rode them hard and learned a thing or two.
If mountain biking has Golden Rules, it's to not be a douche on the trail and practice reciprocity. It's lame to be an ignorant hater. It's worse to be just a hater. We get what we give.
---
e-Wisdom from the Weirwolf
Often the most vocal eMTB haters are those who've never even thrown a leg over an electric bike. They are also the people online positing arguments as to why eMTB owners and their "mopeds" are evil incarnate and should be shamed off trails.
But do e-haters really want to argue with Mark Weir?
At 46, Weir is one of mountain biking's original mashers, thrashers and test pilots. He's pedaled more vertical feet than a human should, descended the gnarliest of gnarly trails, raced enduro in Europe (and proselytized for it in North America) way before the masses started buying 27.5 bikes used to shuttle downhill trails on, and he has a namesake mountain bike tire—the WeirWolf.
Legit, right? And Mark Weir doesn't even hate e-mountain bikes. He doesn't even hate the haters who hate eMTBs.
"I have a list of haters that I keep. They will all be on an e-bike in time and maybe become the biggest supporters," he says. "I will not even say I told you so… well, maybe."
Weir splits time between homes in Marin County, where singletrack is essentially under a police state, and Graeagle, about 45 minutes north of Truckee, where trails are burly and require fitness to ride. After 20 years of racing pretty much every type of bicycle, Weir not only knows suffering, but also invited it in order to earn his pro turns. Perhaps that's why he doesn't see the eMTB as a threat.
And Weir knows so much about suffering on the bike that it nearly killed him.
After muddling along—and continuing to ride—with pains in his chest and shoulders for several weeks, Weir finally went to a doctor. What he self-diagnosed as soreness from chopping wood and other physical labor were, in fact, symptoms of a 99-percent blockage in one of the main arteries in his heart.
The masochist cyclist was literally one ride away from dying of a massive heart attack. The timing of a nearly fatal health scare and his involvement with e-bikes isn't lost on Weir.
"Seeing the end brings great clarity. Feeling what that's like is a gift for me. Most people die with what I had," Weir says. "I ride my e-bike because it's fun. I ride my e-bike not because I'm done, but because I've just begun.
"The e-bike is a new start for so many people that don't know it yet," he adds. "I want to be the one that tells them."   
TQ caught up with Weir to talk eMTBs and then some…
What role do eMTBs have for people either rehabbing after injury/illness, or for people who are older and may not be able to hammer like they used to?
Riding bikes like I did was great in my 20s and maybe even my 30s. Now it's not really that healthy. With the e-bike I can control my heart rate and level of intensity. You still have to pedal the bike, people. This ride is not free.
There'll be the people who say you're an e-bike advocate because you work with Bosch (an electric motor manufacturer).
Yeah, it's a called a job. I love my job. I grew up in Marin, I know what it takes to create opportunity for bikes. I've been hitting walls in the county for 25 years and still I keep pushing. I couldn't do it without the help of Bosch, WTB, Cannondale, Fox. I don't apologize for a paycheck I feel I've earned. If I can get more people on a bike, even if it's an e-bike, I think we're winning. 
As you see it, will eMTBs help or hinder mountain bike access or trail building?
It's already starting to change things, and it will be in the Sierra's backyard. There are trails in inventory that get no use because they are too far out… on an e-bike, well, that's a different game. To add bikes to an already over-populated trail network is not the goal. The goal is to use trails that don't get use. That being said, this will create a bigger need in urban areas to figure out solutions. Just saying "no" will not work. Look how that worked out in Marin—it's a total joke."
What was your first impression of an eMTB?
My first real electric mountain bike was four years ago. Yes, I thought they where ugly and the geometry was way off. After my first ride I was hooked. I rode the Dolomites in Italy for 10 days and rode my face off on E. I knew when these things got to the U.S., there was going to be a fight between e-bikers and bikes. It hasn't been as bad as I thought, but then again I love to debate and it's hard to hate once you ride one…
Seems like the haters are the ones who've never ridden an eMTB.
Maybe most haters just started riding really hard in the last few years or so. When you get to a level of fitness that's new to you, it's very addictive and you don't want to lose it—the e-bike represents losing control. Also, they don't like some chubby person passing them on the uphill. Really, it's just people not wanting other people they think don't deserve to be there being there.
Were you an immediate early adopter or did it take time for you to warm up to eMTBs? 
I have ridden my bike for many reasons during my life. Freedom was my first reason and fun was my second. As I got more lost in life as a young adult, I rode to suffer. That suffering made me who I am today… When I got on an e-bike I was done racing. Suffering was not as important as fun and freedom. The e-bike brought back all those feelings I felt the first time I rode a bike. It also brought back friends I used to ride with that I left behind when I was in the suffer state. Not everyone wants to suffer… E-bikes even the playing field and will get more people on two wheels and out in nature. Besides that, it's real fun.
---
Jamie Bate is a Truckee-based writer who suffers climbs aboard bikes that are void of motors. He will, however, gladly take your eMTB out for a spin.
---
E-Bikes by the Numbers
There are three classes of e-bicycles, and at first glance they all appear somewhat similar. Whether for road or singletrack, the most common e-bike manufactured and sold by all the major bicycle brands is the Class 1 electric bike. The bogeyman for land managers and those wanting to put the brakes on electric mountain bikes being used on singletrack trails are Class 2 electric bikes with throttles. A Class 1 e-bike is "pedal-assist," which means the rider must be pedaling for the electric motor to work. That "assist" from the motor provides a boost of power to climb hills with less exertion. Most Class 1 bikes have three or four power settings ranging from economy to boost.
Class 1 Electric Bike
Equipped with a motor of 750 watts or less that provides assistance only when the rider is pedaling, and that ceases to provide assistance when the bicycle reaches the speed of 20M miles per hour.
Class 2 Electric Bike
A throttle-assisted e-bike with a 750-watt or less motor that may be used exclusively to propel the bicycle, and that is not capable of providing assistance when the bike reaches 20 miles per hour.
Class 3 Electric Bike
Speed pedal–assisted, throttle e-bicycles equipped with a 750-watt motor capable of powering the rider up to 20 miles per hour on motor power only, as well as a pedal assist mechanism capable of speeds up to 28 miles per hour.  
Class "Who Knows?"
The electric motors on these "bikes" are more than 750 watts and can be activated through pedaling or throttle. Yes, these machines have pedals. But with top speeds of up to 50 miles per hour, the resemblance to a bike ends there.
E-Onslaught
According to Bicycle Retailer and Industry News, sales of all types of e-bikes increased 83 percent between May 2017 and May 2018, with e-bikes accounting for 10 percent of overall bikes sales in the United States during that time. Since then e-bikes have gained even more market share.
Cost
E-bikes are the same as anything else—you get what you pay for. Depending on quality, battery, range, motor type and intended use, e-bicycles range in price from as low as $500 to over $10,000.
What the Feds Say
Between the Tahoe National Forest and Lake Tahoe Basin Management Unit, the U.S. Forest Service manages nearly a million acres of public land and hundreds of miles of trails in the region. On its website, the Lake Tahoe Basin Management Unit notes, "regulations regarding consumer safety do not classify ebikes as motor vehicles." However, federal regulations, specifically Title 36 Part 212 Subpart A, defines a motor vehicle as "any vehicle which is self-propelled… " Therefore, e-bikes are considered motorized vehicles allowed only on roads or trails designated for motorized use. The Feds are reportedly starting an analysis process to consider e-bike use on trails in the Tahoe Basin.