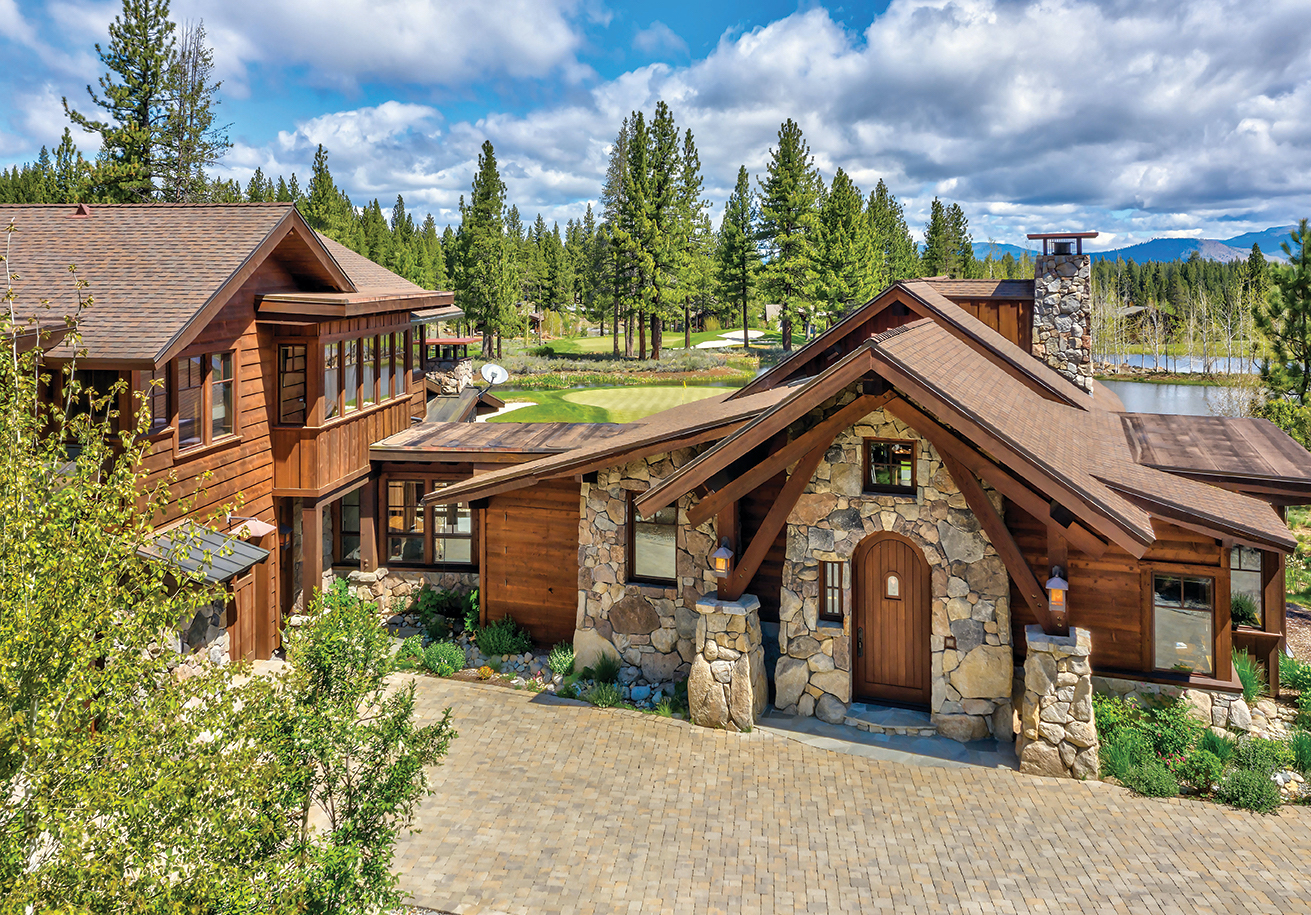 A 4,426-square-foot home in Lahontan listed by Tahoe Mountain Realty, which has seen a surge in interested buyers in the wake of the global pandemic, photo by Vance Fox , courtesy Tahoe Mountain Realty
25 Jun

Heading for the Hills in a Post-COVID-19 World

The iconic shores of Lake Tahoe have lured legendary landowners for centuries. Real estate tycoons, railroad barons, financiers, conservationists, world-renowned athletes and philosophers have transformed both the Tahoe real estate market as we know it and the land surrounding Lake Tahoe.

In the wake of a global pandemic, a new wave of potential homebuyers is building momentum in local real estate sales. From the tech giants of Silicon Valley to the startup entrepreneurs in San Francisco, this surge in buyers reflects a post-COVID-19 paradigm shift as the work-from-home lifestyle goes mainstream.

"When quarantine first hit, we had no sense of how impactful this virus was going to be for our lives," says Jeff Brown, owner and general manager of Tahoe Mountain Realty. "As weeks turned into months, people got really serious about wanting to change their environment, and as remote work became more viable… people started reevaluating their quality of life."

In late May and early June, a dramatic uptick in web traffic quickly turned into successful transactions, and Tahoe Mountain Realty went from five escrows in early April to nearly 40 escrows by June.

Similarly, Chase International's offices, which span the entire Lake Tahoe region, saw an increase in committed buyers in May.

"There was initially a lot of speculation that this pandemic was going to destroy the local real estate market because of joblessness, but what we're now seeing is the exact opposite, and we're experiencing an insane amount of interest in all of our offices," says Chase International Senior Vice President Sue Lowe. "We're also noticing a new trend in that there are no looking buyers—everyone is very serious—which is evident based on their commitment to do what you need them to do just to view a property."
Hoop Jumping Through Home Tours
Under the recent stay-at-home orders, the process of viewing a property has also experienced a dramatic shift. From disclosure agreements stating that prospective buyers understand the risk of COVID-19 to wearing booties, masks and gloves inside homes, the red tape involved in showing a property has opened an unprecedented door into virtual home tours.
"The first elements of looking at a property are digital, and fortunately we have some pretty great tools to be able to facilitate that," says Brown.
Using high-end professional photography, three-dimensional videos, Zoom and Facetime tours, and drone footage of the surrounding landscape offers buyers a comprehensive walk-through of a property that provides as close to a realistic experience as possible without an in-person tour.
"While these are obstacles, they're also the perfect filtering device because in normal circumstances, we know it's a hobby to jump in a car and look at homes for the afternoon, but this new reality requires a much higher level of scrutiny," Brown says.
The logistics of shopping for a new home may not be deterring eager buyers, but the current inventory available is proving to be another obstacle in the current Tahoe real estate market.
"Inventory is at all-time lows right now, which is partly due to the pandemic because sellers are apprehensive about putting their house on the market and moving into whatever their next step is," Lowe says. "That's one of our biggest challenges we're facing because as soon as something goes on market it's gone within minutes, so long as it's priced right."
Apart from a general apprehension about what the future may hold in a post-coronavirus world, Brown says the inventory shortage is also due to the abnormal influx of second-home owners taking refuge in Tahoe. With so many homes being used now, Brown says he does not foresee much inventory opening up. That is not to say there isn't room for real estate to boom locally.
"I think a lot of new developments will see more interest in presale offerings like never before," Brown says. "Our consumers tend to be more instant-gratification-oriented, so the thought of locking in a property now and not getting to use it for 12 months was not a particularly viable way of selling real estate in Tahoe, but that might be your only choice now, so I think more and more people will be interested in locking in something new and exciting that is still being developed."
One-Size Home Does Not Fit All
While the second-home market in the past has typically dominated luxury real estate sales, the new buyer profile is not a one-size-fits-all client, with many families looking for more moderately priced starter homes. Those interested in higher-end properties are also shifting the conversation in terms of what's important to them when purchasing a new home.
"We're having conversations about schools, day cares, sports, little league, soccer practice and that sort of thing; whereas, it used to be about the proximity to ski resorts or how to get the boat in the lake," Brown says.
Take, for example, newlyweds Kyle Hutchison and Jasmine Ghuman, who rent an apartment in the Pacific Heights district of San Francisco to commute to their downtown office jobs in the tech sector. As soon as quarantine forced them to work from home, the couple fled the city with their golden retriever, Georgia, for Hutchison's parents' home in Cambria. Months later, the future of their work environment remains uncertain, but one thing they know for sure is if they can work from home, they'd prefer to be at Lake Tahoe.
"My company is more of a scrappy startup, and we're located in a pretty small space with 100 people in the office. When we're at full capacity, our desks are right next to each other, so there's no way to do social distancing," Hutchison says. "What I think we're going to see is a big exodus from the typical San Francisco office culture and the potential for an overall paradigm shift where a lot more companies go full-time remote."
This shift is not only opening the door for a new mountain-based lifestyle, it's also allowing the couple to consider transitioning from renter to homeowner—an opportunity they didn't foresee being financially feasible within the confines of the costly San Francisco market.
"There's really no such thing as a starter home in the Bay Area, and we ruled out buying anything here a long time ago," Hutchison says. "What I really like about Tahoe is that there's starter home potential, and we're looking for something older that we could fix up that's as low as $300,000 and at the high end of $500,000 to 600,000."
Shaping Tahoe Through Real Estate
Land barons of decades past who set a precedent for land conservation efforts—like George Whittell Jr., who in 1929 purchased more than 40,000 acres of Tahoe's Nevada shoreline to protect it from future development—continue to influence the current real estate market, bringing economic stability and philanthropic support to the Tahoe community.
Though buyers may not have 40,000 acres available for purchase and subsequent preservation, there are covenants that are written into property sales that have helped fund land conservation efforts, workforce housing, forest management, and a slew of other nonprofit entities and projects that provide many long-term benefits to the community. 
"People moving here are doing so because they care about health, fitness, the outdoors and the community overall, and they're bringing tangible resources to enhance the environment of Lake Tahoe for us locals," says Brown, who serves as a volunteer chairman of the board on the Truckee Donner Land Trust. "With the funds we've generated from real estate sales, the Truckee Donner Land Trust has been able to buy developable land and ensure conservation for trails and public recreation."
Similarly, The Martis Fund collects a community benefits fee equal to 1 percent of the purchase price on each property transfer within Martis Camp. The 1 percent fee structure helps fund regional conservation efforts, workforce housing, transit, the management and enhancement of open space, as well as forest management and restoration around the Lake Tahoe Basin.