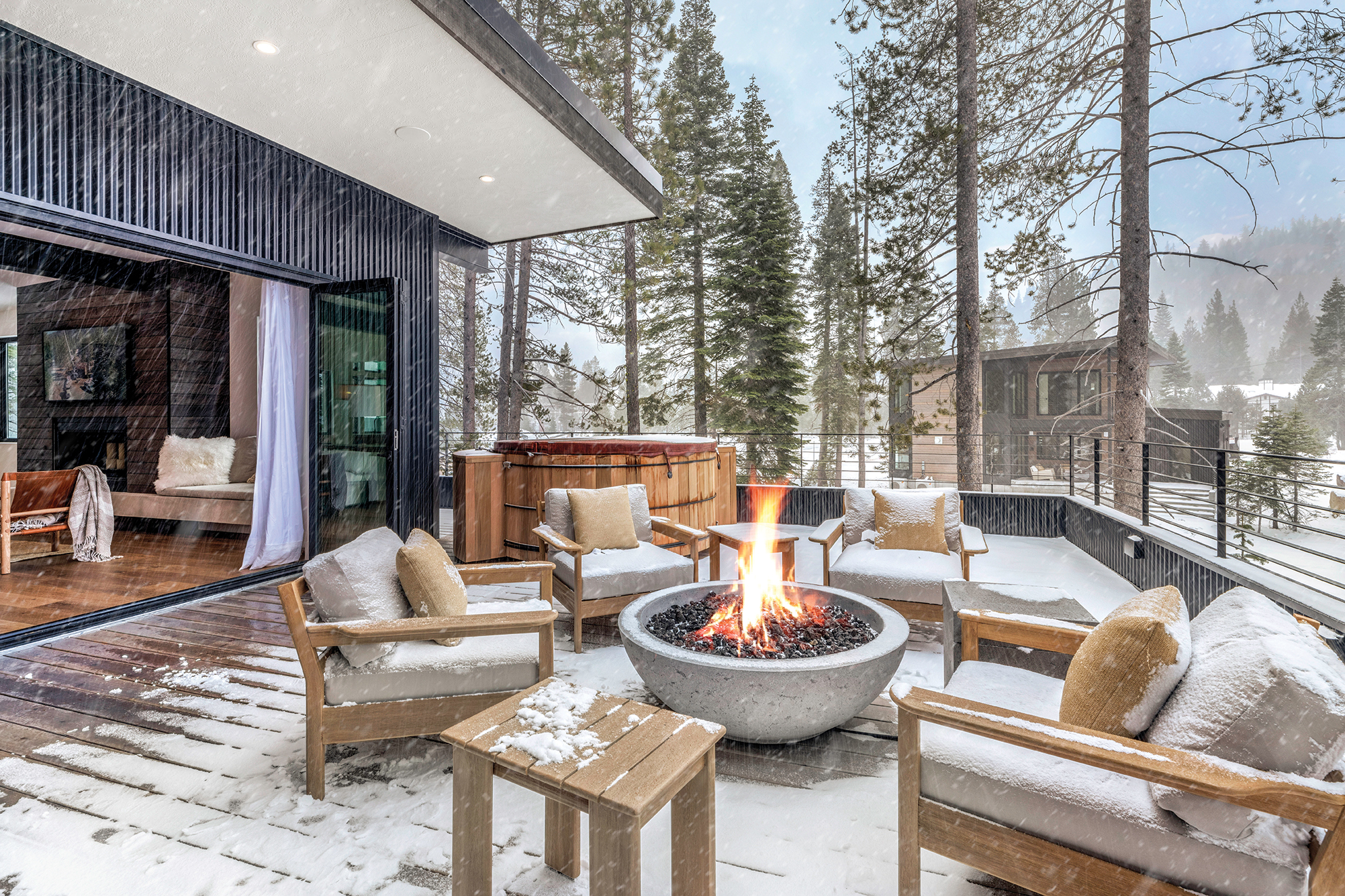 25 Jun

Manufactured Bliss
The Palisades at Squaw Valley features prefabricated residences designed to delight
Designing the perfect home can be a difficult and stressful endeavor, but The Palisades at Squaw Valley has taken that troublesome task out of the equation entirely by offering an assortment of customizable prefab townhomes and single-family residences.
"Our focus is on extremely sustainable and healthy homes," says Steven Glenn, founder and CEO of Plant Prefab, the California-based company tasked with manufacturing the high-end residences. "The developers chose to work with us because they believed they could get their homes built more quickly, more sustainably and more affordably than doing it with traditional means, on site."
Currently in the second phase of development, The Palisades at Squaw Valley—located just off Highway 89 on Squaw Valley Road—will showcase 30 townhomes and 30 single-family homes once construction is completed at the end of next year.
Because the homes are prefabricated, the construction team reduces around 70 percent of construction debris when building them off site.
"They're durable through all kinds of weather and are much more energy-efficient than a regular home would be," says Maryanne Diaz, the project lead for sales and marketing team Vanguard Properties. "Building prefab homes was a way to reduce our footprint, but they're so beautiful that you would have no idea you were in a prefab home."
Envisioned by Lindsay and Rory Brown of San Diego–based architecture and interior design firm The Brown Studio, the environmentally conscious residences have a shortened build time of eight to 12 months. Once a homeowner picks out the finishes (which include various options for cabinetry, counters, lighting packages and laundry room build-outs), Plant Prefab's team will build the residence in its warehouse.
"Once it gets delivered on site, it's about eight weeks to complete the interiors and get the inspections done with the city," says Diaz.
Prospective homeowners can choose between two distinct layouts for the single-family residences and optional furniture packages.
"There was a big focus on bringing a sense of warmth into the homes," says interior designer Rory Brown. "We wanted the homes to feel fresh and clean in the summers and still have a sense of warmth in the winter. The easy proximity to the natural beauty of Tahoe made us want to bring that sense of nature inside, which we did by blending the modern look with a neutral warm palette and lots of natural finishes to create a mountain-modern aesthetic."
The four-bedroom "Alpine" design (which includes two master suites) is the more traditional of the two layouts, with the main living and entertaining spaces on the first level and three of the bedrooms on the second level. The blueprint shows off a contemporary chef's kitchen, a bonus family room loft on the second floor, a covered balcony with room for a hot tub to be added, and an oversized two-car garage.
With a slightly bigger footprint, the "Traverse" floor plan also calls for four bedrooms (including two master suites), a contemporary chef's kitchen, and an oversized two-car garage. In addition, the second floor opens to a spacious alfresco deck with a fire pit. Diaz refers to it as "more of a winter-living home" because the second-story living space is positioned well above the 15-foot snowbanks that sometimes accumulate in the winter, making it lighter and brighter than the Alpine blueprint.
The "Slalom" townhome blueprint features three bedrooms (as well as a fourth room that can be used as a media room or guest bedroom), three bathrooms, a chef's kitchen, open-concept living and entertaining areas, and a deck designed for outdoor living.
"The main purpose of the design is to engage homeowners with the natural wonder of the valley at both the ground and upper levels," says architect Lindsay Brown. "The building was developed to establish natural visual connections to the surrounding treetops and mountainscapes, and our goal was to capture the energy of Squaw Valley within each unit and within the development as a whole."
The units feature a zero-lot line, which makes each one feel more community-focused.
"You're not buying a property here for a big piece of land," says Diaz. "You're buying a property for the location."
Nature is the star of the show at The Palisades, and homeowners can easily take advantage of it thanks to scenic hiking trails and bike paths.
"We wanted the properties to be very minimalist so you don't have to spend hours maintaining your yard; instead, you can be spending time outdoors skiing or hiking, which is the reason people want to live here in the first place," Diaz says.
Current prices range from the mid-$900,000s for a townhome to $1.55 million and up for single-family homes. With HOA dues clocking in at under $200 a month, the residential complex offers a more affordable cost of living than many community developments in the area while also promising high-quality design and modern comforts.
"Each [design] selection is thoughtfully considered," says Rory Brown. "Our hope is that buyers will find a beautiful, modern space to call home."
---
For more information about The Palisades at Squaw Valley, contact Maryanne Diaz of Vanguard Properties at (415) 577-4873.
---
Rebekah Bell is a Los Angeles–based writer.