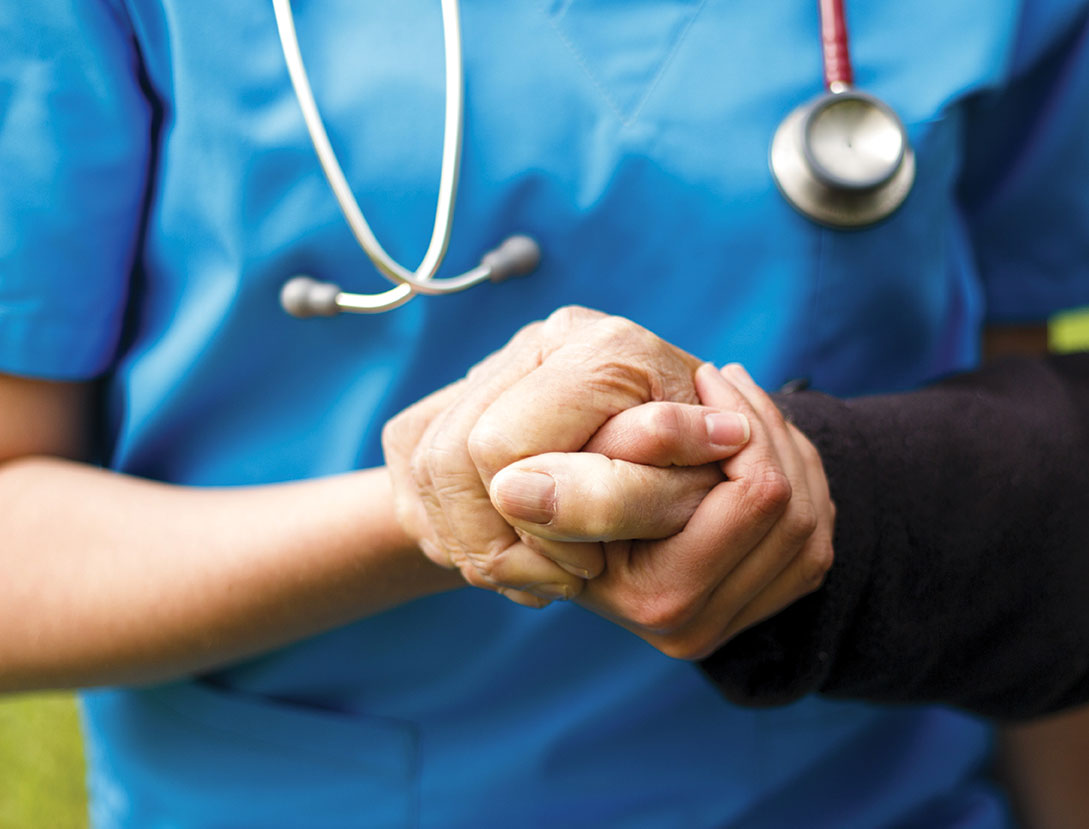 A Rocky Road for Tahoe Seniors
The lot at 3530 South Lake Tahoe Boulevard seemed perfect for an assisted living facility, says Lynn Humphries, a senior living and placement consultant based in the Sacramento Valley. Listed on the online real estate market LoopNet for $2.5 million, it was the site of a former Days Inn.
"It had 42 units. It was the perfect size. It was all one floor. Everything was perfect. Each unit had its own bedroom and bathroom and little kitchenette, which is what you want," says Humphries.
Humphries and her business partner, Jeff Hertzig, a consultant to the senior living industry, are passionate about bringing an assisted living facility for seniors to the Tahoe area.
Currently, Humphries says, there are none. An affordable housing development, the Tahoe Senior Plaza in South Lake Tahoe, provides cost-effective independent living for seniors but lacks the additional amenities needed for those who require physical assistance with daily tasks.
Hertzig contacted an area planner shortly after touring the Days Inn lot and received unfortunate news—3530 South Lake Tahoe Boulevard was in the city's commercial core district, a segment of U.S. Highway 50 near Stateline. Though an assisted living facility is technically a commercial project, the nursing and permanent care designation that it requires was no longer permitted in the area.
According to Tom Lotshaw, spokesman for the Tahoe Regional Planning Agency (TRPA), the designation was previously allowed in the area but was taken out of the acceptable land use designations when the Tourist Core Area Plan was adopted in October 2013.
Lotshaw, who was not involved in the phone call with Hertzig, notes that the city might have wanted to focus assisted living projects in the area near Barton Hospital, where nursing and permanent care facilities are permitted.
"We don't necessarily tell [the city of South Lake Tahoe] what to do. We provide a framework," he says.
Humphries flips through commercial lots on her cell phone—the Raley's on Emerald Bay Road, an old pet supermarket, a liquor store—as Hertzig explains why it's easier to redevelop a pre-existing building than to start from scratch.
"The reason that Days Inn would work so well is that the plumbing and everything is already there per room," he says. "They were large enough rooms and had little kitchenettes. It was all ideal. If you're going to go into a building like Raley's, you might as well start with construction because nothing fits."
Hertzig and Humphries secured a partnership with Newport Beach investor David Ross. If they can find a lot like the Days Inn, with 30 to 50 units and minimal need for redevelopment, Ross will provide the financing needed to secure the lot.
"He wants something where you can renovate inside rather than building," says Hertzig. "There really is very limited ability to take something over and make it an assisted living facility."
Lake Tahoe's population is getting older. According to TRPA's Tahoe Regional Housing Needs Program Report published in 2014, the 55-plus demographic grew by 12 percent between 2000 and 2013, while every other age group saw a decline.
A growing elderly population could introduce problems to Tahoe's economy and housing infrastructure. On top of the Basin's lack of assisted living facilities, few in-home caretakers are willing to travel to the Tahoe area during the treacherous winter months or relocate due to the high cost of living.
Auburn-based in-home care company Partners in Care ran into a roadblock when it tried to expand its area to include the Tahoe region.
"We placed some ads and stopped at the career center in Truckee," says Shaun Clinkinbeard, president and owner of Partners in Care. "We literally didn't get any bites at all for caregivers."
Clinkinbeard says one of the determining factors in providing service to a location is the ability to find caregivers.
"Someone who wants to be a caregiver really has to want to help people," he says.
Partners in Care offers sick time, paid time off, health benefits, a 401K and plentiful opportunities for promotion. Even so, many Tahoe seniors are hard-pressed to afford in-home care, which starts at $15,000 a month for around-the-clock service. Assisted living facilities typically charge $5,000 to $6,000 per month, by contrast.
Though Humphries lives in Sacramento, she has been coming to Tahoe for decades. A few times a year she grabs her kayak and paddles out into Sand Harbor, exploring inlets and uninhabited shoreline along the way.
She says her mother's transition to assisted living inspired her to help other seniors. When she started consulting seniors 20 years ago, she was one of four referral agents in the entire Sacramento Valley.
"I saw the need, and of course now just in the Sacramento Valley there are about 40 [referral agents]," says Humphries.
She believes in a personal approach, accompanying seniors and their families on tours and helping them find the best fit.
"It's amazing what you can learn from a client when you're with them," she says.
The senior consultant workforce now includes online referral sites, which Humphries says do not provide the same level of care.
"A lot of them are online at A Place for Mom and CarePatrol. They don't meet you. They just do an intake over the Internet and then fax your name and information to all the facilities within a 50-mile radius," she says. "It's not personal; they don't get to meet the family or meet the person. You've got to meet them to know whether this place is going to work for them."
The transition from home to an assisted living facility can be traumatic for seniors.
"Seniors don't like to move. When I was administrator we had a lot of residents who had owned the same home for 50 years," says Hertzig. "Their kids grew up there. Their grandkids visited. They don't like to buy another house. They owned their home outright, most of them. They move into assisted living because they know they need some help, and that's the only way they can get it."
Challenges abound for Hertzig and Humphries, but they're continuing the search for a viable, cost-effective lot to transform into what they feel is a much-needed facility for seniors. 
"It's a way to maintain the census, our population up here, rather than losing these people because they have to move away," says Humphries. "Often if they move away, so does their family."