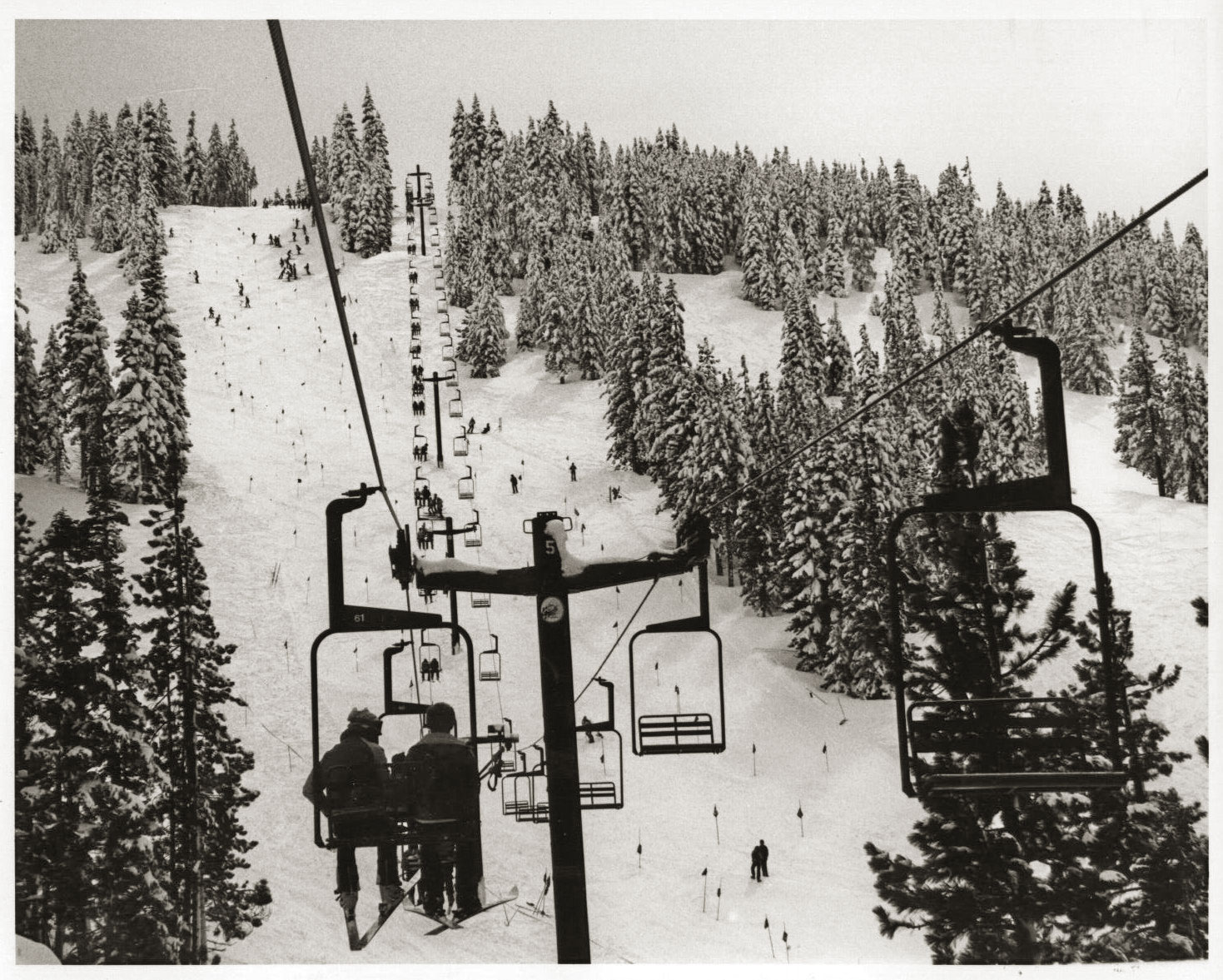 Fantastic at 50: Diamond Peak Hits a Half-Century
Incline Village's Diamond Peak Ski Resort celebrates its golden anniversary this winter. To commemorate 50 years of operations, the resort is asking guests—past and present—to share stories, photos and even those old Rothko-channeling 1980s ski suits. It's all part of a season-long celebration of this storied mountain and its legacy of service.
It was 1966 when mountain man and Austrian emigrant Luggi Foeger first scouted the land that would become Ski Incline, and eventually Diamond Peak Ski Resort. Incline Village was still a private getaway for wealthy Californians and the pet project of Oklahoma entrepreneur Art Wood, who envisioned the town as an exclusive resort.
"He was a big name in the industry. To get him to open the mountain and lay out the initial Ski Incline was a big deal," says Paul Raymore, Diamond Peak's marketing manager.
The resort was initially sited with south-facing slopes that presented a challenge for retaining snow. Foeger traversed the slopes in and around Incline Village and ultimately settled on the other side of that initial ridge—a northwest-facing escarpment.
In November of that year, Ski Incline hosted a grand opening, complete with three lifts, one T-bar and an entirely new technology: snowmaking. The first resort in the West to use this machinery, Ski Incline capitalized on the notion of a constant snowpack to draw visitors.
Eventually, more Tahoe ski resorts acquired snowmaking technology and grew the scope of their offerings exponentially, promising everything from high-end shopping districts to ski-in, ski-out condominiums and pool-side cocktail lounges. They pooled into monolithic corporate entities and traded shares on the stock market, but throughout the industry's rapid evolution, Ski Incline remained small and straightforward.
In 1985, the resort introduced a new master plan outlining the addition of several new advanced ski runs—identified on the mountain by a black diamond—which became the inspiration for Ski Incline's transformation to Diamond Peak.
Ronald Seipel first visited Ski Incline in the late 1960s and remembers a pristine Tahoe afternoon when the power went out, shutting down the lift.
"I was standing in line with someone else, and we looked up the hill and said, 'It's such a beautiful day. What a waste. Why don't we hike up the hill and take another run?' The more we hiked up the hill the more we realized how steep that hill really was," Seipel says. "The lift ticket is definitely worth the price. I'd never begrudge paying that again."
While daily lift ticket prices exceed $100 at some of Tahoe's larger resorts, Diamond Peak comes in well under the competition with a $74 all-day pass. Interim General Manager Mike Bandelin believes this is one of the resort's greatest virtues.
"We pride ourselves on the value of the product that we can offer to the customer. Our price is well below other resorts in the area," says Bandelin.
In 2015, the Incline Village General Improvement District approved Diamond Peak's new Master Plan, which proposes the addition of 387 acres of terrain in the Humboldt-Toiyabe National Forest, summer recreation opportunities including zip lines and mountain bike trails, a backside ski lift and the redevelopment of Snowflake Lodge. After the plan goes through the environmental impact assessment process, it will come back to the community for further scrutiny.
The Diamond Peak 50th anniversary planning committee is still pinning down dates for this year's celebrations, but ideas include a vintage lift price day, a historic ski film and speaker series, and community gatherings.
"This year, in the run-in to the ski season, we're hoping to connect with many of the folks who have skied here at Diamond Peak—or even better, at Ski Incline back in the day—and hear their stories, see their photos and record their memories for posterity," says Raymore.
Bandelin is holding out for a strong showing from Mother Nature this winter season. He compares managing a ski resort to farming, a practice full of anticipation about the coming season.
"We're hoping for a lot of snow," he says. "We're hoping for a lot of customers."