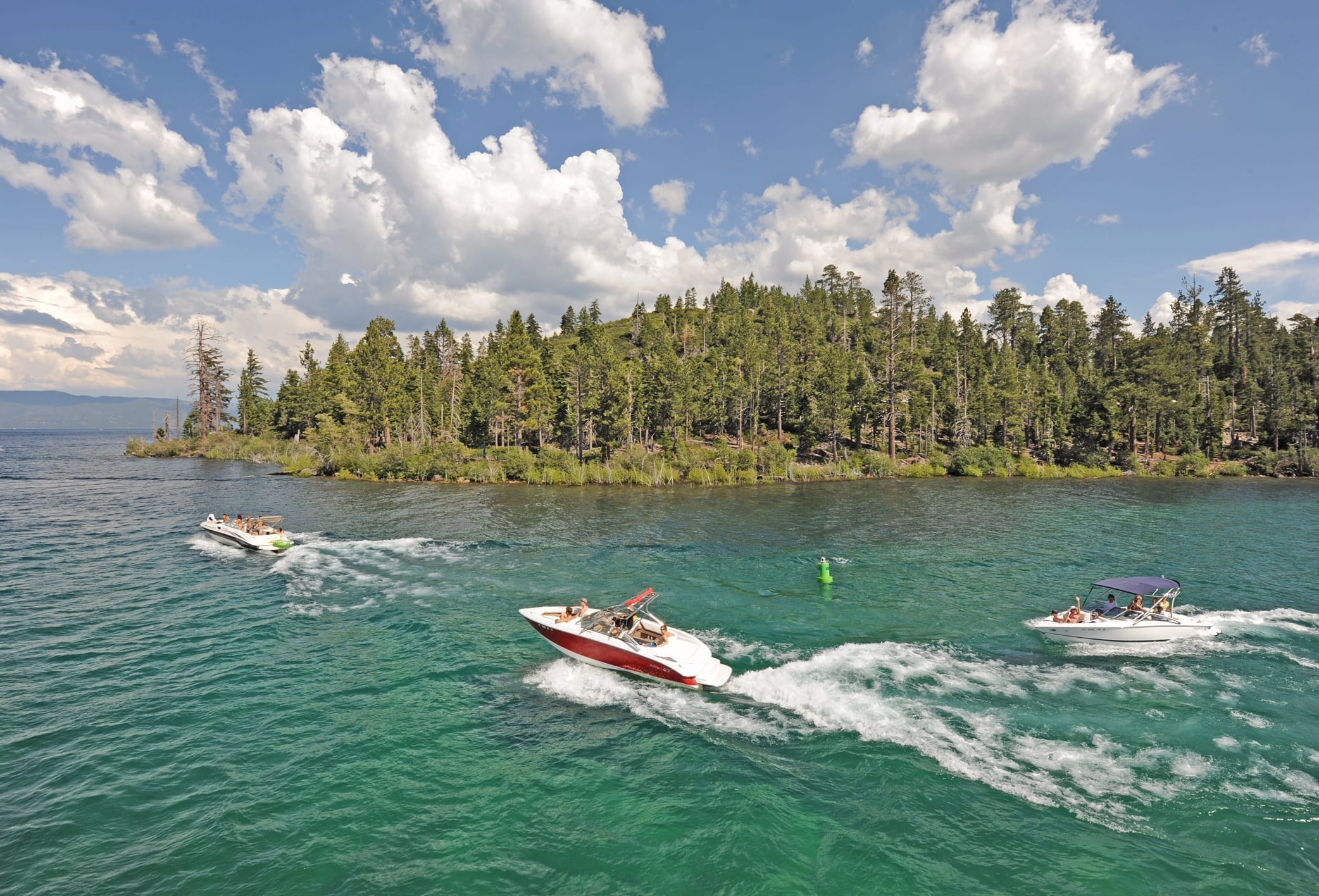 22 Jun

A Guide to Vessel Vacations on Tahoe
Sponsored Content
There is boating, and then there is boating on Lake Tahoe.
June through September, locals and visitors take to the lane-less waters of Big Blue for recreation, sport and relaxation.
While it's tough to grasp the size and beauty of Tahoe—which boasts over 70 miles of shoreline to navigate—being out on The Lake on a boat provides the best opportunity, with panoramic view of stunning shoreline, rising Sierra peaks and crystal blue water.
Home to four state parks and countless sandy beaches, coves and rock formations, one would need a week to see and enjoy every pocket of beauty and wonder.
When traffic backs up through the tiny shoreline communities and popular beaches get crowded, life on The Lake moves freely, even on the busiest of holiday weekends.
The following guide to boating Lake Tahoe will help you get off the shore this summer and experience the best of what Lake Tahoe has to offer from the water.

SEE THE SIGHTS BY BOAT
Many of Tahoe's most famous historical landmarks are better seen from the water. Put these on your list.
Old Hollywood: You might recognize this multimillion-dollar estate in the movie Godfather, starring Marlon Brando and Al Pacino. Fleur de Lac was the setting for multiple scenes—the wedding, horse head in the bed, and the blown-up boat off shore. The estate is visible from the water, although public tours are not available.
Roaring Twenties: A national historic site and home of the late George Whittell Jr., Thunderbird Lodge will give you an insider's look at life in the Gatsby era. On the way, keep the boat close to shore to check out the prestigious lakefront estates that line Lakeshore Boulevard. Guided tours are available.
Norwegian Skoal: The magnificent Emerald Bay is home to The Lake's only island. Across from Fannette Island, Vikingsholm Castle was completed in 1929 and is considered one of the finest examples of Scandinavian architecture in the United States—giving boaters the feeling of floating through the Fjords of Norway. Guided tours are available.
UNIQUE ACCESS TO SECRET BEACHES
Boating allows you to access some pristine remote beaches—otherwise hard to reach—and popular beaches when parking is full and a hassle. Check out these local favorites.
Secret Cove: There are multiple serene beaches on The Lake's upper East Shore. Nudist sightings are common here.
Boaters Beach: Slightly south of Secret Cove is a long, sandy shoreline, making it easy for boats to pull up to shore. The sun sets late in the day here, which means it's the perfect afternoon stop.
Lester Beach: Another long, sandy shoreline, this beach is located across The Lake on the West Shore's DL Bliss State Park, just north of Emerald Bay. Depending on the water level, opportunities abound to anchor offshore and wade in.
LAKESIDE DINING
With so many good restaurants on Tahoe, it's hard to narrow it down. However, if arriving by boat, there are a few that stand out.
Gar Woods: Located in Carnelian Bay—and home of the Woody-style boat races from Tahoe's past—Gar Woods offers a comfortable summer atmosphere with indoor and outdoor seating. Known for its series of famous Wet Woody drinks, Gar Woods combines a great grill menu with Caribbean rum flare.
Sunnyside: Two miles south of Tahoe City, Sunnyside is a West Shore favorite for locals and visitors alike. The lakeside deck gets busy for a reason, so arrive early or enjoy a drink at the outdoor bar while you wait. Both casual and fine dining are available. The beer-battered fish tacos are recommended.
 Chambers Landing: Considered a favorite summer hotspot, the laid-back Chambers in Homewood offers pristine lake views with easy boat access. Order a Chambers Punch at the oldest bar on Lake Tahoe. Barbecue burgers, bratwurst and salads are available. Shirts and shoes are optional.
SOMETHING DIFFERENT
For a unique boating experience, consider one of these local favorites.
Alpenglow sunset tour: As the shadows of the setting sun creep over the West Shore, the sunshine remains just a few hundred yards off shore. Enjoy the evening alpenglow, a natural occurrence that turns the mountains over the East Shore a magnificent shade of purple. It is worthy of romance and your best camera.
Fourth of July fireworks: Tahoe is known for its fireworks shows, with four different displays around The Lake. The best spot to watch—hands down—is from the water. Avoid the crowded shoreline spots and watch aboard with your private party. Check gotahoenorth.com for dates and times.
No matter how you do it, boating on Lake Tahoe offers many benefits and experiences that you'll never forget. Now more than ever, getting on The Lake is easy. If a boat isn't in your budget, consider a kayak or stand-up paddleboard. Boat rental companies are plentiful around The Lake, with something for any group size and budget.
We hope to see you on the water. Boat safe and enjoy.
Jon Wilson is the owner of Action Water Sports of Incline Village. Learn more here.