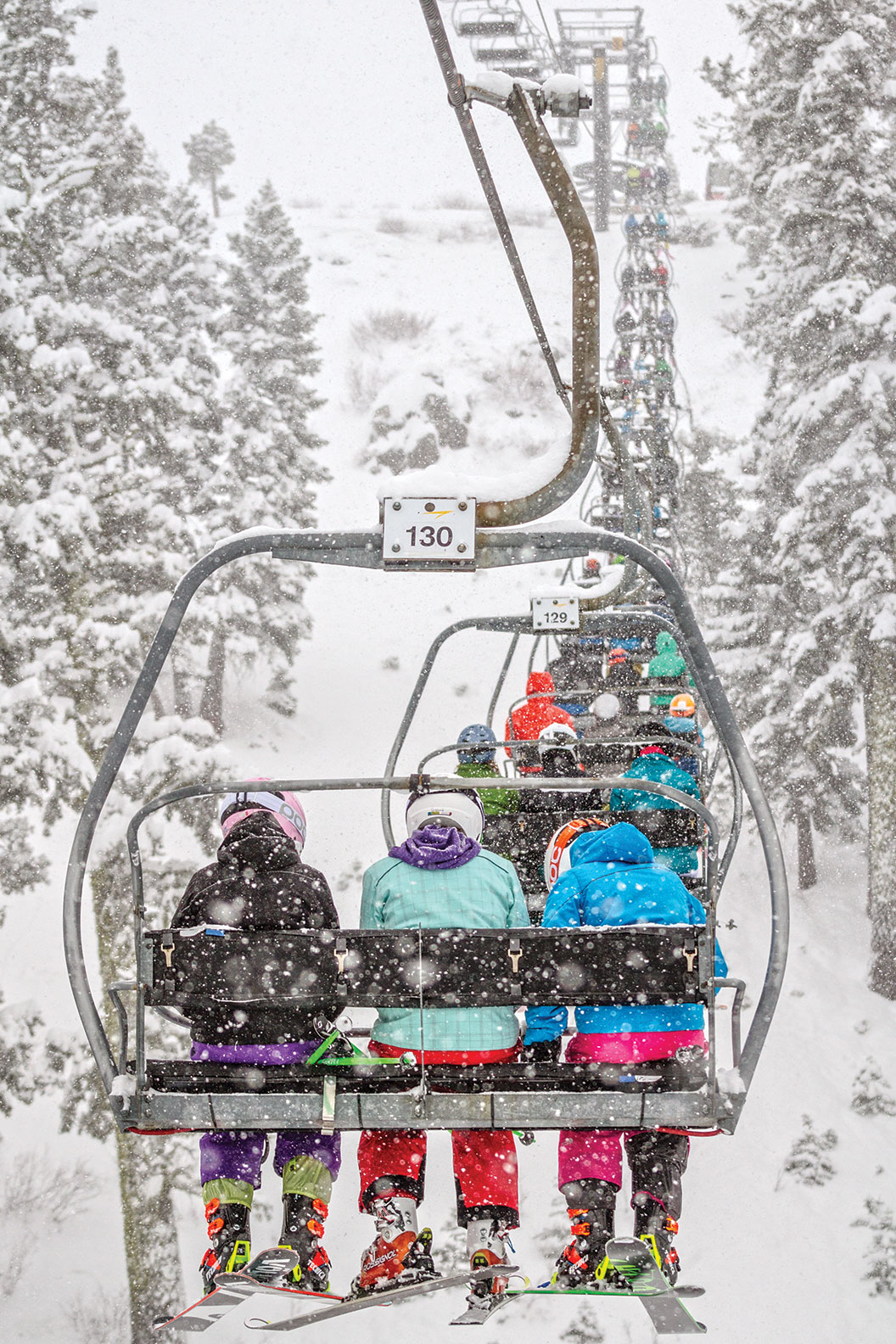 Possible La Niña Effects on Tahoe Winter Difficult to Predict
The Pacific Ocean can be temperamental. One year the waters along the equator warm rapidly, bringing trade winds to a halt, and the next year waters in the western Pacific warm so disproportionately that a massive difference in pressure sets up between its eastern and western halves, causing deep, cold ocean water along the coast of South America to rise to the surface and feed the pressure differential an atmospheric equivalent of Muscle Milk.
This year, we can expect Muscle Milk. But, according to meteorologist Elizabeth Austin, that doesn't necessarily mean anything grand for Tahoe.
"With Tahoe it's flip-a-coin time," says Austin, the founder and president of WeatherExtreme Ltd. based in Incline Village. She predicts a winter season of above-average temperatures and typical amounts of rain and snow.
The National Oceanic and Atmospheric Administration (NOAA) places the likelihood of a La Niña event developing this winter at 55 to 60 percent.
During a typical La Niña season, the northwest United States receives cold weather with an increase in precipitation—the opposite of El Niño's effects—while the southwest United States is more likely to invite warm and dry winter weather.
Lake Tahoe inhabits the borderland between these two atmospheric setups, making this winter difficult to predict.
"The line is running right through Tahoe," Austin says. "We're expecting just an equal chance of a normal season." 
The buildup to the 2015 El Niño event saw mass publicity and produced some exciting predictions, including the possibility of an above-average snowpack for the Sierra Nevada. But last winter's showing underwhelmed local meteorologists.
Randall Osterhuber is a researcher at the Central Sierra Snow Lab (CSSL), a UC Berkeley research facility located on Donner Summit. The CSSL measures and studies snowpack trends in the Sierra Nevada, in addition to research in snow physics, hydrology, climatology and instrument design.
"For the Tahoe latitudes there is really no correlation between winter weather and the ENSO (El Niño or La Niña) events. Here our data splits almost fifty-fifty," says Osterhuber. "The real story is how people continue to think that there is."
A quick Internet search reveals over 1,000 news articles on last season's highly anticipated El Niño and its relationship to Lake Tahoe between June 2015 and May 2016.
Osterhuber says that other trends, not directly related to El Niño or La Niña events, are beginning to come out in the data.
"We're definitely seeing a higher and higher percentage of our annual precipitation in liquid form rather than solid. When [CSSL] was built in 1946 it was not placed at an elevation to be a marker for rising snowlines," he says.
July marked the 15th straight month of record-high global temperatures, an unprecedented streak in the history of recorded weather data. Osterhuber says that temperatures on Donner Summit had never "even come close" to hitting 100 degrees Fahrenheit, but in 2015 they climbed to 98.5 degrees for two days in a row.
"We look at these extremes, and extremes are more than anecdotal when you have a long record," says Osterhuber.
Rising temperatures and sea levels, as well as an increase in severe weather and flooding, may be imminent for many regions of the world, but this does not necessarily mean the public is paying attention.
Paul Slovic is a risk-assessment psychologist and professor at University of Oregon. He studies how individuals and collective groups of people analyze, assess and react to threats.
"Many people now are aware of and concerned about climate change. But they don't take any actions to reduce their impacts because climate changes are fuzzy and seem distant from them in time and space," Slovic says. "In addition, they think their efforts won't make a real difference, except to inconvenience them or cost them money. Winter forecasts, on the other hand, hit close to home and feel likely to impact them directly."
For Tahoe, the annual snowpack does, in fact, impact local businesses and the tourism sector at large, which is why many local resorts are scrambling to improve summer recreation opportunities.
Osterhuber knows one thing for sure: "There's nobody on the planet that knows what this next winter is going to bring."