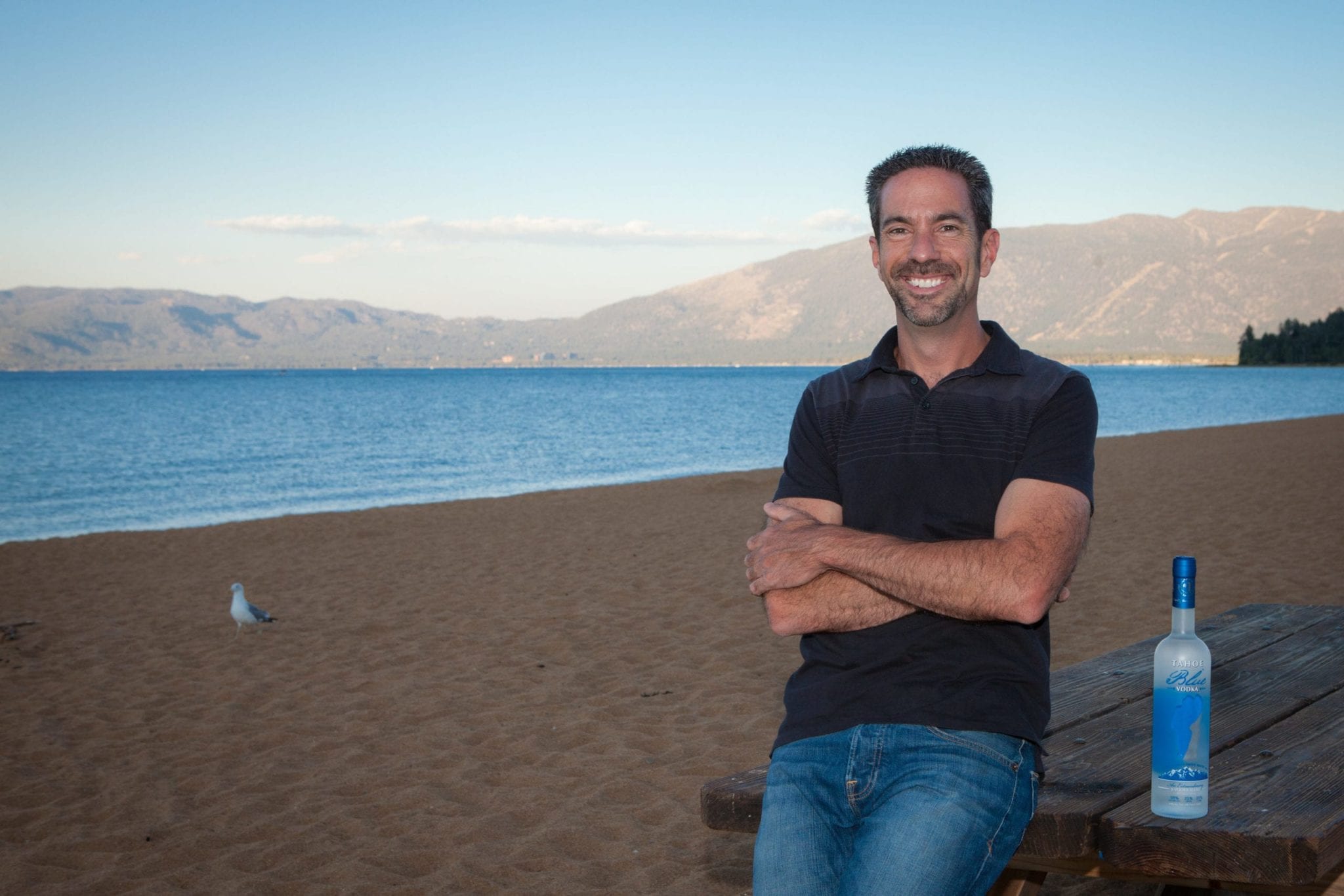 Tahoe Blue Vodka founder Matt Levitt, courtesy photo
29 Nov

Preserving Lake Tahoe One Sip at a Time
Sponsored content
When Matt Levitt rolled into South Lake Tahoe for the first time in June 2001, he was on what turned out to be the last day of a one-way road trip from Maryland. He had recently graduated from business school and moved into a 1989 Ford conversion van with his girlfriend and embarked on a trip to see the American West.
His first view of Lake Tahoe from Highway 50 took his breath away. "I had no idea anything this beautiful existed in the U.S.," Levitt says.
Running low on travel money, he decided to stay—for just a few days at first, which turned into a few weeks, then months, then years.
Almost exactly a decade later, standing in the same spot and looking out at the lake's Caribbean-hued waters bustling with leisure activity, inspiration struck: There had to be a way to draw parity between the clear and pure waters of Lake Tahoe and what consumers find desirable in a vodka—to create a vodka that embodies the Tahoe lifestyle with an emphasis on eco preservation. After all, Tahoe is a feeling as much as it is a place, and Levitt wanted to create a vodka that would whisk consumers away to Tahoe no matter where they were, and without the commute.
Right away Levitt set to work on bringing a prototype into existence. He made the first batch in early 2012 and began selling the product out of the trunk of his car to South Lake Tahoe bars, restaurants and liquor stores.
Tahoe Blue uses a unique approach to making vodka, using a blend of grapes, corn and sugarcane, which are distilled separately, blended together and then distilled again two more times. This process, when coupled with some of the best water in the world, lends for an unusually smooth and drinkable finish—so smooth, in fact, Tahoe Blue has been ranked "Best Unflavored Vodka in the World" in the Ultimate Spirits challenge in New York City, along with a plethora of other tasting awards.
The brand's overall case volume has grown from 400 that first year to approximately 17,000 cases in 2018, and is now one of the best selling and fastest growing craft vodka brands in Northern California.
Tahoe Blue is available at select Costco, BevMo!, Raley's, Safeway, Total Wine & More stores and many more. The brand also has contributed significantly to preservation projects in the Tahoe area, including replacing the Rainbow Trail Boardwalk at Taylor Creek.