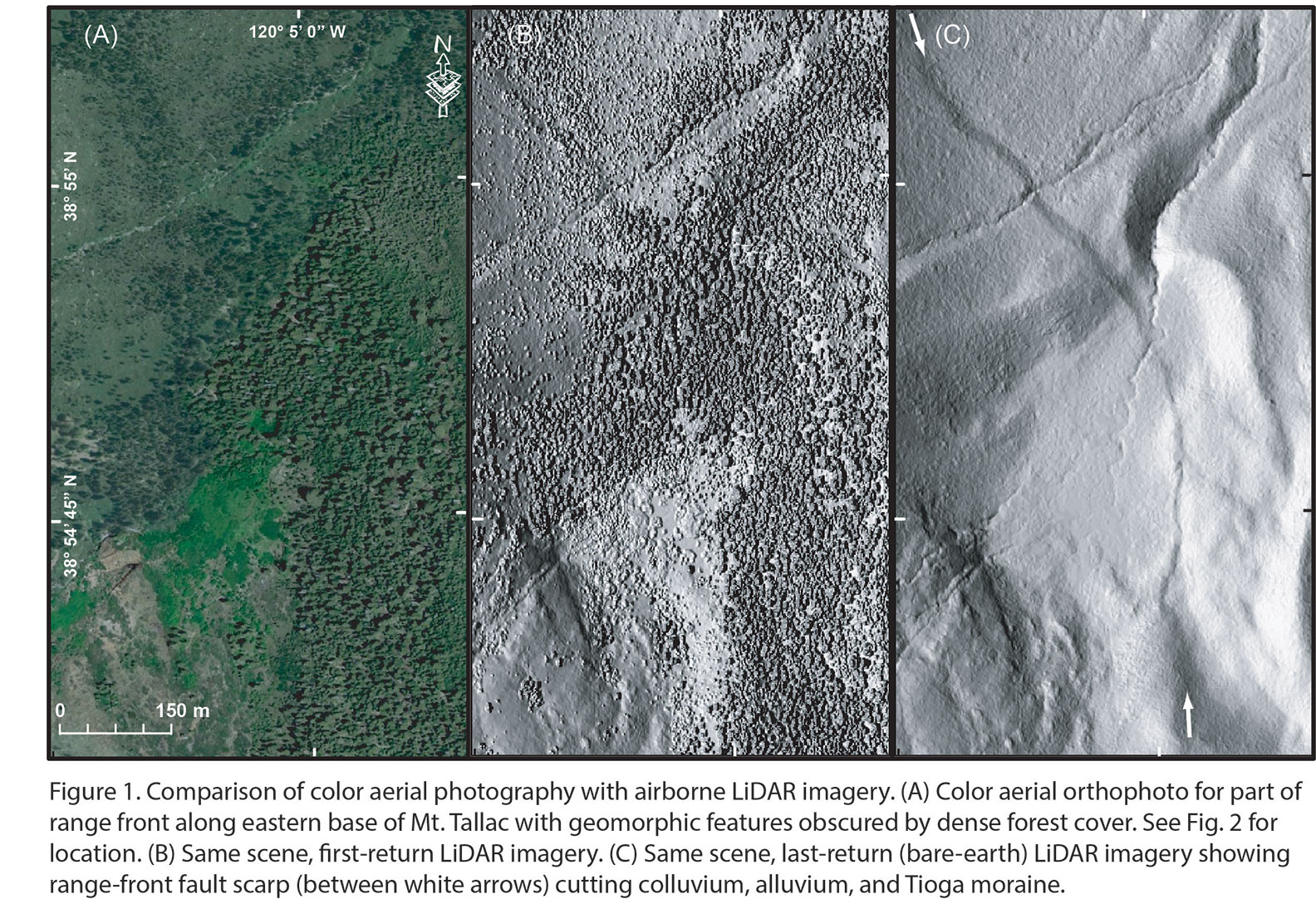 Scientists Show Tahoe is Home to Massive, if Less Well-Known Faults
California's coastal region, linked by the San Andreas Fault and populated by big cities like Los Angeles and San Francisco, tends to get all the attention for western earthquakes.
A long-standing history—to include the 1906 earthquake in San Francisco, the 1994 Northridge earthquake in the San Fernando Valley and the World Series–halting Loma Prieta earthquake in 1989—put the San Andreas and other regional faults on the map.
But just because the Lake Tahoe region hasn't had a recent city-rattling shake doesn't mean faults and seismic activity haven't played a significant role in shaping the landscape, or that it won't make for some bigger quakes in the future.
Area seismologists have tracked seismic activity in the region through history, traced its impacts on the land and discovered new faults in recent years. What they've found is complex, evolving and cause for a healthy level of respect.
Lake Tahoe wouldn't exist today if not for earthquakes and three major fault zones, says Jim Howle, a structural geologist with the United States Geological Survey's Truckee office.
The West Tahoe Fault between modern-day Emerald Bay and Dollar Point, the Stateline Fault running south from Crystal Bay and the Incline Village Fault running south from Incline Village formed the Lake Tahoe Basin about 3.5 million years ago, says Dr. Graham Kent, director of the University of Nevada, Reno Seismological Lab.
"Here you have a basin that's caught every single piece of sediment that's fallen into it for the last 3.5 million years with no way to remove it, yet it's deeper than the Carson Valley that has a river to remove sediment," Howle says. "A light should go off here: That can only be maintained by repeated lowering of the bottom of The Lake."
Those north-south oriented faults then run into a complex pattern of east-west faults in the Truckee Basin, squeezing the land into the tall peaks of Martis, Rifle and Mt. Rose between them, Howle says.
The Polaris Fault, co-discovered by Howle in 2009, provided a convenient path for unknowing road builders tracing Highway 89 north of Truckee, notching east-west ridges that also happened to make the path of least resistance for construction.
Howle and colleagues discovered the Polaris Fault, running 22 miles between Northstar California and Kyburz Flat through Martis Valley, through the use of airborne LiDAR, or Light Detection and Ranging, which measures a landscape with near infrared lasers from a small aircraft, he says.
The LiDAR survey was funded by the Army Corps of Engineers to assess the safety of Martis Creek Dam in the Martis Valley, Howle says.
"Every square meter gets scanned from two angles, which helps penetrate the vegetation," Howle says. "LiDAR proved very useful when you consider a lot of geologists have been working for 100 years and nobody had caught it [the Polaris Fault]."
The Army Corps of Engineers then paid to fly the West Tahoe Fault, which at the time was controversial, with some geologists denying its existence, Howle says.
With LiDAR, the fault was crystal clear, a solid line up Lake Tahoe's West Shore toward Donner Summit in an area so densely vegetated that geologists working on the ground can barely touch the earth because of brush, Howle says.
Beyond outlining the faults, geologists were able to map the displacement of glacial material from known glacial periods, thereby calculating when and how much the fault had shifted, he adds.
"This was cutting edge; nobody had used LiDAR to model tectonic displacement on a moraine crest before," he says.
With many small faults, the Tahoe region gets many small earthquakes—ranging from 12,000 to 19,000 quakes registering a year, Kent says.
But in the past, large earthquakes visited the region as well.
"In western Nevada from 1915 to 1954 there were seven magnitude 6.5 or larger earthquakes. In Truckee Meadows [Reno area] from 1860 to 1948 we had eight magnitude 6 or larger—averaging every 12.5 years," Kent says. "But we've had none since then."
In 1966 a magnitude 6.0 in Dog Valley northeast of Truckee damaged a bridge and a dam, cracked some chimneys and rolled some boulders, but otherwise didn't do too much damage, Howle says.
Kent characterized the current conditions as a drought for bigger earthquakes.
"Smaller earthquakes don't reduce the likelihood of big earthquakes," Kent says. "You would need something like 81,000 magnitude 3 earthquakes to relieve the pressure of a magnitude 7. Any basin here could have a 6 or a 7 tomorrow."
Calculations show that a large earthquake on the Polaris Fault could hit magnitudes between 6.7 and 6.9, while faults in the Tahoe Basin are capable of earthquakes between 6.3 and 6.9, Howle says.
"The region needs to be prepared with a week's worth of food and water—you need to be ready to be self-sufficient," Howle says.
The good news for much of the Tahoe region, when considering a larger earthquake, is the fact that most structures are already well built to withstand snow load, Howle says.
But the potential for rockslides and other infrastructure-cutting events in an earthquake could mean challenges for egress and incoming support, he adds.
"It's very possible that someone on the North or West Shore could get stuck in the Basin," Howle says.
Kent emphasizes the secondary effects of an earthquake on the region economically and recomends buying earthquake insurance.
"Beyond death and injury, there's infrastructure. Kids can't go to school, parents can't go to work. It starts to effect the economy at that point," Kent says. "The smart thing is to plan now to build a resilient economy."