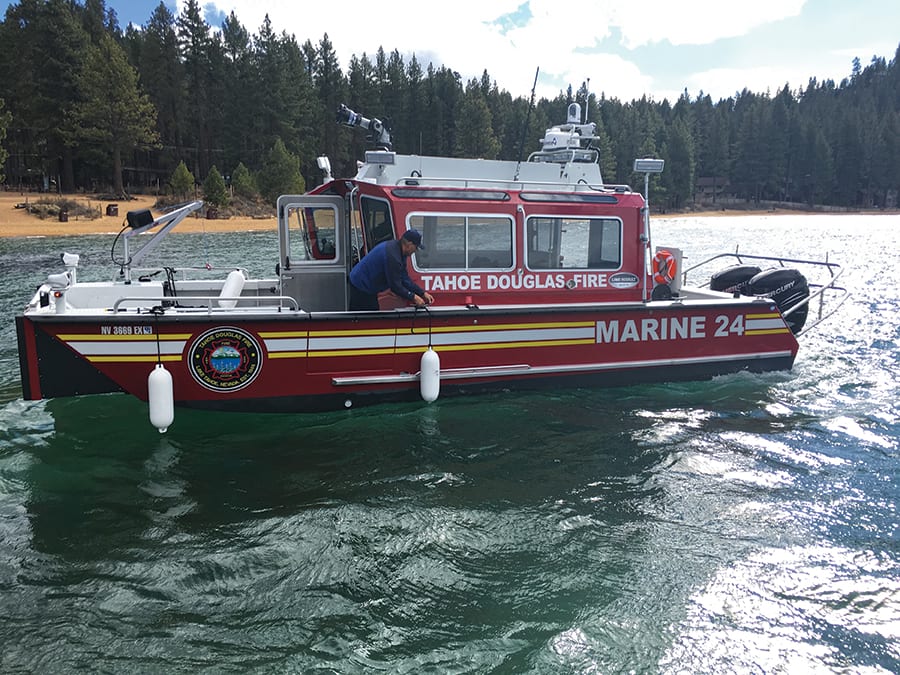 The 32-foot Marine 24 is the Tahoe-Douglas Fire Protection District's new Lake Assault Boat for fire and rescue, photo courtesy Tahoe-Douglas Fire Protection District
25 Jun

Tahoe's New Fire Boat a Floating Force

If Marine 24 had been on the water in August 2016, the paddle wheels of the famed Tahoe Queen may still be turning.

Tahoe-Douglas Fire Protection District's new Lake Assault Boat was designed to respond to incidents like the blaze that severely damaged the popular tourist cruise boat and injured two workers on board.

"It's basically a floating fire hydrant and fire engine with almost unlimited water supply," says Tahoe-Douglas Fire Marshal Eric Guevin.

Unlike anything on the waters of Lake Tahoe, the boat can pump up to 1,800 gallons of water per minute to fight fires both on the water and on the shoreline, drawing water from the lake to provide fire protection for the 128 residences within the district who currently don't have water access or a fire hydrant.

Marine 24 is capable of pumping up to 1,800 gallons of water per minute to fight fires either on the shoreline or on the water, photo 
courtesy Tahoe-Douglas Fire Protection District
"The road access into some of these areas is narrow with sharp turns and no turnarounds," Guevin says. "To have fire engines get in there while people are trying to get out is very difficult."
That's the concern for Stuart Campbell, executive director of the Galilee Episcopal Camp located on the East Shore of Tahoe just south of Glenbrook. At any given time, Campbell's grounds hosts up to 50 children and family members attending summer camp, retreats or events on the 8-acre property. With a steep driveway only accessible through a heavily wooded area, emergency access for fire responders is always on his mind.
"We don't have adequate water storage on the property for fire suppression and have been considering several ways to provide for that," Campbell says. "We decided to buy into the program."
Marine 24 cost the Tahoe-Douglas Fire Protection District $500,000 and was largely funded by donations from local philanthropists. The remainder will be funded by properties like Camp Galilee that want the ability to provide a direct standpipe hook-up to Marine 24 on their property. In the event of a fire, the direct hook-up would provide firefighters on land a way to receive water from the vessel and even refill their trucks on the spot. So far, five property owners have paid the one-time $75,000 fee to do that, which beats installing and permitting a $300,000 to $500,000 stand-alone pump system, Guevin says.
"The boat would be like a floating hydrant and pump water into the pipe connecting the lakeshore to the streets above. There are no fire hydrants on these streets," Guevin says.
In March 2017, the Tahoe Donner Fire Protection District Board of Trustees approved a Fire Flow Initiative, with the vision to provide fire protection, water supply capabilities and water rescue to underserved areas of the District. As part of that initiative, Marine 24 was purchased, and has proved to do much more than just pump water. The 32-foot vessel is powered by twin 350-horsepower Mercury Verado motors capable of propelling the boat up to 45 miles per hour, making for a quick response time. It is equipped with the latest sonar and radar technology, Touch Point GPS, programmable navigation and Skyhook Technology—a kind of virtual anchoring system.
"Basically, it is satellite positioning that a boat can lock into a position and hold its coordinates. That means the pilots on the boat can be hands-free to help fight fires," Guevin says.
The vessel is equipped with water rescue components as well. Infrared radar can help locate victims by picking up heat signals from their bodies on The Lake's surface. A landing-craft-type hydraulic door lowers into the water so people can be rescued directly onto the deck of the boat, eliminating the need to hoist them over the edge, which can be problematic if victims are injured. A heated cabin is a comfort for those brought in out of Tahoe's frigid waters, and crew seats with shock-right suspension prevents back injuries from riding choppy storm waves. Perhaps the best feature, Marine 24 is in service 24 hours a day, 365 days a year.
"The Coast Guard isn't even available that much," Guevin says.


Fire engineer Kyle Fine operates Marine 24 from its heated cabin, photo courtesy 
Tahoe-Douglas Fire Protection District
Other local agencies are following suit. South Lake Tahoe recently acquired a rescue boat with an inflatable hull and smaller capacity for firefighting. North Lake Tahoe is currently fundraising to get a boat similar to Marine 24. If available, Guevin says Marine 24 is always ready to help other local agencies if they need it, even those on land.
"If you had a woodland fire in the trees, it could pump water and support those efforts as well," Guevin says.
Campbell hopes there is never a need for fire services to Camp Galilee, but he wants to be ready in case there is. He is raising money to get his own hook-up to Marine 24 onsite and is working with an engineering firm on the service line and fire hydrant plans for approval. If everything goes as planned, Campbell anticipates starting construction on his Marine 24 hook-up this fall.
"The whole West Coast has serious fire danger; primarily it is a health and safety issue," Campbell says. "We are very excited this program was first proposed and it allows us to plan for the future and provide a modicum of safety for children and families."
Marine 24 was built by Lake Assault Boats in Wisconsin and designed in part by Tahoe-Douglas Fire Protection District firefighters to meet the unique needs of the district's service area. It's docked at Zephyr Cove.