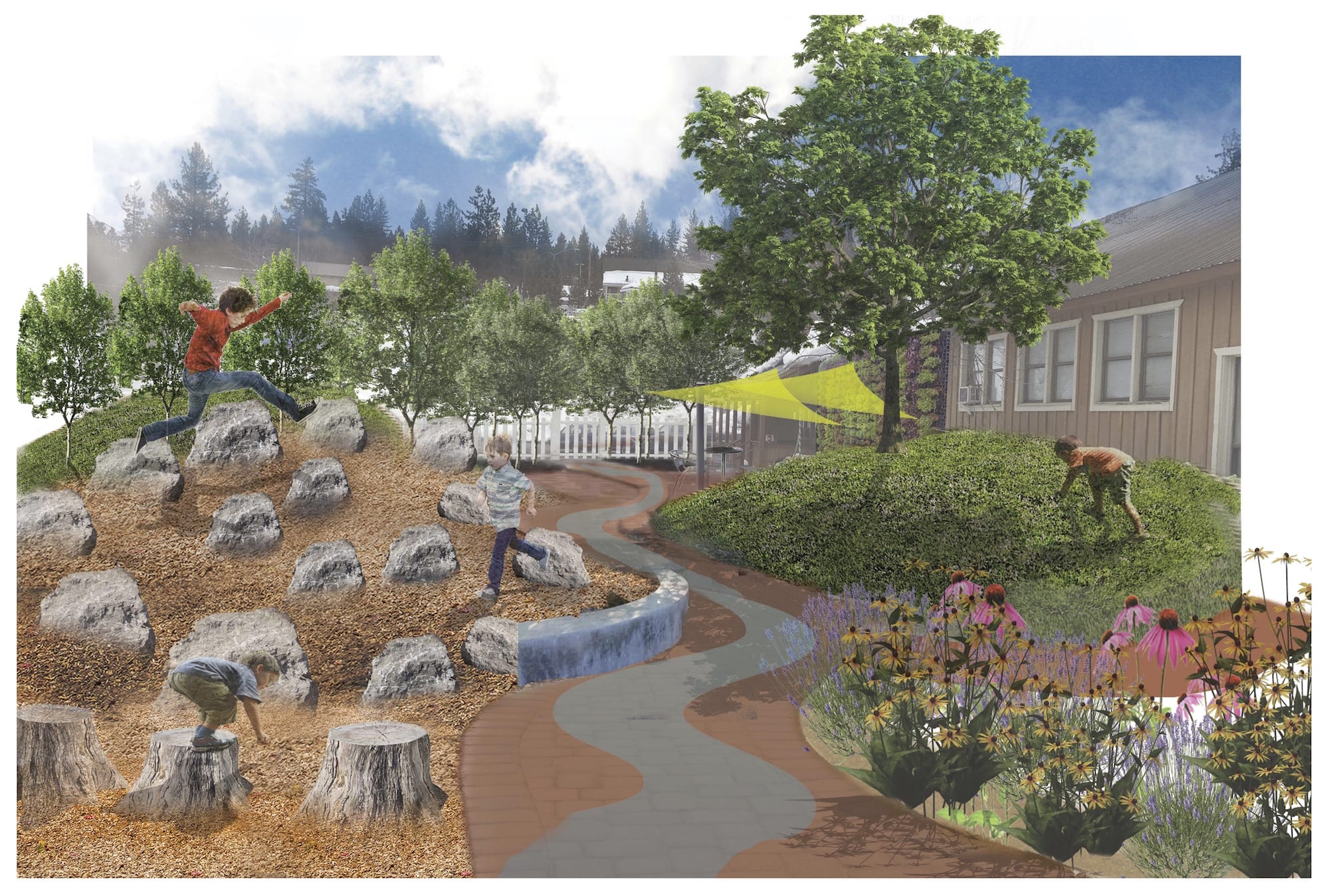 A rendering of Truckee's new downtown park and sensory garden, courtesy High West Landscape Architects
10 Jun

Truckee Community Rallies Behind New Downtown Park

Filling space between one of Truckee's most historically significant buildings and hottest new hangouts is a decidedly unspectacular property. Boxed in by the weather-beaten exterior of the building and unsightly chain-link fencing, the nearly half-acre strip of patchy grass and asphalt goes largely unnoticed.

That is soon to change.

With the collaborative efforts of multiple local entities, the grounds of the Community Arts Center on Church Street will receive a drastic facelift, transforming the property into a welcoming park and sensory garden.

"Right now we're calling it the new downtown community park, with maybe a name yet to be determined," says Mark Tanner of Truckee's Mark Tanner Construction, one of the driving forces behind the project. "I think it's going to be a great addition to downtown Truckee because currently there is no special outdoor gathering place. This will be an awesome thing that is remembered for years and generations to come."
The Community Arts Center property between Church and Jiboom streets will be transformed into a new park and sensory garden, photo by Sylas Wright
Scheduled to break ground in August and finish before June 2019, the park will be unlike anything in the area, says Tanner.
Truckee's High West Landscape Architects drew up a design with an assortment of interactive learning, visually appealing and user-friendly features, including natural play areas made of logs and boulders, colorful gardens and landscaping, shaded seating areas, and a stage and amphitheater for live performances. A staircase will connect to the parking lot of neighboring Alibi Ale Works, a popular craft brewery.
"The goal here is to make this usable for everybody, all ages," says Patrick McEnany of High West Landscape Architects. "It's ADA accessible, creating an interactive community park where people can come together and play, eat, listen and converse. The entire space will be appealing to the senses."

A stage and amphitheater are among the highlights planned for the park, rendering courtesy High West Landscape Architects
Perhaps only in a town like Truckee could such an undertaking come to fruition.
The project is a joint venture with contributions from an array of parties who are loaning time, money, materials, expertise and "sweat equity," as Tanner says, all for the betterment of the community.
The Truckee-Donner Recreation and Park District, which owns the Community Arts Center and adjoining property, is donating the land. Mark Tanner Construction and High West Landscape Architects are taking on the construction and design. And the Contractors Association of Truckee Tahoe (CATT) Community Project—the charitable sponsorship arm of the organization—is leading the project in conjunction with its 20th anniversary.
A number of other businesses and individuals are also donating to the cause, while the partnering groups are fundraising through June to cover the remaining costs.
But Tanner is essentially the engine powering the project.
A past CATT board member, the reputable builder of high-end custom homes also serves on the board of the Truckee-Donner Recreation and Park District. Along with District General Manager Steve Randall, it was Tanner's idea to turn the property into a park, and Tanner who solicited support from CATT's Community Project. He also was nominated to be the chair of CATT's 20th anniversary party, which will double as a grand launch celebration for the new park on August 24.
"Mark is a doer. He's involved in the community on so many different levels, and he thinks big," says CATT Executive Director Kellie Cutler. "With all his enthusiasm and ability to get these sort of large-scale projects done, he was really able to get the board excited. He knows what kind of work the Community Project does, which really focuses on historic renovations and significant structures in the Truckee region, so why not have Community Project be a lead with this park project?"

The Community Arts Center property before construction, photo by Sylas Wright
The park is the second phase in the revitalization of the Community Arts Center, a historic building that housed Truckee's first school in the early twentieth century. Tanner spearheaded the first phase a few years back. After rallying the community for donations and volunteer help, his team transformed the interior into a modern performing arts venue complete with a new stage, professional lighting and large movie screen, among other improvements.
As part of the second phase, Tanner is working with Kelly Brothers Painting and others to repaint the exterior of the Community Arts Center. He says the colors will complement the historic downtown district, likely with a vibrant scheme that jibes with the Victorian homes along Church Street.
McEnany and his crew at High West Landscape Architects are contributing significantly as well by donating their architectural design. Although they had a vision for the project, McEnany says they borrowed some ideas from existing parks.
"We pulled elements and ideas from here and there. Mark and I had talked about Central Park in Davis since we both graduated from UC Davis. That's on a much bigger scale, but we used that as inspiration, as well as other sensory gardens and community parks," McEnany says. "There's also an existing retaining wall on the west side of the site that we are proposing to paint a mural on that expresses historical and cultural elements about Truckee."

The park will include an assortment of features, from an amphitheater to natural play areas, rendering courtesy High West Landscape Architects
The property is currently obstructed from Church Street by a 6-foot-tall fence. On the opposite side, chain-link fencing gives the lot a particularly uninviting feel from Jiboom Street. Meanwhile, playground equipment on site does not meet ADA or child safety requirements.
High West Landscape's design addresses all of these issues. When the park is complete, an assortment of natural features will function as playgrounds for kids, and pergolas at each end will usher guests into the revitalized space, which will be dissected by a meandering, river-like pathway. Open-aired wood fencing will replace the current fences.
"It's a hidden sight. You don't really know it's there because of the privacy fence up front. So we want to take out a parking spot to provide a clear delineation of the entry in order to welcome people in," McEnany says. "That's why we have the entry pergolas. They are gateway elements that give you a sense of arrival."

The property is currently hidden from Church Street by a fence, photo by Sylas Wright
While McEnany is proud of the pergola design, he says he most looks forward to watching live bands and other performances from the amphitheater. The grassy, tiered seating area will have room for about 60 people, with additional seating on grassy knolls, at tables and seat walls surrounding the amphitheater.
"I'm really digging the amphitheater," McEnany says. "I can see myself catching up with friends at this park, enjoying live music or a play, and watching other locals and visitors doing the same—kids playing on the logs and boulders, people smelling and touching the different sensory plants. I'm excited to see our community engage in and enjoy this space."
Tanner and McEnany both envision the park becoming a gathering spot during Truckee Thursday events, as well as a central outdoor venue as the Railyard Project takes shape to the southeast.
"We have a lot of work to do," McEnany says, "but it's going to come together."