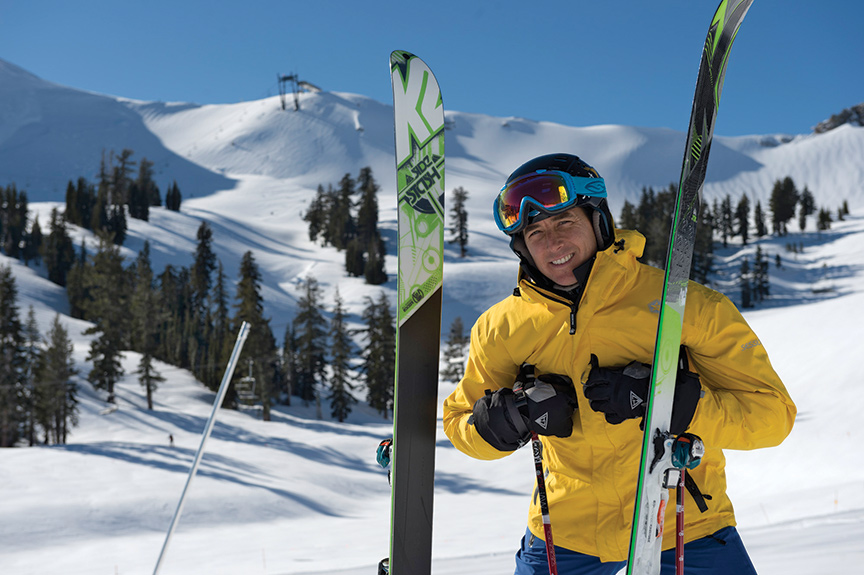 Jonny Moseley, photo by Hank de Vre, courtesy Squaw Valley
26 Dec

Jonny Moseley's Golden Moment
Sixteen years after taking the Olympics by storm and winning gold in Nagano, a look back on Jonny Moseley's iconic run
Jonny Moseley remembers it like yesterday—standing atop the sun-drenched Nagano Olympic moguls course, running through his mental checklist, confident, anxious, the pressure of a nation on his shoulders.
With a shove of his poles he was off, smashing over the boulder-sized bumps of snow littering the run, his body absorbing each blow in fluid rhythm.
He blasted off the top jump, throwing his skis left, then right, then apart—a big, crisp double-twister spread—and stuck the landing.
Downward he skied, his knees pinched tight, his head steady as the horizon. His speed increased. He tried to reel it back in. It was too late.
Countless hours of training boiled down to a single moment. The bottom jump was upon him.
"I knew I was coming in hot, and I just jumped, and I remember jumping so hard that I felt like my heels came out of my boots, and I just knew right away that I nailed it," Moseley recalls. "So I reached down and grabbed my skis and it was like time stood still. I was just floating and I looked around, and I knew, this was it."
The 22-year-old Squaw Valley phenom, sporting nothing more on his skull than a multi-colored beanie and yellow goggles, stomped his feet to the snow and powered through the final bumps to the finish.
He hoisted both arms in the air, knowing full well that his flawlessly executed signature trick, a 360 mute grab, was gold-medal-worthy to conclude the 1998 Olympic moguls competition.
Giddy as a kid, Moseley skidded to a disheveled stop and onto his backside. Almost in the same motion, he sprung half to his feet and half into the padded fencing, pulling himself up to a celebratory position.
His score flashed across the screen: 26.93, almost a full point higher than Finnish silver medalist Janne Lahtela's 26.00.
Moseley had reached the pinnacle of freestyle skiing. Yet, he yearned for more.
A progressive movement was sweeping through his sport, well beyond the regimented confines of the moguls course, and he wanted in. He grew up tearing down Squaw Valley's steeps, after all, home to some of earth's hottest skiers, and he was no one-trick pony.
With Olympic gold under his belt, he set out to prove it.
Moseley challenged the U.S. Freestyle Team and the International Skiing Federation (FIS) to allow their athletes to compete in professional events, which they previously did not. He simply competed without permission, undaunted by the possible repercussions—which never came.
The result was an epic big-air battle in the 1999 X Games featuring Moseley, Frenchman Candide Thovex and Canadian JF Cusson, among others. Moseley, who earned the silver medal in that event and Cusson gold, went on to win the 2000 U.S. Freeskiing Open slopestyle while also trying his hand at big-mountain skiing and filming.
Moseley's freestyle roots were tugging, however, and he decided to return for one more Olympics. He thought he could win gold with a progressive trick he invented and used to win slopestyle contests—the dinner roll. It's essentially an off-axis 720, with one spin performed on the horizontal plane and the other on the vertical plane.
Olympic judges weren't quite ready for that kind of progression, however. Moseley placed fourth in the 2002 Salt Lake City Games, despite landing a well-executed dinner roll that ignited the home crowd in the finals.
While Moseley did not medal, the trick paved the way for the future of moguls skiing. Top contenders today regularly perform some version of the dinner roll, and inverted airs are the norm.
"He changed freestyle skiing," says Raymond deVre, Moseley's childhood coach with the Squaw Valley Freestyle Team. "In that Olympics, people can't even remember who the winner was. But they know that Jonny did the dinner roll. That was the evolution of moguls skiing."
Little Jonny
Moseley was born in San Juan, Puerto Rico, where his family lived before moving back the United States and settling in Tiburon, California, just north of San Francisco. He was too young to remember Puerto Rico. But he remembers with clarity his early weekend excursions with his family to Squaw Valley. He and his two older brothers quickly took to skiing, and before long their father, Tom, enrolled the boys in Squaw's Mighty Mites youth racing program.
Their racing days were limited.
"We got into racing, and then my brother Jeff saw Hot Dog the movie when that was all happening around Squaw and freestyle skiing is kind of what was going down. So he told my dad we wanted to do freestyle instead of racing, and we all switched," says Moseley, who was 9 at the time.

The Moseley family skis Squaw Valley, with Jonny on the far right
The young Moseley's athleticism, his love for skiing and his relentless drive to improve made him a natural for freestyle competition. He won from an early age—and his exploits did not go unnoticed.
"I remember watching him when he was a little boy and thinking, 'There's an Olympian right there,' because he had all the ingredients," says deVre. "He had two brothers who were also very talented, and they competed, so he kind of fed off of that. It made him work even harder."
Moseley was selected to the U.S. Ski Team in 1993, the same year he graduated from high school. He failed to make the 1994 Olympic team but rallied back to become the 1995 and 1996 World Cup overall and combined freestyle champion.
"He was just this amazing skier," says Olympic silver medalist Shannon Bahrke, who grew up idolizing the older Moseley on the Squaw Valley Freestyle Team. "Back in the day, he did aerials, ballet and moguls—he did all of that. And so to us, he was just this amazing figure who we tried to be like. We'd sit there and watch his World Cup videos and try to be like Jonny."
Despite his World Cup success, Moseley was far from content. In 1997, he put college on hold to become a full-time skier in preparation for the 1998 Winter Games in Nagano, Japan. He even developed a mantra: "I don't just want to go, I want to win."
Freeskiing Pull
As Moseley ramped up his game for the Olympics, a progressive freeskiing movement spawned by snowboarding and the introduction of terrain parks was gaining traction.
Credited for pioneering the way in the mid to late '90s were a handful of skilled park skiers from Canada nicknamed the New Canadian Air Force—JF Cusson, Vincent Dorion, JP Auclair and Mike Douglas, to name a few.
Less credited but right in the innovative mix with the Canadians was a band of Squaw Valley locals who took to the Riviera Park, where they rode with snowboarders such as Kevin Jones and Andy Hetzel, says Kent Kreitler, one of the top freeskiers out of Squaw at the time.
"A lot of the stuff we were doing never really made it out," says Kreitler, who went on to make a name for himself filming. "The Squaw guys didn't really get any credit. There was a group of like ten guys who were park rats, a whole little crew at Squaw, and they were super innovative at the time."
Another Squaw Valley skier drawn by the park and halfpipe was a young CR Johnson, who at age 14 in 1999 performed the first-ever 1440—four rotations.
Not surprisingly, Moseley's skill set in aerials and moguls also made him a natural in the park. And while most freestyle athletes stayed away, he got in on the hip new scene.
"You had the race team, the freestyle team and then us, and we were like the renegades, sort of punks," says Kreitler. "And then Jonny was on the freestyle team, and not many freestyle kids would really venture over to the park. They were sort of trained to do their thing. But Jonny would show up, and he was just so talented he caught on to things and excelled right away."
On a nice spring day in 1997, Moseley hooked up with Scott Gaffney of Matchstick Productions to shoot a session for Gaffney's new movie, Breathe.
"He was doing groundbreaking stuff," says Gaffney, describing Moseley working his way up to a large 1080 with a mute grab. "That was absolutely unheard of at the time.
"I think he had a little something to prove, because Shane McConkey had all the hype around him from that side of things, and the mogul skiers didn't get a whole lot of credit," Gaffney says. "So I think he wanted to make his mark—and he did."
Moseley recalls the time period.
"It started to separate then," he says. "It became that there were freeskiers and then freestyle skiers. I kind of stuck with the traditional freestyle for a while, because I got into the whole Olympics loop. But I always kind of kept my foot in the freeskiing stuff."
Striving for Gold
Moseley not only kept his foot in freeskiing, he took the sport straight to the moguls course. The mute grab he incorporated into his 360—or helicopter iron-cross—in the 1998 Olympics was a pioneering move that had never been seen in freestyle competition.
"Pretty much one of the single most iconic memories I have was from him in the '98 Olympics," says Cody Townsend, a professional Squaw Valley skier. "Moseley was like the epitome of cool. He came with headbands and spiked hair, doing 360 mute grabs. I thought he was the coolest person in the world."
But it took more than a cool new trick to take down the world's best moguls skiers. Moseley knew going into the Olympic year that he had to polish his skiing like never before.
One man would help that happen.
In the summer of 1997, Moseley and teammates attended a U.S. Ski Team camp at Mount Hood, Oregon, put on by U.S. coach and former moguls skier Cooper Schell. It was Schell, Moseley says, who "cracked the code" on his skiing, as a determined Moseley stayed after everyone else left the camp to grasp what Schell was trying to teach.
"He helped me build this machine that I trained on and we just became inseparable working together on trying to nail down the technique that he determined was the common denominator between all the best Olympic champions," Moseley says. "We just kept working and working. Then in the fall, when I got on snow, I was like a whole new skier. Everything was dialed in and I immediately starting winning."
Schell explains: "It was really kind of the whole key to skiing, which is basically you've got to have your weight over your downhill ski, and you've got to do that in a way that gives you balance and agility. It's kind of the essence of all skiing. We were just missing this one little thing, but it ended up being huge."
Skiing more confidently than ever, Moseley won the first two World Cup events of the year to secure his spot on the Olympic roster. He says it was then, with his Olympic berth clinched, that he got creative and added the 360 mute grab "pretty much overnight."
"Once I secured an Olympic spot, I started to sweeten the jumps a little bit," Moseley says. "And that kind of sent me over the top and gave me that unique feature in my run that really made it easy for the judges to give it to me. I was skiing with such confidence. I just felt like I could throw anything down and still land on my feet."
Moseley was on fire. In Nagano, he dominated all the way into the final round, where he was the favorite in a field of legendary moguls skiers, including defending gold medalist Jean-Luc Brassard of Canada.
Moseley's childhood coach at Squaw Valley, deVre, watched the gold-medal run while attending a NorAm event with a bunch of rising moguls skiers on the Squaw Valley Freestyle Team, including Bahrke, Shelly Robertson and Laurel Shanley.
"When he went to the Olympics, I knew in my heart that he was going to stick that run," says deVre, who remembers a young Moseley mastering his helis on an icy course in Lake Placid during Junior Nationals. "And when he did that [360 mute grab], that was probably one of the most beautifully executed jumps. It was like in slow motion. As a coach, watching him do that, he just nailed it, perfectly."
Post Gold
After winning gold, Moseley, burned out from his intensive Olympic training, set out to film and compete in professional freeskiing events. He did not fear punishment from the U.S. Ski Team or the FIS. Nor did he care.
"After '98, I just saw the whole picture and there were a lot of things I wanted to do. I loved what was happening in freeskiing, I wanted to do X Games, I wanted to do whatever events I wanted to do," Moseley says. "Previously, when I wanted to do the X Games or any professional event, the ski team wouldn't allow it. And I didn't have any say in the matter because I wanted to go to the Olympics, and I didn't want to jeopardize that. But after I won, I was like, 'Whatever, do whatever you want to do to me.'
"And ultimately I knew this was the best thing for everybody, for me and the U.S. Ski Team and the sport. And in the end, that was true. They opened it up, and now if you look at the ski team, these guys do whatever they want."
Slopestyle and big air suited Moseley well. He innovated a new trick for competition that he called the dinner roll—or flat-spin 720—and took it to the 1999 X Games. But it was Cusson who was awarded the gold medal ahead of Moseley after the Canadian landed the first-ever switch 720 in competition.
"That was a big moment," Moseley says. "I was still on straight skis because K2 hadn't made any twin tips yet. But it all really started right there."
In addition to his big-air skills, Moseley could handle himself on the big mountains with the best of them—and had a hankering to prove it.
He traveled with Gaffney and the Matchstick Productions crew to British Columbia in 2000 to film Ski Movie. Moseley shines in the flick among an all-star cast that includes McConkey, Dorion, Seth Morrison and Brad Holmes.
"He did great," Gaffney says of the shoot. "Growing up at Squaw, you get guys who aren't one-dimensional, and Jonny was an example of that. He could rip everywhere."
2002 Olympics
Moseley spent too much of his life training for moguls to not give it another shot at gold. He regained his U.S. Ski Team spot in 2001.
"The reason I wanted to go back to the '02 Olympics was because I was out there in the freeskiing world and we knew that was where skiing was going," he says. "I had created the dinner roll and the flat-spin 7 for the X Games, and there were just so many cool tricks happening and I thought, 'If I could do this trick in the moguls, that would be pretty cool. That would be worth training for the Olympics and going through that whole process again.'
"I thought I could win with it, and simultaneously I wanted to see if I could do it. But that was a whole 'nother set of challenges."
The FIS told Moseley his trick was illegal. But he convinced them his feet technically did not go over his head, which was true. In order to execute the trick in the moguls, he tweaked it from its true form.
"The one I did at the X Games is really the one I wanted to do in the Olympics, but it's such a nasty trick I could never get it to work in the moguls," Moseley says. "There was too much torque. So I had to tone it down a little to what was a cork 7, which is an easier trick."
Either way, the trick went down in history as a dinner roll, which was unprecedented in moguls competition. Bahrke, who joined the U.S. Freestyle Team after graduating from North Tahoe High School in 1998, remembers Moseley training for the difficult maneuver.
"We were all like, 'Oh my God, that's crazy.' And I remember him training prior to 2002 and landing on his head every single time," Bahrke says. "He was constantly working on it, and I just thought there was no way he was going to do it."
Moseley dialed in the trick just in time for the Olympics. Ultimately, though, that wasn't beneficial to his gold-medal aspirations.
Not everyone welcomed the dinner roll, namely the Olympic judges, and they made their point in the 2002 Winter Games. Janne Lahtela of Finland, who was silver to Moseley in 1998, won gold while American Travis Mayer took silver.
"You know, it was a weird deal," says Schell, "because everybody knew the sport was going in that direction, but there were a lot of people who were resisting the fact that he could come in and start doing this new trick and possibly win with it. It seemed to be coming mainly from the judges. He nailed his jump in that final run, and he had one of the lowest air scores out of anybody in the top 16.
"If he would have just been scored somewhat properly, he would have been top three or possibly even won that event. And then the next year, if you weren't doing the trick that he was doing, you weren't even going to make the top 10."
Moseley concedes his disappointment with the judging. "It definitely bummed me out. It was just a bit early."
Kreitler calls it a snub. "He got totally shafted. But that's cool. You always get shafted being a pioneer, and then people finally realize it later. Pioneers take the arrows."
Stardom

Jonny Moseley skis Squaw Valley, photo by Hank DeVre, courtesy Squaw Valley
Moseley's 2002 Olympic performance thrust him into the spotlight. Shortly after the Games, he hosted Saturday Night Live—one of his fonder life experiences—and became host of the MTV reality show Real World/Road Rules Challenge. People magazine named him one of its "Fifty Most Eligible Bachelors."
Schell was his agent for awhile. He says his former pupil was as unflappable in show biz as he was at the top of a moguls course, which was uncanny.
"I had him doing an appearance every day, from ringing the opening bell at the Stock Exchange to all the morning talk shows to Saturday Night Live. And it didn't matter," Schell says. "The guy, if he had time to sleep he would sleep, and then if he had to get up and do some big presentation in front of all these corporate executives, he was just all relaxed, eating his breakfast, and then when it was his turn to get up he'd be like, 'Ah, okay.' And he'd get up there and just blow everybody away, come back and finish his breakfast and move on to the next thing. He doesn't even think about it. He just has this level of confidence that I've never seen in anybody before."
Moseley, who returned to college at the University of California, Berkeley, after the 2002 Games, graduated in 2006, the same year he married. His wife, Malia, gave birth to the first of their two boys in 2007 as the family settled in the same Tiburon neighborhood where Moseley grew up.
"Now I'm a kid guy. I have two little kids and hanging out with them is the best thing ever. I can't think of anything else that I've done that I love more," says Moseley, who still works in TV; he will provide color analysis for all five freestyle events in the 2014 Sochi, Russia, Games.
When he has free time in the winter months, Moseley and family are at Squaw Valley, where his young sons are learning to rip on their father's old training grounds. Moseley takes pride in his job as Squaw's chief mountain host—aka, ski ambassador—and the fact the resort named a run after him on KT-22. "Not a dinky one, either," he says.
Ask those who know the man best, however, and they all agree: Moseley, in spite of his successes, remains a down-to-earth, genuine class act.
"For people who want to ski with Jonny, he will make it an experience of a lifetime. He really cares about what he does," Bahrke says. "He cares about the legacy he wants to leave, and I think that really is reflected in the job he does at Squaw. He really is the real deal."
"He's a great person," deVre says. "He comes back and gives everything back to the sport. He works with the kids and bestows his passion and love for skiing on other skiers. And I'll tell you, it's great when you have a champion like that. He is the true definition of a champion, to this day."
---
Sylas Wright is a Truckee-based sports writer and editor.