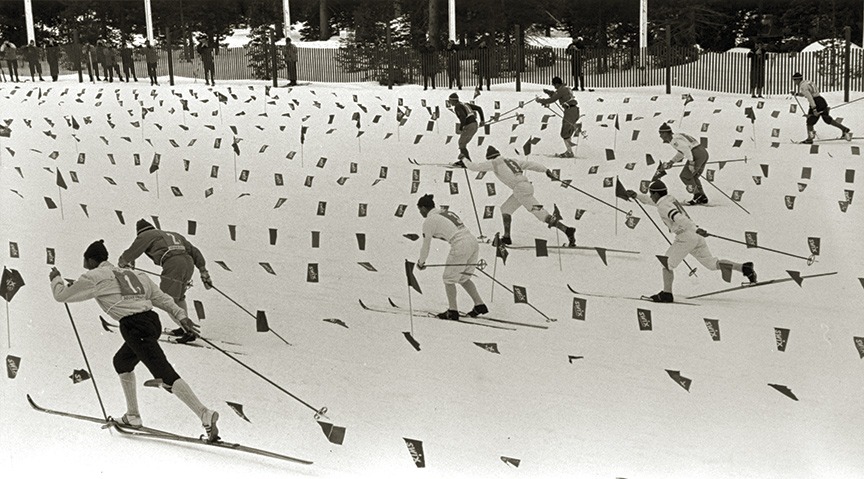 © 1960 / COMITÉ INTERNATIONAL OLYMPIQUE (CIO)
18 Dec

Squaw Valley 1960: Snapshots

Compared to today's athletes and Olympic Games, Squaw Valley's 1960 showcase looks every one of the 54 years that have passed in between. The skis, skates, gear and facilities were built at the twilight of the Olympics' more pastoral era—for athletes who held down off-season day jobs as shoe store clerks and insurance salesmen (women made up less than a third of the participants) and didn't attract the big money athletes do today. Squaw also marked the Winter Olympics' turning point from niche attraction to global behemoth as it was the first widely televised games, beaming shots of the grand Sierra Nevada valley into homes across the country and world. Here's a look back at the dawn of the revolution. 

Gold medalist Helmut Recknagel ski jumping, © 1960 / Comité International Olympique (CIO) / RÜBELT, Lothar

From the summit of Squaw Valley's Papoose Mountain, overlooking the 80-meter ski jump, the Olympic Oval and Blyth Memorial Arena. © 1960 / Comité International Olympique (CIO)

Inside the Blyth Memorial Arena as (TCH) plays (URS). © 1960 / Comité International Olympique (CIO) / RÜBELT, Lothar

Squaw Valley, 1960-GRISHIN Evgenii (URS) 1st of the 500 and 1,500 m speedskating. © 1960 / Comité International Olympique (CIO) / RÜBELT, Lothar

The U.S. hockey team celebrates after a win. © 1960 / Comité International Olympique (CIO)