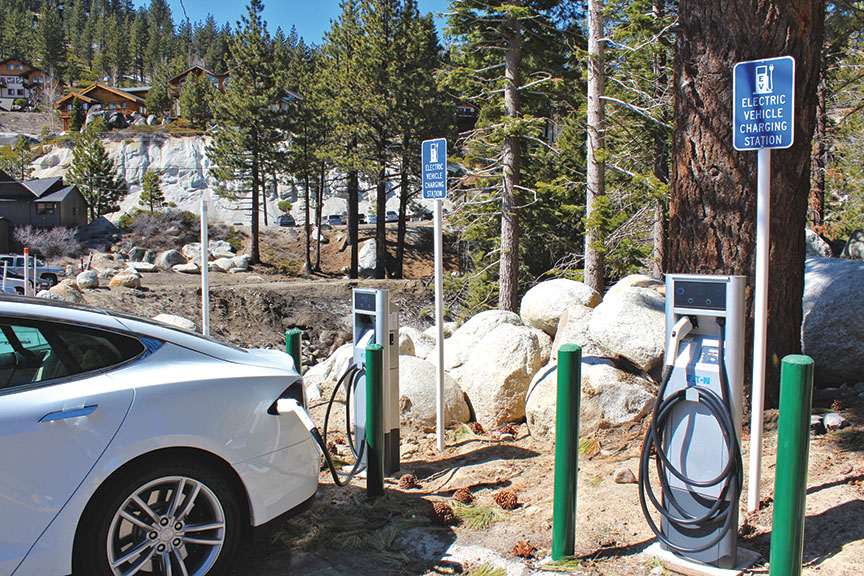 Charging stations at Diamond Peak, photo courtesy IVGID
02 Feb

Plug and Play

Color TV and air conditioning were once the du jour amenities to draw people off the highway. Over the past few years, wi-fi hot spots became the big draw everywhere from coffee shops to Laundromats. The latest convenience on the minds of some Lake Tahoe businesses and public agencies is a relatively simple one: A parking spot with a plug.

About a dozen locations around Lake Tahoe and Truckee now offer dedicated electric vehicle charging stations. California is expected to remain a leader in electric vehicle use, and the number of people eschewing gas pumps in favor of electrical plugs is projected to grow.

Squaw Valley, the Hyatt Regency Lake Tahoe Resort, Spa and Casino, the Cedar House Sport Hotel in Truckee and Harveys Lake Tahoe are among the businesses offering electric vehicle charging. A six-stall Tesla Supercharger is also available next to the Safeway on Donner Pass Road in Truckee. The Tahoe City Public Utility District offers charging on the North Shore, while Liberty Utilities offers electric vehicle charging in South Lake Tahoe and Tahoe Vista. Incline Village General Improvement District (IVGID) installed four electric vehicle-charging stations this spring, two at the district's Championship Golf Course and two at Diamond Peak Ski Resort.

For IVGID, the charging stations, paid for in part by a grant from NV Energy, provide environmental benefits by reducing gasoline consumption while also appealing to Lake Tahoe's tech-savvy and environmentally conscious visitors.

"It was good alignment between both our environmental and economic principles and it helps our facilities be a little unique as well," says Brad Johnson, IVGID engineering manager.

"The bonus is it aligns with the targeted demographic that we're trying to attract to both our golf course and Diamond Peak, the golf course in particular," Johnson adds.

It is Lake Tahoe's visitor market that is likely to benefit most from more public charging stations, says Bob Tregilus, founder of the Electric Auto Association of Northern Nevada.

Local commuters aren't likely to use the stations, opting instead for the convenience of plugging in at home. With electric vehicles ranging between approximately 60 miles and 265 miles, reliable charging is a necessity for the electric traveler who is far from home.

"Convenience charging," where electric vehicle users shop, eat or play while grabbing a couple amps, is likely to be a growing part of doing business, Tregilus says. "The way the charging should be done, it should be a convenience thing and an amenity that commercial businesses offer to their employees and to their customers."

A visitor to Incline Village from the Bay Area would be able to plug in, play a round of golf or take some ski runs and return to a fully-charged vehicle using IVGID's charging stations, Johnson says. He notes that the stations went live in March and saw activity every weekend through the summer, saving more than 200 gallons of gas.

Oliver Luxury Real Estate in Tahoe City unveiled a pair of Tesla charging stations at its 319 West Lake Boulevard office in September. The company plans to add two more stations for its 660 North Lake Boulevard location. The move was part of the real estate agency's efforts to reduce its environmental impact, as well as attract forward-thinking clients, says marketing director Vanessa Guajardo.

"It's mostly to cater to tourists and all of our clientele from the Bay that come up to visit, and make Tahoe City more appealing than it already is," Guajardo says.

Despite the interest in electric vehicles, the market for plug-in electric vehicles remains small, representing less than one percent of new car sales in the U.S. The market share is growing, though, especially on the West Coast.

The total number of plug-in vehicles on U.S. roads grew from 138,894 in September 2013 to 255,766 in September 2014, a jump of 84 percent, according to information from the Electric Drive Transportation Association. The California Plug-in Electric Vehicle Collaborative reported U.S. consumers bought 106,176 plug-in electric vehicles between 2011 and 2014.

About 40 percent of those plug-in vehicles were sold in California. Two of Lake Tahoe's primary drive markets, the Bay Area and the Sacramento area, are expected to remain among the top areas for plug-in sales in the country moving forward.

"I think we're going to see a growth trend in electric vehicle adoption," Johnson says. "And I think that's demonstrated by the number of other locations within the Basin and in the broader region that are installing these [charging stations]."

One factor limiting the growth of electric vehicle sales is the cost of battery packs. The average battery pack for a plug-in vehicle costs about $16,500, but should be closer to $4,000 by 2025, according to information from the Environmental and Energy Study Institute. The cost of battery packs for electric vehicles could drop even sooner if one high-profile project in Northern Nevada hits its projections.

Tesla announced in September that it would locate its Gigafactory, the world's largest battery factory, outside of Reno. The electric vehicle maker hopes to decrease the cost of battery packs for electric vehicles by more than 30 percent by 2017 through production at the factory, which is expected to have both regional and global impacts on renewable transportation.

"The Gigafactory is a big, big deal," Tregilus says, "but the cascade effect is going to be tremendous, just off the charts. It's the biggest thing to happen to Nevada ever."

In the meantime, it's likely Lake Tahoe will see more spots dedicated to powering electric vehicles. The growth of charging stations will ensure the area resting between Silicon Valley and Tesla's Gigafactory is—both literally and figuratively—on the electric vehicle map.