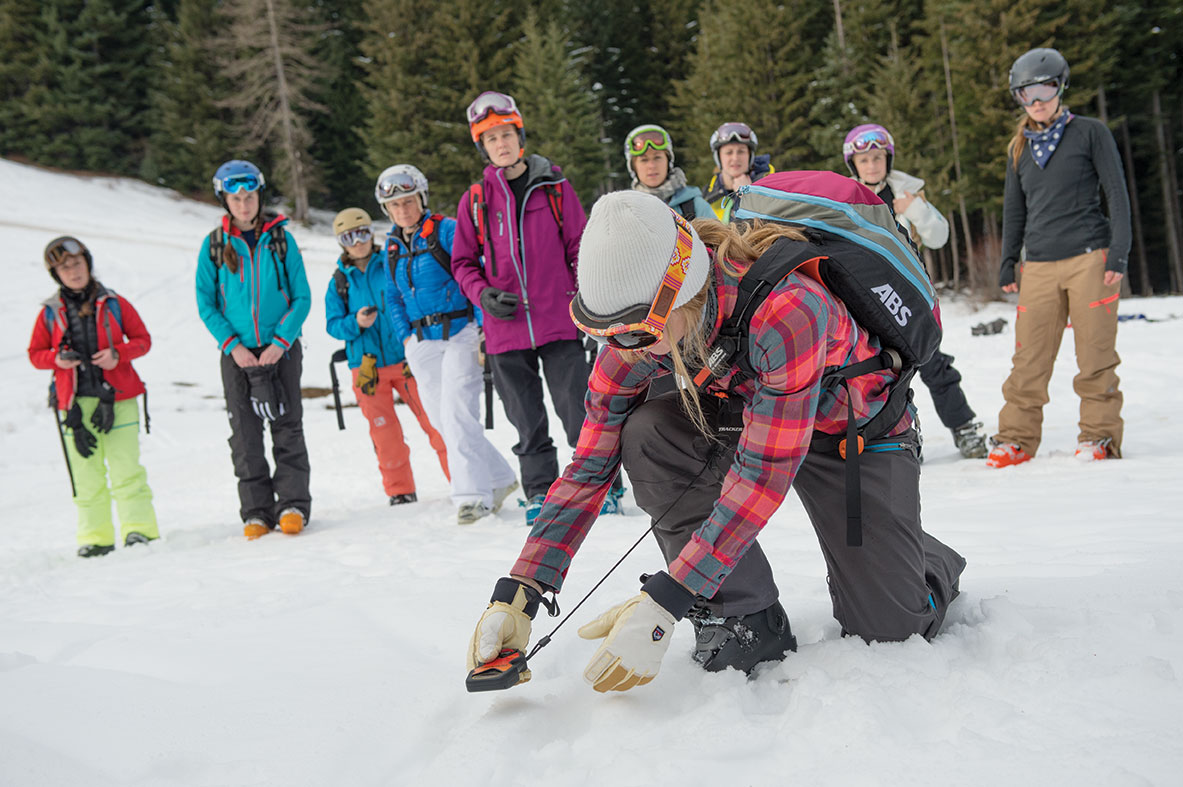 Photo by Re Wikstrom Photography
12 Feb

The Sisterhood of Ski Safety

"Avalanche! Avalanche! Two people are buried!" Swiftly, six women pulled out their transceivers and initiated their avalanche rescue protocol.

Just hours before, on a brisk, clear December morning, these rescuers had been in a yoga class with 24 other women. Like many powder days in the Sierra, the morning was serene with a sense of excited anticipation. Luckily, the avalanche they experienced later that day was only a simulation, part of a safety and empowerment clinic.

Almost two years earlier, I had been in an avalanche rescue scenario. In this case, it was real. On February 19, 2012, I was skiing with a large group when a massive avalanche caught us off the backside of Washington's Stevens Pass Resort. It barreled nearly 2,700 vertical feet, akin to the distance from the top of Granite Chief Peak at Squaw Valley Resort down to the valley floor. I was tossed and turned over and over again as if I had been shoved into a washing machine. It lasted for about 45 seconds, though it seemed like an eternity. I came to rest at the bottom of the avalanche partially buried. I couldn't move. I was cemented in place. Yet, fortunately, my airway was free so I could breathe. Approximately ten minutes later, another group member arrived on the scene and unburied me. We began search and rescue as others joined us but, tragically, three of my friends died that day. It is an experience I hope to never repeat, and I hope it's one others can learn from.

Fast forward eleven months from that harrowing day to a room filled with 30 anxious women and a majestic view of the snow-covered, pristine mountains at Squaw Valley Resort. These women had gathered for SAFE AS (Skiers Advocating and Fostering Education for Avalanche and Snow Safety), a women-specific, introductory-level avalanche awareness clinic. This unique event, conceived and put on by Michelle Parker, Jackie Paaso, Ingrid Backstrom, Lel Tone, Sherry McConkey and myself, came to fruition with the intention of empowering and celebrating skiing and snowboarding with females of all ages who want to dip into the world of snow safety or refresh their knowledge of this critical issue.

"My spirit animal is a black panther," Parker, a professional skier exclaimed to our group of ladies in a pow-wow-like circle fresh off the yoga class. "Today, I'm feeling like my spirit animal is a penguin because I want to become at one with the cold," another woman pronounced. The group giggled. As much as the clinic holds a high level of intensity with its weighty information, it is also a place to bring together women in a fun and non-intimidating environment—a place where they can feel safe to ask questions and be honest about their experiences. It's not easy talking about the mistakes the group and I made at Stevens Pass, but it is a chance for others—in this case, women—to learn from and utilize their newfound knowledge of snow safety.

On that dreadful day in February 2012, out of a group of 14, there were two women—myself and Megan Michelson, a highly respected ski journalist and former World Champion telemark skier. She later told me she saw red flags but didn't air her concerns to the entire group. I, as an out-of-towner, put a lot of trust in my male companions who were some of the most revered and knowledgeable local skiers. It was the close call of that avalanche and noticing some of the byproduct characteristics of a male-dominated sport that awakened me to the importance of empowering women with snow safety knowledge, skills and communication.

There's an old saying in backcountry skiing: 'The safest thing you can bring into the backcountry is a woman.' I'd like to think that if more women are educated and confident when they step into the backcountry, more people will avoid tragedy.

Deaths from avalanches in North America have steadily risen over the past 30 years, averaging 35.7 deaths per year over the last decade, according to the American Avalanche Association. In part, this is due to the progression of ski and snowboard equipment, an industry that heavily promotes fresh tracks, and more backcountry terrain becoming directly accessible through gates at resorts. By spreading awareness, educating, empowering and properly equipping our communities, we can maximize our experience of playing in the mountains. Because, really, choking on powder while schussing down a slope is one of the most fun things a human can do.

The wonders of backcountry skiing and snowboarding—the high-fives, the childlike feeling of pure joy while gliding down a mountain, the rush of wind against your cheeks, the harmony created with Mother Nature and the positive fellowship created among mountain communities—far outweigh the risks. But you need to ski and ride smart.

Just as a musician needs to learn the notes before learning the song, avalanche awareness is one of the most basic and essential building blocks to being able to dance your way through fresh fields of pow. So next time you hear a group of women shout "avalanche" on the mountain, you just might smile, knowing a new clan of powerful sisters, girlfriends, moms and wives are taking their rightful place in the beautiful outdoors.
---
Elyse Saugstad is a Squaw Valley–based professional skier and blogger. Find her work at www.elysesaugstad.com.