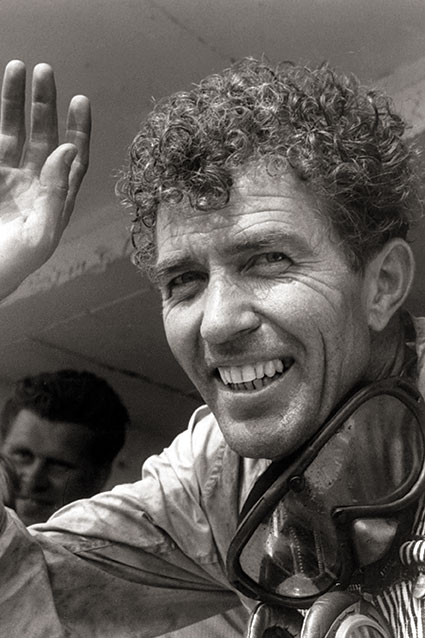 Carroll Shelby after winning the 1959 24 Hours of Le Mans, photo by Bernard Cahier/The Cahier Archive
09 Dec

Carroll Shelby: The Myth and the Man

Carroll Shelby's legend looms large in Lake Tahoe.

To be fair, since the automobile designer, race car driver and chili cook-off impresario died in May 2013, the history of Shelby's eclectic, velocity-packed high-horsepower life has cast a shadow more worldwide in nature.

Having been inducted into three distinct automotive halls of fame, he is without question a giant of the international automotive industry.

However, Lake Tahoe retains a unique place in the pack of Shelby's wild tales. There are, of course, myths, the apocryphal stories of Shelby teaching Henry Ford descendants how to harness the potentially lethal potency of high performance sports cars on the windy roads of U.S. Highway 50 in between South Lake Tahoe and Placerville.

A member of the Carroll Shelby International executive team says he can't confirm the veracity of the legend, but that it "sounds likely." And while there is myth that has grown up around Shelby, as with many outsized personalities, there is also enough fact to provide the foundation on which the more fantastic stories can comfortably rest.

Shelby not only owned a cabin on the shores of Lake Tahoe, to which he repaired on many occasions, sometimes piloting a Cessna from his home state of Texas, he also opened the Lake Tahoe Basin's first Ford dealership.

Shelby Ford dealership in South Lake Tahoe, photo courtesy Tahoe Daily Tribune
In October 1968, Shelby Ford opened its doors at 1875 Lake Tahoe Boulevard; the dealership was renamed South Shore Motors in 1974 after Shelby sold his stake. But Shelby also bought the Sky Terrace Motel and Restaurant off U.S. Highway 50, proving Lake Tahoe was not merely a place where he sojourned when he needed an escape, but a community in which he actively invested as a citizen and businessman.
Perhaps there still remain locals who remember the sparkle on the sheen of the famed Cobra or the Ford Mustang Shelby GT500 as it flashed in the showroom of Shelby Ford in the late 1960s and early 1970s. One thing is certain: Those two cars that used to prowl the mountain roads of Lake Tahoe and beyond are considered by some to represent the apex of the American muscle car and will always retain a secure place in the chronicles of automotive lore.
Track Record

Carroll Shelby with the three Cobra roadsters that would win the 1963 USRRC Manufacturer's
Championship, photo by Dave Friedman, courtesy The Ford Motor Company
Shelby was born in Leesburg, Texas, in 1923. By the time he was a toddler, his heart malfunctioned to such a degree that he was essentially bed-ridden from age 7 to 14. Although doctors deemed Shelby to have outgrown his defective heart, it continued to dog his health throughout his adult life and ultimately led to a premature retirement from his brief but brilliant career as a race car driver.
Even as a young adult, Shelby's destiny as a sports car racing luminary and diverse entrepreneur was not always apparent. In fact, he was a chicken farmer after serving in the U.S. Army during World War II.
However, the experience didn't hamper his ascendency as a race car driver. If anything, it was an assist. In 1953, Shelby arrived at the race track decked out in farmer's overalls because he didn't have time to change. The media took notice of the brash Texan dressed in his humble outfit. As Shelby's profile in racing media grew, the overalls became a trademark, providing a stark contrast to the European playboy types who dominated the scene. But what really helped Shelby gain notice is that he won. Early and often.
Race team managers for Aston Martin and Ferrari noticed Shelby's driving proficiency and enlisted him to steer their sleek, souped-up vehicles to the winner's circle. Shelby kindly obliged. His legend grew when he co-drove the 12 hours of Sebring, a grueling endurance race in Florida, with a hand so badly broken that his engineers manufactured a fiberglass cast and taped it to the steering wheel.
Speaking of endurance, in 1959 Shelby won the fabled 24 hours of Le Mans, the world's oldest endurance race and often called the "Grand Prix of endurance and efficiency." The prestigious automobile event represents one leg of the racing triple crown that includes the Monaco Grand Prix and Indianapolis 500.
Shelby had been diagnosed with dysentery only days before Le Mans and doctors recommended he refrain from competition.
"I didn't eat anything for 24 hours apart from dysentery tablets," Shelby said later. "Then we won the race and—oh my God—they suddenly stuck a champagne bottle in my mouth and it sent me a bit loopy."
He was named "Driver of the Year" by Sports Illustrated twice in the 1950s. On top of his game, Shelby's defective heart abruptly began to trouble him in February 1960 and worsened as the racing season wore on. Racing a Birdcage Masarati at Laguna Seca Raceway in Monterey, California, he clinched the United States Auto Club Championship by finishing second at the race. After the race, he complained he "would have won the damn thing" if he wasn't forced to slow down and take his nitroglycerin tablets while driving.
"I came behind Jim Hall, and I started getting angina pains again, so I popped another nitro, slowed up for a lap, and then said 'aw, piss on it—I'm gonna finish the race and hang it up,'" he said later, recounting the race at Laguna Seca. "I made that decision during the race… I never looked back, never gave it another thought. My new priorities were to build my own cars."
From Racer to Designer

This 1969 Ford Shelby GT500 Mustang convertible owned by Carroll Shelby, sold at Barrett-Jackson's
Scottsdale auction in January 2008 for $742,500, photo courtesy The Ford Motor Company
Shelby's career as a car designer is perhaps even more storied than his time as one of the foremost auto racers in the world.
In 1961, Shelby first had an inspiration to install American-manufactured Ford V8 engines into small, lightweight roadsters built by British-based AC Cars, thereby creating the fastest, most agile sports cars the world had ever seen.
Little car, big engine. "It's as simple as that," Shelby told Car and Driver years later.
In early 1962, Shelby, who slept with a notepad next to his bed, dreamt of a car with the name "Cobra" plastered on the front.
Shelby-American promptly opened in Venice, California, that March and the first Cobra CSX 2000, painted a pearlescent yellow, was shipped to the New York Auto Show.
However, Shelby's true motivation was to design powerful cars that could win races.
Shelby first set his sights on Chevrolet and the emergent dominance of the Corvette, which was racking up trophies on the muscle car racing circuits in the United States.
The Cobra's reign began inauspiciously enough, with its rear wheel hub breaking in the first race in '62.
By the following year, the Cobras finished first and second, nudging out the Corvette Stingrays at the racetrack in Riverside, California, and Shelby began to capture more interest as a car designer and builder.
Shelby then turned his attention to his long-harbored purpose—exacting revenge on Enzo Ferrari, whose svelte sports cars were dominating the endurance races, chiefly Le Mans, in Europe at the time.
Shelby made no secret of his antipathy for Ferrari. He held the Italian car maven personally responsible for the deaths of numerous race car drivers during the late 1950s.
Henry Ford II—a Shelby ally who entrusted the automotive education of his son, Edsel II, to the designer—was also angling for Ferrari after he thought Ford Motor Company had a deal that stipulated Ford's takeover of the Italian company, before Ferrari backed out at the eleventh hour leaving Ford holding the bag.
But it was a long time coming. While the Ford V8 gave Cobra the edge in accelerating out of turns, it lost ground in the straights due to its inferior aerodynamics as a result of its open-top design.
In '64, Shelby discarded the open-top, opting for a more streamlined hardtop design that retained its horsepower advantage. The car was known as the Daytona Cobra.
That year, the Daytona Cobra won first and fourth overall in the GT class at Le Mans, a profound humiliation for Enzo Ferrari and his team. But Shelby wanted to win the main event at Le Mans, something never before accomplished by an American manufacturer.
Thus, in 1966, Shelby and Ford teamed up to manufacture the epitome of the American muscle car, the GT40, and sure enough it took first, second and third in the main event at Le Mans, marking a rank defeat for Ferrari.
The GT40s proceeded to establish a reign of dominance at Le Mans, finishing first in each of the ensuing three years and remaining in the top three for the remainder of the decade.
Shelby's Tahoe Time
Many racing commentators believe this period, where Shelby's contributions as both a driver and an engineer/builder/designer are unmatched, represent the golden age of automobile racing.
But Shelby's exploits didn't end there.
He opened the aforementioned dealership in Lake Tahoe and began to concentrate on building souped-up muscle cars.
Bill Cosby, the now-disgraced comedian, has a famous bit he performed at Harrah's Casino in Lake Tahoe in 1968, where he describes a random encounter with Shelby in a department store. The designer chastised Cosby for driving Ferraris and offered him a chance to buy the super rare Shelby Cobra Super Snake CSX 3303.
Only two were built, and one for Shelby himself. The automatic, twin-supercharged 900 horsepower muscle car could reportedly top out at 200 miles per hour. According to Cosby, he took it for a spin once and then returned it immediately when he found he couldn't control it. Probably wise, as the next owner died driving it off a cliff on the Pacific Coast Highway.
Shelby was a fixture in Tahoe during his heyday. He became almost equally as famous for his chili cook-offs (his son-in-law started the restaurant chain Chili's) and cofounding Texas' famed Terlingua International Chili Championship. He dabbled in real estate, flew planes, hobnobbed with movers and shakers, sued a lot of people, built racing boats and ran a successful nonprofit, the Carroll Shelby Foundation, which helped kids battle life-threatening ailments similar to the one he faced as a child.
But all the while he continued to design cars.
At the age of 85 he gave an interview and said: "Fifteen years ago, I said to myself, here I am in several businesses, but the one business that I've been successful at is automobiles. And I'm going to concentrate on that. That's number one and the rest—the peripheral stuff that I always fly off and have entries in—that's secondary. Automobiles are the thing that I'm known for and that's really my love and that's what I think about more than anything else."
Four years later, the defective heart that almost failed him in childhood finally gave out in Dallas, Texas, 100 miles west of where he was born and just months short of his 90th birthday.

Carroll Shelby stands with the 2007 Ford Shelby GT Mustang in California,
photo courtesy The Ford Motor Company
---
Matthew Renda is a Santa Cruz–based writer who will gladly trade his pickup for your Cobra.