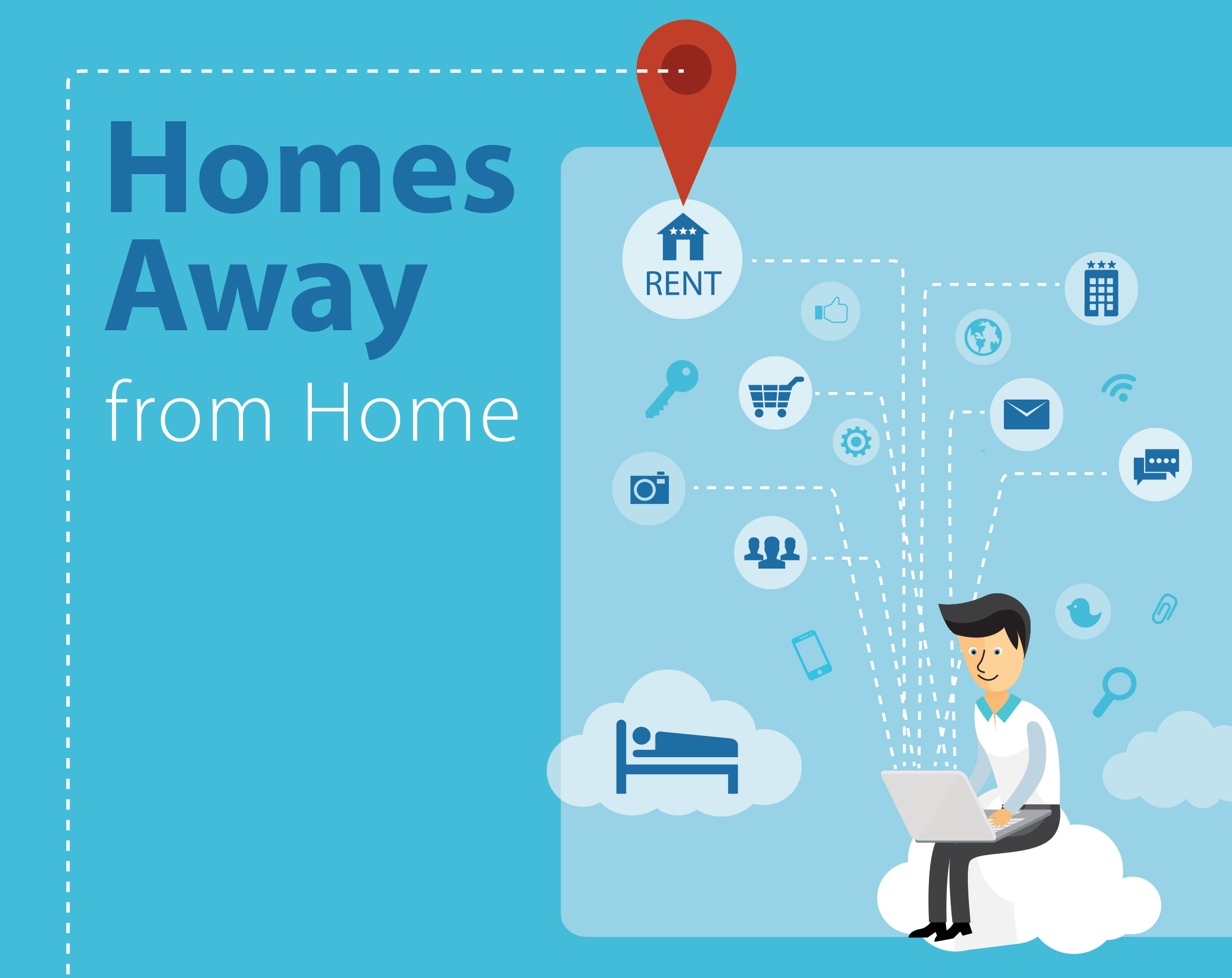 15 Dec

Online Rentals Add New Quirks to Tahoe's Travel Economy

When Truckee resident Jeff Oamek started converting his home into an Airbnb in 2015, he knew it wouldn't be as easy as just hanging an "Open" sign on his front door. It wasn't long before the finance expert, who knew a little about liability, consulted an attorney, drafted a one-page waiver, dug into tax laws and opened his doors for business. After all that, he can now lecture on such things as "the self-employment tax of sole proprietorship."

Jeff Oamek lists a room in his Truckee home on AirBnB, photo by Jen Schmidt
"I went really legitimate," he says. "I notified Truckee about the taxation and paid them 10 percent, and paid another TBID [assessment] for 2 percent, so 12 percent goes off the top…And then you have federal, state and self-employment tax of 15 percent, so it doesn't leave a lot left. But it's helping us fix up the house, which makes it tax deductible, so in the end it's making sense."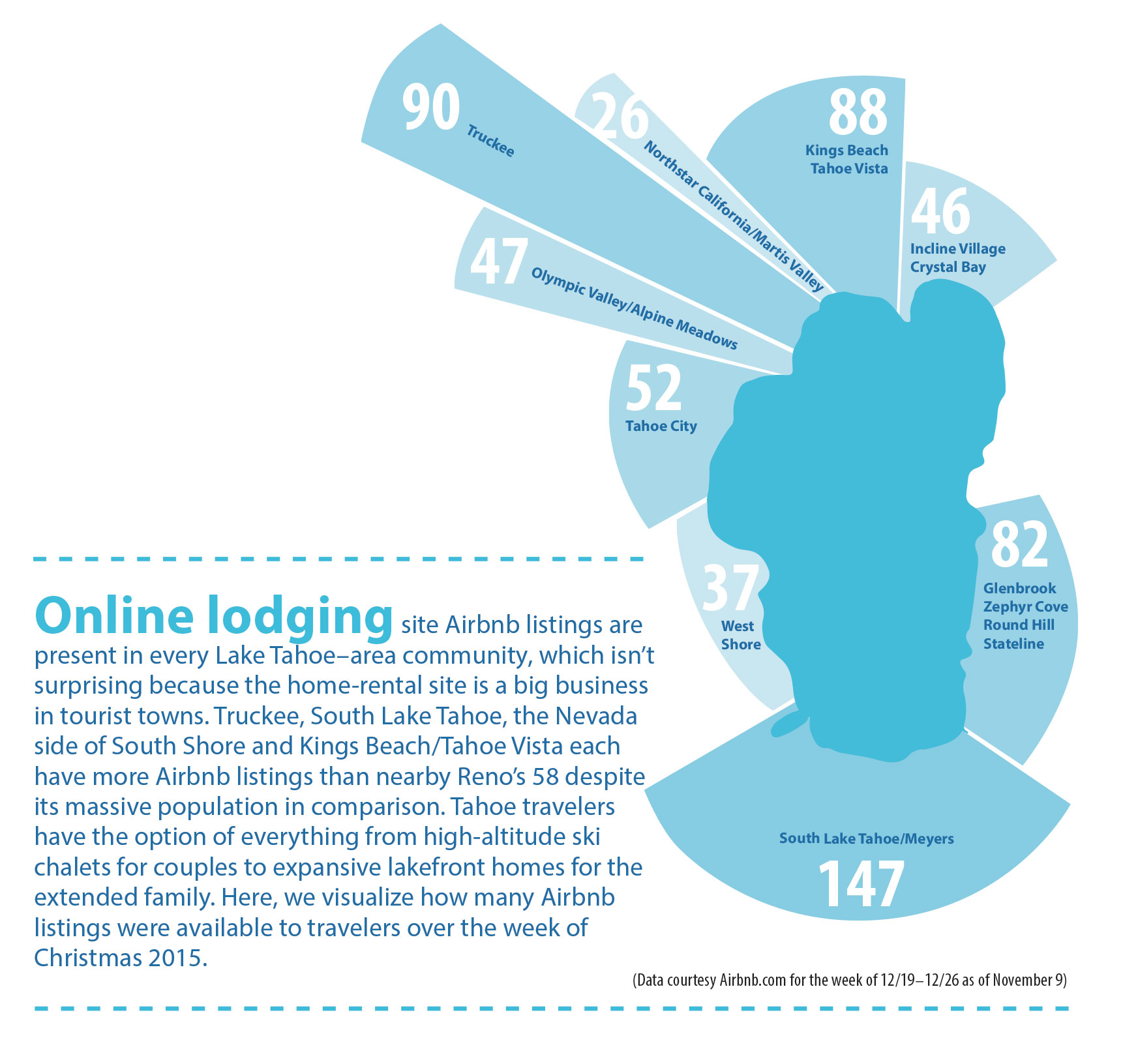 Home-Share Hospitality
Visitors to Lake Tahoe are seeing more Airbnb and VRBO options popping up. In case you're unfamiliar, these are online booking and marketing services that allow almost anyone to convert their homes into hotel rooms. (And in some cases, the homeowners also turn into tour guides.)
As you'd expect, not everyone around Lake Tahoe is as careful as Oamek about following the law, and Oamek is rare in asking visitors to sign waivers. But the detailed process he makes visitors go through, Oamek says, helps everyone—including his guests and neighbors—feel more comfortable. And to the neighborly point, Oamek is lucky. Many around him also rent their homes to tourists, and when they do, everyone takes a turn watching each other's places.

Mary Oamek adds a personal touch to travel for visitors to her Truckee home. Extra income from their room
rental helps the Oameks offset the costs of home repairs, photo by Jen Schmidt
Yet, the risks are there, and misbehaving guests can trigger barnstorming. In spring 2015, a few South Lake Tahoe residents demanded changes after stories spilled out about 2 a.m. hot tub shenanigans and full wedding parties showing up next door. At the time the city was hearing complaints, according to a story in the Sacramento Bee, 1,574 homes in South Lake Tahoe alone had been converted to rental homes, compared with just 45 in areas like Napa. Local police admitted the new home-shares were attracting more complaints than properties managed by traditional rental companies. In response, El Dorado County now requires home renters to purchase $300 permits and follow fire codes. The new ordinance gives the city permission to fine guests and, in a very Tahoe-esque way, even advises how to calculate a bedroom's square footage in case of sloped ceilings. A lawsuit defending short-term rental interests was filed in June, and was still ongoing as of deadline.
A Hotel Alternative
Trends show the home-share economy growth will continue, especially in resort areas. According to the website AirDNA.co, which tracks home-share data, VRBO-style rentals are more common in areas where hotel prices can be higher than average. This might explain why the idea was born in San Francisco. This is also why home-sharing is not seen as a big issue in Reno, which boasts thousands of affordable hotel rooms downtown and only a couple dozen listings on short-term rental sites.
In contrast, around the Lake Tahoe region and Truckee, hundreds of homes are listed for rent on Airbnb, and VRBO shows nearly 3,000 in the Lake Tahoe-Truckee region. VRBO and Airbnb refused to discuss economic impact for this piece, but an estimate isn't too hard to imagine: If half of Lake Tahoe's VRBO units are rented ten days a year for $100 per night, the numbers reach into the millions.

South Lake Tahoe rentals available through Coldwell Banker McKinney & Assoc.
The home-share economy's growth is having some effect on hotel stays, but it's hard to pinpoint the exact impact on Lake Tahoe. A Boston University study on the matter showed that as the volume of home-shares increases by 10 percent in an area, the same hotel economy decreases by 0.35 percent. But it's not all bleak for hotels, especially around Lake Tahoe. According to a 2014 annual report by the Adventure Travel Trade Association, modern tourists still book rooms in hotels for easy access to activities and transportation. Traditional hotel guests, who remain in the majority of travelers according to the report, book vacations to get room service, a casino, a gym, a pool, an indoor restaurant and a shuttle back to the airport.
Embracing the Trend
Allie Mariscal, with Coldwell Banker in South Lake Tahoe, which has long been in the short-term rental business, actually sees these relatively new services as advantages. In fact, Coldwell Banker is now partnering with website services Airbnb and VRBO to display its own listings and recruit more clients, and Mariscal says the company sees the trend as a natural evolution of a vacation rental industry that has existed in Tahoe for decades.
"The more we can advertise the better," Mariscal says. One other advantage she mentioned: The questions she now receives from potential guests are far fewer than what she got a couple years ago, mainly due to the amount of information found online. She is seeing home-sharing bring in a few tourists from new regions, though mostly she deals with repeat visitors from the popular regions of South America, Australia and the Bay Area. For what it's worth, Oamek sees the same thing in his three months of business in Truckee, he says.

The Oameks goes the extra mile to make visitors
feel welcome, photo by Jen Schmidt
Ultimately, the growth of the sharing economy is pushing the Lake Tahoe lodging industry into the future, where tech-friendly millennials will soon be one-fourth of all adventure travelers, and the share economy mothership lives just down Interstate 80 in San Francisco. But it's not enough to fundamentally change Tahoe's economy. There's really only one thing that can do that.
"I'm looking out my window and it's snowing right now," says Mariscal. "That's what makes a real difference."
---
Ryan Slabaugh is a freelance writer who lives in Boulder, Colorado. His last piece, "Winter Dreamscape," about Tahoe skiers Cody Townsend and Elyse Saugstad, was published in the 2015 Ski & Ride issue.