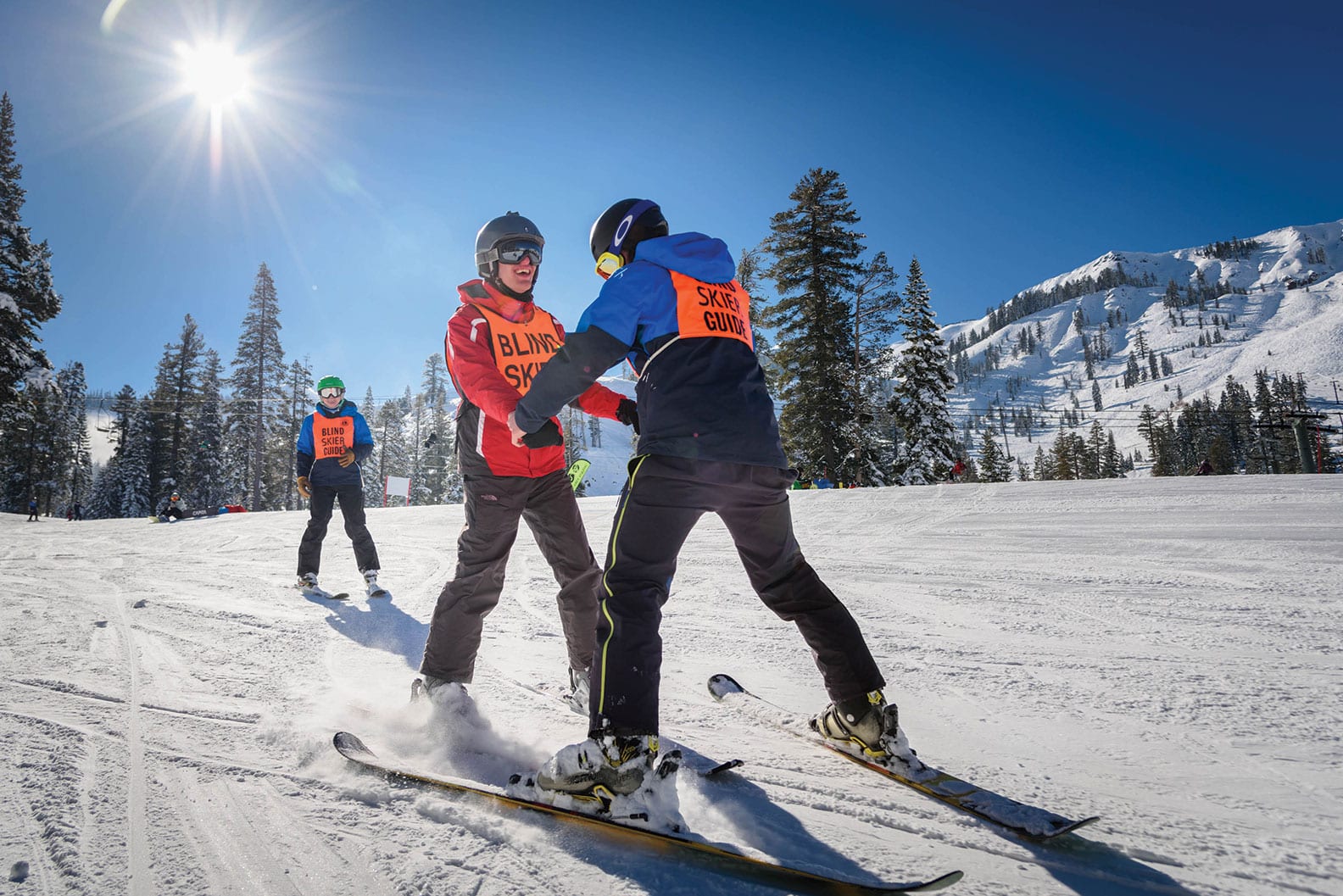 Achieve Tahoe instructors Logan Pitney and Gary MacLean ski with Ethan Seymour, photo by Eric Seymour
01 Dec

Achieve Tahoe Celebrates 50 Years

Sir Edmund Hillary, the famed adventurer who first summited Mount Everest, once said, "It is not the mountain we conquer, but ourselves." People with disabilities, who may feel that sports like skiing are out of reach, may find his words especially poignant. 

For the past 50 years, Achieve Tahoe (formerly Disabled Sports USA Far West) has helped turn such doubts into adventures as a leader in the adaptive sports movement. A sign emblazoned on the organization's building displays the motto "If I can do this, I can do anything," and through the program, thousands of people with disabilities have learned to ski.

Haakon Lang-Ree, executive director of the Alpine Meadows–based nonprofit, credits Achieve Tahoe's passion for its success over the years: It shines in the enthusiasm of the instructors, the determination of participants and the tireless work of its founders.

"This organization is about creating equality for everyone. From instructors to students, there's passion across the board," Lang-Ree says. "We like to ski and give someone a great experience, but we have a bigger goal, and that's the inclusion of people with disabilities."

Achieve Tahoe "bi-skiing" instructor David Littman works with Theo St. Francis, photo by Meg Haywood Sullivan
Achieve Tahoe's legacy began with Jim Winthers, a World War II veteran from the 10th Mountain Division, a special branch of the military that trains soldiers for mountain warfare. During the war, Winthers skied into combat against Axis forces in the snowy Apennine Mountains of Italy. His uniform was a paper-white parka that served as camouflage, and he carried a rifle and heavy pack with his skis.
The 10th Mountain Division is legendary in the ski industry. After World War II, veterans from the 10th brought their love for skiing back to the United States and had a large role in the expansion of skiing as a sport and vacation pastime. Ex-soldiers built ski lodges, laid out runs, improved outdated ski equipment and taught lessons.
Winthers was no exception. After World War II, he worked as a ski instructor in Lake Tahoe for many years. In the 1960s, Winthers noticed Vietnam veterans returning with missing limbs. Warfare had changed since he was a soldier, and newfangled explosives were devastating U.S. troops.
"The advocacy for people with disabilities was a social movement that began during this time," Lang-Ree says. "As Vietnam vets began coming back with limb loss, Winthers decided to teach them to ski, and Achieve Tahoe has been working continuously since that first winter."
Winthers founded the National Amputee Skiers Association at Boreal Mountain Resort in 1967. The organization moved to Alpine Meadows in the early 1980s, where it's now formally known as Achieve Tahoe.
For Vietnam veterans like Doug Pringle, Achieve Tahoe was life-changing.


Vietnam veteran Doug Pringle skis with outriggers after losing his right leg below the knee in combat, courtesy Achieve Tahoe
Pringle was hit by a rocket-propelled grenade in combat and lost his right leg, which was amputated just below the knee. After his injury, he spent eight months bedridden in the Letterman Army Hospital in San Francisco with dozens of other amputees.
"I was pretty depressed. The army, society and everyone I knew treated me like I was ruined," Pringle says.
Winthers visited the amputee veterans at the hospital and showed them a movie featuring a skier with only one leg using outriggers to control his descent. Outriggers are ski poles outfitted with small ski blades at the tips.
Despite seeing the film, Pringle didn't believe he would ever ski.
"I thought that Winthers was crazy and didn't think that someone could ski on one leg," he says.
But Pringle needed a break from the hospital and decided to give skiing a try. Within his first day of instruction, he was able to stand on one ski and do a few turns.
"It changed my life because it was the first thing I did after losing my leg that made me believe I was going to be OK, that I could still do things," Pringle says. "The feeling was so powerful that the organization became my life's work."
Pringle became a ski instructor for Achieve Tahoe and traveled to ski resorts across the West, starting 20 new chapters of adaptive sports programs. Later, he was elected president of Disabled Sports USA and worked for over 40 years before retiring in 2015.
Achieve Tahoe is the founding chapter of Disabled Sports USA. Now, the organization has 120 chapters nationwide, and adaptive skiing instruction and equipment has evolved to include people with many kinds of disabilities. Sit-skis and mono-skis engage people with paraplegia, and advanced instruction methods accommodate people diagnosed with mental health conditions. Skiing competitions for athletes with disabilities are also common throughout the country.
"It has exceeded what I envisioned," Pringle says. "When we first started, we only knew how to teach amputees, but over the years we developed techniques to include more people with different disabilities. Now we can teach anyone with any disability how to ski. It is beyond my wildest dreams."
Dedicated instructors like Pringle have been key to Achieve Tahoe's success.
Former Achieve Tahoe vice president Katherine Hayes Rodriguez began working with the organization as an instructor in 1977 and helped developed a curriculum for certifying instructors in adaptive sports with the Professional Ski Instructors Association (PSIA).

From left, Kan Newsted, Doug Pringle, Katherine Hayes Rodriguez and Bob Guerrero at Mammoth Mountain in 1982, courtesy photo
Before Hayes Rodriguez oversaw the writing of the PSIA manual and devised a training process for adaptive sports, PSIA only certified instructors in alpine skiing. Hayes Rodriguez strived to gain credibility for the program, and because of her work, adaptive sports has grown into a globally recognized PSIA certification.
"We want instructors to do their best for the families and organization," Hayes Rodriguez says. "Often, people with disabilities don't get much love in our society, so a big part of what we do is to encourage independence and confidence."
Achieve Tahoe instructors approach each lesson differently depending on the student's disability. Lessons are always one-on-one and incorporate patience and problem-solving with a positive attitude. There are around 160 volunteer instructors working with the program.
"It's a very fulfilling thing to be a part of," says Achieve Tahoe instructor Keegan Buffington. "I love spreading my passion for being on the mountain and helping people, who never thought they'd have the opportunity, to experience skiing."
Skiing seemed impossible for 18-year-old Connor Kitayama, who has autism. His mother, La Donna Ford, didn't believe her son possessed the capabilities to master the sport.
"I didn't think there were people who could teach him to ski," Ford says. "Things have to be so systematically broken down for him."
But when she took Kitayama to Achieve Tahoe, the instructors insisted he could learn. Although it was hard for Ford to send her son out on a mountain with strangers, it was one of the most rewarding things she's ever done.
Connor Kitayama paddleboards on Lake Tahoe with Achieve Tahoe, photo by Eric Seymour
"It is an incredible feeling seeing my child, who has extreme difficulties with day-to-day life, come back from doing a difficult sport with a huge smile on his face. It's amazing," Ford says. "For the rest of his life I am keeping him in the program."
Kitayama now skis every winter with Achieve Tahoe. His ability has improved so drastically that he can ski down any groomer on the mountain. He also participates in Achieve Tahoe's summer activities, trying sports like kayaking and stand-up paddleboarding.
"Even if you don't think your child can ski, give it a try," Ford says. "Put your kid in a lesson and let the Achieve Tahoe volunteers work their magic. They are such a positive force of nature."
By partnering with Squaw Valley Alpine Meadows, Achieve Tahoe makes skiing affordable for participants. The rate is $100 for a lift ticket and two-and-a-half-hour private lesson. Standard ski and snowboard equipment rentals are half price and adaptive sports equipment is available for $10 a day. Even with the support of the two ski resorts, however, Lang-Ree says the program would not be possible without the help of volunteers and donors.
As Achieve Tahoe celebrates its 50th anniversary, the people behind the organization are extremely proud of what they've accomplished.
"Achieve Tahoe changes everyone who gets involved, from instructors to participants. Everyone is uplifted by the experience," Pringle says. "We make sure people succeed because when we see people's attitude changing, we own a piece of that positive change and it motivates us to keep going."
Achieve Tahoe s
taff and volunteer group, photo by Nicky Lockman, Nemus Photography