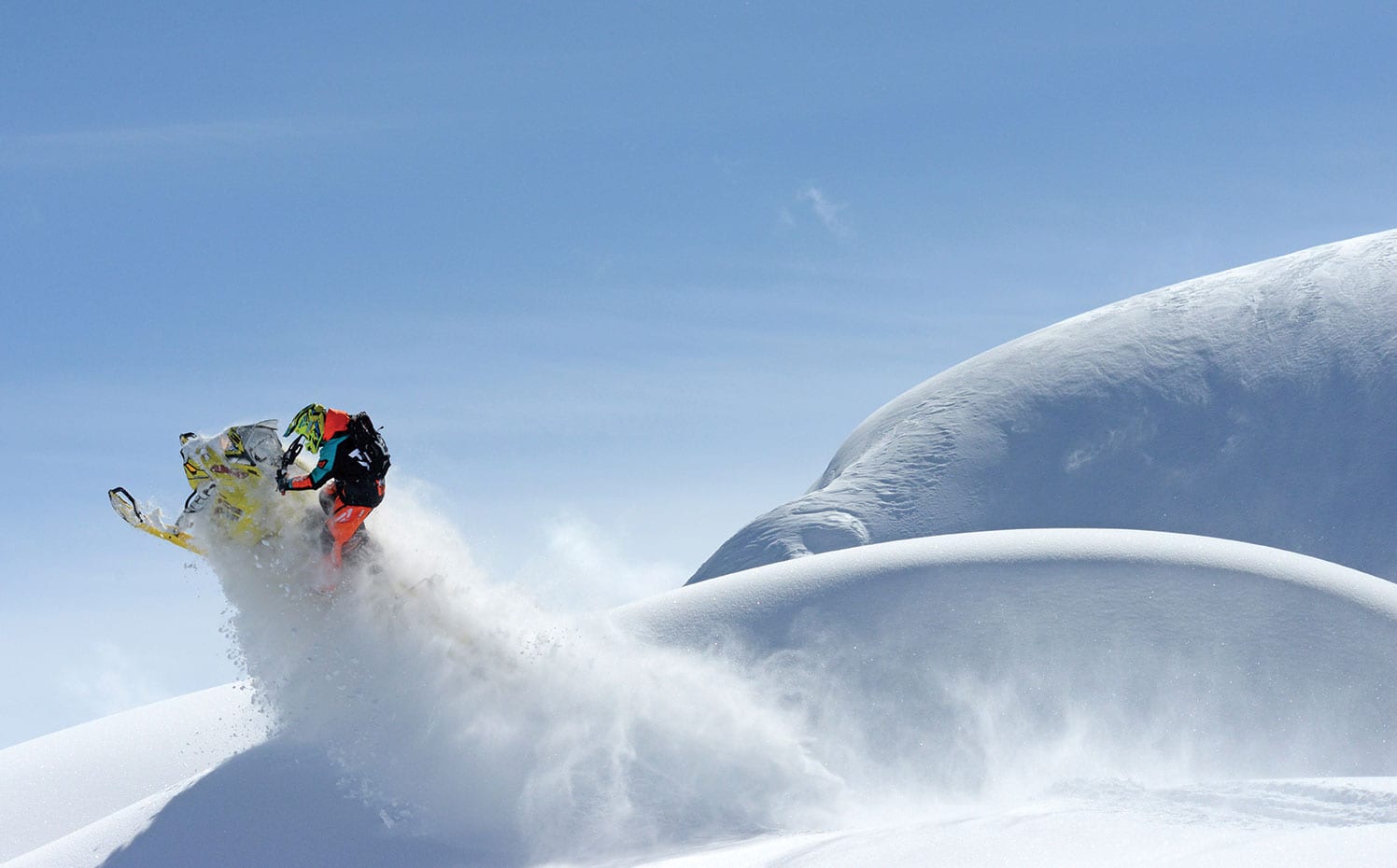 Justin Befu airs out of the powder in the Blue Lakes backcountry near Carson Pass in February 2017, photo by Rafal Bogowolski
30 Nov

Through the Lens: Backcountry Machines

Tahoe's renowned winter season attracts diehard skiers and snowboarders from far and wide. They come for the deep snow, top-shelf terrain, sun-splashed days and awe-inspiring scenery. For the same reasons, the Tahoe area also entices another breed of winter enthusiasts—those who get their kicks from the seats of 700-pound machines. Often skiers and snowboarders themselves, Tahoe's snowmobilers use their sleds to access prime riding terrain, and in that process fall in love with the powerful backcountry portals they ride. But you're not likely to see these powder hounds in action—only through the lenses of Tahoe's talented photographers.

Duncan Lee feasts on fresh tracks after one of the many snowstorms that clobbered the Tahoe backcountry during the 2016–17 winter, photo by James Cole 
Scott Smith launches his machine off a cornice in the Sonora backcountry, photo by Ming T. Poon

Ty Dayberry finds fresh snow and wide-open terrain near Hell Hole Meadow in the Tahoe backcountry, photo by Brian Walker
---
Photographer Bios
Born and raised in Poland, Rafal Bogowolski had always aspired to move to the United States. He started traveling in the States while in college, and through his journeys he discovered Lake Tahoe, the beauty of which inspired him to become a photographer. It started when Bogowolski created a blog to share his pictures with friends and family back home. As the years passed, he was recognized for the creativity and uniqueness exemplified in his pictures, and thus began his path into the world of photography. Over the years, his passion for snow sports led him into action photography. If he's not playing in the mountains, he's out there shooting it. www.rafalbogowolski.com
James Cole is a Lake Tahoe–based commercial advertising photographer who studied at Brooks Institute of Photography in Santa Barbara. Cole's passion for photography began when he started shooting snowboarding in 1993. He now shoots snowmobiling, architecture, and large and small product, as well as conceptual portraiture. Cole's family has been in the Tahoe area since the mid-1800s; relatives John and Dan Rhoads led a rescue of the famed Donner Party in 1847. Cole's clients include Red Bull, Costco, FXR Racing, PistenBully, Snow Park Tech and Intel. www.jamescolephoto.com
Ming T. Poon is an adventure sports photographer and director of photography based in Tahoe. Passionate about outdoor pursuits, travel and making a difference, Poon is inspired by culture, nature, music, friends and family. His work has been featured by Teton Gravity Research and Matchstick Productions, and has appeared in Powder Magazine, Backcountry Magazine, Standup Journal, ROAM, Ascent Backcountry Journal, Vermont Life Magazine and a variety of other publications. Poon's work has also appeared in international commercial marketing campaigns for O'Neill, Jones Snowboards, POC Sports, NOW Bindings, Hestra Gloves, Intuition Liners, Leki Poles and more. www.mingpoonphotography.com
Brian Walker is a photographer, videographer and drone pilot who was born and raised in South Lake Tahoe. Action and adventure have been a passion of his since he was young, while Tahoe's natural landscape also plays a huge part in his work. Day in and day out, he can be found participating in all the activities Tahoe has to offer—with a camera or without—no matter the weather. He showcases that lifestyle through his images. www.brianwalkerphoto.com