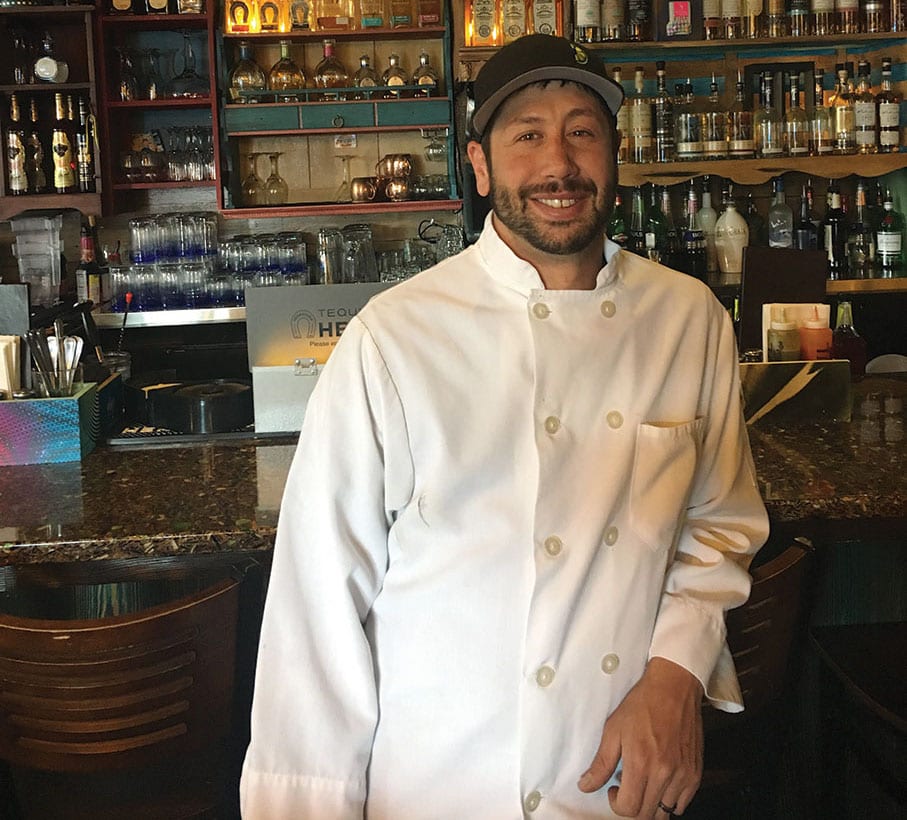 30 Nov

Chopping Block: Q&A with Marc Vaccaro, executive chef at Tahoe Restaurant Group

Born and raised in South Salem, New York, Marc Vaccaro has worked at award-winning restaurants including Aqua in San Francisco, Rockpool Bar & Grill in Sydney, Australia, and A Voce in New York City. He is currently the executive chef of Tahoe Restaurant Group, which owns Fireside Pizza Company at the Village at Squaw Valley and Rubicon Pizza Company at the Village at Northstar, as well as Base Camp Pizza Company and Azul Latin Kitchen, both at Heavenly Village.

Earliest food memory?
My mother is a fantastic cook and from as far back as I can remember she was making something. My earliest culinary memory is the beginnings of a pasta sauce, the smell of browning garlic and onions before the tomatoes go into the pot. In New York, or at least in my family, bread is life, and I remember waiting for the pasta sauce to be ready to dunk a crusty piece of Italian bread into.   

Culinary education?
I spent a year in an accelerated chef's program at the California Culinary Academy, which was certainly a great base to my education. While I was in school I was also cooking at a Michelin two-star restaurant in San Francisco, and that really fueled my fire to progress. It opened my eyes to true culinary passion. After that, I booked a one-way ticket to India and travelled for two years throughout Asia, Pacifica, the Middle East, North Africa and South America. I cooked in a handful of countries and spent countless hours eating, cooking and writing food notes. This was certainly one of the best culinary experiences I've had.

What brought you to Tahoe?
I really wanted a year off to ski after finishing up a four-year degree at Siena College in Albany, New York. My brother was a brewer for Sierra Nevada Brewing Co. at the time and recommended that I move to Tahoe for the winter. He promised me free beer every weekend he came skiing, and at 21 years old that sounded pretty good. Fifteen years later, I'm still here. 

How did your partnership with Tahoe Restaurant Group evolve?
I started at Fireside Pizza Company in December 2002; the restaurant hadn't opened yet and I applied as a prep/line cook. I worked up to a management position and it all grew from there. I continued my education at culinary school and Aqua Restaurant only to return to Tahoe to open the next three restaurants with the group. Between openings, I've always made time to spend with friends and family as well as time to travel, cook and learn. 

What are your responsibilities as executive chef for TRG restaurants?
I oversee all four kitchens—Fireside, Rubicon, Base Camp and Azul Latin Kitchen—and make sure the food is up to our standards. As food trends change, I am in charge of tweaking the menu and adapting it to what our customers are looking for. Happy and knowledgeable employees are such a huge part of any good business, so one area I try to focus on outside of food is training and investing time with staff. 

Process for creating menu items?
It's a longer process than most would think that goes far beyond just putting something on the menu that tastes good. Creating the food is the fun part, and I'm constantly thinking about current food trends, past cooking experiences and flavors that I've tasted while traveling.   

Local purveyors with which you like to work?
Produce Plus has been our local produce supplier since the day Fireside Pizza Company opened in 2002. We have been fortunate to work with Bob Habeger for a long time. He stands behind his product and has taken real good care of us. 

Favorite pizza?
I keep it simple, margherita or pepperoni, both with some spice.

What's in your home fridge right now?
Leftovers from a couple of meals I made throughout the week (spicy beef ragu, cheesy polenta, maple carrots and some bacon brussel sprouts). Also, some homemade fermented hot sauce, eggs, an assortment of cheese, a couple of sour beers, a few IPAs, probably some Boars Head deli meats and a big tub of mayo.

Partner? Kids?
I got married to my wife Allison on October 14, 2017. As for children, those are all my employees—we are all kids at heart and one big family.

Favorite ski or snowshoe spot or trail?
Granite Chief chair or Silverado at Squaw Valley.
---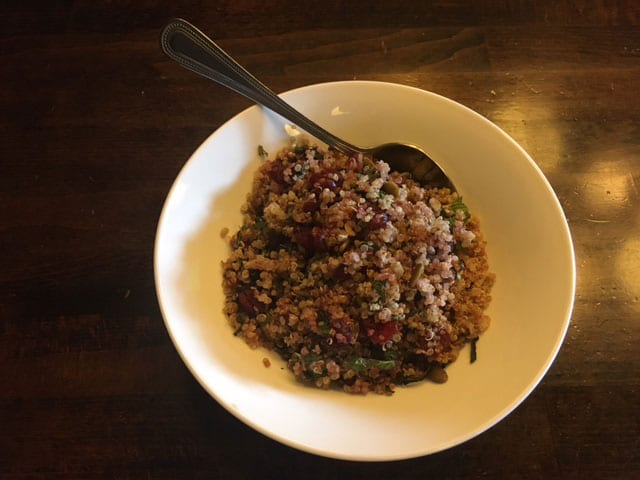 Chef Vaccaro's recipe for

Spiced quinoa salad
On the menu at Azul Latin Kitchen, this is a great side dish, snack or a topping to any salad.
Ingredients:
4 cups cooked quinoa
1 cup dried cranberries
¼ cup toasted pepitas
1⁄3 bunch mint, rough chop
Zest from 1 lemon
¾ teaspoon cinnamon
¼ teaspoon nutmeg
½ teaspoon kosher salt



Directions
Place raw pepitas in a sauté pan on medium heat, stirring regularly to achieve an even toast on the seeds. Once lightly browned, remove from pan and set aside to cool. Place cooked and cooled quinoa in a large bowl, mix in dried cranberries, cooled pepitas, lemon zest, cinnamon, nutmeg and kosher salt. Rough chop fresh mint leaves, add to the bowl and mix well. Refrigerate until ready to use.