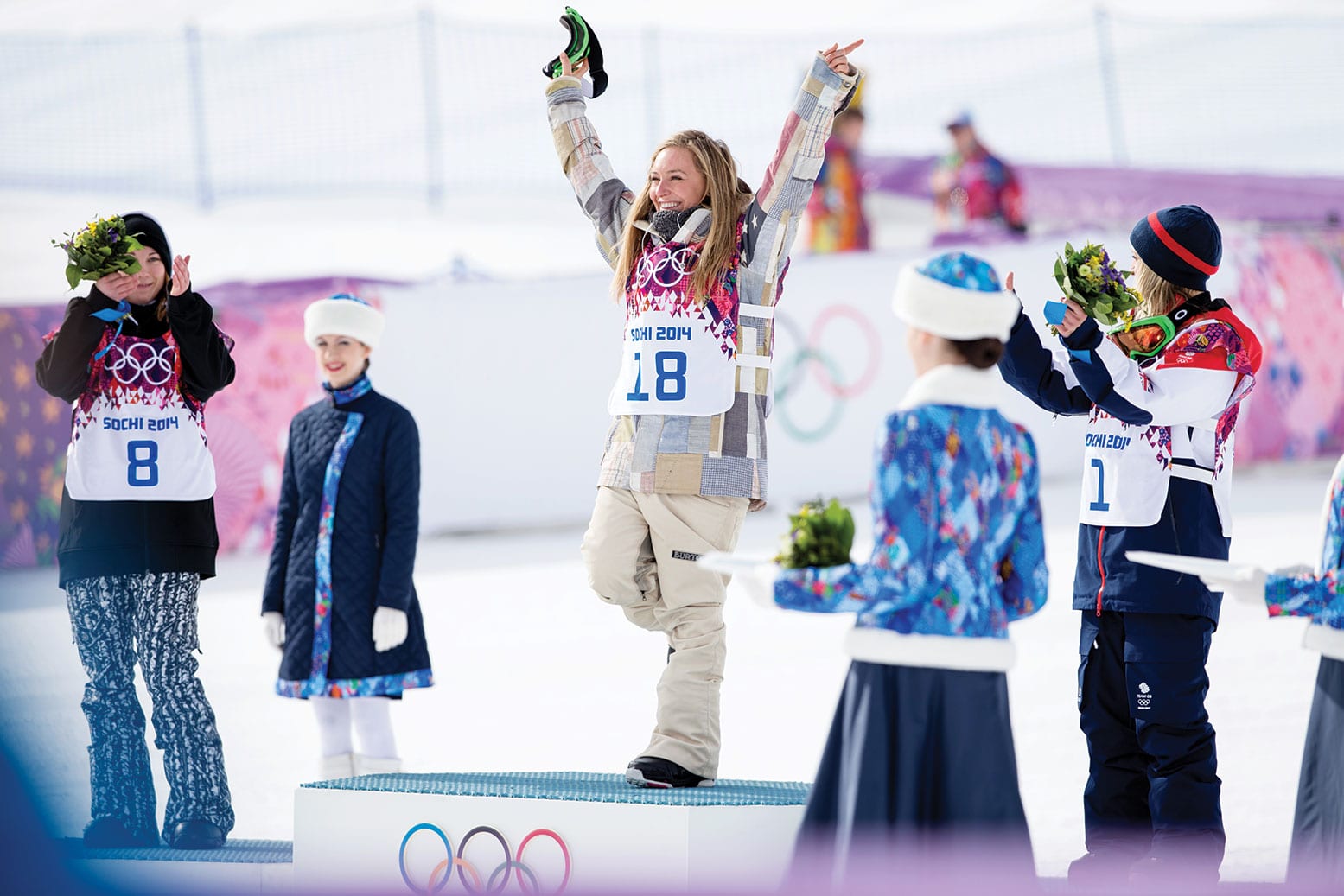 South Lake Tahoe snowboarder Jamie Anderson celebrates her gold medal in slopestyle at the 2014 Sochi Winter Games, photo by Sarah Brunson, courtesy USSA
01 Dec

Tahoe's Jamie Anderson Performs in the Clutch
Decorated South Shore snowboarder carries her laid-back vibe—and immense skills—into this Olympic season


Jamie Anderson slides a rail during the 2017 U.S. Grand Prix at Mammoth Mountain, photo by Sarah Brunson, courtesy USSA
Excelling under pressure comes naturally to South Lake Tahoe snowboarder Jamie Anderson. The proof is in her vast collection of shiny hardware from her sport's signature events.
Since age 15, when she dethroned Shaun White as the youngest medalist in Winter X Games history, Anderson has remained a steady force atop the women's slopestyle field. The 27-year-old has amassed 13 X Games medals, multiple World Cup and Dew Tour titles, and four ESPY awards, including Best Female Action Sports Athlete in 2014.
That year, she came through with perhaps the biggest performance of her sparkling career at the Sochi Winter Olympics. Anderson delivered a flawless final run to bump Finnish rider Enni Rukajarvi from the top of the podium, flowing through Russia's Rosa Khutor Extreme Park with style and amplitude to claim gold in slopestyle's Olympic debut.
She has not skipped a beat since. Along with her continued success in the slopestyle, Anderson has expanded her snowboarding resume, adding big air competitions to her repertoire and starring in a two-year backcountry film project called Full Moon.
The Sierra-at-Tahoe rider is known outside of snowboarding for her free spirit and fun-loving Tahoe vibe. But her genuine smile and well-wishing ways are not to be mistaken for weakness. Come crunch time, she trends toward clutch performances.
Check out what Anderson had to say as she prepares to defend her Olympic gold.

Anderson flashes a smile after winning a gold medal in snowboard slopestyle at the 2014 Winter Olympics, photo by Sarah Brunson, courtesy USSA
What were the highlights of your summer offseason, both locally and on your travels?
It's always a highlight of mine to spend time in Tahoe. I rode until mid-June this year, so when I got back to South Lake, it was so nice to just chill: walking by The Lake every morning, paddleboarding, sunbathing, spending time with friends and family. Tahoe is a place of recharging my energy.
As for travel highlights, I would have to say New Zealand. It's one of my favorite places to visit and it felt so good to be there this year. The food and water are so pure. The mountains are beautiful and we made it to the ocean, which is always a treat. My summer flew by as I was all over the place, but super thankful for all the opportunities.
Going into an Olympic season, how are the U.S. Snowboard training sessions different than the past three years? Are things more intense?
Yeah, everything is a bit more intense. But I like to keep it light and not think of everything as "training." Really, we're all just shredding and motivated to learn more and progress. It's been fun. Mammoth was super fun, New Zealand was fun… I think they [other U.S. athletes] were at [Mount] Hood for a while, but I skipped that and went to Saas-Fee, Switzerland, in the fall. That one is so fun because Switzerland is so beautiful—one of my favorite places to visit, for sure.
For obvious reasons, Olympic years coincide with progression in terms of new tricks. Do you have any new tricks up your sleeve for PyeongChang? And if so, is that something you can share, or is that top secret at this point?
Top secret. Just kidding. As I've already shared the last few seasons, I've been working on my 10s. They're super difficult and I haven't been able to dial them into events quite yet, but I hope to this season. Also, back rodeo 7 nose I want to get dialed. Mostly I want to do fun tricks that inspire me. Sometimes the doubles and 10s are crazy. I get a little lost and confused at times. I'm a pretty chill snowboarder, so pushing the level is a bit challenging for me. But I'm enjoying working toward new tricks.
In regards to progression, how much do you feel like women's snowboard slopestyle as a whole has improved since the 2014 Olympics?
A ton! [Austrian] Anna Gasser has been riding so well. I'm really impressed with the women's level across the board. [American] Hailey Langland with her cab double 10 at the X Games was mental. [American] Julia Marino is killing it. Klaudia Medlova [from Slovakia] with her double back rodeos and front double 10s. Those are just a few of the girls pushing the sport. They're so badass and I'm actually really, really inspired by their courage and strength. Badass babes!
Being the reigning gold medalist in the slopestyle—and with so many other talented riders gunning for the podium—do you feel any extra pressure or a competitive sense of pride to prove you're still the best?
It can be challenging at times, for sure. It's a lot of pressure to carry and at times I get super stressed and nervous that I'm not riding as much or learning as much as everyone. After the last Olympic experience and light that shined on me, I've been busier than ever and it's hard to balance my work with my snowboarding. All my sponsors want me for shoots and obligations and that takes me away from my snowboarding and progression.
Also, filming for Full Moon took me away from the park and into Alaska and the Whistler backcountry, which was life-changing and inspired a whole new aspect of snowboarding, but sometimes I come back to the park and I'm like, "Oh snap, I just wanna ride pow!" But that's life. I always knew there would be new, young, ambitious girls, and to be honest, I'm just happy our sport is in good hands. I may not be able to "be the best" or win everything, but I'm just super happy and thankful for all the fun I've had, and I am still enjoying competing and pushing my level. I have no idea what this season will hold, but I'm happy to work hard, do my best and bless the rest.
In what ways is your mindset different entering this year's Olympics versus four years ago?
It's different in lots of ways. I've grown a lot as a spiritual being, I've learned more about myself, about life and where we are in humanity. With all the chaos and drama in our world, I feel less attached to the Olympics and snowboarding. I feel what I'm doing is truly such a privilege, and I give thanks every day. I also send prayers and love out for more peace on our planet. Things are crazy now, and if any of us can find peace in our personal passions and endeavors, that is a blessing.

Anderson squeezes in with her family after winning Olympic gold in 2014, photo by Sarah Brunson, courtesy USSA
With big air making its Olympic debut, you now have an opportunity to win multiple medals. How do you compare your experience and ability in big air to slopestyle?
There's more pressure in big air. I really like to snowboard and flow. I feel slopestyle is so fun because it's a top-to-bottom run and you get to flow and cruise with it. Of course, slope is challenging, but big air is super cray cray! It's definitely pushing our progression, but to be honest, I haven't had the best big air experiences so far. Hopefully that changes this year.
Do you listen to music when you compete—and if so, what tunes will you be listening to this Olympics?
I will most likely be jamming some solid hip-hop. My music is random. I have Spotify, so look me up for some good playlists.
Let's end on some quick-hits: Favorite spot to grab a beer on the South Shore?
Freshies.
Favorite local restaurant?
Freshies.
Favorite mountain bike trail?
Corral.
Favorite run at Sierra-at-Tahoe?
Sugar and Spice side hits to the alley and looping around. If it's a pow day, you can find me in the gates—gate 5 mostly.
Anderson at her home resort, courtesy Sierra-at-Tahoe
Favorite gym?
Tahoe CLUB 100. I work out with Eufay [Wood]. He's been my trainer since I was 16, and I love him.
Favorite Tahoe beach?
Baldwin on the South Shore, Whale Beach on the East Shore.
Favorite summer sport?
Skateboarding, mountain biking and wakesurfing.
Favorite Olympic event to watch?
Snowboarding! Growing up, I loved watching gymnastics.
Favorite snowboarder(s) growing up?
Tara Dakides and Travis Rice.
---
Tahoe Quarterly editor Sylas Wright eagerly anticipates watching the world's best slopestyle riders compete in the PyeongChang Winter Games.