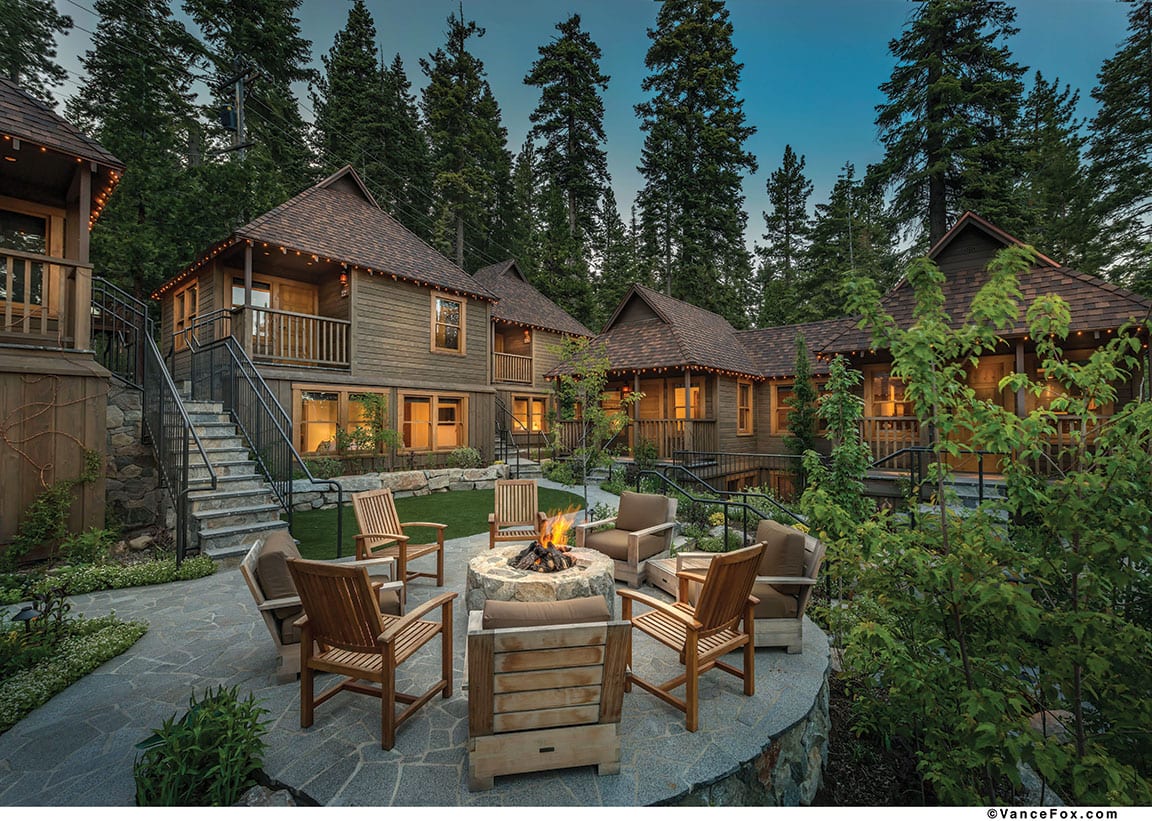 The fire pit terrace at Homewood's Cedar Crest Cottages is accessible from all cottages and provides a large outdoor gathering area, photo by Vance Fox
01 Dec

Flock to the West Shore
Historic Homewood cottages blend mid-century sensibility with fresh Tahoe vibe
Characterized by its stately demeanor, the bald eagle is dressed in richly toned plumage punctuated with bright yellow irises. Mallards sport a mottled mix of grays and browns but have that most recognizable and slightly festive iridescent green cap. And woodpeckers? Even though Woody Woodpecker lived as an animated and obnoxious Saturday morning visitor safely confined to the TV screen, he embodied the brazen and relentless nature of the real and dramatically feathered birds, which can be found drilling holes in everything from sugar pines to soffit boards.
They're all birds, but of very differing feathers and families.
Robb Olson, principal of the Tahoe City architecture firm Olson-Olson Architects with his wife Molly, looked to these Tahoe-native birds—in addition to six others: sparrow, chickadee, osprey, Stellar's jay, robin and owl—to lend identity and character to the flock of nine rental units at Homewood's Cedar Crest Cottages.
"Each cottage has a different palette and its own individual character, all borrowed from their namesake bird," says Olson.

A row of screen-printed eagles gives graphic identity to the Eagle Cottage. Black-and-white images of namesake birds, all designed and created by Robb Olson, are displayed throughout each cottage, photo by Vance Fox
Olson's father-in-law and Molly's father, Bruce Olson is a longtime Tahoe resident and general contractor who purchased the collection of aging cabins in 2007. After eight years of design, permitting obstacles and construction, the remodeled, slightly scooted-around and adjoined little boxes re-opened as one-, two- and three-bedroom rental cottages, all finished in the spirit of a given bird.
The Mallard Cottage, finished in earthy sage and warm wood tones, has standout shamrock-green Eames dining chairs to catch the eye, much like the mallard's gleaming cap does. The Woodpecker Cottage is not only located more centrally and socially on the property (adjacent the community fire pit and lawn) but is audaciously finished in black and red. The Eagle Cottage, lofty and one of only two three-bedroom units, finds those yellow irises subtly manifested in the 10 lemon-colored Eames chairs surrounding the fireside dining table. Stately, indeed.
Sprinkled over up-sloping property with veiled Tahoe views, the cozy cabins were built in the 1930s as a hunting lodge with guest cabins. Originally, all were single-story structures, but during the renovation, each cabin was hoisted above a new lower level to expand functionality and square footage. While the cabins are not on the National Historic Register, they do have local historical significance, and Olson describes their standing with Tahoe Regional Planning Agency as "historic light."
"Most of the cottages are pretty much in the same locations they were before," says Olson, "and we were required to keep the basic character of the original cabins—maintaining the simple massing and keeping the front porches intact, for example."

A two-sided stone fireplace divides dining and living areas in the expansive Eagle Cottage, photo by Vance Fox
Cedar-clad with the original Dutch hip roof forms and internal eight-foot ceilings, the cottages hearken to earlier decades through their modest scale. A consistent interior layout cleared the way for considerable focus on quality of materials, detailing and character, which also benefits longevity and day-to-day operation.
"Floor plan layouts are all very similar for efficiency and ease of maintenance," says Olson. "We created a lot of consistent detailing and came up with a kit of parts to maintain that consistency. For example, we kept the interior doors all the same size and made them a reproduction of the original five panel doors. We specified Sun Valley Bronze hardware, which is not only durable but is a reflection of a more historic period."
Olson-Olson Architects designed everything from the custom furniture to exterior light fixtures to each iconic bird symbol. Olson painstakingly designed the birds to ensure graphic success from the smallest symbols printed on the ballpoint pens to the much larger black-and-white identifying icons displayed within cedar frames.
The custom-designed beds are twin longs that can come together to create a king—depending on the needs of individual bookings—and all are designed to efficiently pocket luggage away to maximize floor area. An additional flare of individual personality in each cottage is found on the bedroom accent walls, from woven grass wallpaper to white cork with glittery specks. Images of the original lodge and cabins are found in each unit, offering a glimpse of the property's past life.

Custom furnishings and high-quality materials mix with classic Eames chairs and unique artwork in a cozy living space, photo by Vance Fox
Practically everything on both the interior and exterior was built or fabricated by Tahoe-based Bruce Olson Construction, and much of what became finish materials on the project started as scraps or leftovers found in the Olson workshop in Verdi. Repurposing and recycling materials played a huge role throughout and was a key covenant of an already environmentally conscious project.
Scraps of beech wood and other tropical hardwoods were milled and modified to become engineered flooring. White granite pieces, left over from a past lakefront project, were further broken down and used as mosaic flooring. All bathrooms are finished in remnant marble tile. Even some of the mid-century-flavored artwork throughout is nothing more than decades-old pieces of fabric sourced from online collections, crisply ironed and framed in cedar.

Wanting to bring in some rustic detailing, the Olsons used sculpted cedar branches as handrails to juxtapose against clean modern lines, photo by Vance Fox
The cottages are navigated via winding stone pathways and organic runs of stairs built into the hillside. A centralized outdoor gathering spot offers a fire pit with an adjacent synthetic grass area. Lawn games and s'mores-making accessories are available, and lake access is but a stroll across the road and down a short path.
All four of Bruce Olson's daughters play either a past or present role in the project, making it a true family affair. Prior to opening the cottages for public rental, the entire Olson clan and a handful of friends spent a long weekend on the property, testing out the limits of the hot water and broadband systems, cooking up expansive group meals to explore dining and cooking options (and potential challenges), and making sure the property would deliver the intended comfort and high levels of hospitality.

The intimately clustered two-story cottages step up-slope in a forest filled with mature trees, photo by Vance Fox
So many simple components—the molded fiberglass Eames dining chairs, artisan pottery lamps sourced from Oregon and even the clean, minimal-graphic quality of the logo and project font (generated from the original 1930s Cedar Crest road sign)—contribute to a strong mid-century sensibility. It is all woven with an unmistakable Tahoe vibe, reinforced by the surrounding native vegetation and decades-old cedar trees. The balanced combination of these two forces allows the property experience to somehow be twenty-first century fresh and 1950s lakefront nostalgia, all at the same time.
Robb and Molly Olson's professional website header includes the word "ena," meaning "one, unite, unify" in Swedish. Within the basic and historic framework of each Cedar Creek cottage, the Olson family has beautifully manifested the bespoke concept of custom specificity and employed ena in every layer of the project—land and lake, space and experience, family and guest.
The Cedar Crest Cottages are located at 4815 West Lake Blvd in Homewood. Office hours are Monday through Wednesday from 8 a.m. to 5 p.m., and Thursday through Sunday from 8 a.m. to 8 p.m. They may be reached at 530-412-9223 or stay@cedarcrestcottages.com.
---
Vangela Wightman lives with her family in Truckee, where she enjoys arranging her vast collection of snow shovels in a decorative fashion.