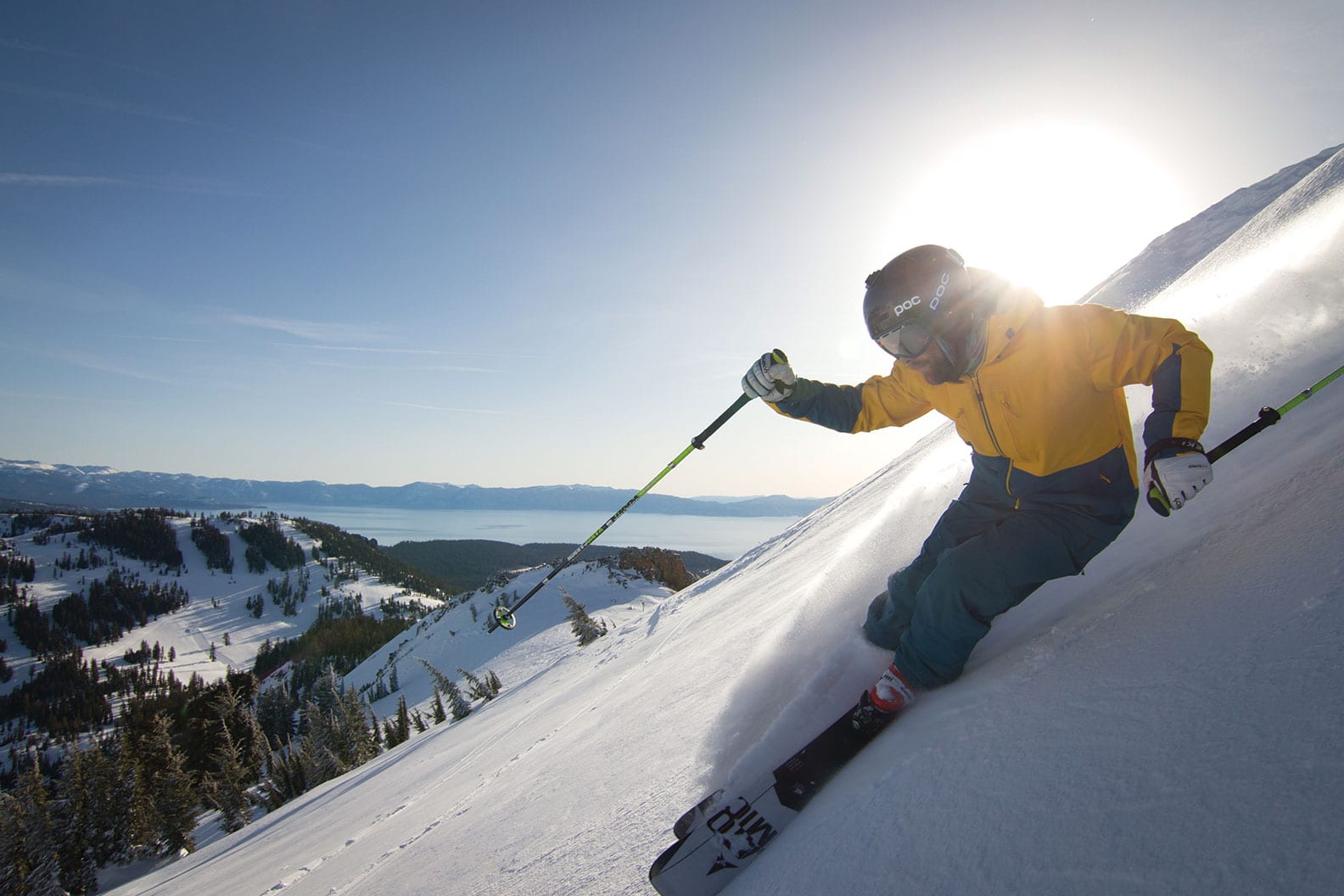 Travis Ganong's downhill racing prowess can be traced to his freeskiing roots growing up at Squaw Valley, photo courtesy Squaw Valley Alpine Meadows
01 Dec

Ganong for Gold
Squaw Valley downhill specialist has high hopes entering his second Olympic season
U.S. coach John McBride uses terms like "compact aerodynamics," "amazing touch" and "raw speed" when describing Travis Ganong's talents as an alpine ski racer.
Indeed, the 29-year-old Tahoe native has come a long way since joining the U.S. Ski Team's Development Team at age 15. He's sharpened his skills through top-notch coaching and training, gained priceless experience over the course of seven World Cup seasons, and benefitted from the surge in confidence that comes with success at the highest level of the sport.
But take away all of that, and McBride's descriptors would still apply. Credit Ganong's bloodline and the Tahoe terrain he was raised on—specifically, Squaw Valley.
"I didn't grow up training that much for racing," says Ganong, a fifth-place finisher in the downhill at his first Winter Olympics in 2014. "We had a rule where if it snowed more than three inches, we wouldn't even attempt to set a course. We'd go out and ski.
"I think that's why so many amazing racers come out of Squaw, because we do both," Ganong adds. "We train, but we freeski a lot more than any other club in the country, and we have amazing terrain to challenge us. I grew up following around some of the best freeskiers in the world, like Shane McConkey."
Skiing—and skiing well—also runs in the family.
It started with Ganong's grandfather, who built a pair of skis in his high school wood shop class in Southern California and hiked for turns on Mount Baldy. Ganong's parents met on the UC Santa Barbara ski team, and his older sisters traveled the globe as ski racers. Ganong and his twin brother Derek (who's now a musician) had no choice but to tag along.
"Having my sisters around and competing at a high level, we were immersed in the ski racing life when we were really young," says Ganong, whose sister Megan was on the U.S. Ski Team. "I remember traveling to Jackson Hole and Europe as a kid for their ski races and having the chance to go freeskiing."
It was during these formative years that Ganong developed a lifelong love for the sport, and through that love that he grew to become one of the fastest skiers on earth.
Ganong races at the 2014 U.S. Alpine Championships at Squaw Valley, photo courtesy Squaw Valley Alpine Meadows
Early Influences
Ganong grew up near the base of Alpine Meadows but skied at Squaw Valley, where his father worked at the slope-side office of the Truckee Tahoe Medical Group.
Rising U.S. ski racers from Tahoe like Daron Rahlves and Marco Sullivan served as idols to the young Ganong, while coaches like Greg Jones, a 1976 Olympic medalist, took him under his wing and imparted valuable knowledge.
"Greg Jones was one guy in particular who really helped me make a big step from being a good regional skier to having success on the international stage," Ganong says. "I remember after skiing one day he talked to me about the mental side of racing and how it helped him win a medal at the Olympics. And now, at the highest level, that's all that separates racers is your mental game."
Squaw's freeskiing stars had equal tug on Ganong, who fondly remembers the first time he skied the Fingers. He was 10, maybe 11, when he gathered the courage to charge at the aptly named cliff band on the steeps of KT-22. After successfully navigating the bony outcroppings, Ganong was greeted at the bottom by a couple of big-name pros: Shane McConkey and Scott Gaffney.
"They skied down and were like, 'Who are you? That was sick.' And so I gave them a high five and for the rest of the day we skied all over the place," Ganong says. "I definitely looked up to those guys and learned a lot from them. Shane was my hero. He was a legend. So freeskiing was a huge part of my upbringing. I even contemplated quitting ski racing because I wanted to be a freeskier."
Instead, he continued to pursue both skiing disciplines. When not chasing powder, Ganong excelled in the local Far West racing division and was a three-time member of the Junior Worlds Team. The U.S. Ski Team took notice, and Ganong was nominated to its Development Team before he was old enough to drive.
Ganong celebrates on the podium with Jared Goldberg and Mark Engel at the 2013 U.S. Alpine Championships, courtesy Squaw Valley Alpine Meadows
Stepping Up His Game
Although Ganong credits his freeskiing foundation for his racing prowess, he reached a point in his career where his natural ability wasn't enough. He dominated at the youth level on sheer skill. But after graduating high school and moving on to the international level, his Tahoe lifestyle caught up with him.
"A curse of growing up at Squaw is that we didn't really train in the offseason. We would show up after the offseason and have success, just because we grew up on a mountain like that," Ganong says. "But I was way smaller [than the competition] and not that strong, and I realized I was missing a lot of physical strength and conditioning."
His longtime girlfriend helped open his eyes to change.
Ganong and Canadian national alpine racer Marie-Michèle Gagnon met more than a dozen years ago at a small ski race in Canada, where they shared a laugh about the similarity of their last names. Unlike the ski racing kids from Squaw, Gagnon, who hails from Quebec, followed a regimented in-gym training program.
"Ever since we started hanging out, she's been getting me in the gym a lot," Ganong says. "That was a huge challenge for me as a racer. I had to totally change my lifestyle to be a professional athlete, and it's paid huge dividends. Especially racing at the highest level, all the guys are so fit. If you're not putting in the hours in the summer, you're not going to be competitive."
Gagnon, who shares a home with Ganong in Tahoe City during the offseason, jokes that she no longer has to "pull his arm" to get him in the gym. "Well, most of the time," she says. "He has learned firsthand the benefits of hitting the gym when you're a professional athlete. We want our fitness level to be one of our greatest weapons."
With a solid training base anchoring his natural talent, the results followed. Ganong finished second in the NorAm downhill standings in 2010 and launched his World Cup career the next season. As he gained experience, he began taming some of the world's toughest downhill courses—placing 12th in the famed Kitzbühel (Austria) downhill in 2012 and seventh in Bormio, Italy, early the next season.
But his breakout season was 2014. After making his first Olympic team, Ganong led the U.S. men speed skiers—including heavy favorite Bode Miller—with a fifth-place downhill finish at the Sochi Winter Games. Just a week after the Olympics, he backed up the performance with his first World Cup podium in Kvitfjell, Norway. He earned his first victory in Santa Caterina, Italy, in December 2014, and last year became the first American male ever to win Germany's Garmisch downhill.


Ganong signs a young fan's helmet during the 2012 U.S. Ski Team Day at Squaw Valley, photo by Katie Perhai, courtesy USSA​
Olympic Push
At age 29, Ganong knows he's entering the prime years of his racing career.
"I'm really focused for the next three, four, five, six years—however long I ski—to get results and be dedicated to racing," he says, adding that as he matures as a racer, he spends less time hunting for powder during the season. "When I was first on the World Cup tour, I spent a lot of time powder skiing and exploring, but I also expended a lot of energy doing it. I still go out and freeski when it's really good, but I pick and choose more when I do that."
Ganong is also aware of the heightened pressure that an Olympic season brings. Every four years, the media attention around his sport increases, training sessions become more intense and there's a palpable sense of urgency to perform. Particularly in the United States, Olympic medals define careers.
"It's pretty crazy how big ski racing is in Europe, but in the U.S., all people really care about are Olympic medals," Ganong says. "Every four years everyone cares, and all the attention is kind of pointed in your direction."
Ganong was pleased with his results in his first Olympics. But the fact that he was less than a half-second from the bronze medal left him hungry for another shot. And with the margins among the men's downhill field narrower than ever, Ganong hopes that the work he put into improving his starts this past summer will give him an edge.
"I've been losing a lot of time over the years on the first five seconds out of the start. I never really thought about it much, but it's an easy place to gain time, and it's important because the field is super stacked right now," he says. "In the last 15 downhills, there have been 10 different winners. There are guys from every country who can win on any given day."
The margins may be even tighter in South Korea this February. Ganong describes the downhill track as shorter, flatter and less extreme than a challenging World Cup venue such as Kitzbühel, which is known for its hair-raising steeps, hard-banking turns and leg-testing compressions.
McBride, the U.S. Ski Team coach, thinks the course suits Ganong's strengths, like his ability to glide on flat sections and his light touch on his edges. "Travis excels on terrain like Korea," McBride says, adding that Ganong "has the talent, technique and tactics to put him in a place to contend for a medal."
Ganong skis powder last winter at his home mountain, photo courtesy Squaw Valley Alpine Meadows
Ski Racing Future
While Ganong has his sights set on the 2018 Olympics—and the 2022 Beijing Winter Games after that—he's already looking ahead to his future after ski racing.
He's slowly chipping away at a degree in ski business and resort management from Sierra Nevada College, which he hopes to parlay into a post-racing career at a Tahoe resort. He'd also like to get into filming. He's filmed a bit with Warren Miller Entertainment and Sweetgrass Productions when not racing, tapping into his freeskiing roots on the big mountains of Alaska and Argentina.
Cody Townsend, who grew up racing at Squaw Valley before becoming an accomplished freeskier, thinks Ganong's talents would transfer well to filming.
"If Travis hung up his downhill boards today, he'd be one of the better big-mountain skiers in the world tomorrow," says Townsend, who regularly appears in Matchstick Productions films. "Even though backcountry big-mountain skiing takes a high level of experience and mental preparation, Travis' pure physical skills on a pair of skis could put him on any film trip with any film crew."
To illustrate his point, Townsend tells a story of the time he watched Ganong ski Eagle's Nest at Squaw—the steep, rocky fin that looms over KT-22, also known as McConkey's. While most who are brave enough to ski it slowly work their way down the sixty-plus-degree face, Townsend says Ganong attacked it like there was a racecourse set on its rocky pitch.
"Despite that face being skied hundreds of times before, no one had ever made controlled, powerful and aggressive turns down it like Travis had that day," Townsend says. "You could instantly see that his world-class ability on a downhill course translated to how he freeskied the mountain."
Although Ganong still feels the pull of the freeskiing world, he knows there's time to tackle big-mountain terrain later. He's a ski racer for now, and he can think of no better career choice.
Ganong shares the words of wisdom from one of his childhood idols, Marco Sullivan, who put in perspective life as a World Cup ski racer after he retired in 2016.
"Marco told me the best advice when he said, 'This is the best lifestyle you could ever imagine, and you should do it as long as you can—as long as you're competitive and healthy and having fun. The real world is not like this.' So I realize that I'm pretty lucky to travel all over the world and ski at amazing places and race downhill on these tracks that are perfectly prepared for us to go fast down."
Plus, Ganong adds, it's great fun.
"It's such a big rush," he says. "Racing downhill is the biggest adrenaline rush I've ever felt on a pair of skis. You're going upwards of 100 miles per hour off big jumps, with thousands of fans cheering for you at the bottom."
Come February, Ganong hopes to blaze across the finish line in South Korea to the sights and sounds of cheering fans waving American flags, his winning time flashing across the large screen.
He has as good a chance as anyone.
"If Travis is in a confident place mentally and has all his gear sorted out, likes the course and has a good start position, we are in the driver's seat," says McBride. "We have no control of the other athletes, but if Travis has all his ducks in a row, he can win."
---
Tahoe Quarterly editor Sylas Wright has followed Travis Ganong's racing career since his high school days. 


Travis Ganong sports a United States Olympic Team sweatshirt in front of the Gold Coast Funitel at Squaw Valley in October 2017, photo by Sylas Wright