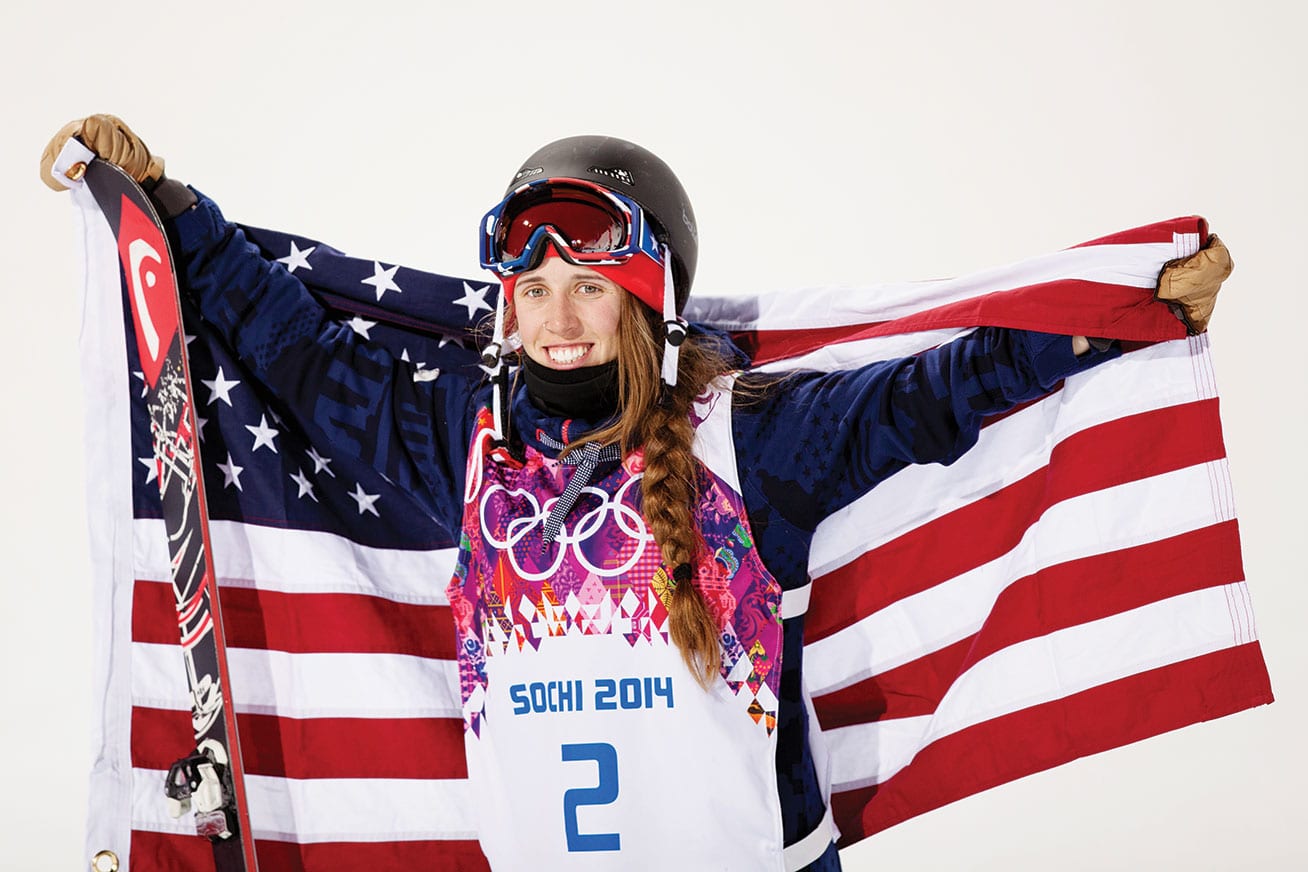 Gold medalist Maddie Bowman at the 2014 Winter Olympics, photo by Sarah Brunson, courtesy USSA
01 Dec

Maddie Bowman Looking to Defend Halfpipe Gold
South Lake Tahoe native enters this Olympic season as the skier to beat in the women's halfpipe

Bowman reacts after winning a gold medal in the 2014 Sochi Winter Games, photo by Sarah Brunson, courtesy USSA
Defending Olympic gold medalist Maddie Bowman knows a repeat performance in the women's ski halfpipe will be tricky business at the 2018 PyeongChang Winter Games.
"The women's halfpipe field has really taken off lately," Bowman says. "Everyone is skiing super well and has the potential to get on the podium at any time."
That includes Bowman, who's been in the vanguard of women's ski halfpipe progression since she was a senior at South Tahoe High School. Her seven Winter X Games medals and Olympic gold in ski halfpipe's 2014 Olympic debut suggest the Tahoe native is a heavy favorite heading into the 2018 Winter Games.
But the 23-year-old knows her competitors have improved along with her over the past four years, and that they'll be gunning for her in South Korea.
In fact, some of Bowman's stiffest competition comes from her own U.S. teammates, like Brita Sigourney—who hails from the central California coast but grew up skiing in Tahoe—as well as Devin Logan, Annalisa Drew and Carly Margulies.
On the international front, Olympic silver medalist Marie Martinod of France, bronze medalists Ayana Onozuka of Japan, Virginie Faivre of Switzerland and Cassie Sharpe of Canada, among others, have all shown the ability to win gold in any given event. Estonian slopestyle specialist Kelly Sildaru, who will celebrate her 16th birthday during the PyeongChang Winter Games, was thought to be an upcoming threat in the halfpipe before a knee injury in September likely ended her season.
"I've been seeing a lot of girls going bigger, just bigger tricks both ways, both natural and unnatural, really just pushing themselves in all directions right now. The sheer volume of really good runs out there right now is pretty impressive," says Bowman, who rebounded from her own season-ending injury in 2015, when she suffered a torn anterior cruciate ligament and microfracture to her right knee.
Yet, Bowman, who has fully recovered from her knee injury, remains the skier to beat entering this Olympic season. And while she's well aware of the challenges that lie ahead, she's consistently proven that she's game for the competition.
Bowman landed in the spotlight at age 18 during the 2012 Winter X Games. She took silver that year in the halfpipe and followed up with four consecutive X Games golds, becoming the second skier to achieve such a feat. Bowman also became the first woman to land a switch 900 in halfpipe competition.
Amid her X Game reign, the then-20-year-old captured an Olympic gold by landing two 900s to cement a 3.6-point victory over Martinod.
"As a returning medalist, there's a bit more pressure that comes with that. When I went into my first Olympics, I was just bright-eyed and bushy-tailed, and you start to feel the pressure a little bit more as people grow their expectations of you," Bowman says. "I'm just trying to remember that it would be great to win another one."
While Bowman is reluctact to tip her hand in regards to new tricks, her U.S. coach, Ben Verge, says he expects her to go bigger than in previous years and throw some variation into her runs.
"Maddie has been really focusing on changing it up a bit this year," Verge says, adding, "I would always expect to see the typical, consistent and powerful Maddie that we are used to."

Bowman competes at the 2015 Winter X Games, courtesy Sierra-at-Tahoe
Halfpipe Homage
Women's competitive halfpipe skiing began with a Canadian skier named Sarah Burke, who used to sneak into the snowboard halfpipe when she was coming up as a moguls skier.
A pioneer of halfpipe skiing, Burke successfully lobbied for a women's event to be added to the 2005 Winter X Games lineup. She went on to claim five X Games gold medals and launch a campaign to bring women's halfpipe skiing to the Olympics.
"She was the girl whose poster you wanted on your wall," Bowman says. "She was a great skier and she pushed so hard to get us in the Olympics and the X Games."
Tragically, Burke died in 2012 following a training accident in Utah, two years before seeing her dream of Olympic pipe skiing come to fruition.
Her passion and influence live on through competitors like Bowman.
"She was a pretty humble person, but I think a lot of that credit fell on her for inspiring us for so many years," Bowman says. "Both skiing alongside her and skiing without her have really pushed us to progress our sport. It's something that's brought us closer together as a group of women who compete against each other, and it's brought us together as friends."
Bowman remembers the first time she met Burke. A newbie on the X Games scene, Bowman was nervously waiting at the bottom of the snowmobile line, too shy and scared to talk to anyone.
"Sarah came up to me and introduced herself and asked me my name and where I was from, and that just made my whole night," Bowman says.
Bowman made a point to thank Burke for talking to her. Despite feeling like a bit of a "goober," Bowman says she told Burke how much she looked up to her.
"After we lost her, I was so glad she knew how much I appreciated her as a role model," Bowman says. "I think she would be pretty proud of the progression. I think most girls who have retired and were her friends are pretty proud of the progression of women's skiing."
Bowman chats with a young fan at a U.S. Grand Prix autograph signing event at Mammoth Mountain, courtesy USSA
Steady as She Goes
Bowman has been on skis most of her life. It started on her second birthday, when her parents—both of whom were competitive ski racers—sent her down a small hill behind Sierra-at-Tahoe's lodge. Bowman competed throughout her youth, advancing through the resort's racing program, from Rippers to Buddy Werner to the Foundation, before making the switch to freeskiing.
"She always wants to ski, and that isn't always the case with athletes," says Verge. "She is a skier, through and through. As a coach and a skier myself, I have to say that is enjoyable."
This love for skiing, in part, has helped Bowman become one of the most decorated female freeskiers in the world.
Bowman skis powder at her home resort of Sierra-at-Tahoe, photo by Brian Walker, courtesy Sierra-at-Tahoe
"Ever since Maddie got her first major podium at Dew Tour Killington in 2012, she has been among the forefront of women's halfpipe skiing," says Bowman's halfpipe training partner and friend, Kyle Smaine. "In the last four years, Maddie has been among a select few who have been consistently on major podiums every season and even debuting never-before-done tricks to the women's field."
Smaine and Bowman grew up a few miles from each other in South Lake Tahoe, both training at Sierra-at-Tahoe and competing together at the same venues in high school. Smaine, who is also an Olympic halfpipe contender after making the transition from racing, watched his childhood friend continually separate herself from the rest of the competition.
"I am a sucker for consistency," Smaine says. "For me, the most impressive aspect of Maddie's skiing is how consistently she can land her hardest runs, regardless of the weather or what is at stake."
Plenty of talented skiers can land some of the sport's hardest tricks on their best days, Smaine adds, but Bowman links together the hardest tricks consistently on any day.
"That ability to turn it on and perform on any given day, even in subpar conditions, is what separates the elite," Smaine says, "and Maddie has that ability."

Bowman and Kyle Smaine entertain at the Subaru Winterfest in Sierra-at-Tahoe's Broadway park, photo by David Amirault, courtesy Sierra-at-Tahoe
Paying it Forward
Bowman is using her platform as one of the world's elite halfpipe skiers to be a positive influence in her sport and to future generations.
She partnered with Protect our Winters, a nonprofit environmental organization mobilizing the outdoor sports community to lead the charge toward positive climate action. Bowman, who is a biology major at Westminster College in Utah, uses her Olympic platform to educate kids about climate change during school assemblies.
"I truly believe that climate change is going to be one of the greatest issues that our generation and the generations younger than us will face," Bowman says. "It's happening, and it's something that we should take very seriously."
Bowman also hosts an all-female ski and snowboard event every spring at Sierra-at-Tahoe called Recess. The event provides a venue for women's progression outside of the competition scene.
"Not many people who have had the success and spotlight Maddie received through the last Olympics have remained so humble, and also reached out to give back to the community and be positive role models for the next generation," says Smaine.
Bowman makes no predictions entering the PyeongChang Winter Games. But one thing is for sure: She will bring her A game.
"Every day has its new challenges, and I don't know what I'm going to need in my toolbox when I get there, but we'll see."
---
Becky Wright is a Truckee-based writer and former sports editor. She's been known to go big enough in the halfpipe to cleanly peek over the wall.