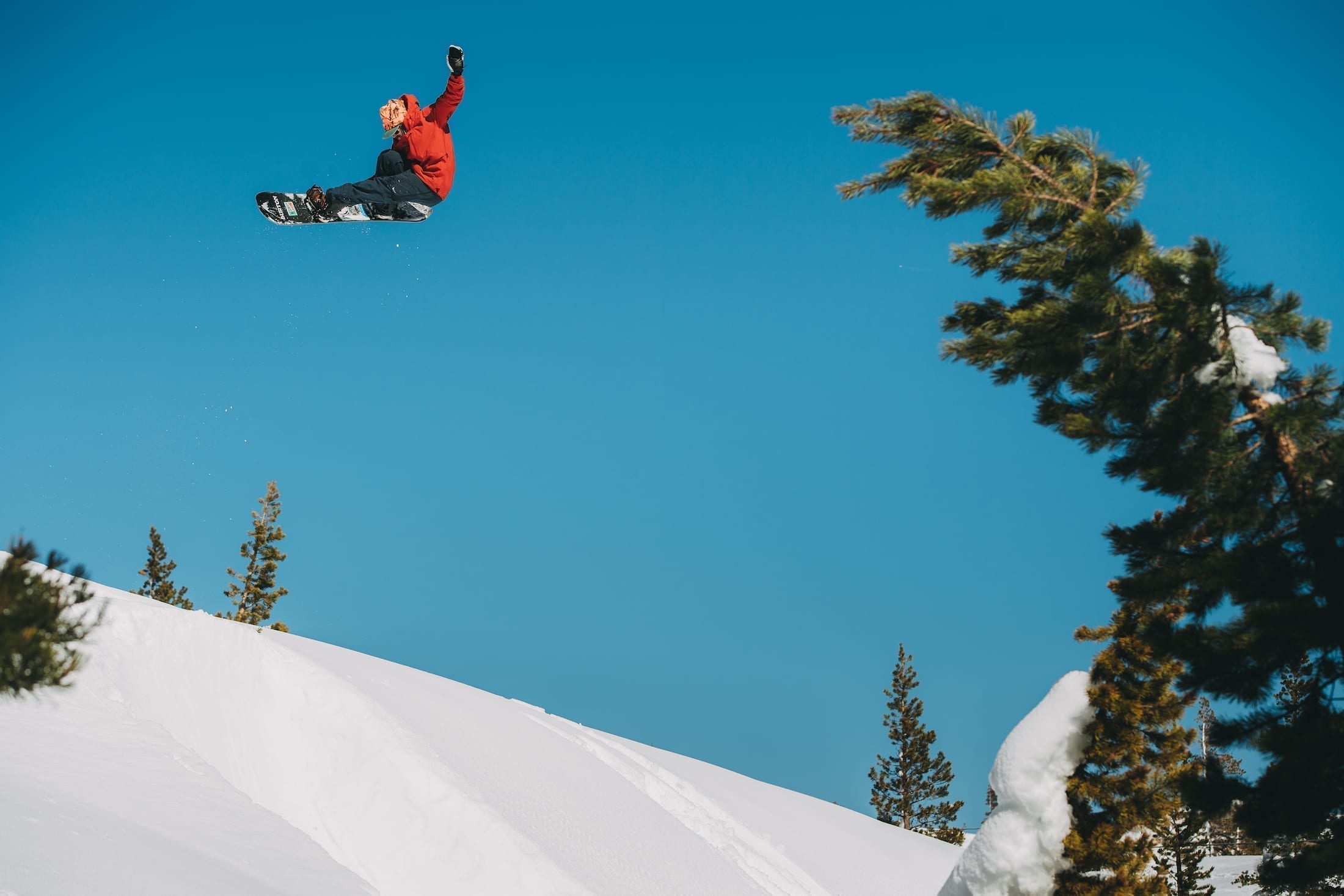 Truckee's Danny Davis airs out of a quarterpipe in the Donner backcountry, photo by Dean Blotto Gray
01 Dec

Danny Davis a Master of Snowboard Style
One of snowboarding's top talents is looking ahead to a future outside the pipe

Danny Davis, photo by Gabe L'Heureux
For someone who has lived his life in the snowboarding spotlight, Danny Davis seems utterly comfortable sipping coffee in a tucked away corner of downtown Truckee's Dark Horse Coffee Roasters.
It's a crisp October day, a world away from screaming X Games fans and the international stage of the Winter Olympics. The leaves have fallen from most of the cottonwoods along the Truckee River and the feel of winter is in the air. But for now, Truckee is stalled between summer and winter—that glorious transition where everything slows before the onslaught of snow.
Davis is in transition himself. A Truckee resident for the last decade, the Michigan native has become one of the most accomplished and recognizable halfpipe snowboarders in the world. He's stood on X Games podiums, won the Dew Tour and Grand Prix events, and competed in the 2014 Sochi Olympics.
Up until now, his career has been a state of almost perpetual motion—a blur of boarding and disembarking planes chasing snow around the globe, dropping into foreign halfpipes with TV cameras trained on every spin and grab. He's experienced the sport's highs—back-to-back X Games gold medals—and body-battering lows—a litany of injuries including a broken back, pelvis and femur.
Today, he seems totally content to be home for a rare break, healthy and looking ahead to what could be one of his last halfpipe seasons. It could include a final Olympics appearance if he competes well against a stacked class of younger halfpipe competitors.
"He's been putting in the amount of work that he needs to," says Jack Mitrani, a close friend and former competitive snowboarder. "He's riding incredibly well. He's at the top of his game.

Davis in the Donner backcountry, Dean Blotto Gray
Backcountry Calling
But the true transition is what happens after this season. Davis is aware that there's an expiration date on competitive halfpipe riding. As a 29-year-old veteran, in a sport where youth is an almost insurmountable advantage, he's already arrived at contests to find himself the oldest in the field. He's not waiting until his contest days are over to think about what's next.
"My body, at some point, does not like to land flat in the halfpipe," says Davis.
Like snowboard greats Craig Kelly, Terje Haakonsen and Travis Rice before him, Davis is clearly looking toward the backcountry as the new frontier for his snowboarding career.
"The thing that I love about backcountry, whether it is snowmobile, on foot or heli, is you get to ride different stuff," says Davis. "Let's be honest, riding halfpipe and doing tricks is never going to give you that feeling of riding pow."
For a rider who has spent the majority of his snowboarding career within the confines of a 22-foot-deep snow ditch, the freedom of exploration in the big mountains is an intoxicating new challenge.
Last season, he rode backcountry Eastern Sierra terrain on a seven-day mission through rugged 13,000-foot peaks with fellow snowboarder and roommate Nick Russell. He summited and snowboarded Mount Shasta with big-mountain legend and Truckee neighbor Jeremy Jones. In the process, he fell in love with splitboarding.
"Getting out on foot is just cool to me," says Davis. "That is something you can do forever. Now that I know about touring, I can snowboard forever."
Longevity in the sport has also clearly been on Davis' mind. On a recent backcountry trip with snowboard pioneer and Truckee resident Jim Zellers, Davis says he topped out on a 13,000-foot peak near Bishop a little bit tired from the ascent. Zellers, a tireless backcountry rider, was already up top, and started reminiscing that the last time he summited the peak was 25 years ago.
For Davis, that moment was enlightening. It showed him that the backcountry unlocks the ability and the inspiration to continue pursuing snowboard passionately for decades.
"He's my idol—to snowboard as long as he has and enjoy it," says Davis.
The loyal Davis fans who have admired his effortless style in the halfpipe are now waiting to see how his skill and creativity translates into a freeride future in the sport.


Davis rides above Lake Tahoe, photo by Dean Blotto Gray
Style Master
Davis' legacy in halfpipe snowboarding is secure, whether he adds to it with an Olympic medal or not.
At a time when snowboarding appeared to be trending uncomfortably close to gymnastics—with an obsession over flips and spins—Davis almost single-handedly helped nudge it back toward its roots. With artful, deceptively simple-looking tricks like enormous switch methods, he pioneered a convergence of style and technical tricks that balanced the sport's style-heavy skating roots with its acrobatic future.
"In the 2014 X Games, that is when Danny showed the rest of the world that you are not going to win with just double, double, double," Mitrani says of the revolutionary run that Davis put down, moving away from a singular focus on the double cork (multiple spins while simultaneously flipping twice). "He's a pioneer."
That showcase of style coupled with technical tricks left an indelible mark on the sport.
"I think Danny, in a way, has saved halfpipe snowboarding," says Chas Guldemond, a longtime Truckee snowboarder and Olympian. "He is one of the only riders out there that makes me want to ride halfpipe, or even watch it."
As effortless as Davis' snowboarding can look to an audience, it takes years of demanding training to perfect. And Davis has dedicated himself to becoming a master of nuance—tweaking a method an extra degree or two, laying out a McTwist in a way that makes it stand out in a field of riders throwing the same trick.
"Watching Danny snowboard is like listening to a good Led Zeppelin song," says Guldemond, who is also competing for a spot on the U.S. Olympic team in slopestyle.
Olympic Focus
Davis has a recipe for halfpipe success this year. It is to stay healthy and go as big as possible with as much style as possible. How judges weigh that approach versus the flips, spins and acrobatics of other riders will most likely determine whether he makes the Olympic team or medals in the X Games.
"I want to stay healthy. I don't want to get hurt. I don't need to try the next best trick and sacrifice that," says Davis.
While the Olympics might seem to be the obvious focus for this season, Davis has mixed feelings about the event. He missed the 2010 Vancouver Games because of a broken back suffered in an ATV accident leading up to the contest—at a time when he was among a select few riders in the world landing the sport's most progressive trick, the double cork. And the 2014 Sochi Olympics was a disappointment because of the condition of the halfpipe, which was widely criticized by the athletes. He finished 10th in that event.
"The last Olympics I went to was a very, very budget contest. They were not focused on making the best halfpipe possible. To spend an entire year, and even the year before, focused on this contest, and investing time and money getting there, and then for them to put together a half-assed ditch, it was a really big disappointment," he says.
Davis does not have the same concerns about the Olympics in South Korea this winter. All indications are that the organizers are putting their full focus on making a world-class halfpipe.
"It is going to be a good pipe," says Davis.
The international reach of the Winter Games makes it an event that has incredible influence. But Davis makes it clear that snowboarding is not a sport that people just tune into every four years. The other contests on the schedule keep the sport alive and vibrant.
"Swimming, track and field, when do you ever watch them except for the Olympics? Snowboarding, you get to see it every year, not just every four years," says Davis.
He says the Olympics will be an incredible display of talent, with a strong American team battling it out with countries like Switzerland, Australia and Japan that can legitimately compete for Olympic gold.
"The Olympics is a great stage for the sport to grow," says Davis.


The Frendly Gathering music festival put on by Danny Davis and Jack Mitrani hosted 26 bands and DJs last year, photo by Jesse Dawson
The Many Faces of Danny Davis
Somehow, in the midst of the unrelenting schedule of a world-traveling snowboarder, Davis has developed into a multi-talented athlete with his hands in a surprising number of projects and passions.
Every summer he and Mitrani put on a growing music festival called the Frendly Gathering. The festival hosted 26 bands and DJs last year, including Yonder Mountain String Band, over three days in Sugarbush, Vermont.
Davis also founded the Peace Park, a mind-bending snowboard playground he helps create each year to showcase the most creative elements of freestyle snowboarding. He brings together some of the world's best riders to session the Peace Park, which incorporates elements of halfpipe, boardercross, quarterpipe and slopestyle into a Seussian snowboarder's dream.
He helped found a headphone company, returning to entrepreneurial roots that started early when he paid for his first plane ticket to a snowboard competition by knitting and selling snowboard hats.
And he creates side-splittingly funny videos with Mitrani under the banner of Frends Vision. In some, he re-creates Dumb and Dumber movie scenes with uncanny accuracy. In others, he is a zany, overzealous telemarketer or a Kimono-wearing Zen master.
"If Danny wasn't a snowboarder, he would be an actor. He is the funniest guy I know," says Mitrani.
In short, the kid from Michigan, who Mitrani remembers showing up to the hill with bright orange earflaps covering his headphones, has created a career where he can march to the beat of his own drum and explore the creative muse wherever it leads.

Davis rides in the Peace Park, a snowboard playground he helps create each year to showcase the most creative elements of freestyle snowboarding, photo by Dean Blotto Gray
A Future Outside the Pipe
There is no question that Davis will continue bringing creativity and originality to the sport. This year, it will be as the elder statesman of halfpipe riding. But in the future, he seems set on charting his own course outside of the halfpipe.
Davis dreams about buying a piece of property on the edge of the wilderness—a place where he can splitboard out his back door to wild snow and pristine peaks.
He wants to dedicate a full season to a video segment, slow down and spend less time on an airplane and more time seeking out quality lines.
That might be the next incarnation of halfpipe snowboarding's king of style—untracked lines on backcountry peaks far from the spotlight of the X Games or the Olympics.
"The more and more I ride good snow, the less and less I want to fill my entire season with contests," says Davis.
There will continue to be those passion projects—Peace Park and the Frendly Gathering. And those could take on a new life of their own.
But in the meantime, Davis seems to be following the advice he gives to younger riders when they come to him asking for his thoughts.
"Do it all. That is how you have a good career," he says.
There are few, if any, rules in snowboarding. Unlike Olympic sports like figure skating and gymnastics, where there is a textbook way to land tricks or hold your body, snowboarding is still a wild, raw, creative sport. It is within that stylistic freedom that Davis has thrived.
"You don't want the sport or the contests to just be a bunch of guys doing all the same tricks," says Davis.
Likewise, there is no cookie-cutter career path for Davis at this stage of his evolution as a snowboarder. Like riding a backcountry peak or landing a new trick in the halfpipe, the future is wide open with possibility.
That future might take him to the Olympics or to remote Alaskan mountains, or both. But it's clear that Davis will navigate that future with the same dedication to snowboarding's past and future that he has honored throughout his career.
"The future of Danny Davis is him disappearing for long periods and just snowboarding," says Mitrani.
Look for him beneath the bright lights of the 2018 Winter Olympics, but also look for him on some snow-clad backcountry peak around Tahoe.
If you spot a bearded, wild-haired rider boosting off a natural feature, hand raised and board tweaked behind his back in one of the most otherworldly methods you've ever seen, that might just be Davis letting loose, and loving every second of it, no camera in sight.
---
David Bunker is a Truckee-based writer, snowboarder and former neighbor of Danny Davis. He once chickened out on hitting a jump that Davis built in his backyard.