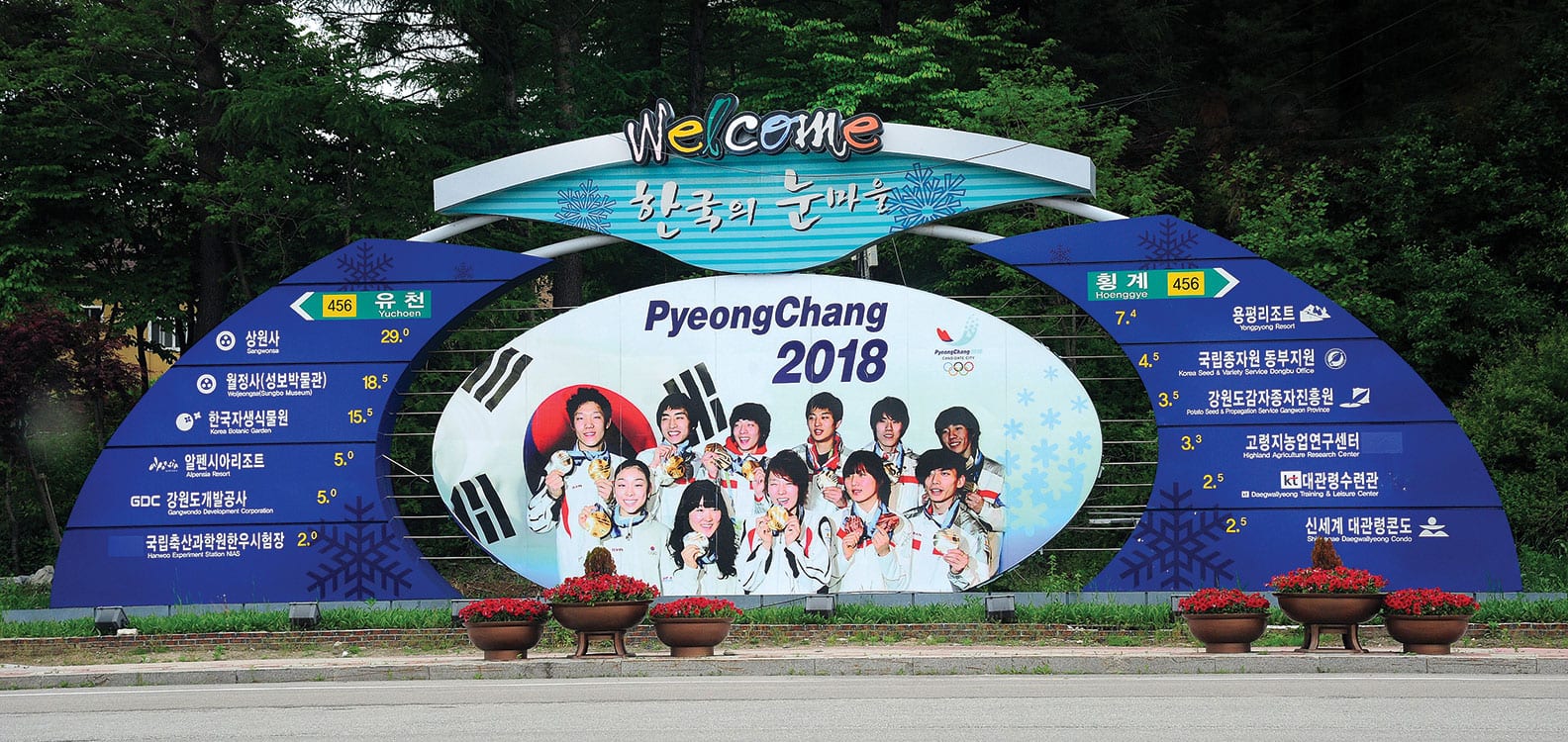 A sign welcomes guests in PyeongChang, South Korea, site of the 2018 Winter Olympic Games, photo courtesy USSA
01 Dec

Ready for the Games
Tahoe Olympians discuss ski and snowboard venues ahead of the PyeongChang Winter Olympics
Brita Sigourney doesn't mince words.
"Sochi was the worst halfpipe I've ever skied," says Sigourney, a three-time World Cup winner in women's ski halfpipe. "[PyeongChang's] is the best."
The 27-year-old U.S. freeskiing veteran—a native of Carmel, California, who grew up skiing Tahoe and specifically Alpine Meadows—compared the site of the 2014 Winter Olympics, in Sochi, Russia, with the site of the upcoming 2018 Games in PyeongChang, South Korea. Sigourney finished sixth in the 2014 competition and sixth at a test event in February 2017 at PyeongChang's Phoenix Snow Park.
"The halfpipe in Sochi was really almost un-skiable," Sigourney says. "It was super slushy and warm, and falling apart under us. It was awful for our practice runs."
In contrast, Sigourney's visit to Korea in early 2017 was night-and-day different, despite the Phoenix test event being held under similar, warm conditions. Temperatures were in the 40s.
"The pipe was really good and held together nicely," Sigourney says. "The only snow at the resort was on the runs, so you could tell it was man-made, but they did a really good job with it."

Brita Sigourney trains in the halfpipe at Park City in 2016, photo courtesy USSA
Critically Important
While the events at Phoenix—skiing and snowboarding's halfpipe events will be held there, as well as slopestyle events for both disciplines—aren't the only show at PyeongChang, they'll be under a microscope, especially back in the United States.
In 2014, U.S. athletes won almost half of their nine gold medals on the halfpipe and slopestyle courses.
In that year's Winter Olympics, Reno's David Wise topped the podium in the men's ski halfpipe, South Lake Tahoe's Jamie Anderson and Maddie Bowman won the women's snowboard slopestyle and ski halfpipe, respectively, and Utah's Joss Christensen won on the men's ski halfpipe. The events—skier halfpipe and slopestyle for both skiing and snowboarding were new to the Olympics in 2014—buoyed the U.S. to a fourth-place overall finish in the gold medal count.
What's almost as amazing as the performances, however, was the fact that they came under such adverse conditions.
Sigourney's complaints represent the norm from American athletes. Shaun White—a two-time Olympic medalist who is largely understood to be the greatest men's snowboard competitor of all time—backed out of the slopestyle event beforehand, citing the possibility of injury. Numerous athletes took to Twitter to call out both the halfpipe and slopestyle courses. As a result, the International Ski Federation (FIS), which oversees both sports, jettisoned the park's builder, New Zealand–based Development Snowparks, in favor of a joint Austrian-American outfit for the upcoming Games. The crew, comprised of Austrian Albert Zehetner and Americans Jake Ingle and Mark Pevny, built the Phoenix Snow Park features for the 2017 test events and, like those from Sigourney, earned rave reviews.

American Kaitlyn Farrington airs out of the halfpipe at a test event before the 2014 Sochi Winter Olympics. The Sochi halfpipe, built by New Zealand–based Development Snowparks, was widely criticized by athletes, photo courtesy USSA
"The pipe was incredible; the best halfpipe we'd ridden all tour," says Ben Wisner, the director of Mammoth Mountain's freeski and snowboard program, and coach of the Sierra Nevada resort's elite-level snowboard halfpipe team. "They put a lot of effort in out there to make it great."
Wisner—whose snowboard team includes a halfpipe gold medal favorite in 17-year-old Chloe Kim, and who coaches a potential podium contender in 17-year-old Maddie Mastro—accompanied a handful of his athletes to Phoenix in mid-February 2017.
"The venue was well-run," Wisner says. "They had local people turning up to watch the event, which made the finishing area fun. There was a lot of music and animation from the crowd… The organizers were on-point with everything."
Because most of the snow for the park is man-made—the PyeongChang region averages about 67.2 inches per winter, as opposed to, say, the Tahoe region's 300-plus inches—the halfpipe was cut at 550 feet in length as opposed to a more standard 600. But Sigourney says the change was fine.
"I actually like a shorter pipe. I took a hit out of my run and it flowed a lot better," she says. "They really had it dialed."

The Olympic freestyle, freeskiing and snowboarding venues at Phoenix Snow Park near PyeongChang, South Korea, photo by Tom Kelly, courtesy USSA
Small but Mighty
Undersized and "dialed" would also describe the Jeongseon Alpine Centre, where ski racers will take to the mountain for the vaunted downhill race. Among them should be Travis Ganong, the Squaw Valley speed skier who took fifth in the downhill in Sochi and has high aspirations for Korea.
Ganong tested out Jeongseon in February 2016, finishing 22nd in a World Cup event there. The course's total vertical drop is 2,707 feet—barely clearing the FIS minimum of 2,625 vertical feet over 1.775 miles. By comparison, Sochi's downhill course was a marathon, covering 3,537 vertical feet over 2.2 miles. Jeongseon's course could open the field to a huge number of competitors, Ganong says.
"There are a lot of people who can win," he says. "There's a field of 50 or 60 guys, and probably 30 of them can win, which is insane. So nothing is a given, especially when you go to Olympic venues that are brand-new tracks that not a lot of people have experience on."
He adds that the Korean track is relatively flat, "so there's no room for error at all. You have to have a perfect run because the margins are going to be even tighter because there's no gnarly, scary section to separate people. So it will be an interesting race for sure."
Ganong compares the downhill track in Korea to a boardercross course, with flowy lines and jumps as opposed to the more steep, technical downhills on the World Cup circuit.
"It's nothing like Bormio [Italy], KitzbÜhel [Austria], Garmisch [Germany], Beaver Creek [Colorado]. It's fun to ski; it's just a different downhill," Ganong says. "And that's also why downhill is such a cool event, too, is because it's always different. Every race course, and every day given the conditions and snow, it's constantly changing. So you have to really adapt to the different conditions to be a well-rounded downhiller."
As with the freeskiers and snowboarders, Ganong encountered PyeongChang during a dry, snowless stretch, though he skied the course in "bitterly cold and windy," negative 20-degree conditions.
"It's weird going to a Winter Olympics in a place that doesn't get a lot of snow," he says. "And it's really dry, too, so it's kind of similar to Colorado—dry and grippy. It's actually really good for downhill skiing. I like that kind of snow. It's like Beaver Creek snow. The skis react well and it makes for a really fair race."

Gondolas travel up to the Phoenix Park, site of the freestyle, freeskiing and snowboarding 2018 Olympic venues at PyeongChang, South Korea, photo by Tom Kelly, courtesy USSA
Winter Warmth
While the weather may or may not be cold this February, the people in Korea were warm to visiting athletes, Sigourney says.
"The people were just so welcoming and nice. Everyone you met at the venues, at the hotels, at the restaurants, were so kind. It was a big change from Sochi, in terms of friendliness," she says.
Transportation to and from the park was timely and easy, Wisner says, adding "and the food was really good."
As PyeongChang prepares to receive the world with a smile, the thought and planning that's gone into the Winter Olympics has already gone a long way to convincing the athletes and their coaches that it's ready for the rings.
---
Kyle Magin is a San Diego–based writer and editor who is most looking forward to the halfpipe competitions in skiing and snowboarding. Tahoe Quarterly editor Sylas Wright contributed to this article.