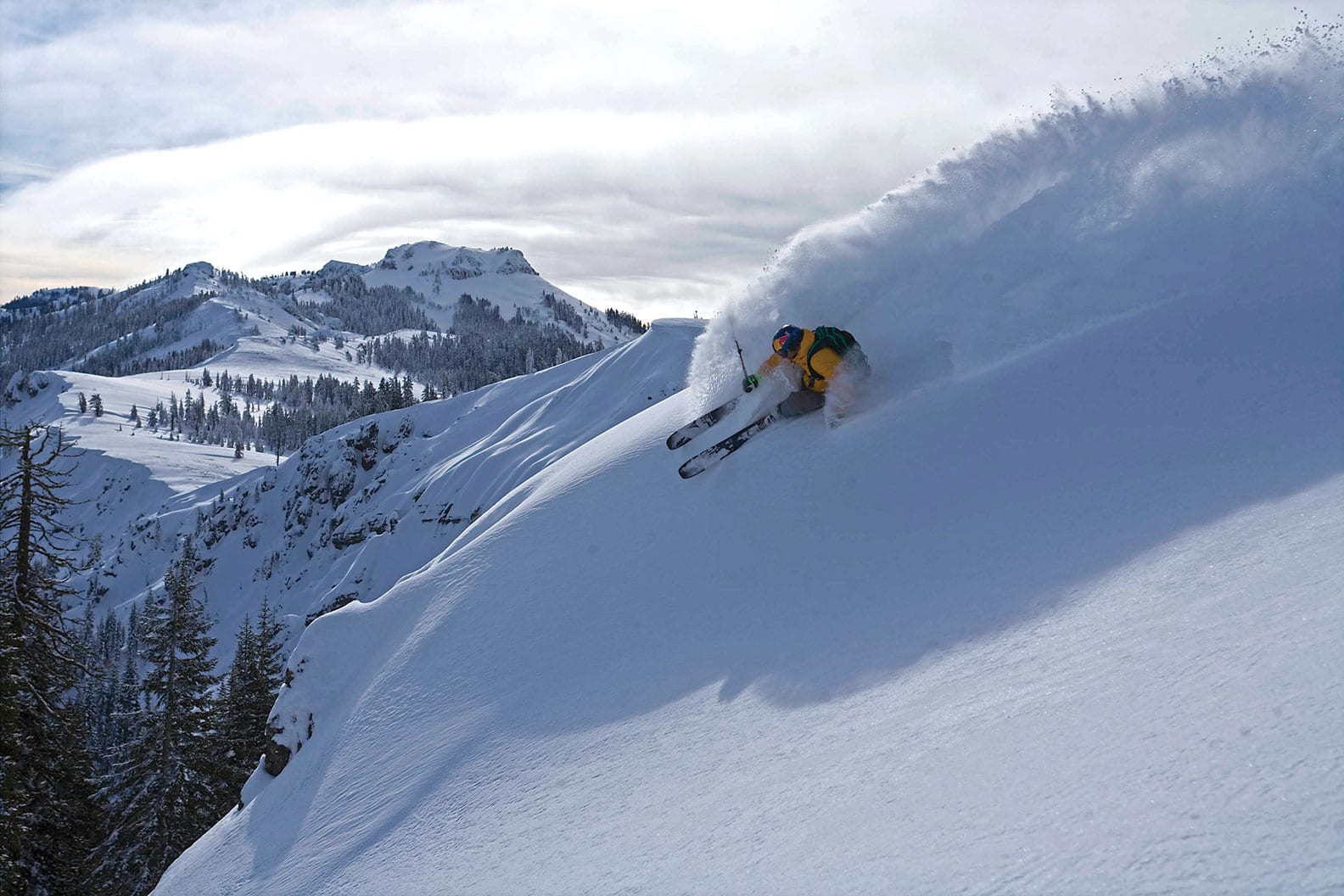 Daron Rahlves slashes a fresh turn at Sugar Bowl, where he serves as the Donner Summit resort's ski ambassador, photo by Grant Barta, courtesy Sugar Bowl
01 Dec

Retirement Rahlves–Style
A decade after retiring from alpine ski racing, Truckee's Daron Rahlves is still pursuing fresh adventures


Daron Rahlves, photo by Darren Carroll, courtesy Red Bull
For the average person, the highlight of retiring is hanging up the boots in exchange for a life of leisure, far removed from the competitive work world. But Daron Rahlves is not the average person.
Retiring from alpine ski racing at age 33 opened the door to an expansive realm of opportunities for the four-time Olympian, none of which involved lounging idly around his Truckee home.
Freed from the regimented routine of World Cup racing, retirement allowed Rahlves to pursue fresh forms of competition and new adventures, with time on the side to spend with his family and play in the outdoors.
Yes, Rahlves has quite enjoyed his retirement—or, as he prefers to call it, his "transition," which he's proud to have made on his own terms.
"I didn't want to get pushed out of downhill skiing by injury," says Rahlves, who, more than a decade after his last alpine race, remains one of the most decorated male downhill skiers in U.S. history, with 12 World Cup victories and 28 podium finishes. "I walked away from the racing world with a good taste in my mouth, without injury, and still passionate about the sport."
While he now describes himself as a "mellow daddy skier," Rahlves' version of mellow, much like his definition of retirement, differs from the average person's.
Athletic Upbringing
Athleticism runs in Rahlves' DNA. His parents and grandparents all skied; his father, Dennis, also was a professional waterski jumper, setting a world record in 1965 by jumping 159 feet.
Born and raised in the San Francisco Bay Area, Rahlves and his family spent summers at their second home on Clear Lake, where Rahlves participated in a variety of sports, including tennis, waterskiing, jet skiing and motocross. On winter weekends, the family drove to Tahoe to ski. That's where Rahlves discovered his need for speed.
"I had that desire to go fast from a very young age and craved that ultimate experience of shredding down the mountain," says Rahlves, who was on skis by age 3 and, along with his sister, Shannon, competed throughout his youth on the Alpine Meadows and Squaw Valley race teams.
At age 14, Rahlves enrolled at Vermont's Green Mountain Valley School (GMVS), a college preparatory school known for producing elite U.S. alpine racers. In 1993, two years after graduating GMVS, Rahlves joined the U.S. Ski Team. His sister, who is two years younger, also attended GMVS before skiing for the University of Colorado Boulder, where she helped lead the Buffaloes to an NCAA title.

Daron Rahlves celebrates a World Cup victory with U.S. teammate Bode Miller in Beaver Creek, Colorado, in 2005, courtesy USSA
World Cup Success
Rahlves received his first World Cup start in the super G in 1994. He earned his first victory six years later in Kvitfjell, Norway, when he won the downhill on consecutive days. His results steadily improved as he gained experience and strength, which he achieved through a tireless work ethic, says Chris Brigham, a former U.S. Ski Team coach who worked with Rahlves throughout his career.
"He put a lot of time and effort into every aspect of his game, from working on equipment to being in the best possible shape he could," Brigham says. "He did everything he could to put himself in a position to be successful. That's just who he is."
In addition to countless hours of training, Rahlves made up for his relative lack of size compared to other downhill racers—he's 5 foot 8—with a fierce drive to compete, Brigham adds.
"No one else is as big a fighter. He wasn't the best technical skier at the top end, but he made up for it by just being as competitive as he was. He was like that in every sport he did even as a kid, from jet skiing to ski racing. It didn't matter what he was doing; he wasn't going to be last," says Brigham.
Rahlves enjoyed much of his success in the second half of his racing career. In 2003, he became the first American since Buddy Werner in 1959 to win the famously challenging Kitzbühel downhill in Austria. He finished second in the downhill standings that year, and placed second in both the downhill and super G standings in 2004, when he won four races.
While Rahlves was gaining a fan following in Europe, he also was inspiring young ski racers back home in Tahoe. The now-retired Marco Sullivan, who grew up racing at Squaw Valley and went on to compete in three Winter Olympics, was 15 when he began to hear about Rahlves' victories on the World Cup circuit.
"He was the local hero at that time, in our little ski world," says Sullivan, who viewed Rahlves as more of a mentor than a teammate after joining him on the U.S. squad. "He was older and better. He took me under his wing because we were both from Tahoe, and definitely helped me out quite a bit."
Olympic Disappointment
Rahlves began his Olympic journey at the 1998 Nagano Winter Games, where he placed seventh in the super G.
"I didn't really have much for nerves because I didn't have high expectations," says Rahlves, who was 24 at the time. "I just wanted to go out and ski and get the chance to compete in my first Olympics."
Four years later, Rahlves had considerably higher expectations entering the Salt Lake City Winter Games. He had two World Cup wins under his belt by then and was coming off a World Championship in 2001. But he finished his second Olympics with no medals.
"I felt like it was pretty much mine, and I put a lot of pressure on myself. That was a hard thing. I made a tactical mistake by soaring off the first big jump [in the downhill] and lost over a second from the hang time," says Rahlves, who placed eighth in the super G and 16th in the downhill.
After stringing together the best years of his career from 2003 to 2006, Rahlves had even higher hopes for the 2006 Turin Winter Games. He won the test race on the same hill the year before, had three downhill victories that season and won the first Olympic downhill training run.
"It was a good hill for me. That was my year," he says.
Within 45 seconds of getting in the starting gate, however, Rahlves switched to a different pair of skis. He placed 10th. The decision to change skis at the last minute—in his signature event—still haunts him to this day.
"It was the wrong call," he says. "It was a hard thing because the Olympics are your one chance as an American to really be in the limelight for your sport. Looking back, I wish I had stuck to my own program. That's what I did on the World Cup.
"But then the Olympics come around and you're looking for every possible way to be better, and sometimes you just overdo it."
Rahlves retired from racing after the 2006 season, a campaign in which he earned three wins and was third in both the downhill and super G standings.
"He had a fantastic career," says Brigham. "He may have retired a little too early, but he was fortunate enough to leave the sport when he wanted to, and in one piece. He was able to pursue a bunch of other aspects and keep that competitive fire going—and he's still doing that to this day."
Big-Mountain Calling
Always up for a new challenge, Rahlves transitioned from racing to filming on the big mountains of Alaska. He filmed extensively from 2007 through 2009 with some of the most prominent companies in the industry, including Warren Miller Entertainment, Matchstick Productions and Teton Gravity Research, among others.
Although his racing background helped his cause—carving around gates at 90 miles per hour—freeskiing down some of the most intimidating mountains on earth was a learning experience, he concedes.
"In Alaska, you can never go 100 percent off the top of the peak. You have to be really aware of what's going on, and you're scoping things out and seeing how things are holding up, working your way to islands of safety. So it was an eye-opener," says Rahlves, who took notes from filming veterans such Chris Davenport, Seth Morrison and Ian McIntosh.
"I thought it would be easier. But it's tough. There are high consequences. And I got spanked a couple times. It made me put more time into assessing everything."
In 2009 and again the following year, Rahlves organized the Silver Belt Banzai at Sugar Bowl, where he serves as ski ambassador at the Donner Summit resort.
The event was a twist on the historic Silver Belt race held between 1940 and 1975. Using the same course down the natural terrain of Mount Lincoln, the Banzai race—which was backed by Rahlves' sponsor, Red Bull—pitted six people at a time jockeying for position in a ski cross–style format.
In 2011, Rahlves expanded the event into a series held at multiple Tahoe resorts. He also added snowboard and women's divisions and continued the series through the 2016 season.
"Daron Rahlves' Banzai events are my favorite events I have ever been a part of," says Kyle Smaine, a South Shore halfpipe skier with Olympic aspirations—and regular top contender in the Banzai races.
"Any time I was home and not traveling for a major halfpipe event, I would always sign up and compete in the Banzai. To me, it is the purest competitive event you could do on skis. You go to some of the coolest and gnarliest resorts, pick the best terrain, agree on the course and see who can make it to the bottom fastest."
While Rahlves organized the Banzai Tour, he also raced in it. He was never beaten.


Rahlves shoves out of the starting gate in a 2009 ski cross race, photo by Mike Arzt, courtesy Red Bull
Fun and Games
In addition to filming and running the Banzai Tour, Rahlves tried his hand at the relatively new discipline of ski cross, which was set to make its Olympic debut at the 2010 Vancouver Winter Games.
"For me, there was good money there and it was fun, and it gave me a good opportunity to release some of my competitive energy," says Rahlves, who won the men's ski cross race at the 2008 Winter X Games.
Rahlves qualified for the 2010 Olympic team, but only three weeks before the Games he dislocated his hip in a ski cross crash during the X Games. Although he was back on skis in two weeks, his goal of winning an Olympic medal was dashed when he wiped out in one of the early rounds.
"So then I was like, 'Man, maybe I'm just not cut out for any luck on the Olympic events," he says.
That's not to say that Rahlves won't be cheering on Tahoe's athletes in the upcoming PyeongChang Winter Olympics in South Korea.
He has high hopes for his former U.S. teammate and Squaw Valley racer Julia Mancuso, who won a gold medal in 2006, two silvers in 2010 and bronze in 2014.
"Julia is a gamer. She rises to the occasion," he says. "She's had a tough go physically [in recent years], but who knows? She's a total dark horse. She has the ability and the mind, which is a big deal. She's someone you can't count out, so I'm excited to see what she can do."
Rahlves is also pulling for Tahoe's rising ski racing talents hoping to make their first Olympic team this winter, namely Bryce Bennett and Lila Lapanja.
"Who knows what will happen with Lila Lapanja? She's really committed and working hard in slalom, and it could be a year where she lights it on fire and things come together for her," says Rahlves, adding about Bennett, "He's in a good place. He just needs to make that next step. He has the opportunity and he's a strong skier."
And, of course, Rahlves has his eyes on Squaw Valley speed-skiing specialist Travis Ganong, who placed fifth in the downhill in his first Olympics four years ago.
"If I were to put some money down on someone from here, it would be Travis," says Rahlves. "Sounds like things are going pretty well with his training right now. He knows what to do, so I'm looking forward to seeing what Travis can put together."
As the elder statesman, Rahlves enjoys offering advice to young alpine ski racers from Tahoe. Here he is pictured with Mark Engel and Travis Ganong at the 2013 U.S. Alpine Championships at Squaw Valley, photo by Mark Epstein, courtesy USSA
Family Man
In 1998, Rahlves met his future wife, Michelle, at Bear Bones Physical Therapy in Truckee. Rahlves was rehabbing a dislocated hip and Michelle—who grew up surfing in Southern California—was working the front desk and getting some knee work done herself. Their first date was a U.S. Ski Team fundraiser in San Francisco. They got married in 2003 and in 2007 had twins, Dreyson and Miley.
Like their parents, the twins are athletic and participate in a variety of sports and activities, including soccer, dirt bike riding, BMX, surfing, skateboarding, waterskiing, wakeboarding and lacrosse.
Dreyson and Miley began ski racing in the Tahoe League two years ago. Although they both enjoy the sport their father excelled at, Rahlves says he's careful not to pressure them to follow in his footsteps.
"They're into it. We'll see where it goes. I'm not trying to push them. I just want them to have fun with it," he says. "I want them to just be good athletes first and do a lot of different sports."
It's safe to say that Rahlves does not take for granted his retirement—or "transition." Living in Truckee, he's able to spend ample time with his family in an idyllic setting while also continuing to pursue his passions.
This winter, he plans to attend World Cup races in Kitzbühel and Beaver Creek, Colorado. He's also working with ski manufacturer Atomic, testing the company's skis and boots, and will do some pacesetting at various ski races, including the NASTAR Nationals at Squaw Valley from March 23–25.
"I'm still able to continue to raise a family and do what I love through skiing, which is awesome," he says.
---
Tahoe Quarterly intern Emma Withrow is a sophomore journalism major at Cal Poly San Luis Obispo.