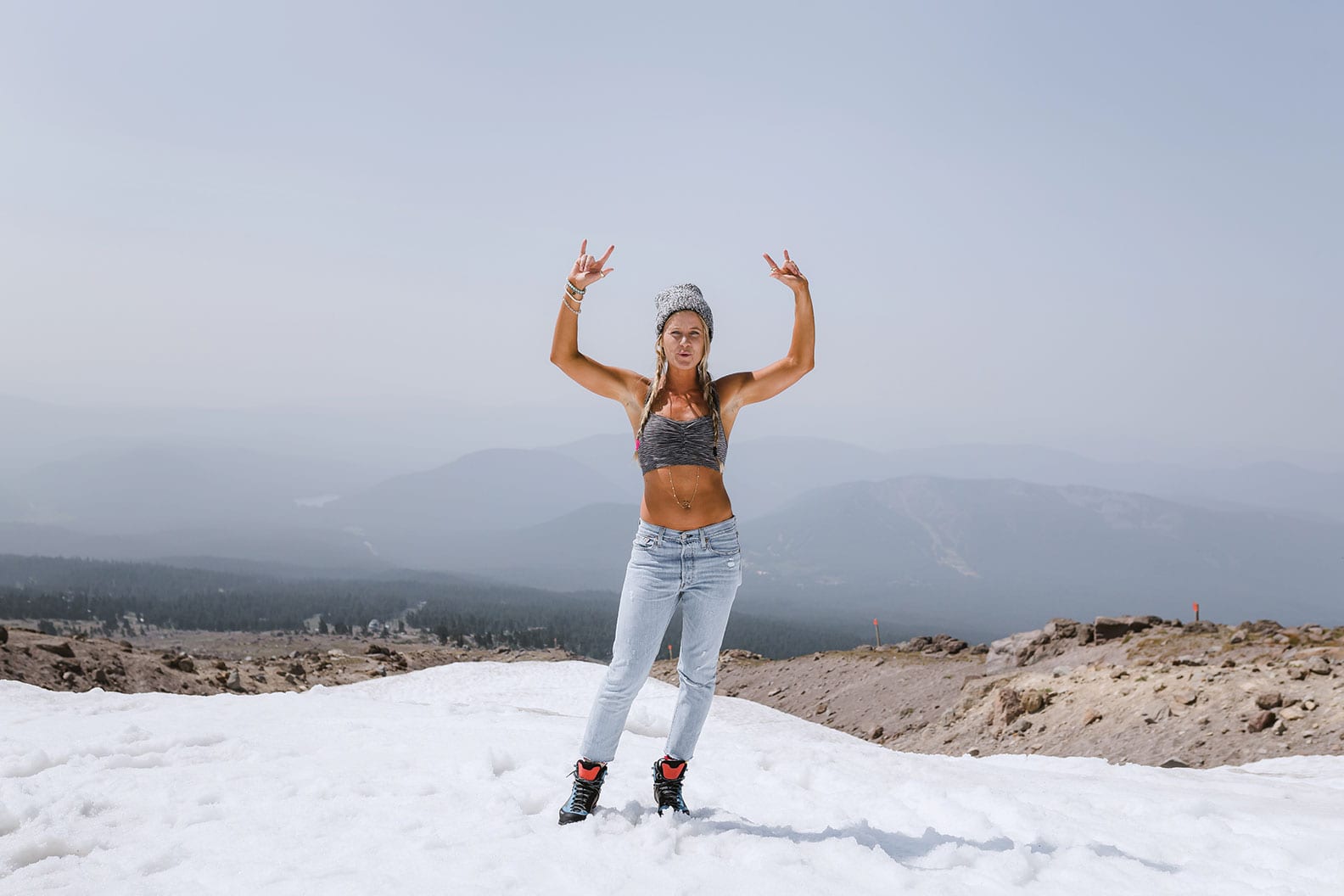 Hannah Teter, pictured at Mount Hood, Oregon, is determined to add to her medal count at the 2018 Winter Games, photo courtesy Kyle Meck
01 Dec

Tahoe's Hannah Teter is Revamped and Refocused
After narrowly missing the podium in 2014, South Shore gold medalist is poised for redemption

Hannah Teter has made a household name for herself over the past decade-plus, and she's not done. This winter, the Olympic gold medalist plans on dropping back into dinnertime conversations.
Let's set the table.
A two-time Olympic medalist, six-time X Games medalist and eight-time World Cup medalist, the South Shore halfpipe snowboarder even has her own Ben & Jerry's flavor called Maple Blondie—a tribute to her Vermont roots.
By all rights, Teter has nothing left to prove. She has successfully competed among the sport's elite for 16 years and collected a pile of halfpipe hardware to show for it. But it has been nearly eight years since she climbed the Olympic podium, and her oh-so-close fourth-place finish at the 2014 Sochi Winter Olympics left a bad taste in her mouth.
"I'm still pretty fired up from the last Olympics where they put me in fourth by a quarter of a point," Teter says. "I've had that redemption feeling since then, like, 'I'm going to show them a thing or two—put me in freaking fourth place.'"
Make no mistake: At age 30, Teter is still a gold medal contender as she enters her fourth round of Olympics competition in PyeongChang, South Korea. She heads into this winter firing on all cylinders.
"I just want to come out swinging," Teter says. "We have our first qualifiers in the beginning of December, so it's coming up, and I just want to fire it off right off the bat."
Halfpipe Roots
Teter has ripped on the slopes since her grom days in Belmont, Vermont, when snowboarding meant keeping up with her four older brothers, two of whom, Elijah and Abe, are pros.
"She was always super fiery and kind of tomboyish," says Elijah, who serves as his sister's halfpipe coach. "She was wanting to hang out with the boys, and staying on pace with what we were doing."
Elijah remembers watching his sister progress quickly from a young age. By 14, she was a legitimate competition threat. At 15, she became the first woman to land a 900 in halfpipe competition during the 2002 Junior Worlds in Rovaniemi, Finland. The following year, she became the youngest member of the U.S. Snowboarding Team.
Teter was gaining steam. But it wasn't until the 2004 Winter X Games at age 16 that she captured the world's attention—a cute, athletic blonde who claimed the halfpipe gold and looked like she had a blast doing so. Ripping off her shirt in celebration, Teter threw down a victory lap in her sports bra and competition bib in temperatures hovering near zero degrees.
"When I was that age, I was just having fun," Teter says. "I was so in love with snowboarding that I didn't really care about the results, which is why I think I did so well for a while."
Two years later, Teter laid down a cork 900 en route to a gold medal at the 2006 Winter Games in Turin, Italy, beating silver medalist Gretchen Bleiler by three points.
The gold medal came with many perks, one being a VIP front-row parking spot at her home resort of Sierra-at-Tahoe.
"I remember when I won gold and [people] asked me, 'So, how have you been training?' I was just riding powder at Sierra," Teter says. "When you have more fun, I think it makes you better at everything you're doing. Just having a place that you can go back to, push the reset button and ride the best snow on the planet."
The playful spirit that Teter embodies has contributed to her success and longevity in the sport, says Truckee snowboarder Andy Finch, who was Teter's Olympic teammate in 2006.
"I think the biggest challenge for any snowboarders who are striving for the top spot in the sport, they are faced with the difficulty of keeping it fun," Finch says. "Hannah has done that well and is a great poster girl for keeping the sport of snowboarding fun, which is why we all got into snowboarding in the first place."
The fun continued as Teter expanded her Olympic medal collection with a silver at the 2010 Vancouver Games, behind Australia's Torah Bright.


Teter enjoys a powder day at Sierra-at-Tahoe, photo by Brian Walker, courtesy Sierra-at-Tahoe
The Struggle is Real
After the Vancouver Games, however, Teter struggled to regain her focus. She was still competing and working toward the next Olympics, but not with the level of commitment that had earned her the gold in 2006.
"I kind of slacked off after Vancouver," she concedes. "I was kind of training and thinking about it, but I had boys on my plate and other stuff going on."
Despite the distractions, Teter still earned a bid to the 2014 Sochi Winter Olympics. She performed well but walked away a quarter-point shy of U.S. teammate Kelly Clark and the bronze medal.
"It just makes me want it more," Teter says of the result. "If I had been on the podium, then maybe I wouldn't even want to go to this Olympics, but since I was freaking etched off last second…"
The Sochi Games lit a fire, and Teter spent the next three-plus years scorching the gym and training for 2018 like she's never prepared before.
"I don't know exactly what makes her flip the switch to go big, but one thing is consistent: She performs well at the Olympics," Finch says. "I have seen other riders who are incredibly consistent but just can't make it happen at the O's, but then there are riders like Hannah who seem to rise to the occasion."

Teter sports a pair of her Hannah Teter X Bombas socks. Bombas donates a pair to homeless shelters for every pair sold, photo courtesy Kyle Meck
Fit for the Occasion
Teter is making good on that sentiment. Since Sochi, she has strengthened both her physical endurance and mental fortitude, laying a more consistent competition foundation.
"This year I'm single, healthy, and reading and studying a lot about nutrition and the body and getting more into it from a psychological standpoint," she says. "I've known that before, but I'm really realizing it now and how that can separate you from the rest."
The power of visualization is nothing new, but Teter is getting reacquainted. She is letting go of the doubts and what-ifs and conceptualizing what she can accomplish.
"I was reading some articles by Einstein and how the brain emits frequencies like a transmitter, and whatever you put out comes back to you—and just realizing that what you want, wants you," Teter says.
Teter is also more physically prepared.
Following Olympic slopestyle gold medalist and friend Jamie Anderson, Teter switched training grounds to Tahoe CLUB 100 in South Lake Tahoe with trainer Eufay Wood. The cross-training stations and bumping sound system kicked her endurance to a higher level.
Teter says her new training regimen should get her through qualifiers with enough gas in the tank to charge at her next Olympic run.
"We just get after it, so I feel like I've been taking my training to another caliber lately. I seriously feel better than ever," Teter says. "I feel like I'm 18 again."

Teter shows off her style and amplitude at a past Grand Prix competition, photo courtesy USSA
Going Big
Teter also has a propensity for amplitude, which is a rare commodity in the women's halfpipe.
"Hannah has always had the ability to boost when she wants to. It's in her Teter blood," says Finch, who was known himself for his massive airs during his competition days.
With the world's best halfpipe riders all performing similar tricks, Teter's brother Elijah says possessing the skill to land a clean run while consistently soaring high above the pipe is often what sets the competition apart.
"Amplitude is one of the harder things in halfpipe riding because it just makes the margin for error that much more drastic," he says. "Hannah's done a good job in her career by learning new tricks, working hard and making it her own with amplitude."
Coupled with her smooth style and 16 years of competition wisdom, Teter has big plans for the 2018 Winter Olympics.
"We've got the gold in South Lake. Is it in the water? Is it in the air? I'm not sure, but there's something about it that just makes you want to push it," Teter says. "Maybe it's going home and having so much fun that when you go back on the contest tour, you're just so hyped that you do so well.
"And that's how we all started. It was so fun and you'd go out with friends and just laugh all day and feel so grateful and lucky. You've just gotta keep that fire alive."
---
Before landing a job at the Tahoe Truckee Unified School District, Becky Wright wrote sports for mlb.com, the Arizona Republic and the Plain Dealer, among other publications.