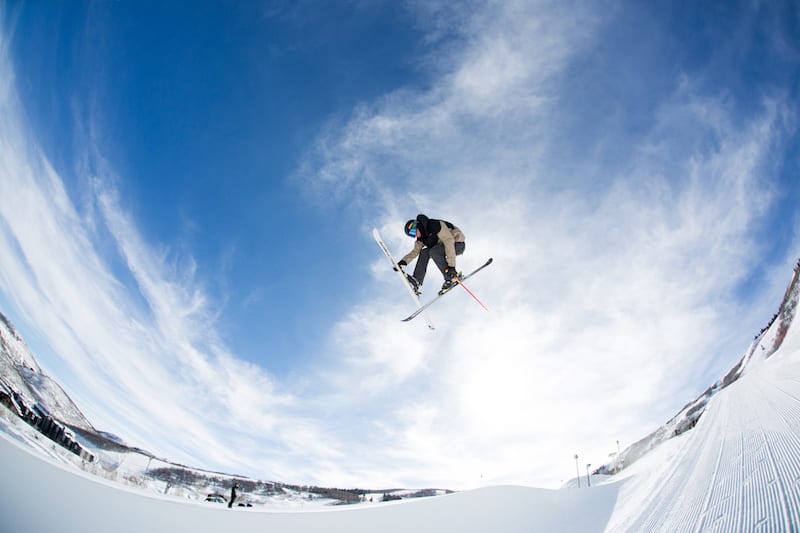 Kyle Smaine trains at Park City during the 2016 season, photo courtesy USSA
30 Nov

Smaine on the Rebound
South Lake Tahoe halfpipe skier healthy and confidence after rehabbing from injury
Kyle Smaine spent the better part of last season "crutching [his] way through the seemingly endless snowbanks" in his native South Lake Tahoe. Now, with a surgically repaired anterior cruciate ligament and meniscus, the Sierra-at-Tahoe halfpipe skier feels healthy and motivated to make a run at the 2018 Olympic Winter Games. But with a stacked field of talented U.S. athletes, he knowns it won't be easy. Tahoe Quarterly caught up with Smaine for an email Q&A about his offseason training and mindset entering this Olympic year.
I know the men's field is insanely competitive, what have you been doing to prepare for Olympic qualifiers?
With my injury last January, I haven't had the luxury of doing any on-snow training leading into this winter. I have spent a ton of time in the gym this summer, as well as taking a step back and working on my mental game and mindset. I really feel like I'm heading into this winter as physically strong as I have ever been. I have learned over the years that I ski the best when I'm enjoying myself, so I haven't really been putting any pressure on myself heading into this winter. I have set goals, and every day I have done what I was able to in order to set myself up for success, but I'm just taking it day by day.
If you can share this with me, what do you think will be the mandatory trick that sets the bar in the men's halfpipe competition this winter?
There is not one trick, or "magic bullet," that is going to be the key to winning this year. It seems like everyone has been skiing extraordinarily well. It all comes down to who skis the best when it counts. It is safe to say I will need to have three or four doubles in a single five-hit run to be among the top athletes, but amplitude and showing the judges some variety makes a huge difference as well. With how hectic the competition schedule is leading up to the Olympics, staying healthy is half the battle. So for now, that's my focus, being strong and limber.
I remember you in the Rahlves' Banzai Tour and more of the racing scene. When and why did you decide to pursue pipe skiing full time?
I grew up ski racing from the age of 5 years old. I tried to quit when I was 12 or 13 but my dad said I had to continue racing until I was at least 16. He wanted to ensure that I would learn the skills to be a good lifelong skier, not just an acrobat. Once I let myself enjoy it, I had a really good time ski racing, even though I was relatively better at slopestyle and halfpipe. Finally, once I graduated high school at 17, I quit ski racing and focused on slopestyle, halfpipe and ski cross. I can honestly say that halfpipe has always been my least favorite ski discipline. Not to say that I don't think it is fun, but out of all the different things you can do on skis, it is probably the least fun.
It was results and opportunities that funneled me towards halfpipe. I continually kept placing better in halfpipe than any other event and therefore kept getting invitations to higher- and higher-level events. Once you are competing among the best in the world in one event and still competing against relative amateurs in every other event, it makes it pretty clear what you should put your time and energy towards. When everyone else is dedicating all their focus towards one event, you can't expect to be competitive if you aren't willing to do the same. Luckily, it has paid off and I have been fortunate enough to travel the world to ski the best halfpipes alongside some of the best to ever do the sport.
You earned a major win in a FIS World Ski Championships in 2015. Can you take me through your first-place finish—what the conditions were like, and what you were thinking before and after the competition?
It was kind of a unique competition experience for me when I won the FIS World Championships in 2015. The event was in Kreischberg, Austria. I was skiing really well at the start of that season, and when I booked my trip across the Atlantic I already knew that I could go there and win. The conditions were less than ideal. All of Europe was having a low snow year up to that point. When I got there it looked like we were sking in late spring conditions. The resort was kind of like a big white ribbon of death, with no snow off the major runs or any of the surrounding hills. The pipe was decent considering the conditions, but defintely not among the best halfpipes we are accustom to riding.
More than anything, I think the confidence I started the trip with was able to carry me through the whole event, and eventually a win. One of the coolest parts of the trip for me was the company I was able to share the experinece with. Because it was the World Championships for all freestyle events, my good friends and fellow locals Whitney Gardner, RJ Gardner and Tyler Wallasch were all standing at the bottom cheering me on. They compete on the World Cup circuit for ski cross, but World Championship and Olympic events are the only time both events happen to share the same venue. To be able to have those childhood friends there supporting me all the way over in Austria made it that much cooler to be able to land the best run of the night.
What tunes do you rock during competition?
My music choices change year to year. The last couple winters I've been on a country kick. So I spent a lot of time rocking out to some twangy tunes. I imagine I will be skiing to some of the jams on Macklemore's new album that recently released. That is, if I don't overplay them between now and when contest season kicks off in December.
What's your favorite halfpipe to ski?
Every halfpipe changes a little bit year to year, so it's hard to say which is my hands-down favorite. Historically, the Dew Tour halfpipe they build in Breckenridge is one of my favorites on tour. It is steeper and longer and feels bigger than any other pipe on the contest circuit. All those elements make it so easy to carry speed and go absolutely huge. The X Games halfpipe is right up there among my favorites as well. I don't know that the shape is actually better than the other pipes, but the energy and level of excitement that goes along with knowing you are at X Games makes it really really fun to ski.
Favorite skis to ride?
My absolute favorite days I have had on my skis is getting to ski powder with my closest friends and family. The skis that I get to spend those days on have to be my favorite as well. Right now it's the Fischer Ranger 115 powder ski that lets me scream with joy through the classic Tahoe pine trees alongside my friends.
What's your favorite trick to throw?
The terrain really makes a difference in what is the most fun trick to do. On a powder day, nothing is more satisfying that pulling out a big laid-out backflip. In the halfpipe, the feeling of flying you get from launching a massive straight air is hard to beat, but if I had to choose a rotation, it would be a flat spin 540.