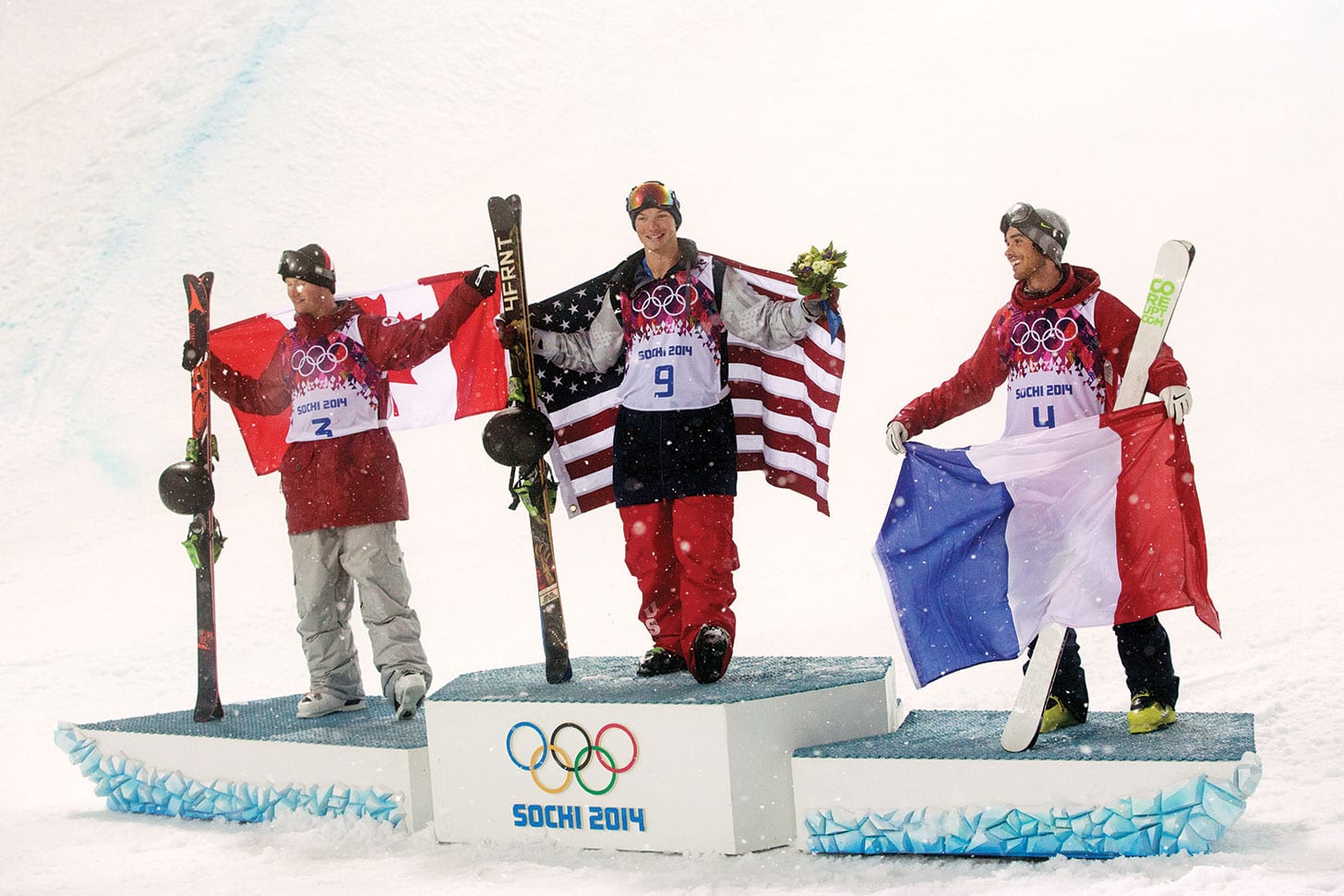 David Wise stands on the podium after winning a gold medal in ski halfpipe at the 2014 Olympics, courtesy USSA
01 Dec

Wise Beyond His Years
Reno gold medalist halfpipe skier balances Olympic aspirations with fatherhood
David Wise ascends high into the air, gripping his crossed left ski with his right hand for a beat before plummeting to a clean landing down the side of a towering hip jump.
It's a partly cloudy day in April 2016 at the Watles resort in South Tyrol, Italy, and the 27-year-old Reno native is doing what he does best: reaching new heights on skis—in more ways than one—and putting on a show in the process.
He cruises over to a pack of fellow skiers, who are whooping with excitement at what they just witnessed. Not only has Wise set a new world record for the highest air on a hip jump, at 46.5 feet, but his gravity-defying display obliterated the previous record held by Norwegian Andreas Håtveit.
"When we started talking about it, the old record, we thought maybe we could beat it by one or two feet. We beat it by nine feet," says Wise.
What's more, the feat marked the highest non-motorized jump in any sport.
"It was just one of those situations where I cracked the ceiling. I beat my own personal best—what I thought I could do—by a mile," Wise says. "It was definitely the most weightless I've ever felt in my life, more than skydiving and bungee jumping… not having that life line, you're actually on your own going that high."
Which brings up the question: What does it feel like to rise and fall four stories on a pair of skis?
"It was both scary and fun," Wise says. "Even though I was going higher than I ever expected to go, I was never too uncomfortable."
Truth is, elevating in the cold mountain air—twisting, turning, flipping—has been Wise's comfort zone since he was 11 years old.
Wise competes in a US. Grand Prix event at Mammoth Mountain in 2017, photo courtesy USSA
Early Tracks
Growing up in Reno, a stone's throw from Lake Tahoe's world-class ski resorts, Wise was thrust into skiing at a young age.
His father, Tom, a former ski racer at Northern Arizona University, was president of Sky Tavern—a nonprofit ski and snowboard training program off the Mount Rose Highway outside of Reno. Wise's twin sisters, Jessica and Christy, were already budding ski racers.
"I started [skiing] when I was 3," Wise says. "It was just a family thing—we all went skiing together."
Following in the footsteps of his sisters, who are four years older, Wise began ski racing at age 8. By 11, he was ranked among the top five in the state in both slalom and giant slalom as a member of the Alpine Meadows race team.
Despite being a regular on the podium, Wise's interest in ski racing waned. Weaving between poles and gates wasn't how he wanted to spend his time on the hill. He enjoyed skiing fast, sure, but more than anything, Wise wanted to go high.
"I actually always wanted to be a snowboarder," Wise says. "Those were the guys hitting the terrain park, hitting the halfpipes, hitting the rails."
Unable to ignore his itch to catch air, Wise would sneak over to the Alpine Meadows terrain park during racing practice. Covering his tracks wasn't easy, though.
"You can do that on the sly until your dad sees your skis and there are no edges," Tom says with a laugh. "I would ask him why his skis were torn up; why the edges were messed up. And he would say, 'Well, Dad, I might have run over the rails once or twice.'"
It was a low estimate, Tom knew.
"I definitely blew up some [ski] edges hitting rails," Wise says. "I made up a few little white lies for how the skis got in the condition they were in… Any true dedicated racer would tell you they would never dream of hitting a rail on race skis.
"But I was a kid and that's what I enjoyed doing most, spending time off the ground. And that's how I got into it—and I sort of fell in love."
Wise says his father was initially resistant to the idea of him swapping skis for a snowboard. From his perspective, his son was already turning heads as a racer. Why would he want to start from scratch in a new sport? Yet, he wanted to support his son's true passion. And so he gave an ultimatum.
"My dad said you have to reach a certain level of skiing first before you try snowboarding," Wise recalls. "He said, 'I'm not going to let you abandon skiing just because you want to be a snowboarder.'"
Turns out, he didn't have to. Shortly after aspiring to ride rather than ski, Wise's eyes were opened by pro freeskiers Tanner Hall and the late C.R. Johnson of Truckee, who showed him what can be done in a halfpipe on skis.
"I realized, I don't need to learn a new sport to get into the halfpipe," says Wise, who joined the Alpine Meadows Freestyle Team. "I already had a solid foundation [of skiing] from my racing days. It was easy to take those skills and use them in the park."
Wise says freeskiing with Johnson—who was a regular halfpipe contender in X Games competitions and is credited for being the first skier to land a 1440 in the park—was when it struck him that he, too, could join the professional ranks if he worked hard enough. Tragically, Johnson died in a 2010 ski accident at Squaw Valley.
"He was such a good mentor to me. I miss that guy," Wise says. "He was the first person who pointed out to me, 'Hey, you're skiing the same mountain I'm on, you're skiing for the same team I was on… If you work hard enough and keep chipping away at it and keep getting better and better, there's no limit to how far you can go.'"
Wise was inspired. He put in endless hours in the terrain park (now with the proper skis and sticks), focusing his time on flying high in the halfpipe. He began racking up podiums in contests, eventually capturing his first U.S. national title in the halfpipe at age 15. Three years later, at 18, he turned pro. Then, at 19, Wise became one of the sport's pioneers.


Wise airs out of the halfpipe during a 2017 U.S. Grand Prix event at Mammoth Mountain, courtesy USSA
Changing the Game
While offseason training in New Zealand in 2009, Wise pulled off the first-ever double cork 1260 in a halfpipe. The trick entails three-and-a-half rotations, two of which are flips.
Beaming with confidence, Wise was champing at the bit to showcase his game-changing trick on the World Cup circuit.
"I had this new trick that no one else can do. This is going to be my year," Wise thought heading into the 2010 season.
Two months later, however, Wise blew out his knee. His season halted before it got a chance to get off the ground.
Disheartened, Wise returned to Reno to rehabilate his torn anterior cruciate ligament (ACL). While back home, his spirits were lifted by an unexpected reconnection with a former crush he'd met years earlier at a summer camp.
"We bumped into each other and it was like wildfire," Wise says of his wife, Alexandra. "We were dating and married within a year of reconnecting."
Wise and wife Alexandra embrace at the 2014 Sochi Winter Games, photo by Sarah Brunson, courtesy USSA
A Fresh Outlook
Married at 21, Wise's worldview was about to change even more. In October 2011, on the cusp of the ensuing ski season, Wise and his wife had a baby daughter, Nayeli.
Wise's priorities instantly shifted. The fancy tricks, the World Cup circuit—everything took a backseat to his new family. A burden had been lifted by his daughter.
"I was pressuring myself so much, trying so hard and seeking success in every moment of my life, and I was caught up in it," Wise says. "Honestly, I wasn't focusing on anything happening around me, and I was kind of lost.
"And then, having my little girl, I realized life is a lot bigger than what I'm trying to do on these pair of skis. My little kid and wife don't really care if I win or lose. They just want me to be a good husband and father. It really took the pressure off me completely, and that's when I started doing really well."
With a fresh perspective on life, Wise went on a tear in 2012, winning the men's ski halfpipe at the Winter X Games, the Dew Tour Finals and the Grand Prix Finals, consecutively.
Wise maintained the same mindset, and winning pace, all the way to the 2014 Winter Olympic Games in Sochi, Russia, where ski halfpipe debuted as an Olympic event.


Wise and daughter Nayeli at a U.S. Grand Prix event at Copper Mountain, Colorado, photo by Sarah Brunson, courtesy USSA
Sochi Standout
On February 18, 2014, with the Sochi weather toggling between rain and snow, the Reno native took center stage in the men's ski halfpipe.
"The conditions were so challenging that night. You just kind of had to embrace it," Wise says. "I didn't have the goal that I 'had to win this one.' I was thinking, 'I need to do the best runs that I can do and see how it plays out.'"
It played out better than he could have imagined. Wise's first run of the night, which he punctuated with a high-flying double cork 1260, proved to be unbeatable. He scored a 92.0 to win the first-ever ski halfpipe gold medal ahead of Canada's Mike Riddle (90.6) and France's Kevin Rolland (88.6).
His family looked on at the bottom of the halfpipe as Wise stood atop the podium with a gold medal slung around his neck.
"It was really difficult to get seven people with the last name Wise at the bottom of the halfpipe in Sochi, Russia," Tom Wise says. "To have him come through in the tough conditions and win the first gold medal was a really surreal experience. It was special."
For Wise, he couldn't wait to share his victory with his family.
"The coolest thing about winning a gold medal was you have something you can share with everyone who believed in you along the way," Wise says. "The reality is I didn't do this on my own, not even close. I'm so lucky to have so many people support me along the way."
Primed for PyeongChang
Nearly four years later, Wise hopes to get the opportunity to defend his gold medal at the 2018 Winter Olympics in PyeongChang, South Korea.
Since nabbing an Olympic gold, Wise has added to his trophy case. His family grew, too, as he and his wife welcomed a son, Malachi.
A few injuries have crept up over the years, as well. Most notably, Wise separated his left shoulder in 2016 after taking a hard fall at the Mammoth Grand Prix.
But heading into the 2018 Olympic qualifying events in December and January, Wise says he feels as strong as he has "in a long time."
"I have some new runs, definitely a brand-new trick and a brand-new combination in my run that I'm hoping to do in the Olympics," Wise says. "So, there's going to be some things to watch out for."
One of Wise's mentors, former world champion freestyle skier Bob Howard, says he has stressed the importance of not just performing unique tricks, but having them perfected for the Olympics.
"I told him that you have to start working on tricks a couple years ahead so you're peaking at the Olympics," Howard says. "That's exactly what he did [in 2014]. He is an innovator more than a follower. That's why I wasn't surprised he won gold."
Howard wouldn't be surprised if he follows suit in 2018.
"He laid low a little bit last year, but I think he's going to come back with a fury this year," Howard says. "I think he might have something up his sleeve that we may soon see."
In the meantime, Wise is savoring a quiet life with his family in Northern Nevada. Their home hugs the Truckee River in Verdi just west of Reno. In the offseason, when he's not reaching for new heights in the halfpipe, Wise can be found roving nearby trails on a mountain bike, bouncing on trampolines at the Woodward Tahoe training center on Donner Summit, or bowhunting deep in the great outdoors—a tranquil activity he picked up to offset the hectic schedule and demands of being an Olympian.
"I get asked all the time: What keeps you and your family here," Wise says. "To me, the ability to live in a small city close to the mountains and still be able to do anything that I want all in one place is amazing.
"I've been all the places in the world that people think are the coolest places to live, and I still think Reno is the best. It's just home. There are places that I think are amazing—I love Colorado, I love Utah—but they're not home."
---
Kaleb M. Roedel is a Reno-based writer.