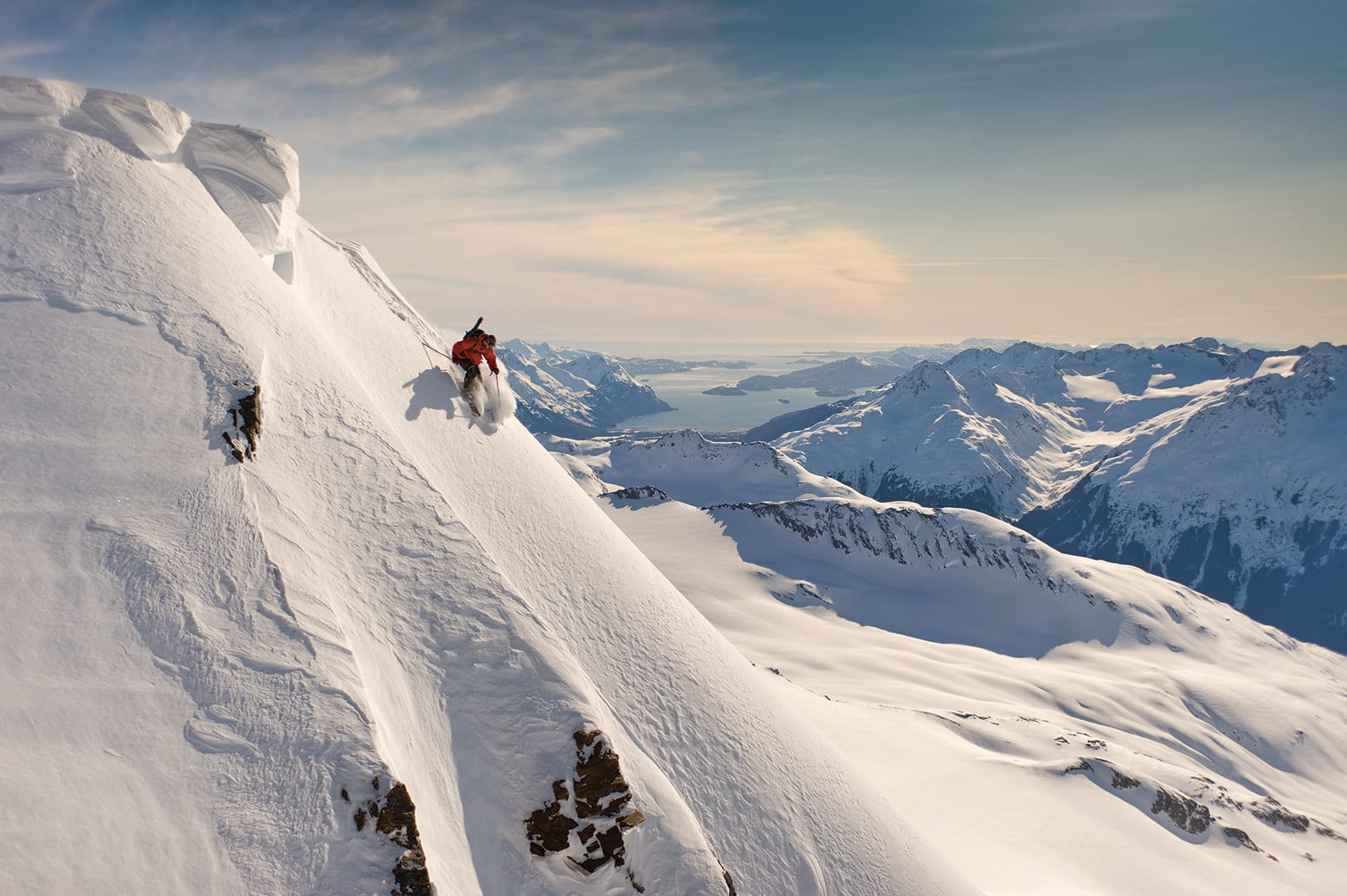 Cinematographer Vinnie Urgo wraps up a day of filming in Alaska's Chugach Mountains the fun way, photo by Court Leve
02 Dec

Home on the Range
From deep debt to a thriving business, Tahoe couple's Points North Heli-Adventures celebrates two decades of skiing in Alaska's Chugach Range

The Warren Miller film crew prepares to land on one of the "holy grail" peaks in the Chugach Mountains, Sphinx, photo by Court Leve
Eighteen years ago, the biggest name in ski films traveled to a rural fishing town in southeast Alaska to visit Points North Heli-Adventures, the outsized corporate moniker for what was then just a 30-year-old ex-hockey pro living out his heli-skiing fantasy in the heart of the Chugach Range.
The resulting film, Storm, introduced the fledgling operation of owner Kevin Quinn in a segment that showcased three skiers bagging first descent after first descent in the stunning Chugach wonderland. The powdery montage is set deep in the saw-toothed range, and its natural appeal is amplified by the camera's sensual treatment of the beautiful ski subjects, one of whom, Jessica Sobolowski, would soon become Quinn's business partner and wife.
Two years later, Warren Miller Entertainment returned to Cordova and the five-year-old heli-ski operation to document more heart-pounding descents, including Squaw Valley skier Kent Kreitler charging down the face of Sphinx—a peak that drops 1,800 feet at a sustained 55 degrees—in 14 turns and 28 seconds. The famous descent was featured in 2002's Journey, along with a number of other vertiginous heli-access runs for which Points North was beginning to earn a reputation—first among Quinn's pro and amateur ski buddies at Squaw Valley, then among a growing global clientele.
Last winter, Warren Miller Entertainment returned to Cordova to shoot Face of Winter, the 14th film working with Points North Heli-Adventures.
The segment—featuring a large cast of ski legends past and present—is an eight-minute celebration of both the 20-year anniversary of Points North and its 18-year anniversary with Warren Miller Entertainment, a relationship that has followed the heli-ski operation from its deep-debt infancy to its present-day fruition as one of the largest ski operations in the United States.
"I feel very lucky to have been able to document my business since its inception," says Quinn, who has lived on Tahoe's North Shore off and on for nearly 30 years.
He is quick to clarify, however, that it is not luck that brings Warren Miller back year after year. Nor is it luck that fosters loyalty among his guides and high return rates among his clients. That, he is adamant to say, is the pull of Alaska itself.
"Alaska is the Super Bowl of heli skiing. It's Disneyland on steroids," says Quinn. "The terrain is that mind-blowing, jaw-dropping, 'Oh-my-god-look-at-this-place' type terrain. There's nothing like it on the planet."
Chasing Freedom
Quinn knows more about Alaska than most. The 49-year-old has dedicated his life to the celebration and exploration of the 49th state he has called home since the age of 6 months, when his parents moved from Southern California to Anchorage.
There, a young Quinn learned to love his new home as he still does to this day: from the air.
"My pops was a pilot, so I've been around aviation my entire life," he says. "In Alaska, one out of every three people has an airplane. It's your mode of transport and way to get out and get away. I started flying airplanes as a kid, then I got serious about it and got my license."
Since he was licensed 25 years ago, Quinn has logged more than 7,000 hours of flight time, both in Alaska and his second home in Tahoe, where he still organizes and participates in events like the High Sierra Fly-In—an annual pilot get-together in a dry lakebed in Nevada—as well as one-off stunts, like the time he hydroplaned 46 miles around Lake Tahoe and set the world record for the longest distance "waterskiing" an airplane. "That's one of my stupider stunts," he says.
Kevin Quinn is a longtime pilot, courtesy photo
Flying, for Quinn, is about freedom.
"There's nothing like being able to go flying. The freedom of flight—being able to look down on the world from a different perspective—is incredible. What takes 10 hours to drive takes two hours to fly," says Quinn.
"The access we have here locally in the Nevada desert and backcountry, and the opportunities to just get away, is incredible," he adds. "I love Tahoe. There's nothing like it, and when you get an opportunity to get above it and look down, it's a completely different perspective.
  That same pursuit of freedom guided Quinn through his early years as a pro hockey player, a fearless skier and an entrepreneur whose ambition far exceeded his bankroll. Living at Squaw Valley at age 28, after years on the rink, the slopes and in the skies, Quinn felt ready for the ultimate freedom: owning and operating a helicopter ski operation in Alaska.
Though the bush plane pilot had no experience flying helicopters, he had something even more valuable: Cordova.
"Skiing out of Valdez, you always flew toward Cordova," Quinn says, recalling his early ski days during the birth of the heli-skiing scene in the town nestled just north of the Chugach Mountains. "We'd fly out of Valdez, but fuel restraints would cause us to turn around and come right back. But Cordova was always out there.
"One day I took a bush plane out of Valdez. I figured, 'I'll go down and check out Cordova.'"
It was there that Quinn came across Steve Ranney and the Orca Adventure Lodge, a sprawling cannery compound overlooking the Orca Inlet and Prince William Sound. Ranney had refurbished the ramshackle cannery and reopened it as a resort for guests looking to experience the beauty of the area, through activities that included fishing, kayaking and glacier exploration. Quinn saw an opportunity to add one more activity to the list.
"I thought, 'Man, I can start my own heli-ski operation down here in Cordova,'" Quinn recalls. "I said [to Ranney], 'Here's my plans,' and it just sort of worked out."
The two agreed that Points North would take over the entire Orca Lodge compound during the heli-ski season of early February to early May, then they formalized the agreement as men once did and men in Alaska still do: with a handshake.
"I rubbed a couple nickels together, borrowed from Peter to pay Paul, and next thing you know we're off to the races," Quinn says. "And I owed more money than I could ever pay back."
The Dawn of a Dream
From the start, Points North was less about making money and more about reaching the pinnacle of ski perfection.
"You get to ride a magic carpet to the mountaintops. I wasn't considering making money," Quinn says. "I was a ski bum. It was like, 'I got helicopters, we're going skiing—call your buddies, and let's go.' It wasn't until the end of the first season that we were like, 'How are we going to make money doing this?'"
It was around that time that Quinn met Jessica Sobolowski, a young professional skier from the modest mountains of Connecticut. Following a successful college career as a Division I racer, she moved west to Tahoe in pursuit of slopes and sponsorships.
"My goal was to travel the world and ski for a living," she says. "Once I graduated, I realized there must be bigger mountains in the world, so I packed up my car and moved out to Lake Tahoe without ever seeing it."
In Tahoe, she fell in with the same crew who would eventually conquer the unheralded peaks of the Chugach Range.
"The Squaw Valley community produced a lot of outstanding athletes and friends," says Points North guide Jim Fritsch, who owned Primal Fear at the time, a Tahoe-based bungee jumping company that earned local fame for counting surf legend Laird Hamilton among its many clients. "We all had a lot of mutual interests and friends."
At the center of that community was the charismatic and ambitious Quinn.
"Kevin started Points North in 1998," Jessica recalls. "I had just moved to town and I knew who he was, and when he came home from his first season he stared courting me pretty hard. I was 22 and full of piss and vinegar—I had no interest in having a boyfriend at that time.
"And then he convinced me to go to Alaska with him that summer. He said I would make a ton of money and that there were two bedrooms and two beds. I went up there and, go figure, there was one bedroom and one bed. All of a sudden I started becoming a part of the business, and the rest is history."
Quinn is the first to say that Jessica helped him turn Points North into a reputable and profitable company, which she continues to do as they approach their 21st season of business.
"I feel fortunate that I met her after that first season," Quinn says. "She dove in and became the boss. We wouldn't be where we are today without her."
Together, the two—who got married at the top of Squaw Valley's Exhibition chairlift in 2007—spent their days hustling for clients, paying off bills and cobbling together an empire, one client at a time. Despite the stress of business, however, they always made time to explore what had drawn them both to Cordova in the first place: the Chugach playground right in their backyard.
"I was helping him but we had so much fun," Jessica says. "We flew everywhere and skied everything together. We completely took advantage of having fun those first couple years."
Building an Empire
Points North may have begun as the ski bum's guide to reckless spending and high-octane skiing, but it matured into a real business by the third year, when Points North found itself emerging from the ranks of the small but competitive heli-ski community circling the Chugach Range. Jessica remembers the thrill of the climb from debt with the same nostalgia reserved for first descents.
"Points North wasn't my dream or my vision, but it's something I embraced," she says. "We couldn't even pay ourselves the first eight years, but I'm kind of a go-getter and a charger, so to me it became our goal."
Quinn recalls that era of Points North history with the same fondness as his wife and business partner. "It took about eight years to finally be able to rub two quarters together and say, 'Well, we're actually pulling this off and making a legitimate business out of it.' And now it's 20 years later and it's turned into something I never thought imaginable and provided a lifestyle that I am so grateful for."
Both also agree that the maturation of the business has less to do with their own personal strengths as it does the skiers and guides they've surrounded themselves with over the years, many of whom return every year and say goodbye with great reluctance.
"Our staff is incredible," Jessica says. "Without them we couldn't do it. It is so important that our guides are nice and good human beings with an incredible passion for the Chugach."
A passion for the Chugach is not hard to find. When your home is on the front porch of one of the greatest skiing ranges on earth, skiers will come. 
"This is some of the best terrain in the world, hands down," says Paul Krekow, who is starting his fifth season as a ski guide at Points North. "There aren't many places where you get to ski the kind of terrain that we get to ski."
The Little Town
of Cordova
On paper, there is little more to Cordova than a fishing hamlet that time forgot. Men troll the shores in boats passed down from their grandfathers and pull salmon from the Copper River as it drains into the Gulf of Alaska. When there is time, they take their families to Mount Eyak, the local ski area serviced by one of the oldest operating single-seat chairlifts in the nation.
But citizens of Cordova do not live their lives on paper. The coastal community of 2,000 people is a town bookended by more natural beauty than most American towns put together. It begins with a wide expanse of sea and ends with a wide expanse of mountains. There are no roads to Cordova, and the roads within Cordova were decreased by 45 percent when a washout destroyed the Copper River Bridge.
Those who have chosen to call this place home have done so deliberately.
"Cordova called my name," says Jim Fritsch. "You don't see places like this anymore."
Before he moved to Cordova in 1998, Fritsch was a Wisconsin boy who had given his life to the slopes of Squaw Valley. For 140 days a year, he was the first one on and the last one off the mountain. That all changed when he visited his buddy, Quinn, who had just started a helicopter operation up in middle-of-nowhere Alaska.
"When he started this," Fritsch says, "I remember him showing me the dot on the map that was Cordova, Alaska, and saying, 'This is where it's going to start.'
"I'd lived at Squaw for 12 years and absolutely loved it, but when I came up to Cordova to ski with Kevin, it was a lifetime experience that changed my whole outlook on mountains and skiing. It raised the bar and I wanted to experience more of it. I went back to Tahoe to pack my bags and I came back."

Northern Lights from Cordoza, photo by Richard Hallman, courtesy PNH
Fritsch has been a guide with Points North ever since. Other than Quinn and Jessica, he is the only person to have worked with the company since its birth. He is now 55, with a wife and kids and a home in town, and he still loves Cordova and Points North with the energy of the young man who traveled up on a whim 20 years ago to chase powder.
"My family and I will go on trips around the world and I'll ask my kids, 'Would you want to live here?' They don't hesitate: 'No way, dad, we love Cordova.'"
"Heli-skiing brought me here," he adds. "To watch it grow to where Points North is setting the standard for heli operations has been amazing. I feel really lucky to be part of this family."
That sense of family extends beyond the tight-knit ranks of guides and guests at Orca Lodge and into the homes of Cordova. When Points North rolls in for the start of the season, everyone gets excited.
"It's a game changer for the town at that time of year," Fritsch says. "In the wintertime it feels like hibernation, then all of a sudden these people show up from around the world in these bright ski outfits. They're all over and the locals get excited. This is a fishing town where there is nothing else going on. When Points North arrives, the town comes alive."
Home Away From Home
It's easy to imagine Cordova at the start of heli season as a Norman Rockwell wintertime tableau: a sleepy, snowed-in town suddenly awash with color; a season of eternal slumber roused by the merrymaking of reunited guides and exhilarated guests, all perhaps a little tipsy on steep lines, big drop-ins and cold beer.
That is the spirit of Points North. It starts with Quinn and Jessica and it flows through their crew of expert guides, down the large family of rotating guests and into the town of Cordova 3 miles away, like the Copper River that flows from its distant glacier and drains in a wide floodplain out to sea. 
"Kevin and Jessica treat us all like family," says Krekow. "I've already got half my season booked out with return guests. They love the family vibe as much as everything else. That's a huge part of it."
Quinn agrees. "We've got a very loyal following," he says. "We're all about delivering a good, honest experience. Once people learn to trust you, that word of mouth grows. That's really all you got. If you're honest with people and deliver what you're telling them, it's a pretty special thing."
Doug Dickey has observed that trust and honesty more than nearly any other guest: this upcoming season will be the Florida resident's 17th visit to Cordova and Points North.
"On bad weather days, Kevin doesn't hide behind the office door. He comes out and tells us we're on standby," Dickey says. "When the weather won't deliver, Kevin will still keep the enthusiasm. I know that he's not going to let me down no matter what the weather does."
For many, the days of bad weather at the Orca Lodge are almost as fun as the days of world-class conditions. During his annual pilgrimage to Cordova, Dickey is just as likely to be found kayaking, kiteboarding or fishing as he is carving through deep powder.
"Other companies will offer a hot tub and a steak and heavy drinking, but how about good food and good friends and a close-knit environment?" Dickey says. "Points North pulls that off every time."
The Quinns work hard to ensure that Points North is not just another ski-bro booze fest, where a week of riding becomes synonymous with a week of debauchery. The family-friendly environment at Points North—complete with sauna, massage, weight room, ping pong and foosball, ice climbing, fishing, kayaking and touring local glaciers—was created, in part, to combat the stereotype of Alaska's hard-partying adventure athletes.
"There's so much more to Alaska than drinking beer and shooting guns," Quinn says.
Basic economics suggest that Points North need offer nothing more than the service that sells itself. The company has three helicopters and pilots, a crew of world-class guides and former ski pros, and access to 10,000-foot peaks, 50 feet of annual snowfall and 2,000 square miles of skiable terrain.
Of course clients are going to come.
But offering mind-blowing skiing alone is not good enough for the Quinns. What is arguably the best heli-ski operation in the country also needs to be the happiest.
"Kevin and Jessica put a team together that honestly loves each other," Fritsch says. "You'll see those two washing the dishes and doing everything top to bottom, smiling and talking to each other. It's the feeling of the whole facility here, and they are the start of it. I don't know what their magic is, but if you could bottle it and sell it, you'd be doing all right."
Sharing the Love
Bottling and selling magic is exactly what Warren Miller Entertainment is all about, and Points North and the Chugach Range allow the film company to do that better than almost anywhere else. It's why they have featured the heli-ski operation in 14 different films since Storm was produced 18 years ago.
"When we make movies we're trying to have the audience experience what's happening up there," says Tom Day of Squaw Valley, a cinematographer for Warren Miller Entertainment and former ski film star himself. "It's hard to capture the essence of what it's really like to be there, but Kevin and Jessica have a huge passion, not just for skiing, but for the Chugach Mountains. They know how special it is up there, and they've created a business that allows other people to experience what they know."
Despite the adrenal stunts that populate so many Warren Miller movies—Micah Black riding the fin after Kent Kreitler slashed the face of Sphinx; Ingrid Backstrom and Jess McMillan charging line after jaw-dropping line; Jim Ryan and Dash Longe carving in the ski tracks of the legends who came before them—Quinn is adamant that Points North is not only for the elite.
"It's not just what you see in the movies and magazines," he says. "The majority of our clients are everyday folks looking for the best ski vacation of their life. We have something for everyone."
Day agrees. "Don't be intimidated by what you see in movies and magazines. You don't have to go up there and ski the gnarliest thing, you can just ski some long, beautiful runs. Kevin and the guides really know how to judge the caliber of skiers up there and put them in groups so that everyone can go out and have fun."
Dickey remembers his rookie season 17 years ago, and he speaks with fondness about how the guides at Points North have shaped him as a skier since that distant winter. 
"Looking back, I had no business going there with my skill level, but they kept me safe and I grew up into a pretty solid rider," he says. "They've always been able to steer me to new terrain, and good groups that allow me to get better. I like that I'm still challenged and that I've ramped it up every year."
Family Affair
In the end, what sets Points North apart is not just powdery lines, helicopter-only access, expert guides or down-day activities. It is the sense you get that, successful business or not, Quinn and Jessica would still be the same two lovebird ski bums riding a magic carpet to the next peak. It's the singular truth on which the operation is founded: that there is a pinnacle of perfection somewhere, and it should be pursued with great passion.
Perhaps it is a literal pinnacle rising deep in the Chugach expanse, down which the brave soul will descend in arcing lines and swirling powder. Perhaps it is the sun as it sets in the west, illuminating in those final amber moments the gleam of metal, still warm from the kinesis of flight. Perhaps it is Quinn and Jessica's two children who learned to sleep to the whirr of helicopter blades. Perhaps it is all of that and more, fused together in an alchemy of beauty and awe.
Or maybe it is just a man lucky enough to have found a dream, and to have lived long enough and well enough to see that dream fulfilled.
"If you're not doing what you love, odds are you're just living day to day, weekend to weekend, and hoping something will happen for you," Quinn says. "So many people get stuck in the rut of routine, but the routine is what you want to make it. Your priorities are how you live.
"I've got a couple thousand runs and hundreds of first descents in the Chugach. Now I'm taking my kids down some of those same runs. We've come full circle."
---
Michael Rohm is a freelance writer and Oregon transplant living in Maryland. He, too, continues to seek those rare pinnacles of perfection, in whatever forms they take.
---
If you go
The best way to get the full Points North Heli-Adventures experience is through the Heli Week package. The seven-day, seven-night experience includes lodging, meals and transportation; four heli-flight hours; and essential gear and safety equipment, including transceiver, harness, shovel, probe and helmet. Visit www.alaskaheliski.com for more details.