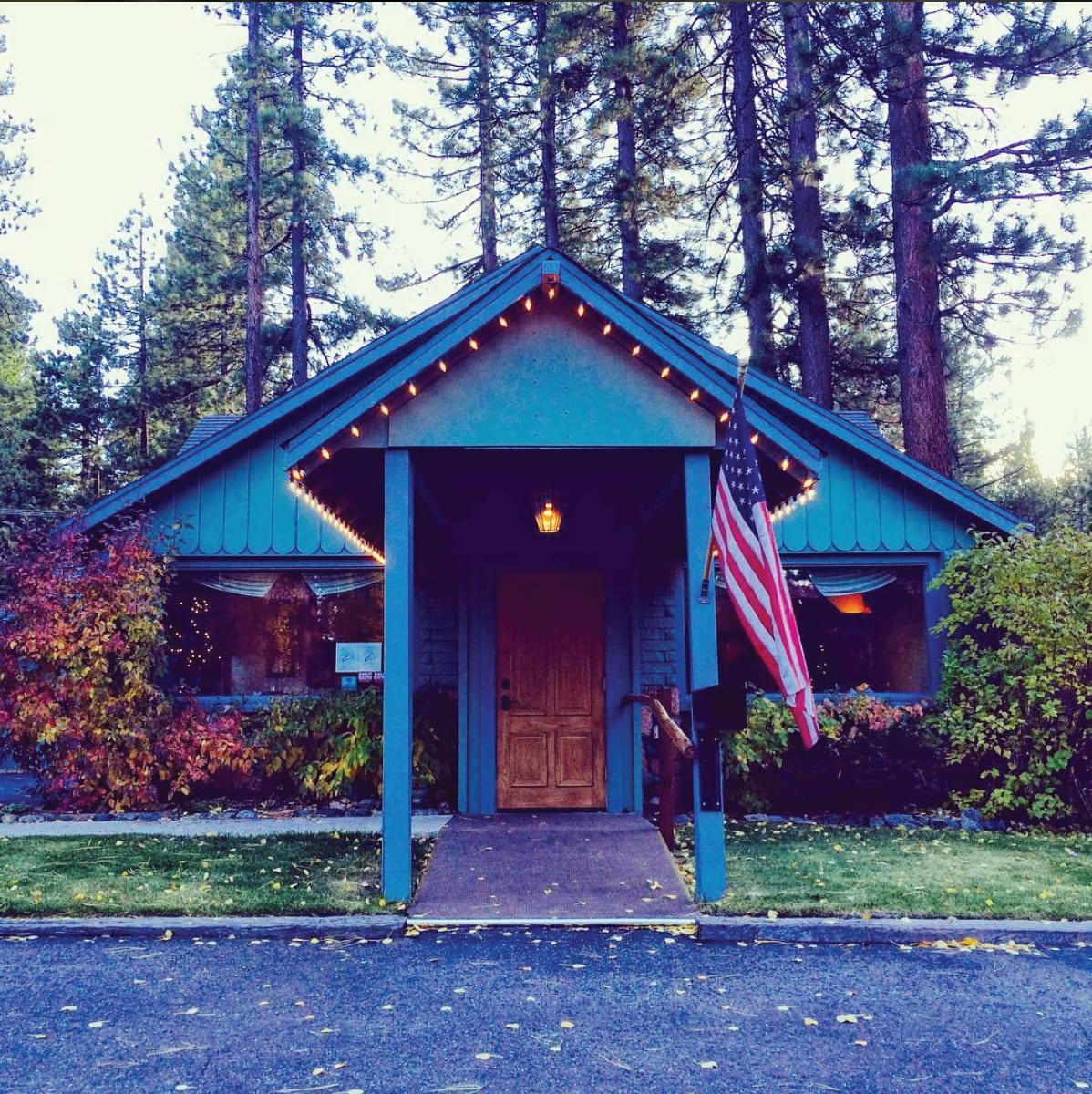 Evans American Gourmet Cafe has been serving dinner in this South Lake Tahoe cabin for 30 years, courtesy photo
02 Dec

Little Cabin, Big Flavor
Evans American Gourmet Cafe celebrates 30 years on South Shore
Good things do come in small packages. For three decades Evans American Gourmet Cafe in South Lake Tahoe has served standout meals in an unassuming roadside cabin on Emerald Bay Road.
Owner Evan Williams came to Tahoe in 1978 for a year to ski and, like many before him, stayed. A veteran of the food and wine business since the age of 15, Williams has held positions from dishwasher to food and beverage manager; he met his wife and business partner, Candice, when both worked at Paul Kennedy's Steakhouse near Stateline (which was demolished in 2002 to make way for the Marriott resort development).
For several years Williams managed a little standalone French restaurant near Tahoe Keys called Chez Villaret. When it closed, he and Candice, also a fine pastry chef, jumped at the opportunity, opening Evans in 1988.
"I knew we could be successful there," says Williams. "We wanted to get away from the 'French' end of the business and feature a much broader cuisine drawing on styles from regional American to pan-Asian and, yes, of course, French-European."
The "American gourmet" aspect of the eponymous eatery is especially evident in the some 250 bottle wine list limited to California, Oregon and Washington producers.
"We do owe a huge debt of gratitude to the French for our foundations in both food and wine, but we wanted to feature our burgeoning wine world here on the West Coast," says Williams, who since 2001 has served as a judge at the California State Fair wine competition, the oldest and one of the most prestigious such contests. "We have an outstanding wine-producing region right in our backyard—the Sierra foothills," he adds.
Though the intimate 36-seat white tablecloth restaurant has no actual bar area, cocktails are indeed available, shaken or stirred.
Often a special occasion destination, the modestly—some would say vintage—furnished spot has retained its bloom over the years by employing a series of talented chefs, recently Jimi Lasquete, now at Lanai City Bar & Grill in Hawaii, and Dustin Hull, who returned for a stint this summer. Oscar Herrera, who worked for both, has been head chef since 2014; his son Oscar Jr. has also embarked on a culinary career here.
The seasonally updated menu features sophisticated dishes with deep, umami-rich flavors. Focus is on quality ingredients from the weekly farmer's market in warmer months, as well as from purveyors like the Dayton Valley Aquaponics, which uses sustainable farming methods to grow its gourmet produce year-round. Portions are generous.
Service is friendly and attentive. Guests are greeted with an amuse bouche such as chicken pâté and toasts, and a whiteboard detailing many tempting specials, including a nightly soup, pizza and pasta. One recent evening's lineup included roasted tomato soup with white cheddar grilled cheese, a pizza topped with tandoori baby tiger shrimp, lime pesto, red onion marmalade, barbecued peaches, smoked gouda and fresh herbs, and a pumpkin fettuccine with duck sausage, pancetta, leeks, garlic, brandy maple cream and pan-seared sea scallops.
"We are not known as a seafood restaurant but we sell more fish than anything else," says Williams. "It's probably because of the specials presentation and chef Oscar's creative and tempting compositions." That would include a special sesame-crusted salmon mignon wrapped around bits of Maine lobster with sesame vinaigrette and tobiko, plated with panko crusted udon noodle cakes and stir-fried vegetables. Or a chimichurri-rubbed grilled swordfish with saffron fruited Israeli couscous and mango and orange coulis.
A long-running and unique appetizer on the menu is the savory green chile mascarpone cheesecake layered atop a whole wheat crust with lobster salad, sautéed white corn fricassee, and avocado and chipotle aioli. Other customer favorites are the hoisin and orange glazed prawns served with an Asian style slaw, tangerine reduction, chives and sesame seeds, and the scallop quenelles with sherry lobster cream.
Recent entrée preparations included a grilled filet of beef with horseradish-green peppercorn butter and syrah reduction, as well as porcini-dusted veal loin medallions with Marsala beurre blanc, bacon mashed potatoes and exotic mushrooms. The pan-roasted duck and confit came with Grand Marnier jus and walnut-cranberry-goat cheese bread pudding, while a peppered grilled pork chop was accompanied by a bacon horseradish potato cake, maple apple chutney and Applejack demi. The rosemary-and-garlic-marinated rack of lamb with raspberry wine demi, parsnip mashed potatoes and minted zucchini curls is Williams' favorite.
Williams also singles out the dark chocolate raspberry creme brulée tart as his top dessert pick. Other sweet treats include the frozen creamy Belgian white chocolate mousse on dark chocolate cookie crust that's been on the menu since the get-go. The lemon Napoleon layers crisp phyllo leaves with tangy lemon curd and mascarpone chantilly cream.
It's about this time of the evening that the candles and congratulations come out for all those birthdays, anniversaries and impressive dates. And in a place where restaurants often don't survive the first snow, let alone 30, perhaps a toast is in order to the little cabin that could.
---
Incline Village-based TQ Food & Wine editor Susan D. Rock is holding out hope for an express cross-lake shuttle direct to Evans.
---
Evans American Gourmet Cafe
536 Emerald Bay Road
South Lake Tahoe, CA
(530) 542-1990
Open for dinner nightly from 5:30 p.m., reservations required


Evans American Gourmet Cafe is located on the edge of forest and town on Emerald Bay Road