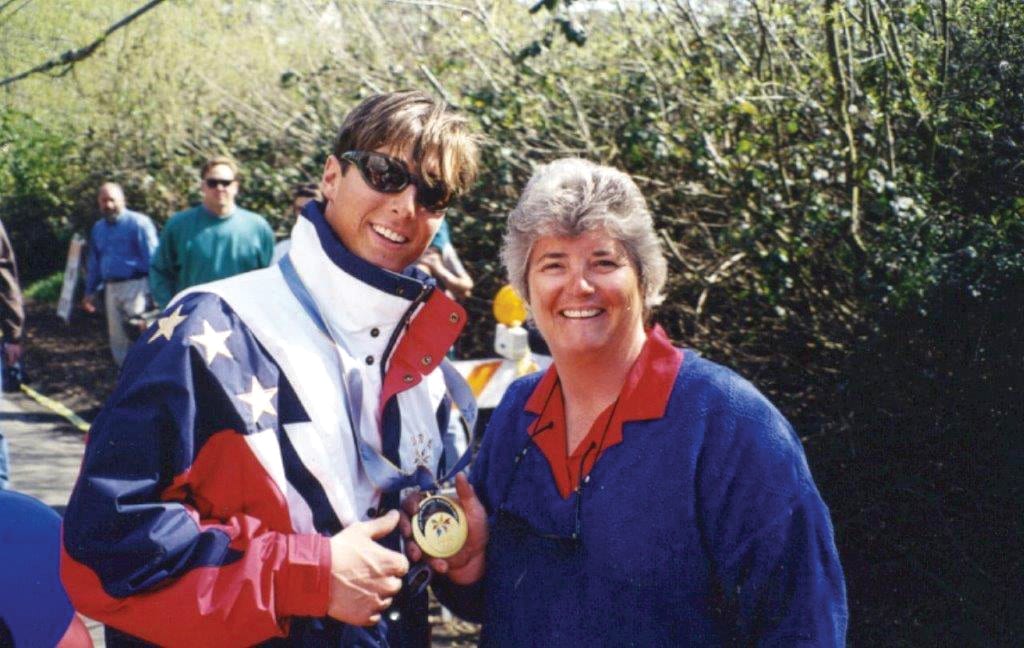 Pat Northrop with Jonny Moseley after Moseley's gold medal in 1998, courtesy photo
02 Dec

Longtime Instructor Shares Skiing Passion

Skiing is in Patricia Northrop's blood. Rather, it's part of her DNA.

"My parents would put me out the back door and say, 'Go play on these things,'" says Northrop, who first clicked into skis at age 3. "Skiing is such a wonderful feeling, and it never gets boring."

In 1957, Northrop and her family moved to Squaw Valley from Mount Lemmon, Arizona. Her father Lowell installed the original Siberia chairlift at Squaw in 1958 and was manager of the lifts at the resort before, during and after the 1960 Winter Olympics.

"Eight years old, and I got to wander around the Olympics," Northrop says. "The Opening Ceremony started, the sky opened up and for just a half hour it stopped snowing. They lit the torch and released the doves. Walt Disney couldn't have designed it that way if he'd tried." 

Now 66 years old, Northrop's enthusiasm for skiing remains as fervent as ever as she enters her 40th year as a ski instructor at Squaw Valley. She began her skiing career on the Tahoe Truckee High School ski team and went on to attend the University of Utah, where she also was on the ski team, as a physical education major. Freshman year the college offered a ski instructors course, and she signed up.

"I thought maybe I should go teach something I knew something about to see if I really liked teaching," Northrop says. 

She not only liked it—she loved it, and moved back to Tahoe in 1978 to pursue her passion. At the time, Squaw Valley had just hired a new ski school director and was hiring instructors. Northrop applied and the rest is history: She's now a Level III alpine ski instructor with a senior ski accreditation. In 1995 Ski Magazine named her one of the top 100 ski instructors in the United States.

She's also proud to say that she was Jonny Moseley's first ski instructor.

"He was 5 when I taught him and his brothers," Northrop says of Moseley, who grew up skiing at Squaw Valley and went on to win a gold medal in moguls at the 1998 Winter Olympics.

Even as freestyle skiing's golden boy, Moseley didn't forget the role Northrop played in his success.

"I think it is important. The first person you encounter in any sport sets the tone for how you engage in the sport," says Moseley. "Clearly Pat's love for the sport shows through, and that's what she instilled in me."

Even at age 5, Northrop saw Moseley's talent and encouraged his parents to enroll him in Squaw's Mighty Mites program, which helps young skiers develop strong fundamental skills. 

"Pat basically was the one who skied with me on a handful of black diamonds and told my parents, 'This kid's ready. You should send him on his way,'" Moseley says.  "She was a pro at identifying my ability, and that says a lot as an instructor."

Moseley still skis Squaw often, and enjoys discussions with Northrop about the ever-changing sport. His gratitude to Northrop and his other coaches has remained constant throughout his career.

"When he won his gold, his mom and dad called up all the instructors and coaches he had ever had to come down for a celebration in San Francisco," Northrop says. "Two weeks later we had a celebration in Tiburon (Moseley's hometown). He made us feel really important in the whole equation, which is nice."

Northrop's influence stretches far beyond Moseley's gold medal or individual skiing lessons—or that one time she gave a ski lesson to actor Henry Winkler, aka "The Fonz." In the early 1980s, she was on the ground floor of one of the first women's ski programs in the nation—initially called Women's Way and now called Women of Winter (WOW), where she continues to participate as an instructor. The annual five-day ski programs were created in the early 1970s to counter the mechanical methods used to teach skiing, with the theory that those methods kept women from realizing their full potential.

The program instead focuses on teaching women to ski in a supportive, inspirational environment using skills and techniques specifically designed for women. She's taught multiple generations in the course—former students who now bring their children to her for ski lessons, and students who have turned into instructors themselves.

"She has the biggest bag of tricks I have ever seen anywhere," says Barbara Barsetti, a former Northrop student who now works alongside her as a Squaw Valley ski instructor. "She has progressions that are so much fun to do and you evolve through the pattern. She has an enthusiasm for the sport. It's her life."

But in 1991, breast cancer nearly stopped Northrop in her tracks. Although doctors told her she could no longer substitute teach because of her weakened immune system, they didn't tell her to stay off the slopes. 

"I said, 'Can I be outside?' And they said, 'You can be outside as much as you want,'" Northrop recalls. "And I said, 'All right!' I sat on a chairlift that day and thought, 'If life is going to be short, it's going to be sitting right here.'"

Northrop never returned to substitute teaching, and she didn't miss it. With no children of her own, she focused on skiing and instructing. Her resolve and positive outlook helped her beat breast cancer in 1991 and again in 1999.

"Rather than being really depressed about it, one day she just kept climbing up to The Slot (an expert run at Squaw Valley) and skiing it down because she said she wasn't going to be able to ski there for a long while," Barsetti remembers. "That was her way of dealing with it."

While ski equipment and technology have come a long way since she began instructing, so too has skiing methodology, says Northrop. Forty years ago, instruction was more of a command-style. Today, Northrop says she's embraced a more holistic manner of instructing. 

"You feel skiing; you don't just do it," Northrop says.

Her only challenge is the weather. She doesn't like to teach in the rain, but will if necessary. 

"You get someone from Nebraska and they are going to ski in any kind of weather. You have to do that," Northrop says.

During peak season, Northrop teaches about five to six hours a day, offering both group and private instructions with a morning session, a break for lunch and another session during the afternoon. She teaches beginners who have never been on skis to advanced skiers and seniors. Her advice to beginning skiers remains the same.

"It's like any sport—the more you do it the better you'll be. As I tell my clients, it's like going to your job only a couple days a year. How good would you be at it? And then you quit for a whole year," Northrop says.

Though she's spent over 60 years on the slopes, she doesn't plan on retiring anytime soon. Asked to estimate how many people she has taught to ski over her career, she just laughs.

"I'd have to do some adding up on that one," Northrop says. "I have met so many wonderful people teaching skiing. That is something exciting to see, what a person can achieve in life."

To book a lesson with Northrop, email lessons@squawalpine.com or call (530) 452-4349.